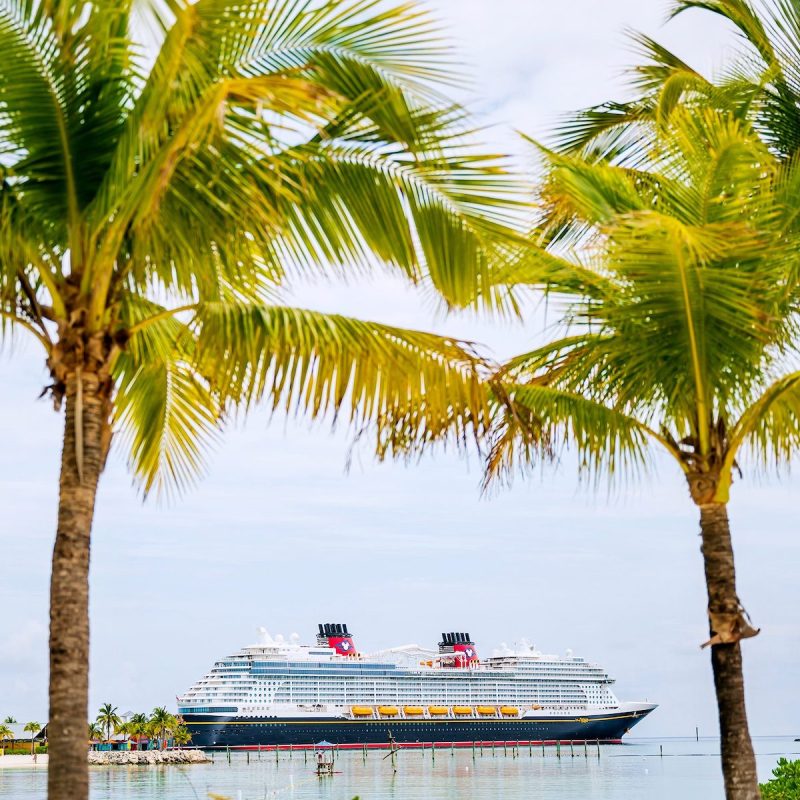 A costumed princess or pirate squeals with delight as their favorite Disney character comes to life right before their eyes. The joy of sharing this pure enchantment should not be missed. A teen or tween setting down their electronics for a third, fourth, or fifth run down the AquaDunk is nothing short of a miracle. And a quiet gourmet dinner to celebrate your family is salve for the over-scheduled parent's and grandparent's soul.
It is not often that the perfect multi-generational trip comes together. But Disney Cruises does an amazing job combining adventure, family bonding, and snippets of quiet time unique to each cruiser's needs. Here's why a Disney Cruise is perfect for a multigenerational trip, regardless of who will be going.
Quality Family Time
A cruise is a time to unplug and reconnect with each other. Disney Cruises allow you to spend quality time as a family, secure in the knowledge that the entertainment and surroundings will be kid-friendly and appropriate.
Enjoy watching your children and grandchildren put their devices down to interact face-to-face, except maybe for grabbing the phones to capture a few memorable pictures and videos.
It is so important to be in the moment — a moment that will be a family memory for years to come. Everyone can join in the action and the Disney-inspired youthful exuberance will bring out your inner child, who remembers life is simply having fun.
Disney Cruise Line Navigator App
The best thing about a Disney Cruise is they will plan everything for you; there's no hassle of coordinating rooms, meals, and activities. Particularly for multigenerational groups with different wants and needs, having a personal agent handle the arrangements allows everyone to get their heart's desire, and leaves you time to simply kick back and enjoy the family time.
The Disney Cruise Line Navigator app is free and everyone can manage their own schedules once on board so they won't miss any important events, parties, or celebrations.
Also good to know: All the Disney Cruise ships are handicap friendly and most areas are wheelchair accessible.
Destination Options
Disney's destination options are geographically diverse. Mickey and the gang are global and have vacation adventures that will please everyone. There are more than you would initially expect. Disney's ships sail to a variety of national and international locations. With almost 500 itineraries — ranging from a two-night cruise to a 14-night or more transatlantic adventure — you will find a cruise option that fits your family's vacation desires.
Warm and tropical vacations include stops in the Bahamas, Key West, Mexico, Jamaica, Barbados, St. Lucia, and many others. These southern stops typically include a visit to Disney's private island, Castaway Cay. Exclusively for Disney Cruise guests, Castaway Cay offers private beaches, snorkeling, boating, sunbathing, and a barbeque feast on shore.
If it's Europe your family wants to explore, Disney Cruises sail to the South Pacific, New Zealand and Australia, and European destinations. These adventures combine historic shore excursions paired with Disney fun.
For some West Coast magic, try cruising around Hawaii or Alaska, where you will see exquisite scenery and experience unique North American cultures.
Pre- And Post-Cruise Adventures
Families can enjoy pre- and post- cruise activities in Port Canaveral; New York City; San Diego; Miami; Galveston; New Orleans; Honolulu; San Juan; Vancouver; Barcelona, Spain; Dover, England; Copenhagen, Denmark; and Rome, Italy. All of these cities are vibrant vacation destinations and would be a great spot for a two- or three- day minication, whether that will involve everyone or just part of your group. Disney offers deals on accommodations, and you can even have your Disney Cruise agent organize your pre- and post-cruise adventures.
If you want to double down on Disney, there is an add-on package from the Port Canaveral departure cruise to Walt Disney World Resort in Orlando. You can enjoy Disney by sea and land — two very unique and wonderful experiences.
The Ship Choices
You can choose your cruise by ship instead of destination if you want to cater to a theme that has a special place in your little one's heart. Each of Disney's cruise ships follows its own unique itineraries and has specialty features and destinations.
Disney Magic
The Disney Magic has the high-speed AquaDunk water slide, Rapunzel's Royal Table restaurant, clubs for kids, tweens, and teens, and the adult-only nightclub Fathoms and Keys.
Disney Wonder
The Disney Wonder offers great entertainment including Frozen, A Musical Spectacular, and the Marvel Super Hero Academy for kids.
Disney Dream
The Disney Dream ship hosts the play Beauty and the Beast, a Millennium Falcon-themed kids space, and classic French restaurant, Remy.
Disney Fantasy
The Disney Fantasy ships focus on longer retreats. They include the AquaDuck water coaster, the Royal Court restaurant, and an interactive play area Star Wars Command Post.
Disney Wish
The newest addition to the Disney fleet is the Disney Wish, where Frozen, Marvel, and Star Wars-themed amenities bring you right onto the movie sets.
Disney Treasure
Following the Disney Wish and taking its maiden voyage in 2024, stay tuned for news on the next Disney cruise ship: the Disney Treasure.
Kids', Tweens', And Teens' Spaces
Family fun is the best, but when the kids want to play, play, play, the kids and tween spaces are the best place for them to work off some energy. All the youth clubs are staffed by trained Disney counselors, allowing parents and grandparents worry-free, kid-free time.
The little ones will enjoy the It's a Small World Nursery for the under-3-years-old crowd.
The Oceaneer Club is where 3–12 year olds will be transformed into their favorite Disney characters for the day. Think playing dress up on steroids. The boutiques are on all four ships and offer princess, pirate, and Star Wars makeup and costumes.
The Oceaneer Lab provides kids between 3 and 12 fun sporting games, activities, parties, and face-to-face character encounters. They are staffed by trained Disney counselors.
Edge, the hangout space for 11-to-14-year-old tweens offers engaging activities, video games, and music to keep them entertained with counselor supervision.
The teens club for older (14- to 17-year-old) kids is a hip supervised hangout called Vibe. This chill space invites them to watch movies, listen to music, play games, and just hang.
Adults-Only Spaces
Probably the best part of a Disney Cruise is the ability to have an adult-only respite if you want or need it. Loving your children and grandchildren does not mean 24/7 non-stop bonding. It's okay — you deserve some special vacation time, too.
Enjoy some me time at the adult-only pool, spa, or fitness center. There are several lounges and nightclubs on each ship that are adults-only. You can even enjoy a quiet dinner sans kids.
Recreation With A Theme
Each cruise ship offers sports and recreation activities. Activities vary from ship to ship, so if you have a particular event in mind, check to be sure you book a ship that offers your desired experience.
The AquaDuck on the Disney Dream and Disney Fantasy involves 765 feet of water jet-propelled tubes snaking around the ship, including a stomach-churning four-deck drop. There are age and height requirements for this ride.
Other recreational activities include mini golf, basketball courts, virtual sports simulators, a ship-wide crime solving detective caper, ping pong, and water playgrounds.
Onboard Entertainment
If you want to be entertained, a Disney Cruise will not disappoint. There is a mix of family-friendly entertainment with some adult-only entertainment sprinkled in.
Scheduled character meet-and-greets for photo ops and autographs, Disney movies, and themed character parties will entertain the youngsters. For the older kids, there are themed dance parties, trivia contests, and karaoke. Everyone will enjoy the nightly live entertainment, which is a perfect way to come together as a group after your day's excursion or fun-filled day at sea.
Several ships offer a fireworks night. Most Caribbean cruises have theme days like Star Wars Day, Marvel Day, and Halloween, giving everyone an excuse to dress up and party, party, party.
Diverse Dining Options
Each ship offers multiple dining options that will please even the pickiest youngsters and adults.
Character meals, frozen treats, cafes, pizzerias, sit-down dining, buffets, and 24-hour room service — what more could you ask for? Most of the dining is included in the cruise cost, but some of the upscale dining options involve an additional fee and require reservations.
Try the Animator's Palate with a show starring Disney characters. The main courses are prepared for adult diners and include the likes of beef tenderloin or lemon thyme chicken. The children's menu is perfect for even the most discerning young diner. And dessert is the name of the game with the menu including a classic ice cream sundae.
For a night out without the munchkins, Palo offers a spin on northern Italian dining with feasts fit for special occasions, or just a well-deserved adult-only moment. Sample options like butternut agnolotti, dover sole, or sea scallops. Palo's wine pairings provide the perfect culinary experience. Note: There is a dress code. Dress pants and a collared shirt are required. Reservations are also required.
Family-Friendly Stateroom Layouts
The Disney Cruise staterooms are designed with families in mind. They are not your typical tiny cruise rooms. Many boast extra storage space, a sitting area, a split bath (make sure to ask; these are not available in every room), and a fridge for the leftovers and midnight snack items.
Whether the kids are bunking with parents or grandparents, these staterooms are perfect for families. They offer room to breathe and a cozy space for downtime.
Disney is the master of quality, family-friendly entertainment. A Disney Cruise is just the thing for a family bonding, multigenerational vacation.