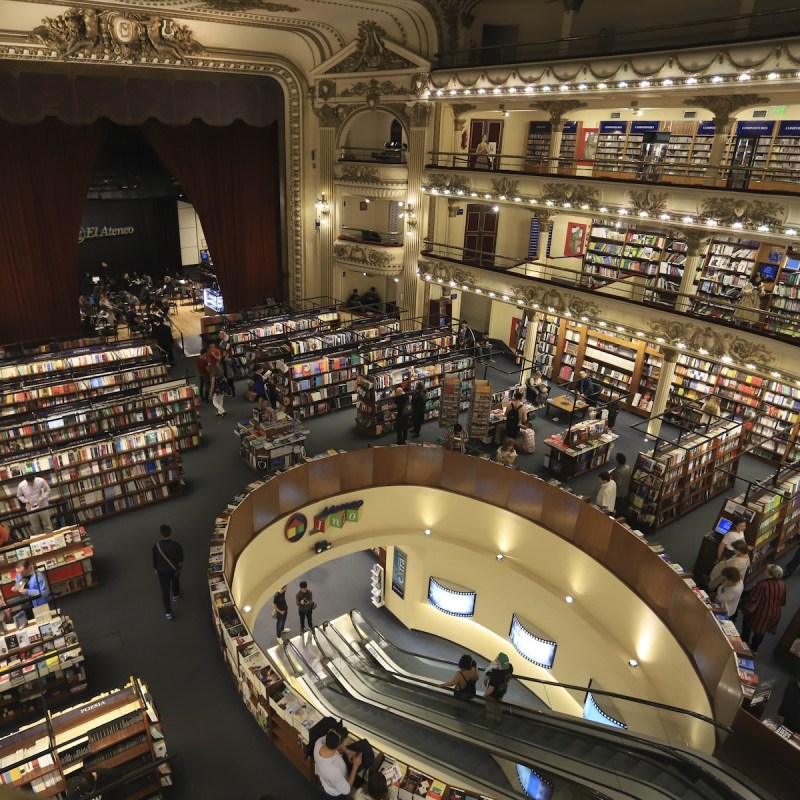 As a lifelong bookworm, I have to admit that I have at times scheduled my travel itineraries around certain bookstores — even in countries where I don't understand the language. But there is something about a bookstore — be it historic, reimagined, or simply filled with countless second-hand books — that I find difficult to resist. Not only do they sell books, but they usually, quite literally, tell a story about the history and culture of a place.
Here are some of my favorite cities that are worth a trip for those avid readers and book lovers among you.
1. Hay-On-Wye, Wales
Hay-on-Wye is famous beyond the UK's borders for its annual Literary Festival, which draws local and international writers and readers to the small town, close to the England and Wales borders. While the literary festival is a definitive reason to visit, even outside of the festival dates, the little town is highly recommended as a destination, especially for booklovers. There are some 30-odd bookstores dotted throughout the small town, plus additional "little libraries." From antique first editions and well-thumbed novels to new releases, you can revel in all things book-related. Just organize an extra baggage allowance for the way home.
2. London, England
London is a great bookstore destination, especially along and around Charing Cross Road, star of the superb book 84, Charing Cross Road by Helene Hanff. Nearby, there is the scenic Cecil Court, which could be straight out of a Harry Potter book. This tiny alley, complete with original gas streetlights, is home to some 20 antiquarian bookstores and is photogenic to boot. But for traveling readers, I highly recommend my absolute favorite bookstore: Daunt Books in Marylebone. They even give you very handy, reusable bags for your purchases.
3. Alnwick, England
In the northern county of Northumberland lies a small town famous for its historic castle, which starred in the Harry Potter films. But while the castle is amazing, and the town is pretty, there is another important reason for visiting Alnwick: the Barter Books store. A destination in itself, the store is located within a former railway station, complete with a café and restaurant, a reading nook next to an open fire, and a toy train making its rounds above the bookshelves filled with all genres.
4. Paris, France
Paris is a city for writers, having inspired so many greats in its time. And, by default, writers are also readers, some of which you can follow on specific walking tours. Being such a cosmopolitan city, here you can find some superb bookstores selling English language books — from the famous Shakespeare & Company to the elegant Librairie Galignani on Rue de Rivoli, by the side of the Tuileries Gardens. And don't miss the hidden-away and crammed-full Abbey Bookstore off Boulevard Saint Michel, run by a Canadian expat.
5. Lisbon, Portugal
Lisbon has reportedly the most bookstores of any city, some 41.9 stores per 100,000 people. It also has what is probably the most beautiful bookstore in the world: the Livraria Lello. What is sad is that this beauty attracts so many non-readers posing for selfies. It nearly takes away from the true experience of browsing for actual books; but only nearly. Just head past the famous staircase and you'll be good to go.
6. Buenos Aires, Argentina
Okay, I must fess up: The first time I set foot in Buenos Aires, my first stop was the El Ateneo bookstore. A reimagined theater, the setting is simply spectacular and lets any reader's heart soar. Whether you understand Spanish or not, it is a pleasure roaming the store. But this is not the only gem. In and around the lovely neighborhood of Palermo, I discovered many bookstores that also function as cafés — offering, in my eyes, utter perfection.
7. Lake Worth Beach, Florida
Now, if you love anything better than books, it's the chance for a good free book. Enter the little libraries that have popped up over the years in nearly every neighborhood around the world. Here you can bring a book you have finished and swap it for a new one. And the city with the largest number of free little libraries is reportedly Lake Worth, with 120 or so of them, roughly one per 300 people. Now tell me if that isn't Worth a detour.
Many of these cities are already popular travel destinations, with plenty to keep you busy. But the addition of some can't-miss bookstores, even if it is just one that's spectacular, makes all of them into book lovers' dream destinations. You can't deny that there is no better place to spend a rainy (or indeed too hot) day than browsing the shelves for a new read. It's a perfect excuse if you ask me. Which one will you be visiting next?