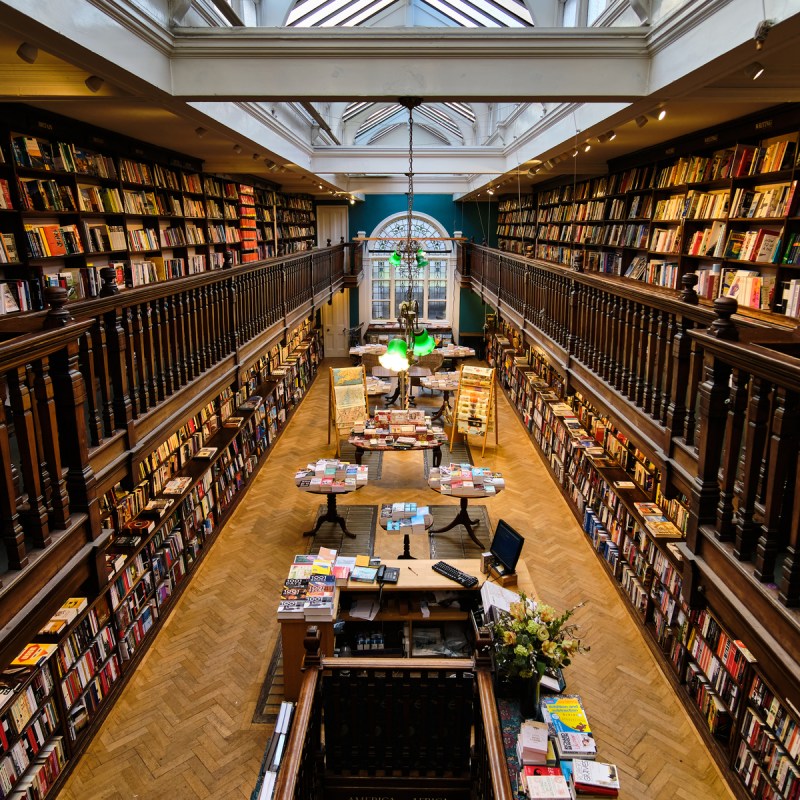 TravelAwaits participates in affiliate programs with various companies. We may earn commission when you click on or make purchases via links, but each of these recommendations are genuine and from the author.
London is a reader's dream — and a shopper's dream as well. However, exactly how many bookstores are in London is a bit of a mystery. According to one map online, there are 112 independent bookshops in the British capital. But based on my own knowledge, there are oodles more, mostly little secondhand shops tucked into corners all around the city. Then there are the non-independent stores, the regional chains, and the global powerhouses. Add in the kiosks at train stations, museums, and multi-purpose stores, and the number of book-selling establishments must push close to 1,000. That's great news if you're a reader like me!
Some of these shops are more than just a place to buy a book or two. They're legends in their own right, acting as community hubs and welcoming tourists as if they're locals. Here are some to put on your travel list, starting with general interest establishments and concluding with specialty shops.
1. Book Mongers (Brixton)
One of London's best bookstores was founded by an American, Patrick Kelly. Dedicated fans of Book Mongers love the used bookstore's cramped but well-organized shelves. Keep an eye out for Popeye, the scrappy resident shop cat, and be sure to ask for "Popeye's Picks" when browsing the books.
2. Broadway Bookshop (London Fields)
You'll likely spend a lot more time in Broadway Bookshop than you imagine, as there's an entire basement you can't see from the street, filled with fiction, local history, and kid's books. They also have a small exhibition space where the art changes every 3 months or so.
3. Daunt Books (Marylebone)
Though Daunt Books has several locations, the Marylebone address is the clear place to be. This gorgeous shop is in an Edwardian building and boasts stained glass windows. Books are organized by country, rather than genre, which makes for a fun (and occasionally bamboozling) browsing experience.
4. Foyles (Charing Cross)
The world's first purpose-built bookstore, Foyles covers every subject imaginable and also offers gifts, stationery, music, and magazines. This multi-level space in the heart of London boasts more than four miles of shelves across four floors, as well as a cafe, an auditorium, and a gallery.
5. Hatchards (Picadilly)
The United Kingdom's oldest surviving bookshop, shopping at Hatchards is an elegant and refined experience, with just a hint of whimsy — head up to the second-floor children's section to see for yourself. During the annual Christmas Customer Evening, authors are on hand to mix and mingle with shoppers.
6. Heywood Hill (Mayfair)
Sophisticated and understated, Heywood Hill is located in a Georgian townhouse. Well known for antiquarian and children's books, the store has held a royal warrant since 2011. Literary fans will be keen to know that novelist Nancy Mitford worked in the store during World War II.
7. Hurlingham Books (Fulham)
If you treat book shopping like a quest, Hurlingham Books is your kind of place. It is positively stacked from floor to ceiling, left to right, and what you're seeing is just the tip of the iceberg. Over a million books are in their nearby warehouse.
8. John Sandoe Books (King's Road)
Fans of John Sandoe's often describe it as entering a Dickens novel. From the original tiny shop first established in 1957, the store has taken over two adjacent stores and is now stocked with more than 30,000 titles covering every surface — including the chairs!
9. Kirkdale Bookshop (Sydenham)
Part neighborhood bookshop and part cultural hub, Kirkdale hosts artwork and musical events. It offers a mix of new and secondhand books, prioritizing authors of color and LGBTQIA+ authors.
10. Liberia (Spitalfields)
In this bookshop founded by a tech entrepreneur, the vibe is decidedly analog. Mobile phones are banned! Yet Liberia's design is very futuristic, with bright yellow shelves organized by theme to "maximize serendipity."
11. London Review Bookshop (Bloomsbury)
The London Review of Books is a literary periodical, but it also runs a cozy bookstore with a focus on classic fiction as well as new. They also operate a cake shop, which is absolutely delightful (and perhaps the reason this bookstore is so popular with writers).
12. Lutyens & Rubinstein (Notting Hill)
Chic, sleek, and well organized, Lutyens & Rubinstein is both bookshop and literary agency. They assembled their initial stock after surveying hundreds of readers (adults and kids), and, as such, every book here is essentially a personal recommendation.
13. Nomad Books (Fulham)
This casual, comfy space with squishy sofas is a favorite of writers and celebrities and has a strong community vibe with an excellent children's section. Nomad Books has a good selection of French-language titles too.
14. Primrose Hill Books (Primrose Hill)
Hugely cozy, Primrose Hill Books is a family-run bookshop selling new and used titles and they occasionally host small literary events with big names. This is a good place to go to find works by local writers — some from right in their own neighborhood — and signed copies.
15. Review Bookshop (Peckham)
Review may just have bragging rights as London's most dog-friendly bookstore. Pups are welcome to browse, the bookstore curates a list of dog-themed reads, and you can even submit a photo of your pooch to be featured on their website.
16. Waterstones Piccadilly (Piccadilly)
Admittedly, Waterstones Piccadilly is about as far from a cozy independent bookstore as you'll find. Waterstones is a major chain, and its Piccadilly location is reputed to be Europe's largest bookstore. But what it lacks in homey charm, it makes up for in amenities and titles. Located in central London, this is the perfect spot to hide away for a few hours when the rain hits.
17. Word On The Water (King's Cross)
If you're going to make time for just one London bookstore, Word On The Water should be it. This new and used bookstore is actually a "book barge," a 100+-year-old Dutch barge moored on Regent's Canal. It's quirky and fun and has bonafide literary chops, hosting musical performances and poetry slams.
18. Alice Through The Looking Glass (Covent Garden)
Alice Through The Looking Glass may just be the most special of all of London's special interest booksellers. As the name suggests, it's home to all things Alice, from pricey first editions to modern novelties. Browsers will also find a mini-museum and first editions of other childhood classics like the Harry Potter series. Located on Cecil Court, this store is part of "Bookseller's Row," the ideal place to browse for rare titles.
19. Arthur Probsthain (Bloomsbury)
This family-run bookstore has been in operation for over 100 years and specializes in titles related to global culture, specifically Africa, Asia, and the Middle East. Their onsite tea room, Tea and Tattle, serves afternoon tea complete with scones and cakes and is also an excellent stop for an affordable lunch.
20. Books For Cooks (Notting Hill)
As the name suggests, Books for Cooks sells thousands of titles related to the culinary arts, from classic cookbooks to biographies. More than just booksellers, they have a tiny test kitchen where they put their inventory to the test. Nicknamed "the best smelling shop in the world," you can even have lunch here.
21. Gay's The Word (Bloomsbury)
The UK's oldest LGBT bookshop sells new and used titles ranging from fiction to relationships to parenting. They're also a hub of community activity, hosting discussion groups (including one that's been around for 40 years!) and literary events.
22. Gosh! (Soho)
This amazing shop is dedicated to comics and graphic novels. It has titles for children and adults, including everything from mainstream selections to more obscure work from small-press publishers. They also stock rare used titles, signed books, and gifts.
23. Persephone (Bloomsbury)
Specializing in 20th-century female writers, Persephone only stocks what they themselves have printed. As such, they give a new lease of life to out-of-print writers. The books are just as nice to collect as they are to read, as they feature grey covers, bright linings, and forwards by famous authors.
24. Stanfords (Covent Garden)
One of the world's premier travel bookstores, Stanfords is filled with travel guides, maps, literary adventures, cool gifts, and essential travel gear. Established in 1853, former customers include Florence Nightingale and Captain Robert Scott.
25. The Notting Hill Bookshop (Notting Hill)
Made famous by the 1999 film Notting Hill, this iconic bookstore with the bright blue sign does indeed specialize in travel books, though today The Notting Hill Bookshop has expanded to include general-interest titles (plus magnets with quotes from its namesake movie).
26. Travis & Emery (Covent Garden)
Another Cecil Court gem, Travis & Emery specializes in music, including rare, used, and collectible books, plus sheet music, playbills, photographs, and prints. Music fans will be equally enamored by the fact that Mozart once lived in this very building.
Footnotes