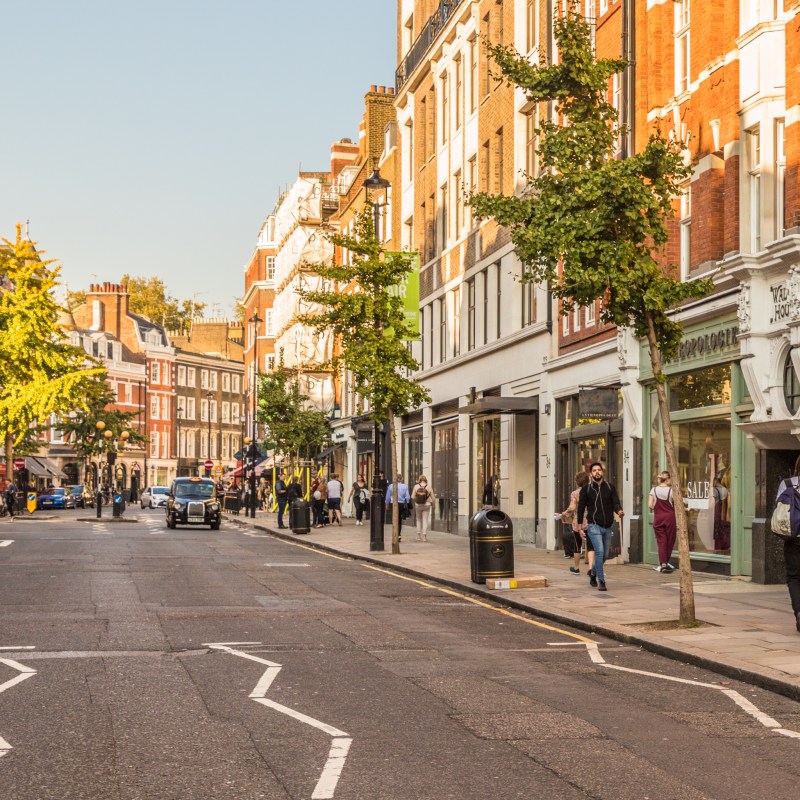 London can be overwhelming, even if you know the city well — too many people, too spread out, and too loud. But there are ways to escape the hustle and bustle and discover a London that is tranquil, village-like and full of residents rather than groups of tourists. All it takes is a step in the right direction.
As you walk along Oxford Street, dodging shoppers, find the large H&M store not far from the Bond Street station. You'll see an entrance to a tiny alleyway between H&M and the next shop. Walk down it, and you'll arrive at Saint Christopher's Place, a courtyard brimming with boutiques, art galleries, and cafes. Stroll along until you reach Wigmore Street, cross it, turn right, and immediately turn left onto Marylebone Lane. Welcome to the neighborhood of Marylebone: a village within the city, only a few steps — but a million miles — away from stressful London. It's a gorgeous quarter to explore.
I must admit that this is one place I always visit when I am in London. The atmosphere is hard to beat, and the little restaurants and shops are superb.
Here are eight great things to do in London's charming Marylebone neighborhood.
1. Make Travel Plans At Daunt Books
Daunt Books is the bookstore for travelers. Not only is the inside simply gorgeous with its arches, grand stained glass window, and wooden stairs leading up to a mezzanine floor, but the offerings are fantastic. Choose a city or a country, and you'll find a wide selection of travel books, novels set in that destination, plus maps and other guides — by the time you leave here, you'll be well prepared for your next trip! The staff members are very knowledgeable and can offer recommendations for what to read next.
If you buy a certain number of books, you'll get a lovely tote bag. The bags come in a variety of sizes, from tiny to heavy-duty, and they're all emblazoned with the store's iconic shopfront. But you can also buy a bag, should you not want to carry too many books on your travels.
2. Hunt For Treasures At Alfies Antique Market
Is there anything better than browsing an antique shop for a bargain? Alfies Antique Market, a 10-minute walk from Marylebone High Street, contains several floors full of treasures. Located in a former department store, the market offers antiquities, quirky 1960s interior decor items, vintage clothing, glassware, jewelry, and art. You could spend hours taking it all in and searching for that one special piece worth taking home. When you're ready for a break, you can stop in at the market's cafe — it has a lovely roof terrace.
Pro Tip: If you're looking for more shopping opportunities, head to the Church Street Market, which sprawls along the street in front of Alfies every day except Sunday. You'll find cheap and colorful clothing, street food, fresh produce, and more.
3. Catch The Old Masters At The Wallace Collection
Located in a luxurious townhouse just off of Marylebone High Street, the Wallace Collection is like a who's who of Old Masters. Rubens, Rembrandt, Titian, Canaletto, Velasquez, Gainsborough, and Turner are all represented.
The private collection and mansion were bequeathed by Lady Julie-Amelie-Charlotte Castelnau Wallace, the widow of Sir Richard Wallace, who set about collecting works by the Old Masters after the French Revolution and is said to have snapped up paintings before anybody even dreamed that the artists would become so famous. The museum also features some fine furniture and interior decor, all assembled over the years by collectors who evidently had a good eye for very special pieces.
Pro Tip: Several times a month, the Wallace Collection offers workshops and special glimpses into certain artistic styles or eras. Most of these events are free, but you'll need to book early to reserve your space.
4. Enjoy A Fish Finger Sandwich At Coco Momo
Every time I'm in London, I make time to pop into Coco Momo for either a drink, breakfast, or lunch. The old corner building oozes charm, the staff members are friendly, and the people-watching is perfect. And I haven't even gotten to the food!
For breakfast, I love the scrambled eggs with sourdough toast and wild mushrooms on the side. For lunch, it doesn't get better than the oh-so-English fish finger sandwich (for grown-ups): two large pieces of battered fish on an open piece of ciabatta, a side salad… perfection.
Pro Tip: There is an extremely Instagram-worthy view of two red telephone boxes through one of the windows. It always makes me smile — and it's a hit on social media!
5. Browse The Boutiques And Charity Shops
One of the joys of this neighborhood is the shopping — mostly independent shops, a lot of British designers, and all small stores. Try Emma Bridgewater for the cutest crockery, The Conran Shop for superb interior decor ideas, and Cath Kidston for all things floral.
Then there are the charity shops. This is an upscale residential neighborhood, and when the women give their once-worn clothes to charity, you can sometimes pick up a real bargain. Try Cancer Research UK and Oxfam (which also has a superb book section). If you are a connoisseur of vintage clothing, make an appointment at William Vintage, where you can get exclusive and very special old clothes and costumes — for a price.
Don't forget to investigate the side streets, such as Chiltern Lane, Marylebone Lane, and others, as there are many places to discover there.
Pro Tip: Pop into Waitrose, a lovely supermarket, to pick up some items for the next idea on this list.
6. Explore Regent's Park
Henry VIII used to go hunting in Regent's Park before the city swallowed it up. While it is no longer the countryside, the park still provides a breath of fresh air.
Regent's Park, formerly known as Marylebone Park, is home to the London Zoo, a rose garden with some 30,000 roses in 400 varieties, a lake, an annual art fair, an open-air theater, and a canal. Take time to stroll and enjoy the surroundings.
If it's a nice day, consider bringing a picnic. But whether you decide on a picnic for yourselves or not, do bring some raw nuts for the abundant squirrels. They'll come running over to you and will take the nuts right out of your hand, making for the perfect photo opportunity.
Pro Tip: Have a look at Saint John's Lodge in the park. It is the private residence of the royal family of Brunei and is the UK's most expensive private residence, sold in the 1990s for a reported $52 million. The garden is open to the public.
7. Dine In An Old Fire Station
If you are in London for a special occasion or would just like to eat somewhere a little fancier, try the Chiltern Firehouse, which has long been one of London's favorite restaurants. Set in an old fire station, the space has been transformed into a grand brasserie-style restaurant where the rich and famous go to see and be seen. But that should not put you off, as it is a special place where you can enjoy a Michelin-starred meal from an eclectic menu.
If you want to enjoy a special dinner on a certain day, make sure to book well in advance, as it can be difficult to secure a table.
8. Channel Your Inner Sherlock Holmes
Marylebone was where the intrepid detective Sherlock Holmes lived — at 2251B Baker Street. Today there is a rather popular museum in his name at that address.
Of course, Holmes is a fictional character, but walking around Marylebone, you could easily forget that. A statue in his honor stands on Marylebone Road; the wax museum Madame Tussauds just around the corner exhibits a selection of the nearly 50 actors who have portrayed the sleuth on stage, television, and film; and on Devonshire Place, you'll find the house where Sir Arthur Conan Doyle wrote his detective stories.
Pro Tip: If you are a fan, visit the Sherlock Holmes Public House & Restaurant, where there are plenty of Holmes-themed items on display and the pub food is surprisingly good. Alas, it is not in Marylebone, but about a 20-minute walk away in the direction of Trafalgar Square.
London bound? Don't miss these 10 free museums in London. And when you're ready for a break from the hustle and bustle, consider one of these eight amazing day trips from London.