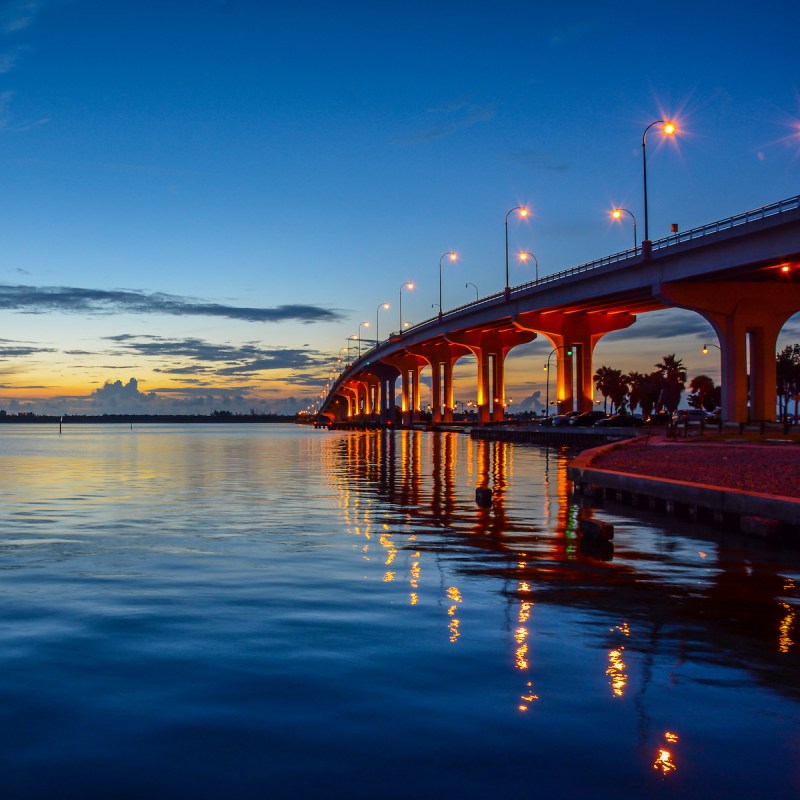 Imagine the perfect town for a nuclear or multigenerational vacation. It would be near the water, full of attractions and activities to keep everyone happy and occupied, and exude the kind of genuine friendliness and charm to make you never want to leave. Well, imagine no more. The town you're yearning for is Stuart, the seat of Martin County, Florida.
Located on South Florida's Treasure Coast between Daytona Beach and Miami, Martin County has more than 22 miles of powdery beaches and 100,000 acres of eco-friendly parks and conservation lands.
My husband and I spent some time in this Treasure Coast paradise and found it uncrowded, unpretentious, and full of delightful surprises. I'm sharing our experiences so that you can find your own vacation paradise, too.
Our visit to Stuart was hosted by Discover Martin County. However, all opinions are entirely my own.
1. Hutchinson Shores Resort & Spa
Jensen Beach is minutes from downtown Stuart, but once you step onto the Hutchinson Shores Resort & Spa property, you're in another world. This oceanfront resort offers stretches of golden beach on the outside and an ocean-inspired décor that blends with every aspect of its interior.
Hutchinson contains 178 classy, comfortable oceanfront rooms and suites. Every night, we fell asleep to the soporific sound of ocean waves hitting the beach through our open-balcony door.
Amenities include two outdoor pools, oceanfront dining, a spa, and easy access to Stuart and other Martin County treasures.
2. Historic Downtown Stuart
Historic Downtown Stuart is a treasure trove of more than 50 locally-owned shops, restaurants, and galleries mere steps from the scenic St. Lucie River. Lovers of architecture will appreciate the turn-of-the-century buildings and historic homes. While history buffs will enjoy a look around the Stuart Heritage Museum.
Watch a movie, play, or concert at the Lyric Theater, which has been in operation since 1926. Take a pleasant stroll along the Riverwalk, or catch some live music and a nightcap before turning in.
Pro Tip: Stuart is comfortably walkable, but you can also ride the free downtown tram.
3. Martin County Beaches
Stuart is surrounded by miles of stunning beaches, and because Martin County isn't as well-known as other Florida destinations, the crowds are thinner. Beachcombers have plenty of room to sit, swim, or sunbathe. But for many, a day at the beach is often difficult — if not impossible — because of mobility challenges. Martin County has made sure residents and visitors can enjoy area beaches alongside their families and friends.
Weather permitting, the guarded beaches — Bathtub, Jensen, Stuart, and Hobe Sound — make rolling beach wheelchairs available free of charge for individuals with a variety of mobility needs. These all-terrain chairs are constructed with PVC, making them lightweight. They have four air-filled balloon tires, so navigating through sand is possible. Each chair also comes equipped with an umbrella and a roomy pouch attached to the back to hold essential items.
If you require help, simply ask the beach's guard tower and a lifeguard will assist you
Pro Tip: Always check tidal schedules and view the beach cams for current conditions before setting off.
4. Treasure Coast River Cruises
For a unique picture of Stuart and surrounding areas, seeing them from a pontoon boat will give you an entirely different perspective. Treasure Coast River Cruises offers four entertaining sightseeing cruises.
My husband and I thoroughly enjoyed our Sandbar Cruise, departing from Sandsprit Park in South Stuart and returning 2 hours later with big smiles. Our captain was charming, informative, and hilarious. Learning about the wildlife we saw, listening to stories past and present, and simply being out on the water felt like a floating mini-vacation.
The pontoons carry a maximum of six and are roomy and comfortable. The captains are properly licensed and safety-conscious. You can bring any food or drink you like, including alcoholic beverages. Water is available free of charge.
5. Florida Oceanographic Coastal Center
One of Stuart's most popular attractions is the Florida Oceanographic Center. This 57-acre parcel is situated between the Atlantic Ocean and the Indian River Lagoon. The massive complex is home to the Florida Oceanographic Society's headquarters, nature trails, a 750,000-gallon Game Fish Lagoon, a children's activity pavilion, a sea turtle pavilion, and the award-winning Ocean EcoCenter. And that's only the beginning. You'll need at least half a day to engage your senses in the center's offerings.
There was so much to see and do, my husband and I could barely take it all in. We were shown how to pet and feed a stingray, marveled at rescued sea turtles and an adorable baby octopus, and watched fascinated children engage with interactive educational activities.
Pro Tip: A fine spot to take a break is the third-floor viewing deck with a spectacular view overlooking the lagoon.
6. The Elliott Museum
Across the street from the Florida Oceanographic Center is another family-friendly wonderland where you can spend a couple of hours delving into the past. The Elliott Museum is best known for its impressive vintage car collection, which includes some of the first vehicles to take to the road.
From familiar oldies to models of which few have heard, a wander through the exhibits is a treat for all. If you want to see a particular vehicle that isn't on the floor, simply select it from a list. In minutes, it will magically appear from the multi-story automated storage facility, along with all its information displayed on a nearby computer screen.
Pro Tip: Don't forget to visit the second floor for shipwreck artifacts, a genuine moonshine still, replicas of an old apothecary and general store, an impressive collection of Major League Baseball memorabilia, art, and more.
7. Children's Museum Of The Treasure Coast
Located in Indian Riverside Park in Jensen Beach, the Children's Museum of the Treasure Coast has an outstanding array of exhibits to encourage children to learn about their world, create, and explore their interests and talents.
The Baby Beach House is an area where the littlest ones can play in a safe environment. Hospital and vet clinics let the kids play doctor with replicas of internal organs and bones. And The Spanish Galleon — a 64-foot, 16th-century replica — enables children to experience life aboard the ship on a 90-day crossing through sound, smell, touch, and story-telling. They can even fire soft rubber cannonballs at imaginary enemy ships.
The museum is filled with happy noise, bright colors, and flashing lights. For this reason, there are designated calm areas for children with autism, where parents can take them to destress. Regularly scheduled Sensory Friendly Days give these children the run of the museum without the noise and lights.
Pro Tip: Admission fees can add up, but reduced rates are available through Groupon and other discount programs.
8. Hobe Sound
Sometimes, the journey is as satisfying as the destination. You can transform a 30-minute drive along SE Federal Highway from Stuart to Hobe Sound into a day, or half-day, adventure by taking advantage of things to see and do on the way.
Blowing Rocks Preserve
If this natural attraction is on your agenda, you'll need to plan to be there at high tide, so find out when that is and plan accordingly. If you time it right, you'll be treated to a rare natural phenomenon. When waves crash through the craggy rock formations at high tide, they appear to explode upward as high as 50 feet into the air.
Jonathan Dickinson State Park
Pick up a map at the entry gate and explore the largest state park in Southeast Florida. This 11,500-acre park offers opportunities for picnicking, walking, hiking, and biking. Accessible walking paths, restrooms, and other amenities make this park a true gem that all can enjoy.
Florida Tunnel Of Trees
For some natural eye candy, drive along SE Bridge Road and through an amazing tree canopy. The name speaks for itself, and the experience is magical and photo-worthy.
Hobe Sound Public Beach
Engage in some play time at Hobe Sound Public Beach, then take a wander through the delightful town. Charming antique shops, family-owned eateries, and art galleries offer sweet surprises behind every door.
Murals of Hobe Sound is a project that turned the town into an outdoor art gallery. You'll see these colorful artistic gems gracing building facades throughout town.
The Grove Pizza Cucina And Wine Bar
When stomachs start rumbling, head to The Grove Pizza Cucina and Wine Bar, a true dining experience with a casual atmosphere. Along with their exquisite pizzas, the restaurant serves traditional Italian dishes with a twist. The pappardelle with lamb bolognese is phenomenal, as is the chocolate tower for dessert, alternating layers of deep-fried homemade chocolate pasta and a mascarpone filling drizzled with a chocolate sauce. A meal at The Grove is the perfect ending to a perfect day.
Pro Tip: Stuart is a family-friendly town with an upbeat vibe. If you're fortunate enough to be in Stuart on a Sunday morning, take the tram to Flagler Park and enjoy Market on Main, held weekly rain or shine. This is a golden opportunity to meet the folks who live and work in Stuart while checking out locally-grown produce, handmade items, freshly-made sweet and savory foods, and more.
Related Reading: