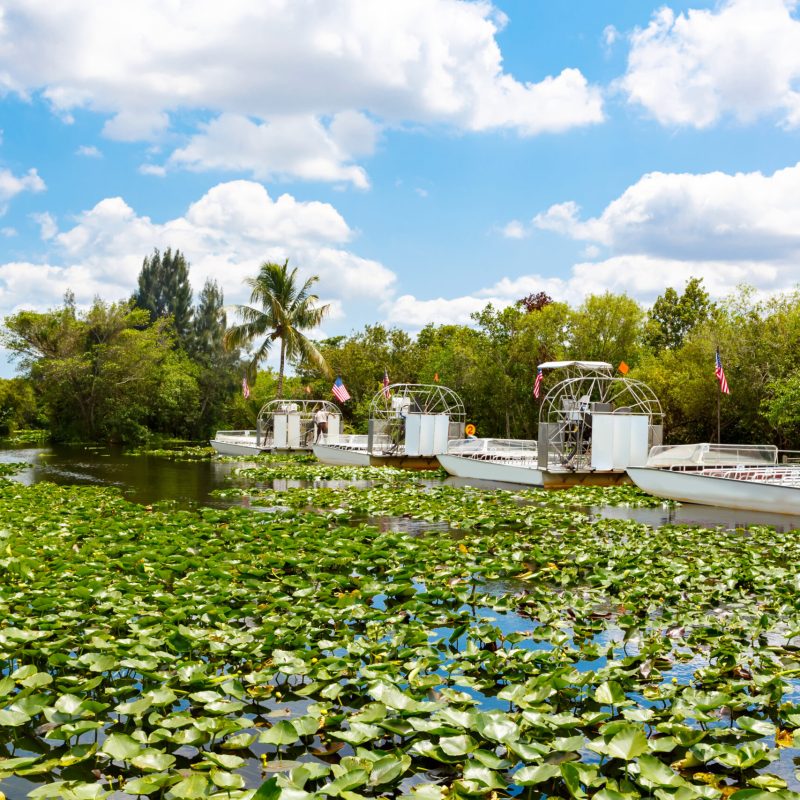 Mysterious. Intriguing. Restored. These are just a few of the words that come to mind when I think of the beautiful network of wild and wonderful parks protecting the fragile ecosystems in South Florida. Florida has been a state that has learned from some mistakes in the drainage of the Everglades, the flow of water, and they have spent recent decades reversing and restoring the natural flow of water. Present-day travelers can experience slices of this tropical paradise and are awed by its beautiful diversity.
National Parks In South Florida
I was pleasantly surprised that there were four national parks to visit in the southern half of Florida. However, don't think that you can experience all these in 1 day. You'll need to pace yourself and plan your trip accordingly.
1. Everglades National Park
Some people say, "this park is not worth visiting; it is just a swamp." I beg to differ.
What you will find within this national park is a sky filled with birds, trails leading to many hidden oases, and plenty of native alligators. Shark Valley is a popular visitor center within the national park, and you can take a guided tram ride or rent some bikes to view alligator friends in the water.
Pro Tip: Everglades National Park is only accessible via car coming from Naples or Miami using "Alligator Alley" Gas up your car before heading out; while it is an easy straight shot, there are very few gas stations along the way.
2. Biscayne National Park
Within view of Miami, Biscayne National Park welcomes visitors to her beautiful water sanctuary. 95 percent of this national park is underwater, so with that in mind, a boat tour should be on your itinerary before you arrive. What you will find under the sea is the northernmost living coral reef in the United States, where abundant sea life calls home. Dolphins, manatees, sea turtles, and vibrant fish are just a few species you might encounter.
Pro Tip: Book your tours well in advance before coming to Biscayne, they fill up quickly, and without a way to get out into the park to see the beauty, you will find yourself on land longingly looking out into the Atlantic.
3. Dry Tortugas National Park
Dry Tortugas was named after the large number of sea turtles living in the surrounding waters of this fantastic park. I stumbled onto this park while doing some research, and it has been on my bucket list for a while. It is the most challenging park to get to in southern Florida because it is only accessible by a 2.5-hour boat ride or seaplane. This park is 99 percent underwater, and the best way to enjoy it is by swimming and snorkeling. Fort Jefferson is part of the 1 percent on land, and you can explore this fortress which started being built in 1846 and is composed of 16 million bricks!
Pro Tip: This national park is a pack in and pack out, leave no trace park. Be prepared before you go and take only what you need with you. It is a long day for this out-and-back trip to Dry Tortugas National Park; plan accordingly.
4. Big Cypress National Preserve
If you don't want to head deep into the heart of Everglades National Park from Naples, Florida, stop at Big Cypress National Preserve. You get to take in all the things you want to see without making a whole day's trip. Stop at the visitor center and grab a map to choose your adventure. When I come, I like to walk the Kirby Storter Boardwalk. This short, 1-mile out-and-back boardwalk trail will take you through two beautiful ecosystems. You might see turtles, alligators, and wading birds at the end of the boardwalk. When you're on the boardwalk, my best advice is to pause a moment to stop, listen, and view the water; it's in the quiet where you will start seeing all the wildlife and fish within this area. I call this a taste of the everglades, and it truly is as magnificent.
Pro Tip: When heading out to any of the national parks and preserves on this list, take plenty of water, binoculars, sunscreen, and a brimmed hat. These areas are wild and are meant to be that way. And you're a guest; make sure to leave it as you found it.
State Parks In South Florida
5. Collier-Seminole State Park
Collier-Seminole State Park is a 7,271-acre park that partially lies within the great mangrove swamp in South Florida, one of the most extensive mangroves in the world. This gem of a park allows you to view Florida's teeming wildlife and explore it in multiple ways. Choose your favorite way to go into the wild and get at it. My favorite biking path is the 3.5-mile Prairie Hammlock Trail which winds its way through the marsh, hammock, and flat wood forests. Love boating? They have a place for you to launch your boat or kayak for a day out on the Black Water River that flows out into the Gulf. You can also find great hiking trails on boardwalks, places to have a picnic, and some beautiful birds to watch out for.
6. John Pennekamp Coral Reef State Park
Known as Florida's underwater playground, John Pennekamp Coral Reef State Park is a water-filled destination that delights every visitor. Established in 1963, this park was the first of its kind. An undersea preservation area was created to protect and preserve the coral reef found here. One thing I love about this park is how many unique ways there are to explore it. If you love being out on the water, you can take a guided snorkel tour out into the coral reefs. When I did this, the area was filled with barracuda just hanging out watching us swim around. It was a little nerve-wracking at first, but once I got used to them being there, I could ignore them and explore.
If swimming is not your thing, don't worry, they have you covered with a glass-bottom boat tour. You'll be taken out in a high-speed catamaran where you will hardly notice you are out on the water. This 2.5-hour tour will take you out into the Florida Keys National Marine Sanctuary, where you will see coral reefs teeming with marine life. You'll possibly see parrotfish, wrasses, damselfish, snappers, grunts, and barracudas while out on this excursion.
Pro Tip: If you have mobility issues, you can use beach wheelchairs they have onsite for guests free of charge.
7. Corkscrew Swamp Sanctuary
Corkscrew Swamp Sanctuary is one of southern Florida's hidden gems. I took a personal tour with Professor Jerry Jackson, who spent 3 hours walking through the four ecosystems with me. I have been coming to Naples, Florida, for over 25 years and, until recently, had never been to this beautiful part of Florida. It became the crown jewel of parks for me.
What makes this sanctuary so unique are the treasures within her borders. Corkscrew Swamp Sanctuary is a 2.2-mile boardwalk that winds its way through pine flatwood, wet prairie, around a marsh, and into the largest old-growth bald cypress forest in North America; it is genuinely precious.
Something that took me quite by surprise was going to the area where the plume hunters had camped. It was a moment where I stood and took in the magnitude of what overhunting did to the birds in South Florida. I am grateful for the conservation that takes place to restore the plumage bird population.
If you are a birder, Corkscrew Swamp Sanctuary is a destination that will give you plenty of birds to add to your list. While I was here, I was able to add the painted bunting to mine. This colorful bird is found here during the winter months and is fun to watch.
If you're looking for something unique to the area, a little surprise found here is the ghost orchid. Ghost Orchids are a very rare plant that is on the endangered species list; they are native to Southwest Florida and Cuba. To see one is a true treasure, and it is believed there are only about 2,000 that are still growing in the wild.
Pro Tip: You will need to plan your visit to Corkscrew Swamp Sanctuary in advance. You must pre-purchase your tickets online for timed entry. Plan on taking your time while you are here and enjoy every moment of the boardwalk.
There is so much to see and do in the southern part of Florida that you'll need to pace yourself as you explore. Any time of the year is an excellent time to come and visit because each season offers something new to see and experience. My favorite time to visit these stunning nature-filled destinations is in the winter months when the humidity is less.
The natural areas are the heart and soul of Florida, where the birds fly free, the reptiles sun themselves, and visitors come to enjoy the perfection that is being preserved.
If you're thinking about a Florida vacation, check out these rental homes: