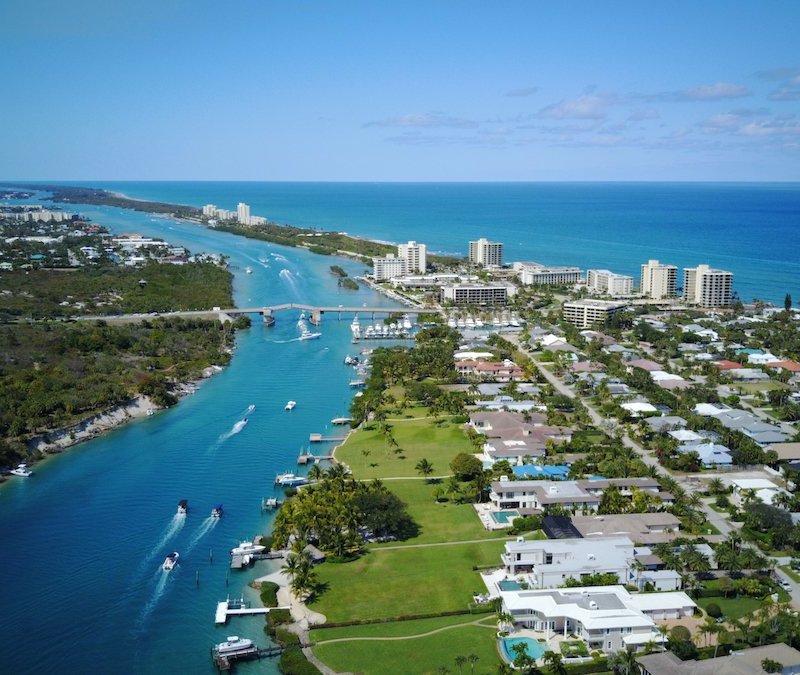 Jupiter is a great little town in South Florida's Palm Beach County. The small-ish city of about 65,000 people is known for being upscale but more relaxed than some of the other cities nearby; it's only about 90 miles north of Miami, for example, but it seems worlds apart because of its small-town feel. And it's actually been named one of the top 10 happiest seaside towns in the U.S. It's a great place to visit!
Jupiter is located in what's known as the Gold Coast, which encompasses Greater Fort Lauderdale and the Palm Beaches. There's a lot to see in this area — including the cities of Fort Lauderdale, West Palm Beach, Boca Raton, and more. But Jupiter, for sure, is one of the Gold Coast's prettiest and most appealing towns. And with its prime location at the confluence of the Loxahatchee River, the Intercoastal Waterway, and the Atlantic Ocean, it is fantastic for all types of water activities.
Whether you stay here for a long weekend or make a quick day trip to visit, there are plenty of things to see and do in sunny Jupiter, Florida!
1. Jupiter Inlet Lighthouse And Museum
Spend a day exploring Jupiter Inlet Lighthouse and Museum. Check out the historic Jupiter Lighthouse, where you can climb to the top and take in the view and then tour the small museum at the base of the lighthouse. You'll also get to enjoy a short video that discusses the history of the area. The climb can be strenuous, so make sure you're up for it!
The historic lighthouse is open Wednesdays through Saturdays. General admission is less than $15 per adult. For something different, try the twilight yoga program, offered on Mondays, or the special sunset tours.
For a different view of the lighthouse, check out DuBois Park. Right at the mouth of Jupiter inlet, it has gorgeous views of the lighthouse. After your visit, head over to the nearby village of Tequesta and grab a beer at the certified organic Tequesta Brewery.
2. Major League Baseball Spring Training
MLB Spring Training in Florida is a blast! There are numerous stadiums where you can watch the big leaguers play, and one of the stadiums happens to be in Jupiter, Florida. 
The St. Louis Cardinals and the Florida Marlins both play at Roger Dean Chevrolet Stadium, often simply referred to as Roger Dean Stadium, during spring. Catching a game is a fun way to spend an afternoon, and prices are much lower than regular season MLB games. 
Major league teams also play in nearby Port St. Lucie and West Palm Beach. In Port St. Lucie, you can watch the New York Mets at Clover Field; in West Palm Beach, catch the Houston Astros and Washington Nationals. If you're a big baseball fan like I am, you could stay in Jupiter to watch the St. Louis Cardinals there, and then head to Port St. Lucie and West Palm Beach for more baseball. West Palm Beach is only 30 minutes south, and Port St. Lucie is only about 40 minutes north! I think it's fun to check out different stadiums and different concessions! They all have very creative culinary specialties that are fun to try.
3. Loggerhead Marine Life Center
The Gold Coast area is famous for the giant sea turtles that lay eggs on the beaches every year during the spring and summer months. From May to October, sea turtle nesting spots dot the beaches along this area, including the beaches in Jupiter. You can join an organized tour to see the turtles, or you can walk along the beaches on your own. Many experts recommend doing an organized program because these organized groups are less disturbing to the sea turtles.
One tour is located at the Loggerhead Marine Life Center in Juno Beach, which is just south of Jupiter. The Logger Marine Life Center is a nature center and small science center where you can learn about native sea life, including sea turtles. And you'll be able to see live sea turtles here year-round. You'll need to make reservations in advance for these popular tours because they fill up quickly.
4. Cruise On A1A
We loved sightseeing on State Road A1A. From Jupiter, get on A1A and head south. You'll see glitzy mansions and cool beach towns on your drive down the coast from Jupiter to Deerfield Beach and beyond.
The drive down to Deerfield Beach is only about 45 minutes to an hour, and totally worth it. From Jupiter, you'll go through Palm Beach, where you can view more McMansions than you can imagine. Then you'll pass by former President Trump's estate, Mar-a-Lago.
From there it's south to Delray Beach. In Delray, I'd stop at one of the many restaurants and bars along Atlantic Ave. It's a lively and fun spot to have a drink. If you like ice cream, they have quite a few fabulous ice cream shops along Atlantic Ave. We absolutely loved Sloan's Ice Cream. The ice cream shop is all pink and super cute — like something out of a storybook — and the ice cream itself is to die for. I'm kind of an ice cream junkie, so I can't wait to go back and try the Peanut Buttercup specialty. In addition to Sloan's, there's also a Ben & Jerry's and a few more shops.
From Delray, you'll continue south through glamorous Boca Raton for more manicured beauty. Finally, you arrive in the more laid-back town of Deerfield Beach, where you can park downtown, get out, and look around a bit before heading back to Jupiter. Right downtown, you have your choice of lots of different restaurants, bars, and ice cream or gelato shops. You can also take a walk on the Deerfield Beach International Fishing Pier before heading back to Jupiter.
5. Golf At A Premier Public Course
Florida is a golfer's paradise. Especially in spring when the weather is gorgeous, there's nothing better than to get out on the greens! One of the best public golf courses in all of South Florida is the Abacoa Golf Club. Start on the driving range to get warmed up, then hit the links for a round of 18 holes. Abacoa isn't an easy course, but it's not impossible either. And it's so pretty, you probably won't mind if you have a bad day. Just take in the beauty of the fairways and all the water features!
6. Dinner At A Celebrity Restaurant
Did you know that Jupiter has been home to quite a few celebrities through the years? Movie star Burt Reynolds, singer Celine Dion, Golf great Tiger Woods, and basketball star Michael Jordan have all had homes here at one time or another. Tiger Woods and Michael Jordan both opened restaurants in Jupiter as well. At Michael Jordan's restaurant, 1000 North, you can indulge in steaks, seafood, and more while dining on the waterfront at this upscale restaurant.
You'll be able to dine al fresco while taking in the view of the Jupiter Lighthouse. Reservations are recommended at this popular restaurant.
You can also check out Tiger Woods' restaurant, The Woods. Tiger describes his restaurant as an elevated sports bar experience, but The Woods is definitely more upscale than any of the sports bars I've been to! The restaurant offers diners traditional options like a 12-ounce prime New York strip, chicken piccata, as well as a wide range of seafood dishes like ahi tuna and snapper on angel hair pasta. And, they have a pretty good happy hour!
7. Go Kayaking
Jupiter is a beautiful place to visit. One of the best ways to explore Jupiter is by getting out on the water and paddling around in a kayak. You'll be able to get close to the many mangroves and just experience beautiful nature. Plus, you might see manatees (we did), dolphins, and other wildlife. At Get Up and Go Kayaking, you can take a 2-hour guided tour in their clear kayaks. Since they're clear, you'll get a fantastic view of the water below. There are weight restrictions for the kayaks. The waters are beautiful and such a peaceful way to enjoy a morning or afternoon. The tours are very reasonably priced, too, at around $50 per person.
Pro Tip: If kayaking isn't your thing, give snorkeling a try – you may like it better.
Ready to book? Check out our top vacation home options in Jupiter:
Dreaming of Jupiter – your dream vacation awaits you
Top guest reviews
17 ladies (55 plus age range) couldn't have stayed at a better location. We reminisced about childhood days, college days, and meeting new friends throughout the years. The house accommodations were wonderful, the property mgr. has great communication and the location is wonderful!
House was exactly as described, actually better. Had everything we need to cook meals, plenty of room to store food/drinks. The outside area was fantastic, we spent most of the time out by the pool/hot tub. The elevator helped a ton with an elderly person in the group. Steve was a fantastic host, responded quickly to questions and was very pleasant. We would definetely rent this house again.
Steve was great on communications and the house is exactly as listed. Perfect spot and the home was immaculate. Everything you need for relaxing vacation. The beach is a very short walk and you will have all the beach items you need from Steve's garage. It is loaded with everything you will need to enjoy the beach.
This Beach side estate has it all! Short walk to a beautiful and tranquil beach. Everything you can possibly need, they thought of. Steve, the manager was very attentive and accommodating. This is a must for large gatherings and we hope to return next year.
Comfortable home with adequate space and facilities for 12 people. Good kitchen with plenty of utensils. We hired a cook who was happy with the kitchen. Excellent pool which we used most of the time to avoid the hike to the beach.
Read Less ∧
Read More ∨
Dreaming of Jupiter – your dream vacation awaits you
Top guest reviews
This property had everything you needed and more. Great Location!!
This is the 3rd time me and my family has stayed here! the house is great and in a great location…
A very well outfitted and clean property with a seamless experience. Would do it again.
I've been coming to this property since 2015. Everytime seems better than the last. This is a property that will without a doubt check all your boxes. If you have a party of two or if you have a party of six this house is perfect. It's very spacious with it's open floor plan. Located in a perfect spot for walking to restaurants or the inlet and bars within the immediate area. Or just a 10 minute drive to other popular hot spots. If you like to cook or bbq yourself on vacation stays like I do, you have a great perfectly stocked kitchen and a grill outside. Why go to a hotel and share a pool when you can have your own at this house. The garage is hooked right on to the kitchen wich makes it great for hauling in your groceries.If you want to go to the beach, you have an umbrella , beach chairs, and beach towels at the house supplied for you. I could write a book on this wonderful house. So quit searching, book this house and not have to worry about any disappointment. Pam Menard
This host has thoughtfully provided every thing you forgot you needed which made for a wonderful stay — and the home is spectacular!
Read Less ∧
Read More ∨
Planning Your Jupiter Vacation
Since it's between Fort Lauderdale and Orlando, Jupiter can be visited as a day trip from many of the larger nearby towns. Or you can absolutely stay in Jupiter for your whole trip! It's close enough to three different airports — Fort Lauderdale, West Palm Beach, or Miami —that you have your pick of which one to fly into.
If you fly into Fort Lauderdale, you'll have about an hour's drive north to Jupiter. Flying into West Palm Beach, the drive to Jupiter is only about 30 minutes north, making West Palm Beach the closest airport to fly into. If I have my choice, I like to fly into West Palm Beach because it's much less crowded.
Related Reading: