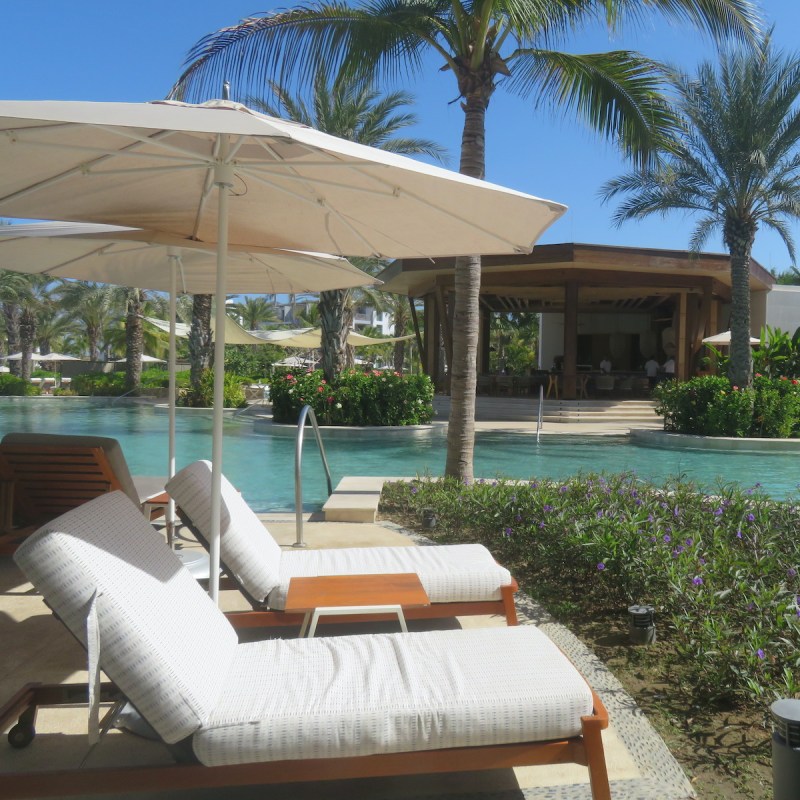 The exclusive peninsula of Punta de Mita is between the cruise port of Puerto Vallarta (53 minutes south) and the spring break-esque Sayulita (27 minutes west). Punta de Mita sets a distinctive tone as a destination for travelers looking for a tranquil escape with fewer crowds, longer stretches of beaches, greater stress relief, and better possibilities to cross paths with American and Mexican celebrities.
Late January to June is the beginning of its peak season and the best overall weather. Once you reach July and on to early September, you are in the most humid months with occasional showers to cool down. October to December is the low season and also the hottest.
Below are some of the activities that I enjoyed during a long weekend in Punta de Mita.
Some of my activities were hosted, but the opinions offered are my own.
1. Conrad Punta De Mita Spa
Conrad Punta de Mita Spa set the right tone for my trip. Using the rituals of the Huichol people who once lived in the state of Nayarit, you can begin your getaway by having a shaman purify and cleanse your essence before officially starting your spa session.
You can continue your treatment in either an individual or a couple's session in the thatched outdoor area. You will feel good being in nature as your muscles relax and aromatherapy helps you forget any issues or concerns. Then you can either sit in the steam room or soak in the spa pool. Allow at least two hours at this spa.
Pro Tip: Make your reservation at the front desk or via the spa's online reservation system at least 24 hours in advance. A reservation at the Conrad Punta de Mita Hotel is not necessary.
2. Higuera Golf Club
Designed by Greg Norman, the newly revamped 18-hole, par 72 Higuera Golf Club features numerous courses for players with various skill levels. Players can choose views from a beach, a forest, a swamp (with the occasional crocodile) to other course layouts — all viewable on the club's website.
Along the way, stop at one of the two greenside snack bars stocked with beers, sodas, water, and fish and beef tacos prepared on request. Tee times are from 7:30 a.m. to 3 p.m.
3. Marietas Island
Spend the day snorkeling, kayaking, birdwatching, whale watching, and exploring the Hidden Beach (Playa Escondida) on Marietas Island. Depart early from the town of Punta de Mita. After 20 minutes, you'll arrive at Islas Marietas National Park. Once there, your boat will anchor offshore since the surrounding beach area is protected.
Dive into the Bay of Banderas and swim to areas flagged for snorkeling. To enter Hidden Beach, you have to swim the sometimes rough waters through the access point. If you are more interested in bird and whale watching, the blue-footed booby can be seen throughout the island, and if you are lucky, you might spot a whale.
Pro Tip: Depending on whether you go with a tour company or an independent boat, you may be required to pay a small fee for the preservation of the island and its wildlife inhabitants.
4. Dining And Shopping
Spend a morning on Playa Punta de Mita before enjoying lunch at the various restaurants along Avenida El Anclote. My favorite dishes are the Peruvian ceviche at MINA, mojitos from La Cabana, and lobster pizza with serrano ham at Lobster Paradise. Take an amateur surf lesson from one of the tour companies that set up tents along the beach.
Visit the clothing boutiques along Avenida Las Redes, and spend the evening at C. Pescadores, where you will see locals eating dinner. Visit El Sueño de Mita for a late evening drink and to hear local acts play a range of musical forms from traditional to jazz.
Pro Tip: Depending on where you are staying, you will need to have transportation available or on call. I went with PV Provisions & Transportation for private pickup, return to the airport, and to carry me around Punta de Mita.
5. El Agave Studio
Mezcal Tasting
No trip to Mexico is complete without a crash course on the history and proper way to drink mezcal, sotol, tequila, and other agave-based drinks. These alcoholic beverages are available at every bar, and you can sample them and learn about their cultures.
I sat with an agave expert at El Agave Studio for a few drinks, which included learning to pair the drinks with food and make my special mezcal by using the options available for takeout.
6. Vista Paraiso
Zipline
In Higuera Blanca (16 minutes west of Punta de Mita), you can experience some of the best views of the surrounding area as you zipline in the mountains and cross the suspended bridge! From high above, you will see the towns below, the Pacific Ocean, and wildlife. Ziplining is a thrill as you use one of the 10 lines that let you zoom across the landscape.
7. Fishing
You can either book a fishing tour or, if your Spanish is good enough, head back to Punta de Mita and rent some fishing gear. I recommend going on a fishing tour with Mictlan Surf as they are right off the beach and you can just walk into their location to make an appointment. Negotiate a rate with one of the fishermen on the beach and set sail in the ocean. These locals will lead you to some of the best spots to get a good catch. For a fee, many local restaurants will clean and prepare your catch. While they prepare your meal, sit back with a couple of Victoria or Modelo beers.
8. Sayulita
Although not a part of Punta de Mita, Sayulita's (27 minutes west) short distance makes it a viable option if you are looking to explore the nightlife. Head to Sayulita Plaza, which serves as the center of town, and visit Cerveceria YamBak (try the Stoner's Point IPA and Maracujá Fruit Beer) or El Tiburón Sayulita (the house cocktails are delicious, especially Este Amor Apasionado and Porque SÍ).
As it gets late, the locals come out and prepare delicious tacos, birrias, and gorditas for about $20 MX each. The taco stands at the intersection of Av. Revolucion and C. Pelicanos are excellent. If you are looking for a place to catch your breath and wind down, then Tacos Diose is a good, family-owned place that stays open the latest.
Pro Tip: The ATMs often either run out of currency or have Wi-Fi issues. Most locations do not accept credit cards, so be prepared with cash.
9. Sunset On The Beach
No visit to Punta de Mita is complete without watching the sunset from the beach. My favorite beaches are Playa Careyeros and Playa Litibu — minimal crowds and enough space to feel as though you are there alone. Prepare yourself for the views over the water as another day ends and the neon lights of the cantinas hum along with the sounds of abajeño music.
For more information on traveling to Mexico, check out these articles: