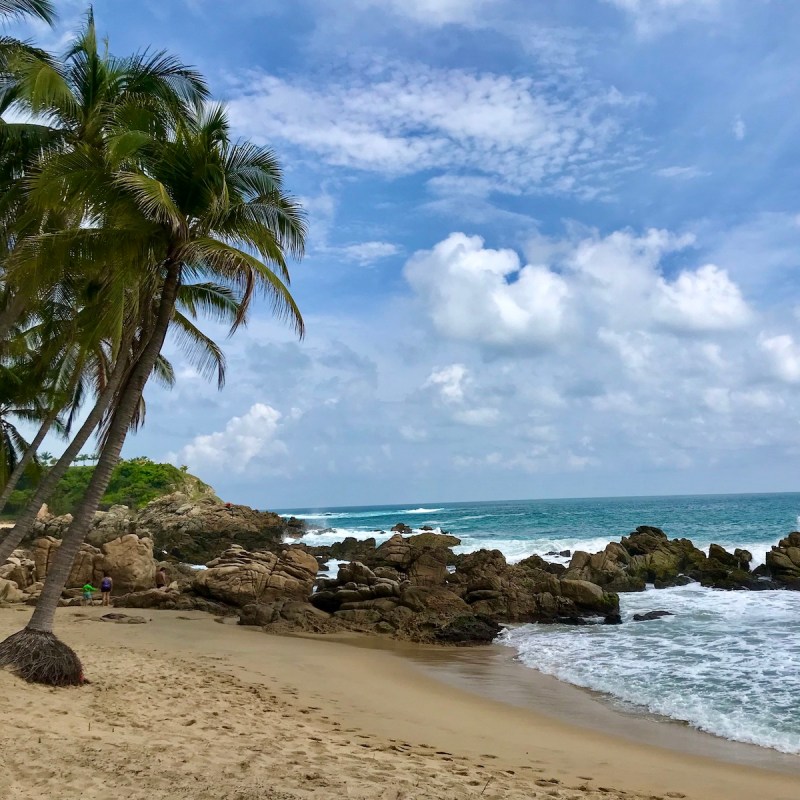 When I daydream about a quaint, sleepy, Mexican fishing village on the Pacific, I imagine a place like Puerto Escondido. As soon as I stepped off the jet and walked down the airstairs, I knew I had arrived! The sweet smell of a balmy, hot jungle breeze spilled over me. It was as if I blinked and turned the clock back to the mid-1970s; everything was slower and a simpler time.
Here, there is no hustle and bustle. There is no rushing. Just slow vibes, sunshine, authentic food, and dreamy turquoise water surrounded by thick, green, dense jungles. This place is best known as the "Surfing Capital" of Mexico but it has something for everyone and every adventurer!
Puerto Escondido, or "The Hidden Port," is a small fishing village that was used intermittently as a port to ship coffee. Luckily, due to its lack of infrastructure and potable water, development was very slow. It's a quiet and relatively small beach town with 29,000 residents. The center of town has rocky inlets and bays and is flanked by two large, long sandy beaches.
The Puerto Escondido Airport (PXM) is located in the southern state of Oaxaca (Waa-haw-ka), Mexico, just an hour and half flight from Mexico City (MEX). Turn the clock back and escape from the typical overcrowded Mexican tourist beach towns. This town is rustic and downscaled; some roads are paved and some aren't. Here, you will find equal amounts of surfboards to cell phones and sandals to beach palapas!
1. The Terraza Villa
I was treated to a beautiful private seaside villa called the "Terraza Villa." My large room had a kitchenette, fabulous air conditioning, an enormous bathroom, a satellite big screen TV, a private terrace, and all the amenities that one would expect from a five-star property. The room décor was a juxtaposition between understated Mexican charm and plush linens. My room had rustic mahogany wood accents, a rock accent wall, and scrumptious white Egyptian cotton sheets and towels. There is a nice balance between the charm and culture of Mexico and the lush amenities we crave when on a holiday break. While relaxing in one of the two hammocks on my private terrace, I knew when a new hour had passed as the conch shell was blown for the surfers below to return their rental boards. At night, I was lulled to sleep by the sound of the waves in the bay below my villa. I was so relaxed, I completely unplugged from my cellphone to just enjoy each quiet moment without the distraction of social media.
2. Puerto Escondido Beaches
The safest beach for swimming, surfing, and snorkeling is in the Carrizalillo Bay. It has a challenging 157-step staircase and is not wheelchair friendly, but it's so worth it! It is a safe bay with restaurants, bars, and lounge chairs available for rent on the sand. Book a surfing lesson or swim in the calm, warm water looking for sea turtles.
Playa Zicatela is best known for being the "pipeline" of Mexico. It is a very rough, dangerous beach break and is best for the "surf pros" and beach walks. There are many restaurants and bars that parallel the 2-mile beach.
Playa Manzanillo and Playa Principal are two beaches that are protected in a bay. Both are safe to swim in and have many bars and restaurants lining the sand. Puerto Angelito is a "locals' beach and it's crowded; loud and hard to find a place to park.
Playa Bacocho is a long sandy beach, but swimming is not recommended due to the dangerous waves and currents.
Pro Tip: At Bacocho Beach at 5 p.m. everyday, join ViveMar for a baby turtle release. It's very popular and you should be there by 4:45 p.m.!
3. Bioluminescence Tour
Plan for an exciting experience to see plankton light up the Laguna de Manialtepec during the dark hours of the night. It's a very special, affordable experience that you can plan on your own, or have your hotel arrange.
Caution: There are crocodiles in this lagoon! You can get a great experience from the boat or throw caution to the wind and swim in the dark water.
4. Surf Lessons
The top five beaches — Playa Zicatela, La Punta, Carrizalillo Bay, La Barra, and Punta Colorada — offer surf lessons from beginner to advanced. Instructors and surfboards are available at very reasonable rates.
5. Dolphin And Whale Watching Tours
Take a private or group boat and tour the ocean and see dolphins, turtles, manta rays, flying fish, and birds. Depending on the season, you'll see whales too!
6. Food Tours And Mezcal Tasting
Oaxaca is the mezcal capital of the world. Learn about the agave plant's history, production, and taste! Learn how to make authentic Oaxacan food during a local cooking class.
7. Mercado Benito Juárez
Explore the city's largest market or take a tour and practice the expected bargaining techniques with local vendors. This is a great place to practice two skills: Spanish and bartering!
Where To Eat
When I walked into Espadín, I gasped a little at the view. I knew I was at the right place! Located in the Villas Carrizalillo property is a 25-foot-high open-air palapa restaurant with terraced seating, so every table has a breathtaking view of the bay. As I entered the palapa, I smiled as I heard Boz Scaggs singing "Jojo." I completely relaxed while looking out over the bay at the setting sun watching a distant lightning show over the ocean. Renowned Chef Diego Olivera and Sous Chef Adolfo Jiménez work harmoniously together with traditional Mexican cuisine and contemporary dishes highlighting local produce and freshly caught seafood.
For dinner, I ordered fresh mahi mahi with vegetables, mashed potato, and a beurre blanc sauce that would put any French chef to shame. It was superb! I had the restaurant's star margarita, "The Espadín," with local pepino (cucumber) on the rocks. It was incredible! For breakfast, I recommend the enchiladas suizas with the poblano cream sauce. I ate at several other restaurants in town, but they lacked the charm, ingredients, taste, and culinary prowess of this restaurant.
The Rinconada restaurant strip offers many local restaurants and a price tag that is more budget-friendly. The options are quite global, from a Korean-Mexican barbecue house to a vegan fish shack and everything in between. There is definitely something for everyone's palette and budget.
How To Get Around
Shockingly, there is no Uber! Taxis are plentiful and very affordable. Other options are to rent a car, scooter, four-wheel ATVs that are available daily or weekly, or colectivos.
Pro Tip: Plan ahead and bring pesos before you arrive. Always ask the price before you get in a cab!
When To Visit Puerto Escondido
Any time is perfect to visit, but the driest and busiest months are November through March. Summer afternoon rain showers tend to keep crowds away and the rates lower.
Where To Stay
Those who travel to Puerto Escondido are those who are in search of a slower, more relaxed atmosphere. The Villas Carrizalillo is an exquisite boutique hotel perched on a cliff shaded by palm trees. It has 12 villas ranging from a studio to a three-bedroom apartment with private terraces, most with kitchens. The property grounds are immaculate and most villas have gorgeous, private verandas to relax in total privacy.
It's named after the beautiful bay below and has private access via stairs to the sand. The staff is incredibly helpful, very accessible, catering, and kind. Although there are other hotels, Airbnbs, and hostels, none of them compare to this location, the amenities, or the restaurant.
If you want to visit unspoiled beaches and enjoy authentic Mexican culture and a quiet and safe beach town, Puerto Escondido is the place to visit.