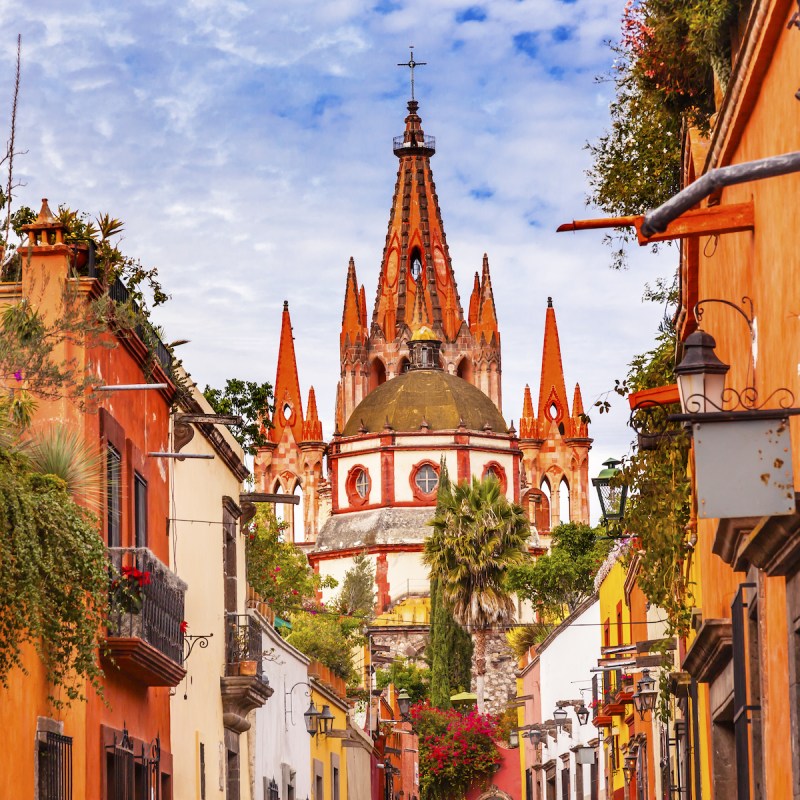 Many people think of Mexico as a place to go for its world-renowned beach destinations like Cancun, Playa del Carmen, and Puerto Vallarta. We've been to all three and can attest to their appeal.
On our last trip to this lively country, we wanted to experience more than only surf and sand. So after visiting the Riviera Maya, we scheduled several weeks in a location that had been on our radar for years — San Miguel de Allende.
Why San Miguel? Friends from our hometown of Cuenca, Ecuador, who visited this small highland city raved about it. Some were so captivated they relocated there.
When planning a trip to San Miguel de Allende, here are our recommendations for the best things to see and do.
1. La Parroquia De San Miguel Arcángel
Most Recognized Landmark
San Miguel's most recognized landmark, La Parroquia de San Miguel Arcángel, sits in the center of downtown with soaring pink neo-Gothic spires visible from almost anywhere.
Its eclectic and outrageously ornate Baroque style is altogether different from traditional Spanish churches of the period. The design, by an indigenous stonemason with no architectural training, was reputedly taken from a postcard of a Belgian church.
2. Mercado Ignacio Ramírez
San Miguel's Oldest Market
Mercado Ignacio Ramírez, San Miguel's oldest market, is named after a beloved Mexican poet. Even if you're not cooking much (or at all) during your visit, it's fun to stop by for a taste of daily life.
The mercado is a constant buzz of activity, with vendors offering everything from fresh vegetables and exotic Mexican fruits to cheeses and spices to clothing and local handicrafts.
3. El Jardin
Garden Park
Directly in front of La Parroquia is El Jardin, a lovely park filled with rose bushes and geometrically manicured laurel trees. It is the perfect spot to find some shade on one of the wrought iron benches and take in the constant activity swirling around San Miguel's busy center. Instagram wannabees taking selfies in front of the cathedral, mariachi bands performing for tips, and street vendors selling everything from ice cream to balloons — people-watching doesn't get any better.
4. Fabrica La Aurora
Cafes, Shops, And Art Galleries
A huge former textile mill has been reimagined into the embodiment of San Miguel's art scene. Fabrica La Aurora is a delightful collection of shops, studios, art galleries, and cafes assembled under one roof. You can spend hours here shopping and chatting with resident artisans. Enjoy an al fresco lunch at Food Factory or Cafe de la Aurora.
Pro Tip: There is an evening art walk on the first Saturday of the month. Drop by each Thursday for Open Studio Day.
5. Explore The Cobblestone Streets
Carefree strolls along cobblestone streets and alleys may very well be your favorite thing to do in San Miguel. Between the pastel-colored residences, handcrafted doors and gates, and walls covered with ivy or blooming bougainvillea wherever you look, you feel like you've somehow stumbled onto a movie set. Thank goodness taking photos doesn't require film anymore, because otherwise this trip would cost a fortune!
Pro Tip: Pace yourself, because the city is extremely hilly. And watch your step walking on the cobblestone and narrow, uneven sidewalks. You don't want a tumble or sprained ankle to ruin your visit!
6. El Mirador
Panoramic View of San Miguel
For the best panoramic view of San Miguel, you've got to go up, up, up to the outlook at El Mirador. While billed as "only" a 15–20 minute walk from downtown, be advised the incline is quite steep.
Pro Tip: We recommend you skip the huffing and puffing and take an inexpensive taxi or Uber instead. You'll thank us later.
7. Hot Air Balloon Ride
If you are looking for an unforgettable experience, climb into the gondola of a hot air balloon and soar above the city at dawn.
Globo San Miguel has been offering this adventure for over 25 years. Book their Classic Sunrise flight for the memory of a lifetime.
8. Parque Benito Juárez
When you need a break from all the walking you're doing in San Miguel, a great place to get off your feet for a while is Parque Benito Juarez. Buy an ice cream or cold drink from a vendor, find a bench in the shade, and relax. Afterward, as you meander along the park's narrow pathways, you'll discover hidden gardens filled with blooming flowers.
Pro Tip: While you're in this area of town, have lunch at nearby Belmond Casa de Sierra Nevada's Restaurante del Parque. Then climb a winding hill to check out the Lavaderos del Chorro, a small square featuring a chapel and basins used for public laundry during the Spanish colonial era.
9. Rooftop Bars
You can't go wrong choosing one of San Miguel de Allende's many rooftop bars for a sunset cocktail. Hey, why not opt for a different one every night?
Zumo
Sitting atop the Villa Limón Boutique Hotel, this elegant restaurant/bar serves handcrafted cocktails and a tasting menu of international flavors with a Latin touch.
Quince
Be sure to stop by Quince. With perfect views of the cathedral, it was recently named Top Rooftop Bar in the World by The Rooftop Guide.
Luna Rooftop Tapas Bar
A popular choice for locals and visitors alike is Rosewood Hotel's Luna Rooftop Tapas Bar. Order a drink from the inventive menu and upscale "bar food" like lobster tacos. Then enjoy the view as the darkening sky turns beautiful shades of yellow, orange, pink, and purple. Does life get any better?
10. El Charro Del Ingenio
Botanical Garden
San Miguel's botanical garden, El Charco del Ingenio, is a welcome diversion from all the sightseeing activities. Take your time wandering the many trails of this sprawling 165-acre nature preserve. The garden contains a diverse collection of cacti species gathered throughout Mexico.
11. Teatro Ángela Peralta
Historic Theater
Opened in 1873 and named for Mexico's opera queen, Teatro Ángela Peralta is an intimate venue ideal for performances ranging from opera to flamenco dance. Plan your visit in November during the International Jazz Festival.
Our Favorite Restaurants
Are you a foodie? Then welcome to your happy place! From yummy street food to sophisticated fine dining, San Miguel's culinary scene has you covered. Here are a few of our favorite spots.
Casa Nostra comes highly recommended. We celebrated our 50th anniversary here with a wonderful dinner on the rooftop terrace — seared yellowtail tuna with pistachio and citric foam, and salmon filet served in a mango cilantro sauce with a hit of chili. Wow!
Cumpanio bistros serve contemporary versions of classic Italian and French dishes. Be sure to stop by their sister bakery Panio next door for irresistible breads and pastries.
La Unica is an international chain with a location in San Miguel that offers exceptional rooftop dining.
Want a more immersive dining experience? Taste of San Miguel offers a variety of food tours from a 3-hour, 7-location eat-a-thon to one called "Tacos and Tequila."
History Of San Miguel De Allende
In 1937, artist Sterling Dickson was passing through town on a journey to nowhere in particular. He saw the beauty beneath the crumbling facades and never left.
Deciding to create an art school called Bellas Artes, he recruited young World War II veterans under the G.I. Bill of Rights to study there. San Miguel almost miraculously revived, and over time has turned into an international art center.
Because of its year-round springlike climate, SMA welcomes a steady stream of visitors. Like Dickson, many decide to stay. Expats make up a full 10 percent of the population.
It's not hard to understand why. The elements of soft pastel buildings, cobblestone streets, vibrant art scene, spectacular restaurants, and surprisingly low costs are almost unbeatable.
We spent three busy weeks there and barely scratched the surface of all the possible activities and attractions. Oh well, that gives us an excuse to return. As if we needed one…