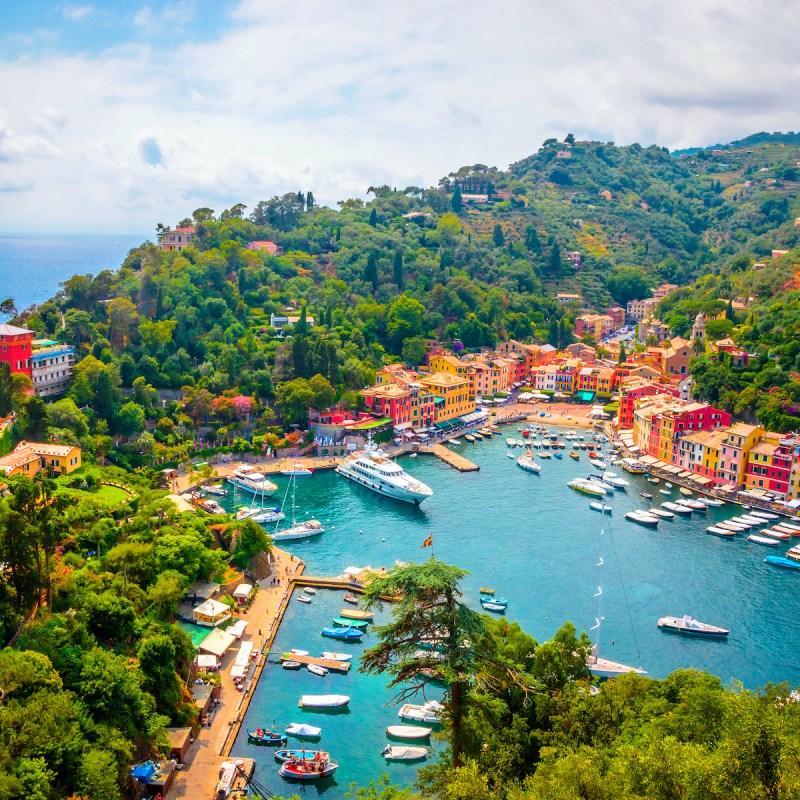 From cobblestone streets to white sand beaches, small coastal towns harness a charm unmatched by popular tourist destinations. Something about quaint atmospheres and untouched coastlines gives you a feeling you must be the only person in the world to discover these little pieces of paradise. Luckily, there are many all over the globe offering a taste of authentic culture with a side of luxury. Let's explore 18 of these beautiful coastal towns you must visit around the world.
1. Loreto, Mexico
To get that authentic taste of Mexico, Loreto is the perfect small town. Located about 300 miles north of Cabo San Lucas, this coastal town is quiet, quaint, and relaxed. The charm of this area can be found in cobblestone streets, family-style restaurants, and the historical downtown. The Loreto National Marine Park is one of Mexico's most important reserves with more than 800 species of fish and marine life. To explore, take a guided hike which will give you breathtaking views of the Sea of Cortez and the jagged rock formations that rise out of it. If you visit in January or March, take a whale-watching tour to get a glimpse of humpback and blue whales that migrate down the Baja peninsula.
2. Sayulita, Mexico
The village of Sayulita on the Pacific coast of Mexico is known for its fishing and world-class surfing. An hour's drive from Puerto Vallarta, this coastal town has a laid-back beach vibe with tons of culture and character. The cobblestone streets are lined with art galleries, local shops, and unique restaurants. The waters off the beaches are filled with surfers from all levels from beginners to pros. You can find many surf schools that offer lessons. Huichol art is also popular in Sayulita. The Huichol, one of four Indigenous peoples in the Riviera Nayarit, are direct descendants of the Aztecs. You can find unique pieces of art which tell a historic or mythical story.
3. Placencia, Belize
This beach town on the Caribbean coast of Belize has 16 miles of beaches. Placencia is one of the most popular destinations in Belize for those looking for a coastal town. It has everything from fishing to water activities to Mayan ruins and tropical jungles. Go kayaking, fly fishing, snorkeling, or scuba diving with white sharks. There are also luxury beach resorts, world-class restaurants, and fun beach bars. But all that hasn't impacted its quaint feeling. Quiet restaurants with tables in the sand serve lobster, a staple in the area. One highlight is to visit the Turtle Inn, owned by Francis Ford Coppola, so while you dine you can also enjoy an extensive collection of Coppola wines.
4. Tamarindo, Costa Rica
The popular beach town of Tamarindo is located in Guanacaste Province, on Costa Rica's Pacific coast. It's the spot for surfing, sport fishing, scuba diving, and basking in the sun. Get out and explore the area in some thrilling activities like sailing, snorkeling, volcano hiking, and zip lining. All of which you can do on a guided tour. If you visit between October and March, there are also guided tours of turtle nests. Las Baulas National Marine Park is the largest nesting ground in the world for endangered leatherback turtles. Restaurants in Tamarindo serve tacos, burritos, and beans and rice with chicken or shrimp.
5. Paracas, Peru
Located on Peru's West Coast, Paracas is known for its beaches. While enjoying the sand and crystal waters, you can spot sea lions, pelicans, and Humboldt penguins, all of which call this town home. Tours will get you up close and personal with these incredible creatures in their natural habitats. A unique experience is a massive candlestick carved into the side of a bluff called Paracas Candelabra. No one knows how this relic of an ancient civilization got there or why. A favorite dish is a ceviche since the seafood is so fresh and don't miss the chance to drink authentic Peruvian pisco at a local vineyard, or any restaurant since it's so popular.
6. Estoril, Portugal
Just 40 minutes from Lisbon, Portugal, is the beach town of Estoril. Once a destination for royalty and celebrities, this quiet town is perfect for a getaway. The soft, sand beaches allow for some sunbathing or grabbing a meal and a drink at one of the restaurants which line it. Sports fans will enjoy visiting to catch a car race, tennis match, or fútbol match. Of course, we have to mention James Bond. Ian Fleming, the creator of the character, came up with 007 while he was staying at the Estoril Palacio Hotel. James Bond and the first book, Casino Royale were inspired by the environment and spies he met there. Additionally, portions of the film, On Her Majesty's Secret Service, were filmed here.
7. Plymouth, England
Plymouth is a port city in southwest England known for its maritime heritage and charming cobblestone streets. The city is more famously known though for being the location where the Mayflower departed in 1620 with 102 pilgrims onboard headed for America. A trip to Smeaton's Tower will give you a glimpse of the town's past photos. Visit the National Marine Aquarium and see more than 5,000 ocean animals including sharks and rays. Take a tour of the Plymouth Gin Distillery and taste gin from England's oldest working distillery, established in 1793. While it's a coastal town, you can also explore the countryside or do some antique shopping through many of the town's shops.
8. Portofino, Italy
The fishing village of Portofino is located on the Italian Riviera. It's one of the most popular resort towns visited by the rich and famous but still holds its charm as a fishing village. It's known for its unique pastel-colored buildings that line the shore of the harbor that's filled with yachts and fishing boats. Get a taste of the area's history through a visit to Brown's Castle and San Martino Church. Scuba divers get the rare chance to dive 56 feet down to see Christ of the Abyss, an 8-foot-tall bronze statue placed there in 1950 in memory of Italy's first scuba diver who died there. There are also plenty of amazing restaurants and elegant shops for those who prefer to stay on shore.
9. Sidi Bou Said, Tunisia
Cobblestone streets and blue-and-white houses make the town of Sidi Bou Said in Tunisia unforgettable. The African town sits high on a cliff and overlooks the Mediterranean. Along the streets, you'll find al fresco cafés, art galleries, and local shops. A favorite spot to see the view of the Gulf of Tunis is from the lighthouse. There aren't many hotels to choose from, but one of the most popular is La Villa Bleue, which has just 13 rooms, a gourmet restaurant, a swimming pool with a sea view, and a spa. Reserve your place early!
10. Nafplio, Greece
The coastal Grecian city of Nafplio is one of the most romantic cities in the country. Located on the Peloponnese on the shore of the Argolic Gulf, this town was the capital of Greece until 1834. It's rich in history and according to mythology, was founded by Nafplios, the son of Poseidon and the daughter of Danaus Anymone. Visit three castles located in the area: Akronafplia Castle, Bourtzi Castle, and Palamidi Castle. The Arvanitia Promenade is a popular walk to see the sunset or take a tourist train to see sites and local souvenir shops.
11. Amasra, Turkiye (Turkey)
The small Black Sea coastal town of Amasra is an easy one to explore. Located on a promontory and formed by two islands, this ancient town is steeped in Roman and Byzantine history with stunning views of the sea. What also makes it unique is how it is untouched by tourism. Some important spots to visit include the castle with an underground tunnel that leads to a freshwater pool, the archaeological museum, and the Bird's Rock Road Monument, carved into the rock between 41-54 A.D. A must-try are Black Sea anchovies, called hamsi. From Amasra, enjoy all that the Black Sea Coast of Turkiye has to offer.
12. Michamvi, Tanzania
The small fishing village of Michamvi, Tanzania, is located on the southeastern coast of Zanzibar. White sand beaches and clear blue waters make this location magical for those looking for a peaceful getaway. You can watch the sunrise over the Indian Ocean and see it set over Chwaka Bay. The fringe reef is popular with divers and snorkelers alike looking for marine life. Thrill-seekers will find world-class kite surfing, kayaking, paddle boarding, and surfing. There are plenty of luxurious beach resorts and hideaway stays.
13. Prachuap Khiri Khan, Thailand
Four hours south of Bangkok sits the fishing village of Prachuap Khiri Khan, Thailand. The main attraction is the temple on top of the hill at the center of town. You'll also want to visit the iconic large Buddha. Along the waterfront at night is a market with souvenirs and local cuisine. You'll go through the military base to get to the beach where you can stroll, rent a chair, and grab some food. There is a colony of monkeys located here. Inside Wing 5, they are friendly and calm. But beware of the other species by the more aggressive temple, and, if you're not careful, may rob you!
14. Hoi An, Vietnam
The well-preserved ancient town of Hoi An is on Vietnam's Central Coast. Enjoy a relaxing afternoon at An Bang Beach or a bike tour of the countryside where you can see views of the sea buffalo in their natural habitat, vegetable farms, and lovely ponds. Stroll along the cobblestone streets of Old Town, classified as a UNESCO World Heritage Site, with 21 historical sites to visit. You can also visit local boutiques, coffee shops, and restaurants. Three dishes to try in Hoi An are Cao Lau, Hoanh Thanh, and white rose dumplings. Take a walk across the Japanese Bridge built in the 1590s.
15. Byron Bay, Australia
This popular holiday destination is known for its beaches, surfing, and scuba diving. Byron Bay, Australia, has no high rises and plenty of national parks. It's home to the iconic Cape Byron lighthouse, which sits at the country's easternmost point, creating incredible views. There's a comfortable contrast between its alternative culture and hippie lifestyle, award-winning restaurants, luxurious hotels, and beach houses, as well as craft breweries. You can spend the day on the white sand beaches doing yoga, sunbathing, or exploring the tropical rainforests or farmlands. If you visit between May and November, take a whale-watching tour to see the migrating humpback whales.
16. Lakes Entrance, Australia
Known for its Gippsland Lakes, Lakes Entrance, Australia, is a coastal town in Victoria. It's home to one of the longest and most unspoiled beaches on Earth: Ninety Mile Beach. There is plenty to do outdoors. Surf the waters, kayak the lakes, take a paddleboat, or do some beach camping. Keep your eyes peeled for wildlife like kangaroos, pelicans, and dolphins along the beaches. Lakes Entrance is renowned as a seafood capital because it's a fishing town. You can try it at a local restaurant or catch your own. Check out the Griffiths Sea Shell Museum to learn about local marine life and coral reefs.
17. Russell, New Zealand
The charming town of Russell, New Zealand, is located in the Bay of Islands on the North Island. It was the country's first seaport and first European settlement, so it is rich in history. The town's streets still have the original layout and names from 1843. You can also visit many of the historic buildings. Spend some time at The Russell Museum to learn about Maori culture. If you're up for some adventure, you'll want to take in the views from a parasail in Russell. Plan to spend an afternoon at Oneroa Bay, one of the best beaches in the bay. The waves are perfect for swimming, boogie boarding, or surfing.
18. Napier, New Zealand
The coastal city of Napier sits on New Zealand's North Island and is a renowned wine-producing region. So you'll want to visit some wineries and vineyards on your trip. For art lovers, Napier is famous for having one of the most complete collections of Art Deco buildings in the world. If you visit in February, you can take part in the Art Deco Festival, which celebrates 1930s vintage cars, fashion, and music.
Bike, walk, or run the popular Napier Walkway which goes right through the city center and for miles in both directions right along the sea. The Marine Parade takes you by the Pania of the Reef statue depicting a Maori maiden, a symbol of the city. Enjoy fantastic restaurants, quaint cafés, fun bars, and boutique shops.
To read other articles about coastal towns, check out: