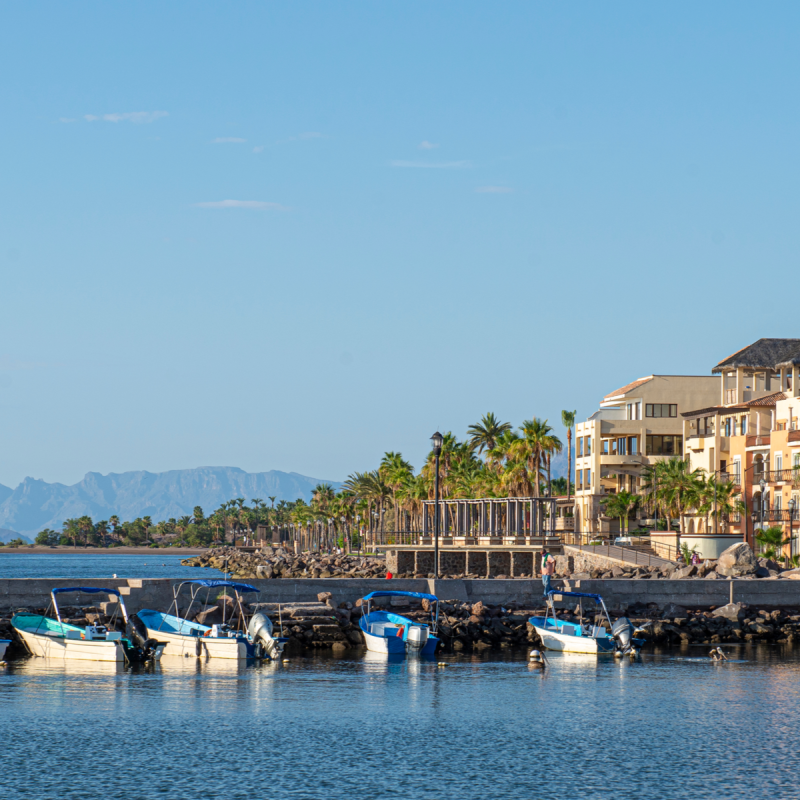 When I travel to Mexico, I look for relatively small towns with a colonial feel. I am not interested in cruise or spring break destinations. In Baja California, Mexico, I have been fortunate to find my perfect place.
Loreto is a colonial town with a permanent population of about 20,000, perched on the eastern side of the Baja Peninsula, nestled along the shore of the Sea of Cortez. It is 316 miles north of the better-known Cabo San Lucas, population 202,000, and very different in its ambiance. If you're looking for a taste of "real" Mexico, this historic city is the one.
Many coastal towns with resorts and high-end hotels have a thriving nightlife. In the town of Loreto, most streets are quiet by 10 o'clock, and while there are great restaurants and lovely hotels, the atmosphere is relaxed and the tempo slower.
I love the cobblestone streets in the center of town, the boardwalk along the waterfront, called the Malecon, family-style restaurants, and the beauty of offshore islands looming above the clear turquoise Sea of Cortez. If you want an experience in Mexico where you feel like you are in another country, instead of a look-alike resort, then you will not be disappointed in Loreto.
The weather is mostly dry and warm, as it is part of the Sonoran Desert and is considered arid subtropical. During October through March, the air temperatures range from the high 60s to low 70s Fahrenheit. Water temperatures are cool, and a spring wetsuit might be appropriate if you plan to snorkel. During April and May, the air warms and by June, July, and August, the daytime temperatures can reach the 90s. During summer the air is humid, due to the "little monsoons" of North America, and can be accompanied by rain.
Loreto has a small international airport and there are direct flights from San Francisco Los Angeles, Dallas-Fort Worth, Phoenix on Alaska or American Airlines. If you happen to be in Mexico, there are flights arriving in Loreto on both Volaris and Calafia Airlines. Hotels are plentiful and there are reasonably-priced rentals on Airbnb and Vrbo.
If you're in for a road trip adventure, driving to Loreto out of Mexicali or Tijuana will be just that. I have done the trip in three days to allow for exploring and combined camping with staying in motels at Catavina and San Ignacio. It's a scenic drive filled with wide-open spaces, volcanoes in the distance, and unique vegetation like cardon cactus. If you choose to drive, make sure your vehicle is checked and take extra food and water. I would not recommend driving at night, as there is very little lighting and animals, including cattle, may cross the road at any time.
Welcome To Loreto: Exploring The City
When I first get to a city, I like to explore by walking or riding a bike, which is easy to do in Loreto. I love looking at the colorful pueblo- and Spanish-style architecture of homes and markets, the enticing smell of homemade tortillas, and the early morning crow of roosters.
If you choose to bicycle, they can be rented at Susana's Bike and Kayak rentals. Some local hotels, like Casa La Castenada, provide bikes for their guests.
Loreto was founded by Jesuits in 1697 because of the natural palm-lined oases in the area nestled between the Sierra La Giganta and the Sea of Cortez. The town was settled on the site of the Conchimo tribe of indigenous people, who are thought to have inhabited the area for at least 12,000 years.
The Misión de Nuestra Señora de Loreto located in the main plaza of town was the first mission established on the Baja Peninsula, by Jesuits and later Franciscans, who continued building missions along the "Camino Real" or King's Highway of Sur and Alta California into the early 17th and 18th centuries. The area around this handsome and well-maintained mission has a historic aura with its cobbled streets, small museum, and four or five colonial buildings. There are places to eat, some shops with colorful Mexican ceramics and clothing, and a lovely Spanish-style hotel. Services are still held in the mission, and it is worth peeking inside for a look at religious statues and paintings and to admire the beautiful altar.
After you have wandered the town, sit at a local restaurant for a margarita and perhaps ceviche, a traditional and refreshing mixture of marinated shrimp or fish, mixed with chopped onions, tomatoes, juice from limes, and fresh cilantro, or try the chocolate clams, called this for their color.
If you have the energy, head for the Malecon, where you can view the volcanic islands offshore and watch local fishermen return with their catch. There are several hotels and restaurants along this lovely stretch where the aqua blue of the sea is home to a diverse population of seals, dolphins, manta rays, colorful fish, and birds.
Pro Tip: Stroll along the Malecon at sunset to view the fabulous red-orange colors reflected in the stunning blue of the sea.
Visit Isla De Coronado
An experience you don't want to miss while visiting Loreto is a panga boat ride to snorkel on the offshore volcanic island of Isla de Coronado. This is a magical spot, partly because in 1996, the Mexican government established the Bahia de Loreto National Marine Park, and the fish, marine mammals, sea bird populations, and manta rays here have increased due to their protection. To access the island, inquire at your hotel or go directly to the marina on the Malecon and ask for a guide. There are also ways to make an appointment for a tour online through small businesses such as Coronado Island Adventures.
My husband and I treated ourselves to a 3-hour tour, which included swimming with sea lions, sighting pelicans and blue-footed boobies, and snorkeling off a white sand beach. Most of the tours are run by local guides who will provide snacks, drinks, lunch, and snorkeling equipment. Tours last anywhere from 3 to 5 hours and cost around $75 USD per person.
Pro Tip: I recommend arranging an early start to your island tour. If you do, you may be surprised to find yourself floating in the pristine waters with only yourself and the tropical fish and if you're lucky, a few playful dolphins.
Side Trip From Loreto: Misión San Francisco Javier De Viggé-Biaundó
An enjoyable half-day trip on your own or an entire day with a guide, the Misión San Francisco Javier de Vigge-Biaundo is well worth the effort. It is located about 45 minutes outside of Loreto through the foothills of the Sierra La Gigante and into a date palm oasis and small valley. This is a beautifully restored stone mission; in fact, it is the best-preserved of all 27 missions on the Baja Peninsula. The mission was established to convert the Cochimi, the semi-nomadic Native American population, and because the water source here was more sustainable and reliable for agriculture than Loreto.
The village of San Javier, with about 300 residents, has a few shady outdoor eating spots (if you haven't packed a lunch). Make sure you explore the original aqueducts behind the mission, still used to grow citrus, grapes, and date palms. There is a small grove of the first olive trees planted on the peninsula, one with an impressive, twisted trunk that is 300 years old. If you choose to go with a local guide, you will be impressed with their knowledge of the native plants and animals as well as local culture and history.
Loreto, Mexico, Whale Watching
Whale watching is a once-in-a-lifetime experience, and Loreto is an excellent starting point for the adventure. There are gray, blue, and humpback whales on the Pacific side of Baja. The best trip to take if you are staying in Loreto is to travel two hours to Magdalena Bay on the Pacific side. This tranquil bay is an ideal playground and breeding area for gray whales. Gray whales migrate from Alaska to mate, give birth, and raise their calves, and opportunities abound to see them up close.
Although there is no guarantee that whales will approach your boat, and chasing them is illegal, you are guaranteed to see them. Some grays seem to enjoy human interaction and will swim to your boat and raise their amazing baleen-filled jaws to be stroked. This happened on my own whale trip, and I was in utter awe. The memory of this trip remains vivid; the sounds of the whales as they blow, the feel of their barnacle-covered skin, and the vivid blue of sky and sea.
Baja whale watching is a year-round activity, but the best time to view and interact with gray whales is from January to late March. Tours leave by van from Loreto, or if you prefer, book ahead online with a tour company in Magdalena Bay and drive your own car. Most tours provide lunch and excellent local guides.
Whatever activities you choose to do in Loreto, I assure you that you will want to return.
Pro Tip: Bring pesos with you, as many shops take cash, and you will want to tip your local guides.
For more "real" Mexico inspiration, consider