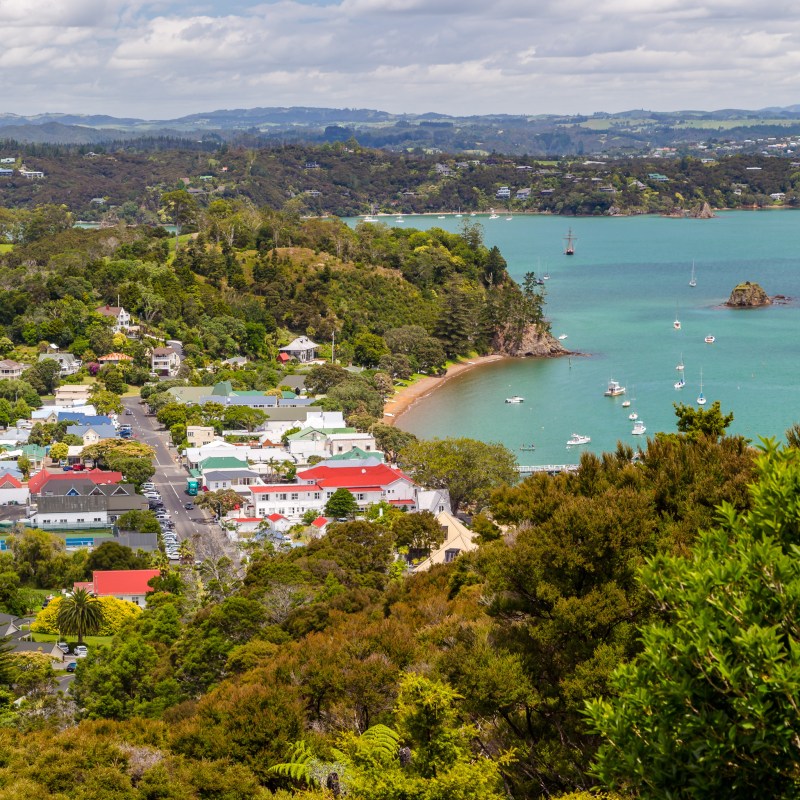 The town of Russell is located in New Zealand's Bay of Islands on the North Island in a region called Northland.
What I especially love about Russell is the magical blend of past and present you can feel as you discover its shops and historic landmarks. Though it's a small town, there's a lot to do. I also love how its simple nature shines through, especially in these crazy times. In some places, I felt as if I had been transported back to the 1800s. At the same time, there are beautiful shops and restaurants that remind me of a laid-back version of New York's Hamptons; there are the same beaches and stores, minus the hype and ridiculous prices. Russell isn't trying to be anything but authentic.
While an afternoon is plenty of time to see the town, you could easily enjoy several days there if you're looking for a peaceful time away. Here are just a few reasons to make time for this delightful town.
1. The Main Street Is Simply Charming
On any given day, walking down the main street (it goes from one end of the beach to the other) is the perfect way to start your trip. The view out to the Bay of Islands is beautiful from every vantage point. Going one direction, you'll pass one of the most famous restaurants in town (more on that later), and heading in the other direction, you can learn more about Russell's history. If you walk toward either end of the beach, you'll see it become less touristy and more authentic, and you'll be tempted to gaze through the windows of many of the beautiful homes you'll see.
2. It's Home To A Picture-Perfect, Gigantic Tree
It's hard to miss the gigantic knotted tree along the main street next to the best-known restaurant in town. I've hugged it on a few occasions. It's massive, and you'll need a wide-angle lens to take a good photo of it. It's one of those trees you know has been there for ages, and the town built around it instead of chopping it down for firewood. It's a Moreton Bay fig that was planted in 1870. Both its size and its extensive gnarled branches are an amazing sight.
3. You Can Visit The Pompallier Mission And Printery
You could spend a couple of hours at the Pompallier Mission and Printery if you also go to the cafe for a coffee and cake. This historic site isn't big, but if you walk to the top, you'll find one of the best views of the Bay of Islands Russell has to offer. If you're with your grandkids, there's a fun wildlife hunt (for photos, not the real thing!), and the garden will leave you mesmerized with its beautiful flora.
I loved watching the bees pollinate the flowers as well as the gorgeous succulents.
Mind the birds if you decide to put your bag down — they're very curious and have no fear of people. I watched a woman lose her lunch to one of them when she put her bag on the ground as she viewed another part of the garden.
4. The Heritage Trails Offer Diverse Views
Near the ferry dock, you'll find a sign with a list of all the main sites to see. It's quite a long list! Luckily, everything is consolidated, so you won't have to walk far. The sign will help you understand why staying an extra day could be worthwhile. Trail One will take you to the main sites in town, but there are several other walking trails that offer diverse views. Take a photo of the sign so that you can check everything off the list. If you're only in town for a few hours, focus on Trail One. If you have more time, then you can consider the other trails.
5. The Russell Museum Provides An Introduction To Maori Culture
The Russell Museum is a great way to educate yourself about the history of Russell, which was discovered by Maori tribes about 1,000 years ago. Even if you just want to see some books about New Zealand, this is a worthy destination. The gift shop is nice, and the grounds feature some beautiful Maori sculptures.
6. The Parasailing Is Fantastic
Every time I've been to Russell, I've seen some adventurous soul in the sky, parasailing. I was always happy to watch, but if hanging out above the water with a parachute is your cup of tea, the view is gorgeous, and you'll delight everyone in town as you fly past. You can sign up in either Paihia or Russell.
7. You Can Enjoy A Great View At The Gables
Make time to eat or enjoy a drink at The Gables — preferably outside so that you can people-watch and take in the peaceful water scene. You can sit next to the restaurant or across the street and get lost in the view or read a good book. The restaurant is farther from the ferry boardwalk, so there are fewer passersby to interrupt your view.
Best Restaurants In Russell
The Russell restaurant everyone knows and recommends is The Duke of Marlborough Hotel. As the name implies, it's both a restaurant and a hotel. The menu is full of delicious, hearty options, and the place feels like an English manor inside. I tried to walk in without a reservation when there appeared to be plenty of available tables. The pandemic has impacted many area businesses, and though there was room, it seemed that there was not a full staff. I was asked to wait in the bar area, which, unfortunately, was a bit stuffy on that warm day. I decided to eat elsewhere, but I would definitely give this place another chance. Their menu looked delicious!
Seeking green-lipped mussels, I ended up at Butterfish, about a 2-minute walk from The Duke of Marlborough. I was surprised because, based on the casual layout, I thought I'd end up with an average-tasting bowl of mussels. Instead, I got a fabulous meal, complete with a great glass of wine, all while sitting outside and taking in the gorgeous view. Not only is this restaurant delicious, but it also caters to all dining needs. I was with a gluten-intolerant friend who needed her mussels in a different sauce, and since I'm allergic to heavy cream, they made my sauce with coconut cream. I should also mention that the staff is delightful, and I would definitely return.
If you're in the mood for pizza, you might consider the lovely Hone's Garden. The food is casual, but the elegance of the garden is anything but. It's definitely worth a stop if you have the time.
How To Get To Russell
There are several ways to get to Russell. You can drive there, but that will take you over an hour. The ferry is a much better option. A passenger ferry departs regularly from Paihia, located across the bay, and a car ferry goes back and forth to Opua, one town over. The ferries take about 15 minutes. If you take the Bay of Islands boat tour, your ticket includes a return trip on the ferry from Russell.
The ferry experience is peaceful as you glide across the water and look at the surrounding landscape. I've found all the ferry rides to be sheer bliss, especially the smaller ones. I enjoyed the passenger ferry one evening at sunset with ominous clouds overhead that accentuated the beauty of everything around us. The car ferry is small, and you can easily step out onto the deck to gaze at the sky and the water and the scenery and forget that anything else exists.
Note that the passenger ferry brings you directly to the center of town, while the car ferry takes you to a point about a 15-minute drive from the center of town.
Pro Tip: Long-term parking isn't easy to find in Russell. The center features mostly 1- or 2-hour parking spots that won't leave you enough time. You'll have better luck trying one of the back streets near the Pompallier Mission for longer-term parking. There's a small parking lot surrounded by trees, which, if you can find it, has no meters, and you can stay as long as you'd like.
Russell is a delightful town just across the bay from Paihia. Whether you go for an authentic New Zealand experience or just to enjoy a relaxing day on the beach, this town is the perfect place.