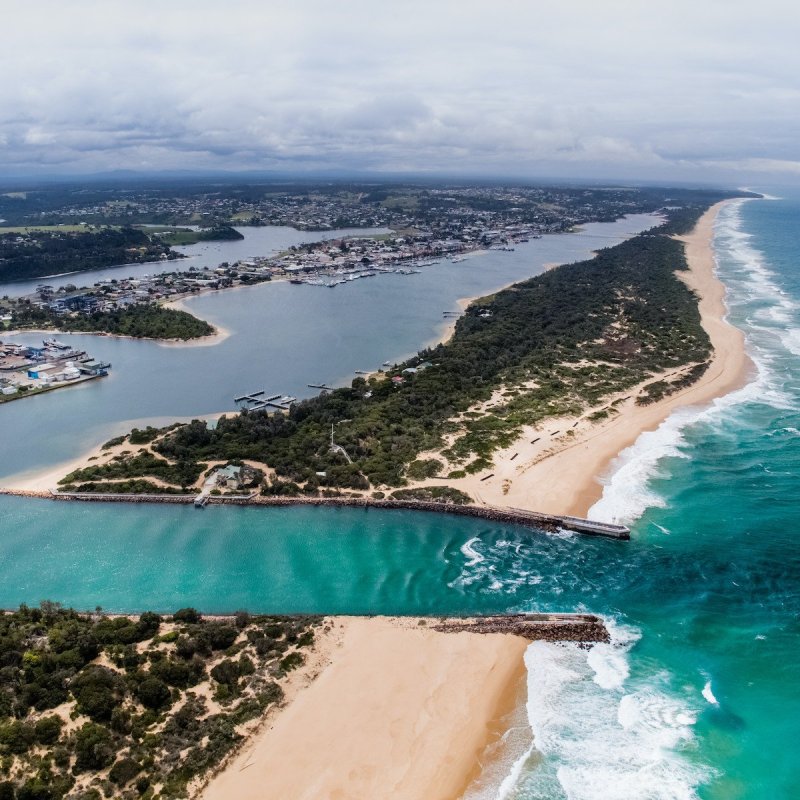 Wotif.com (a travel site whose name plays on the Australian pronunciation of "What if?") recently announced the winners of the 2021 Aussie Town of the Year Awards. High on their list was Gippsland's Lakes Entrance, a coastal town that's a four-hour drive from Melbourne and a popular stop on the Sydney to Melbourne Coastal Drive. Lakes Entrance has stunning beaches, endless lakes, top-class fishing, and inspiring scenery.
I visited courtesy of the tourism body Visit Victoria. Long a local favorite, the last five years have seen world-class chefs call the area home and the growth of a vibrant viticulture and microbrewery scene. The once sleepy fishing village has awakened like a giant from the depths, ready to welcome the world. Here's why you need to go.
1. Sshhh! (There's An Endless Beach Here)
The name Lakes Entrance reflects the Gippsland Lakes, the largest expanse of inland waterways in the Southern Hemisphere. It doesn't acknowledge the town is also home to The Ninety Mile Beach, one of the longest and most unspoiled beaches on earth. It's like they try to hide it. Drivers are blinkered on the way in by the long row of shops and motels on one side of the esplanade and the fishing trawlers and floating restaurants on the inlet opposite.
Abandon the car for the five-minute walk across the Cunningham Estuary Footbridge. Cresting the dune on the other side is a wild surprise — an unbroken stretch of wide sand pummelled by rolling breakers and the blue waters of Bass Strait as far as the eye can see. No resorts or roads interrupt the wild, windswept magic. Waves crash in, and dolphins frolic in the surf.
Swim in summer when the beach is patrolled or ride a camel with waves on one side and dunes the other. Try beachcombing. I arrived at Lakes Entrance on an AAT Kings' Discover Gippsland coach package. As a child, I'd also visited on such a tour. On that trip, fellow children suggested we get up at daybreak to collect shells. Taking them at their word, my brother and I pounded on their door at dawn, but they ignored us. It had been a trick to get us out of bed. We left without them, and the experience was magical. What memories those tricksters missed out on! I hope you don't miss out on seeing this incredible beach.
2. For Scenic Miles
You could walk on the endless sand that stretches as far as the eye can see. But a shorter option is the Entrance Walk — three miles return. No sign of humans, just washed-up shells, jellyfish, and driftwood. The Entrance was a man-made channel constructed in 1889 to link Bass Strait with the Gippsland Lakes. This history remains in the century-old machinery and original workers' houses. The rocky entrance is a place to spot shearwaters, Pacific gulls, pelicans, and crabs. Seals are normally the puppies of the ocean, but here they are so well fed by the schools of fish that fill the lake on incoming tides they are often too full to move.
For a seagull's view of the dramatic scenery, drive to Jemmys Point or Seaview Parade for unparalleled views over the town, marinas, Cunninghame Arm, and the grand sweep of the Ninety Mile Beach — or take in the fantastic views with a helicopter tour.
3. To Get Onboard
With 137 square miles of lakes to explore, you'll want to hit the deck. Sail on a 1902 pearl lugger or hire self-drive yachts, motor cruisers, day boats, or kayaks. Book the water taxi for drop-offs at coastal villages or remote beaches. Lonsdale Cruises offer eco and dolphin tours as Lakes Entrance is home to the rare breed of Burrunan Dolphins.
Take a cruise to Wyanga Park, Gippsland's oldest, family-run winery. Book a fishing trip to catch bream, flathead, and snapper. Peels Cruises, a family business operating since the 1920s, took us on tour to the coastal village of Metung. It was idyllic cruising the waterways and soaking up the sunshine. The captain offered tidbits of information about Australia's largest inland waterway but didn't dominate our airways and took every opportunity to navigate close to preening pelicans and sunbaking seals. Metung was a popular holiday spot with the landed gentry and remains upmarket with a yacht club, Kings Cove Golf Club, and the luxurious Moorings Metung Accommodation perched on the water's edge.
From its spot near the jetty, a new gourmet food store, Farmer and the Cook, delivers platters of fine local produce to lodgings and boats. The highly anticipated Metung Hot Springs, with its natural geothermal waters, glamping experiences, and spectacular coastal views, opens in late 2021, adjacent to the golf course. A hit and dip: the perfect holiday duo.
4. They Reel Foodies In Hook, Line, And Sinker
As home to Victoria's largest fishing fleet, fresh seafood is always on the menu. Some of the culinary gems have to be uncovered. If The New York Times can discover The Long Paddock in nearby Lindenow, so can you. We had the five-course tasting menu looking out over the furrowed fields of the veritable "food bowl"– the fertile floodplains of the Gippsland Lakes. Chef Tanya Bertino was formerly of Ledbury in London, and she and husband Anton Eisenmenger worked with top chefs such as Brett Graham and Tom Kitchin. Our meal started with local rock oysters with finger lime mignonette — an Australian fruit, the tiny balls inside "explode" in your mouth like citrus caviar. After three more equally astonishing courses, we finished with a quince tarte tatin with ginger and nashi ice cream and chocolate cremeux. Despite the top-nosh food, there's nothing pretentious about this country restaurant. The crockery is deliberately mismatched, and epicureans tuck into degustation menus alongside farmers dropping in straight from the fields for coffee and cake.
With chefs forsaking cities to embrace Gippsland's fine regional produce and more relaxed lifestyle, the area now has several AGFG (Australian Good Food Guide) Chef Hat restaurants. Mark Briggs, the owner of SARDINE Eatery and Bar, worked at Pierre Koffman's three Michelin-starred La Tante Claire kitchen in London. He makes the most of Lakes Entrance's seafood in delicious dishes like scallop tortellini, steamed school prawns with smoked-garlic aioli, and fat sardines served simply with herb oil on perfect sourdough.
The hatted restaurant Sodafish has taken over an old ferry on the waterfront as you drive into Lakes Entrance. Formerly of The Atlantic (a Crown Casino restaurant), chef Nick Mahlook returned to his hometown and opened Sodafish, which is moored next to the fishing fleet of trawlers so diners have an authentic ocean-to-plate experience. My meal included wood-fired octopus, chorizo, green goddess dressing, and pickled peppers, and a whole Snapper with a side of chargrilled baby broccoli and macadamia cream. There's a take-out chippery for those who simply want fish and chips on the beach.
5. Because They Marry Their Food And Drink
Gippsland has a dedicated Drink Trail with many wineries and breweries clustered around Lakes Entrance. Gabrielle Moore, one of the creators behind the local brewery Sailors Grave, took us foraging on the coast. She and her husband, Chris, use sea figs, saltbush, Karkalla, Native River Mint, and even sea urchin in their small-batch handcrafted and artisanal beers. "We make beers that create a sense of place," she said, "that reflects the pristine coastal wilderness." The couple owned Sydney's The Commons Local Eating House, also featured in The New York Times. With their background in the culinary arts, their beers are subtle and inspiring and have an international cult following.
Red Bluff Brewers has a large and impressive taproom in Lakes Entrance. Husband and wife team Wayne and Donna Burnett pull beers from a back wall with many options. Their beers are named after local lakes and beaches, and summer-inspired choices include pear and rhubarb sour and a beer imbued with the taste of local strawberries.
But beyond the brewery offerings, it's how the area marries its food and drink that's inspiring. During our tasting menu experience at Long Paddock, the chef paired the gnocchi with prawns and tomato with a small glass of Sailors Grave Gose. This beer has a slight ocean tang from the sea salt and Ulva Compressa (a seaweed) the Moores collect from the ocean outside their farm. With its deck overlooking the Snowy River Estuary, the Marlo Pub was pulling jugs of Sailors Grave and suggesting a glass of red from the local Tambo Winery to accompany their decidedly good roast of the day. They honor their own here.
Lightfoot and Sons Wines is a family winery in view of the Gippsland Lakes that offers incredible views from the edge of the escarpment. As much as brothers Tom and Rob Lightfoot were keen to tell us about their famous small-batch wines, they were equally excited to show off their Taste of East Gippsland Experience. They'd asked several exceptional restaurants in the area to create food pairings for their wine flight of Chardonnay, Pinot Noir, and Shiraz. Long Paddock created the moreish pickles, SARDINE eatery + bar the excellent trout pate, Northern Ground the pork terrine; and Seasalt-sourdough supplied the bread. They'd also paired the local Maffra Cheddar, with its distinctive sharp flavor and smooth texture, with the shiraz paste they make from their grape pressings. This collection of fine tastes makes tourists want to visit all these venues, which are sure to serve local wines. The collaboration and mutual support in the region are not only inspiring but allows tourists to have a well-rounded regional culinary experience — a true taste of Gippsland.
6. A Range Of Accommodations
As Lakes Entrance is a popular destination, there's a wealth of accommodations, including Vrbo rentals, motels, cabins, caravans, and campsites. I stayed at the recently refurbished Bellevue on the Lakes. My room had a deep spa bath, views over the fishing trawlers, carefully coordinated modern decor, and Nordic-inspired furnishings. Next door was the Iluka Spa with its Japanese plunge spa bath and Vichy shower. The breakfast at their cafe, Albert and Co, was incredible. Australia's major cities are famous for their coffee culture and showstopping breakfasts, but this regional cafe is up there with the best of them with fine seasonal produce and exceptional plating.
Pro Tips: Check out Visit Gippsland and this itinerary from Empty Esky. Or let someone else drive to the wineries on the AAT Kings Discover Gippsland Tour. And for more inspiration, see all our Australia travel advice here.