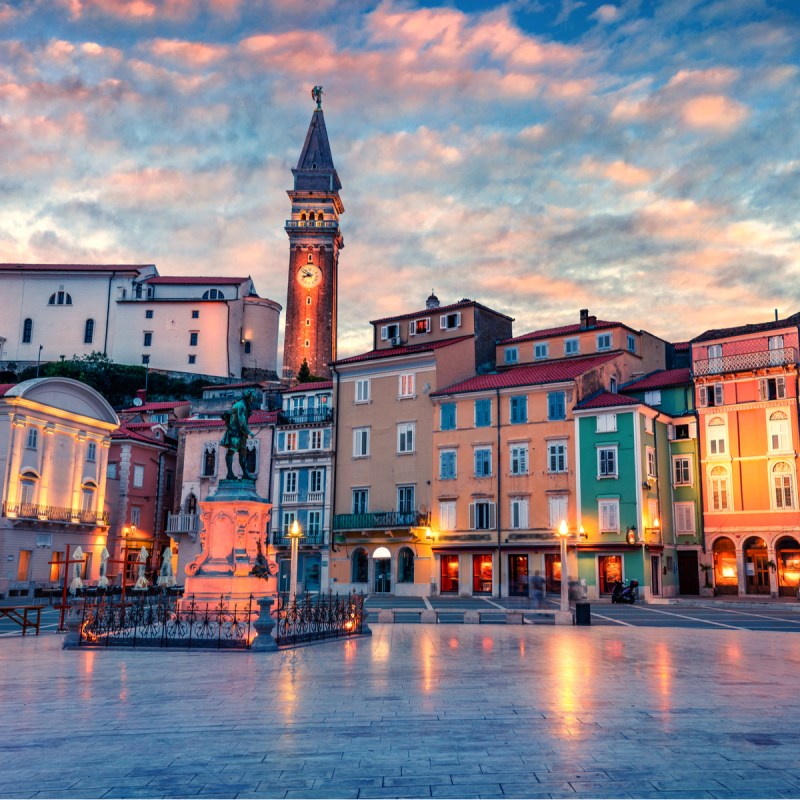 Walking through the winding alleys of Piran, Slovenia, you'll see Venetian Gothic buildings jutting up against serene ocean views. A fresh breeze drifts in from the nearby Adriatic Sea, creating an almost magical atmosphere, while tall cliffs peek out above the tranquil skyline.
In short, Piran is a near-perfect destination, filled with charming landmarks and world-class restaurants. We've fallen in love with this Slovenian gem, and you will, too — here are a few reasons to make this a stop on your next vacation.
1. It's Located On The Coast Of The Adriatic Sea
In towns like Piran, doing nothing can feel extraordinary. This charming peninsula town is located on the coast of the Adriatic Sea, and wherever you're at in the city, you're never more than a 10-minute walk from the beach.
The Church of Saint George is one of the best places to take in the gorgeous views. The largest church in town, it's a tribute to the town's patron saint, who is said to have saved the city from a storm. Travelers can pay a small fee to climb the church's bell tower and gaze out at the (hopefully calm) seas.
2. It's Famous For Its Salt
"Piran is made of salt" is a common Slovenian saying. The town is internationally famous for its salt, which is prized among chefs for its unique texture. Saltmakers still play a prominent role in Piran's economy, and many still use traditional methods that originated in the 14th century.
Today, tourists can purchase bags of salt from street vendors throughout the city. Salt treatments are also available at nearby spas — more on those in a moment — and needless to say, the seasoning is commonly used at all of the city's best restaurants.
3. It Celebrates Its Heritage Several Times Each Year
Three times each year, Piran celebrates its heritage with salt festivals. Artisans sell salt, wine, olive oil, and other products while performers showcase Slovenian culture through dance and music.
The festivals, which highlight the different phases of the saltmaking process, take over Secovlje Salina Nature Park, Piran's most well-known green area. However, the proceedings also spread to Tartini Square, the cultural center of the city.
4. Tartini Square Offers Fabulous Food
In the famous Tartini Square, travelers can peruse offerings from antique dealers and local craftsmen or simply walk the cobbled streets from one coffee shop to the next. Part of Piran's appeal is its relaxed atmosphere, and the rustic town center is a perfect place to experience that casual ambience.
It's also a great starting point for foodies, since Piran's culinary offerings take center stage here. Seafood is, of course, the primary draw. There are few better spots on the planet to sample fresh fish and shrimp, perfectly seasoned with the town's famous salts, and most eateries also offer their takes on Slovenian classics like kranjska klobasa (a popular pork sausage).
5. It's Home To World-Class Spas
Slovenes believe that their country's hot mineral waters and temperate weather have a rejuvenating effect, so it's no surprise that day spas are relatively common throughout Slovenia.
Many of Piran's hotels and resorts offer spa services for their guests, including mineral treatments, massages, saunas, and beauty therapies. A day at the spa seems far more refreshing in the pleasant Mediterranean climate — maybe the Slovenes are on to something.
6. You Can Visit A Shell Museum
The Piran Shells and Snail Museum features a permanent exhibit called the Magical World of Shells. Visitors can browse specimens from 3,000 species of shellfish, and it's a wonderful place to travel with kids.
Other cultural points of interest include the Town Gallery, a modern art museum, and the Piran Maritime Museum, which is the site of the Gabrielli Palace. Granted, most travelers spend their days in Piran lounging on the beaches or exploring the cobbled streets, but if you're looking for an enriching cultural experience, you won't have to look far.
7. You Can Easily Make A Day Trip To Venice
Catamarans run from Piran to Venice, and while the trip isn't short — even the high-speed ferries take close to 3 hours — the experience of crossing the Adriatic is well worth the time. Travelers can learn about Venice during the trip, see a few key sights and enjoy a true Italian meal, and then return to the relative isolation of Piran.
However you plan your Istrian vacation, Piran certainly deserves some attention. It's a quiet yet vibrant town with a rich culture and history, ideal for spending a few days — or weeks — basking in the warm Mediterranean sun.