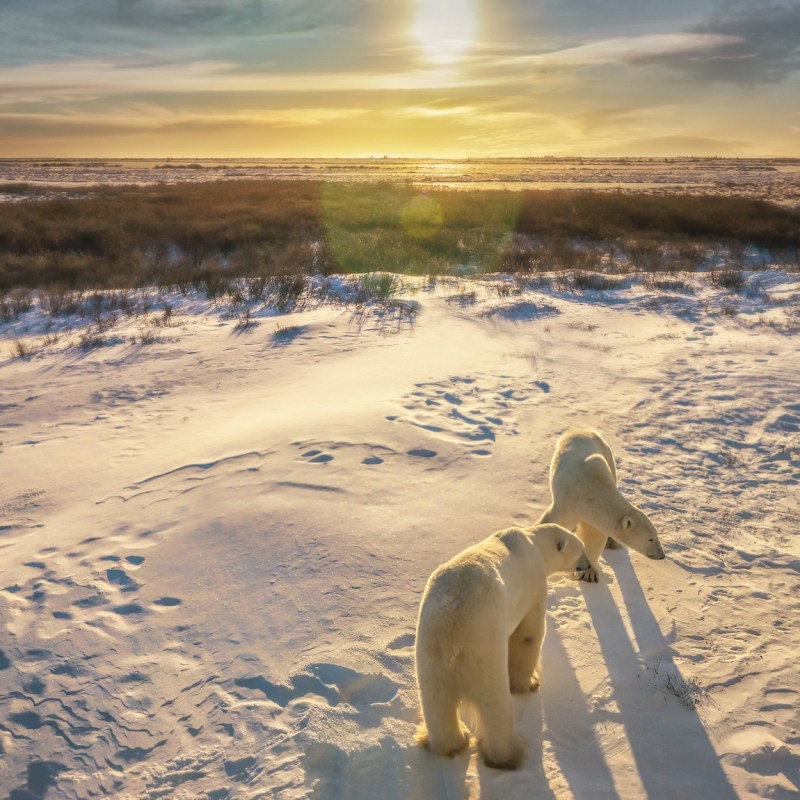 Canada is on our readers' radars for 2023. According to TravelAwaits' State of Travel survey, it ranks fifth out of the top 10 international destinations that are on your travel list this year. Looking for some Canadian destination inspiration? You've come to the right place! We asked our expert travel writers (many of them Canadian themselves) to share their favorite destinations to visit in Canada in 2023. Boy, did they deliver! No spoilers, but let's just say we are booking a trip to the polar bear capital of the world ASAP! From Calgary's 2023 Winter Olympics events to Montreal's architecture, here are seven amazing places to visit in Canada this year.
1. Calgary, Alberta
With 1.3 million people, Calgary is Canada's third-largest city. It is just over an hour away from the Canadian Rockies on the Trans-Canada Highway. Orient yourself in the Calgary Tower, then enjoy a meal at Sky360. Roxie Yonkey recommends allowing an hour to complete a 360-degree view.
Yonkey says Heritage Park Historical Village is the best living history museum that she's ever visited. Ride the steam train around the park. Communities range from an 1860s First Nations encampment to a mid-20th century small town.
Calgary hosted the 1988 Winter Olympics, then turned Olympic venues into WinSport. During the winter of 2023, the venue will host halfpipe and slopestyle World Cup events, the World Junior Figure Skating Championships, and Special Olympics Canada's Winter Games. Don't just spectate. Ski and snowboard during the winter. In warmer months, fly on the zipline and the summer bobsleigh.
In-mid July, experience the Calgary Stampede, the city's signature event, at the Scotiabank Saddledome.
2. Hinton, Alberta
Only 20 minutes from Jasper National Park of Canada's entrance, Hinton, Alberta, is a destination on its own. It sits at the intersection of the Yellowhead and Bighorn highways. Its location on the Athabasca River in the foothills of the Rockies makes for beautiful scenery. Float down the river from May to September. Test your mountain biking skills at the Hinton Bike Park.
Hinton's 1.86-mile Beaver Boardwalk is the world's longest freshwater boardwalk. "We saw no beavers," reports Yonkey, "but the walk around Maxwell Lake was lovely."
Six provincial parks surround Hinton. Prepare for backcountry hiking in the Canadian Rockies. Catch rainbow and brook trout at Wildhorse and Kinky lakes west of Hinton. Hike or ride your horse or ATV at the Brule Sand Dunes nearby.
Hinton is beautiful year-round, but enjoy summer's long days and the flame of fall colors.
3. Victoria, British Columbia
At the beginning of 2023, plan to visit Victoria, BC, during the off-season. You'll avoid the crowds of tourists and cruise ship passengers that almost overwhelm the city in the summer months. Plan a romantic getaway and stay at the iconic Fairmont Empress. Stroll the Government Street Pedestrian Zone for cute shops and boutiques. Stop in Munro's Books, one of the best bookstores in Canada. Peggy Cleveland says it is "one of the most beautiful bookstores I have ever been to." She suggests having tea at Murchie's, a local favorite since 1894. Cozy pubs are a great place to enjoy a beer and meet locals.
4. Churchill, Manitoba
Although Karen Burshtein has traveled the world, her time spent in Churchill, the northern Manitoba town known as the polar bear capital of the world, is among her best travel memories. "I'm from Manitoba, but I'd never been up to Churchill until last year when I finally got to visit what is really one of the most spectacular places on earth."
Majestic and fierce polar bears roam around the tundra. "We saw a few of the usually solitary bears frolicking before setting off on the frozen lake for the winter," recalls Burshtein, "We even saw a mother and her cubs!"
She loved it so much, she returned a few months later to see the aurora borealis. "Churchill is located under the aurora oval, making it one of the top places to see the glorious celestial display, of curving, curling flickering green, yellow, blue, purple, and red lights," Burshtein tells us. January, February, and March are the best times to see the northern lights. That's because it is so cold that there is little chance of condensation off Hudson Bay, so the skies are at their most clear.
"We were told by indigenous elders that the sun's 11-year cycle of activity has picked up so there is likely to be really great aurora watching in the next couple of years," Burshtein shares, "To see the two wonders of nature — polar bears and the aurora — is both humbling and spiritual. You feel like such a small part of the planet but so connected to it."
"There's something about the light when you're this far north," says Shel Zolkewich. She recommends visiting Churchill during its short-but-sweet summer season when "deep pink fireweed blooms seem to glow on the sub-arctic landscape."
While captivating flora like stemless raspberry and Labrador tea will make your Insta Stories pop, this season belongs to the fauna, and in particular, the gentle beluga whale. They crowd the Hudson Bay shoreline and lounge in the Churchill River throughout the summer, surfacing to check out visitors in Zodiac boats, in kayaks, or atop paddleboards. "They will most certainly offer their iconic smiles and give your vessel a playful bump," Zolkewich tells us, "You will smile too and you might even squeal with delight!"
Fun Fact: Beluga whales outnumber Churchill's human residents by 3,000 to one in the summer.
5. St. Martins, New Brunswick
A charming Canadian village, St. Martins sits on the magnificent Bay of Fundy. There are so many wonders to experience here. "First, visit the sea caves at low tide," recommends Jeanine Consoli, "You can walk on the beach when the highest tides in the world recede. Six hours later, when the tide rolls in, you can sea kayak in and around those red rock caves, or take a boat tour of the rocks and coastline."
Stay in a historic country inn or camp on the ocean. Fill up on a fantastic lobster dinner or seafood chowder. Learn about the history of sea captains at Quaco Museum and admire the colorful fishing boats that rest right on the ocean floor. St. Martins is the gateway to the Fundy Trail Parkway, which offers lookouts and observation decks of the stunning Bay of Fundy, and waterfall hikes that will take your breath away.
St. Martins is one of a trio of New Brunswick coastal towns that will make an interesting road trip from Bar Harbor, Maine, just two hours and 45 minutes away according to Carol Colborn.
St. Andrews' best-kept secret is Covenhoven on 690-acre Minister's Island, accessible at low tide by a wide gravel bar. Built in 1891, it has 50 rooms, a bathhouse that leads to the rocky beach with an outdoor saltwater pool carved into it, and a big barn with a creamery beside it.
An hour away is Saint John and its wonderful City Market. It is smaller than Vancouver's Granville Island Public Market, but its ceiling looks like the interior of a ship's hull. At St. John's 20-block historical center, the old Trinity Anglican Church rises, with its bell tower and steeple, to 210 feet.
In another 40 minutes, you will reach St. Martins, the gateway to Fundy National Park with 50-foot high tides. "You can walk to the duo of sea caves at low tide and collect beautiful stones," says Colborn, "Two beautiful covered bridges photograph well with the lighthouse."
6. Charlottetown, Prince Edward Island
Only 40 minutes from Charlottetown, the capital of Prince Edward Island, is Cavendish. This tiny township is known for being the birthplace of L. Montgomery, the popular author of some 20 novels, including her most well-known Anne of Green Gables, and 500 short stories.
Montgomery's grandparents' house is well preserved at PEI National Park. "The Haunted Trail and the Lovers' Lane at the back (which she wrote about) are lovely walks," comments Colborn. The Museum of Green Gables, on the other hand, is the home of the Campbells, the author's aunt and uncle. It's where she spent many nights growing up. The museum is open seasonally and will reopen on May 21, 2023.
Pro Tip: You don't have to visit the museum to peruse the gift shop!
"Nearby, you will find rolling acres of rape seed alternating with flowering potato fields, making a palette of yellow, green, and white fronting the river and the quaint homes along it," describes Colborn, "The charm of PEI will even get better as you drive by red sandy shores and cliffs."
7. Montreal, Québec
Every city has its heyday — a moment that will forever be associated with a place. For Montreal, it was the 1960s. In 1967, the largest city in Canada's Québec province welcomed the world to Expo 67. "And with it, architecture and infrastructure that helped tell the world that Montreal was a forward-marching, innovative city," says Burshtein, "and Canada a country with more than mountains, blue lakes, and cute beavers."
One of the best things to do in Montreal is to go on a 1960s architecture tour. See architect Moshe Safdie's groundbreaking Habitat '67, the nostalgia-laden Gibeau's Orange Julep drive-in restaurant with its three-story concrete orange, Buckminister Fuller's geodesic dome (Montreal Biosphere), and the exciting modernist Chateau Champlain hotel. With the extraordinary design of many of its stations, the Montreal metro was a pioneer of public art with gorgeous murals, sculptures, and stained glass. "For those old enough to remember those days and even those who are not, this is a fantastic way to visit Montreal," says the Winnipeg resident, "And happily, urban innovation is a legacy the city has carried on."
Related Reading: