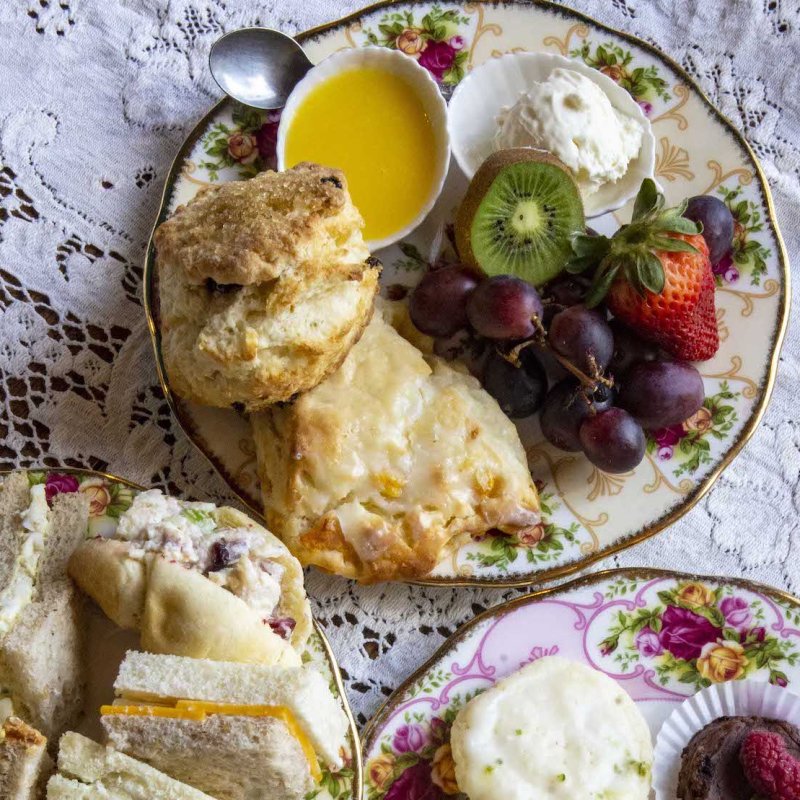 Victoria, British Columbia, is located on the craggy southern end of Vancouver Island where it boasts a temperate climate all year long. It holds the seat of government for the British Columbia Province with its parliament building prominently overlooking the comings and goings of Victoria's charming Inner Harbour.
As a smaller city, many of the main attractions lie within easy walking distance of the city center. This, along with its multiple gardens, picturesque architecture, and nod to old-English charm help make it a very beautiful city, indeed.
It is a popular destination for British Columbians as well as Pacific Northwesterners as it is easily accessible by ferry from Seattle or Vancouver. If you prefer a more luxuriant mode of transportation, hop aboard one of the harbor seaplanes and enter Victoria from the air.
Victoria offers both culture and charm, making it the perfect enchanting mini-break vacation spot.
Pro Tip: Another way to get to Victoria is to take the Washington State ferry between Anacortes, Washington, and Sidney, British Columbia. This option is easiest if you have your own car as it is about a 30-minute drive into Victoria from the ferry landing. Additionally, there is a local bus running into Victoria about every half hour.
Things To Do In Victoria
Whether it's a walking tour, gorgeous gardens, architecture, or learning about history, there are so many things to see and do in Victoria. Plan to spend at least one day exploring the city center and one day venturing out to explore even more noteworthy sites on the tip of this beautiful island. There is something for everyone to experience and enjoy.
One easy way to initially see the city is aboard a hop-on, hop-off bus. This can be a great way to orient yourself on sites you wish to visit, allowing flexibility to explore many points of interest. These cherry-red, open-top double-decker buses are seen zipping all over Victoria. Ticket booths can be found in front of the Fairmont Empress Hotel on Government Street.
Afternoon Tea At The Fairmont Empress Hotel
Many consider taking an afternoon tea synonymous with visiting Victoria, and if you are looking for the quintessential English tea experience The Empress Hotel is where you should head.
In fact, the stately Empress Hotel is one of the first buildings you will see if entering Victoria by way of the Inner Harbour.
This grand hotel has presided over the heart of the city since 1908 when it was built by Canadian Pacific Hotels, a division of the Canadian Pacific Railway. It is currently a National Historic Site that blends its vintage beginnings with contemporary amenities.
Tea at the Empress begins inside the elegant Lobby Lounge, an open and airy space with grand windows looking out toward the harbor. Select a loose-leaf tea from an extensive menu of blends which are then served in royal china tea sets. Traditional afternoon tea consists of finger sandwiches, scones with cream and jam, pastries and cakes, and seasonal fresh fruit. These can all be made to accommodate dietary concerns for the vegan and gluten-free.
Afternoon tea at the Empress starts at just under $100 per person but the experience of old English charm is worth every cent.
Pro Tip: The Empress schedules shorter winter hours for their tea service from their Spring/Summer hours. Check their website for seating times and to make that highly recommended reservation. You can even reserve your time online before embarking on your trip.
For a more intimate High Tea experience that is also a little easier on your wallet, try hopping on the public transit and venturing up to The White Heather Tea Room. The transit system in Victoria is simple and easy to use with a day pass costing $5 CAD. The day pass is well worth the money if you plan to sightsee a little.
Butchart Gardens
As a National Historic Site and considered the "gem" of Victoria's attractions, Butchart Gardens receives roughly one million visitors annually, and all year long. There is a variety of horticulture throughout the 55 acres of gardens including an amazing rose garden, the Japanese garden, the Sunken Garden, and the Italian and Mediterranean Garden. Spring is a beautiful time to visit but so is winter, when the gardens are lit with thousands of twinkling lights that create a fantastical winter wonderland.
The garden paths are easily walkable at whatever pace you choose and are wheelchair accessible. If you find yourself becoming a little peckish in the afternoon, stop by one of the garden cafes for a small respite with a pastry and a cup of tea.
Butchart Gardens is located just outside of Victoria and is an easy bus ride from the center of town. The other option is to purchase a ticket on a Butchart Garden Tour Bus, which picks up passengers directly in front of the Empress Hotel. It does not get much easier than that and it is worth every cent.
Beacon Hill Park
Looking for more charming English gardens? Look no further than a stroll through Beacon Hill Park. This 200-acre park lies right in the heart of the city offering its vast green spaces for visitors and locals to enjoy. It may look like Mr. Darcy from Jane Austin's Pride and Prejudice should come galloping over the hillside, but what you will find are beautiful ponds, romantic moss-covered bridges, a rose garden, and endless paths winding their way through the park.
You may also encounter the resident peacocks, ducks, and turtles who call this lush area home, plus the 127-foot totem pole who stands sentinel near the middle of the park.
Beacon Hill Park is an easy 20-minute walk from the Inner Harbour and from the downtown district. Stroll out of the city center and through some quiet neighborhoods, but plan to take your time as there are some spots that incline. If you prefer to save your steps for exploring the park, hop on the local transit line #2 and it will take you right there.
Pro Tip: Many sightseeing attractions are accessible by local transit. Bus fare is $2 — be sure to request a return transfer ticket which allows you to ride later for the same fee. Or, for the most flexibility and value, purchase an all-day pass for $5 and sightsee at your leisure.
Craigdarroch Castle
This four-story, Scottish-style castle is easily accessible from the hop-on, hop-off bus. A definitively Victorian experience, this castle on the hill was built in the late 1800s by a Scottish immigrant who made his fortune in the coal industry. The home showcases the elaborate architecture of the Victorian era, from its ornate stained glass windows to the detailed woodwork and opulent furnishings. If architecture is your interest, then spend a morning reveling in this home's finery.
Pro Tip: The castle is located a couple blocks up from the hop-on, hop-off bus stop, and getting there requires a bit of a walk. Note that there are also some narrower stairs in various parts of this older home.
The Royal BC Museum
The Royal BC Museum is always a good first stop in Victoria. It is easy to while away a whole afternoon perusing through the permanent collections, which include exhibits on modern history, natural history, and an all-time favorite, First Nations history. Dip into the rich culture of the people who first inhabited this land as you gaze upon their artifacts and sit inside the dimly lit "Great Hall" surrounded on all sides by stunning totem poles — an experience to be etched in your memory.
The museum was founded in 1886 with the title of "Royal" bestowed in 1987. It also houses an IMAX theater with the largest screen in British Columbia.
Art Gallery Of Greater Victoria
Getting out and exploring a city is always a favorite way to "travel like a local," and venturing out about 20 minutes from the city center is The Art Gallery of Greater Victoria.
The museum is tucked away down a quiet street and sits adjacent to its original structure, a historic 1889 mansion. There are plenty of visible signs clearly marking the direction to the museum.
Sitting amongst a beautiful park-like setting, the museum houses over 20,000 works of art and is the largest public collection in British Columbia. One of the main draws is the Emily Carr exhibit. Carr is an iconic Canadian painter who's celebrated for capturing the essence of life in British Columbia in ways that are simultaneously beautiful and haunting.
In addition to contemporary works of art, there is also a large collection of Asian art, pottery, and other antiquities including Samurai warrior armor and a Shinto shrine that resides as the centerpiece in the gallery's Japanese garden.
All in all, reaching the gallery is a bit of a trek, but it proves a lovely ride through Victoria to visit an even lovelier historic museum.
Pro Tip: When taking the local transit, consider two things. First, consider purchasing an all-day pass for $5. This will allow you to visit any attraction at your own pace without being constricted by set timetables. Second, keep track of peak and off-peak commuter hours. The transit buses fill up quite fast during rush hours and on weekdays can become crowded.
The Inner Harbour
The Inner Harbour is the pulse of this city with a rhythm all its own, bustling by day and busy by night. It is here where ships, boats, ferries, and even seaplanes come and go while locals and visitors alike enjoy a stroll along the quay. If the weather is fine, which it often is, there may be people relaxing on the promenade, eating their lunch while listening to buskers play the bagpipes, fiddle, or banjo.
If you find yourself with an afternoon free, why not meander down to the harbor front and inquire about a ride aboard one of the very cute and colorful water taxis? These little tugs skim along the surface of the water transporting passengers up and down the waterways. It is a sure-fire way to experience great views of the harbor, and if you are lucky, a seaplane may land nearby or perhaps a seal will pop up to say hello.
Pro Tip: Every Sunday morning, these water taxis perform what is famously known as the Water Ballet, scooting and twirling around in formation. The show takes place in front of the main terminal in the harbor and lasts about a half-hour.
British Columbia Parliament Building
This stately and imposing building occupies a prime position overlooking Victoria's Inner Harbour and is the seat of the British Columbian government. A statue of Queen Victoria stands on the front lawn looking out to her city and over Bellville Street, which runs parallel to the harbor waterway. You have a choice of doing a self-guided tour with a free booklet to aid you or taking one of the free public tours of the parliament building. Be prepared to pass through a security check and have your bags scanned; after that, you are free to wander the halls and public spaces.
If the legislature is not in session, feel free to peek inside this chamber where policy and laws are debated. The architecture of colored marble columns and ornate plaster ceilings is worth a glimpse as is the central dome in the rotunda. It is beautifully decorated with murals depicting British Columbian industry and way of life.
In the summer, concerts are held on the front lawn, and every night this serene building is illuminated with 3,000 glittering lights. A breathtaking sight to behold!
Chinatown
This is Canada's oldest Chinatown and is said to be second only to San Francisco's Chinatown. On one end, find its famous gate named the Gate of Harmonious Interest flanked by stone lions welcoming visitors to this vibrant district. A few blocks away, find a quaint yet very narrow street known as Fan Tan Alley. In an earlier incarnation, this alley was known for gambling houses and opium dens. Today, these same small entryway doors are filled with boutique shops instead of illicit lairs. Follow the alley to the end, and it opens into Market Square, another downtown shopping district.
Best Restaurants In Victoria
The food scene in Victoria is as diverse as the city itself, covering a range of tastes from traditional high teas to weekend brunch, from the Canadian classic of poutine to the flavors of East Asia. And one thing is clear: Farm-to-table dining is thriving in this highly eclectic and energetic city where access to fresh produce, local wineries, and craft breweries is abundant.
Murchies Tea Room
Victoria is filled with areas reminiscent of a charming English village, especially in the downtown district. Walk up the main thoroughfare, Government Street, to find all kinds of shops including Murchies Tea Room, where you can find a good ole English breakfast, or for a lighter start to your day, a delicious scone and cup of coffee. They also sell tea by the bag and the pound which makes for a great souvenir! Try the Canadian Breakfast tea, a black tea with a hint of maple, or the Lady Grey tea, a slightly milder version of Earl Grey.
Pro Tip: Be sure to stop in next door and browse through Munro's Books, noted as the best bookstore in Canada.
Victoria Public Market
After a nice brunch and full morning of shopping, head to the Victoria Public Market, where there is an array of choices to tempt your palate. Everything from artisan chocolates to Victoria Pie Co's specialty pies, which are a meal unto themselves. Try the spinach, feta, and tomato pie or sample them all, perhaps purchasing one or two to savor later. Meander along the vendor stalls of this indoor market to stretch your legs and perhaps work off a bit of that pie! The market is open all year long, seven days a week.
James Bay Market
If you're after farm-to-table ingredients, try moseying over to the James Bay Farmers Market, open on Saturday mornings from May to September. Quirky, unusual finds in the way of arts and crafts abound as this market features artisans and farmers who haul their latest and freshest crops for you to enjoy. Their motto is "Handmade, Homemade, or Homegrown."
Be Love
Inside this plant-based bistro is a welcoming atmosphere akin to kicking back in your best friend's kitchen. Their menu offerings are all locally and mindfully sourced with sustainability at the forefront of what they do and create. That being said, the menu changes seasonally to optimize the freshest produce, creating an exciting dining experience every time. If in season, try their plant-based version of classic poutine that's made with a scrumptious mushroom gravy.
Nourish Kitchen And Cafe
Located a few blocks up from the Inner Harbour inside an old, turn-of-the-century house is Nourish Kitchen and Cafe. This informal cafe and dining area is the perfect place to situate yourself for a light lunch or early evening meal. As the name suggests, nourishing the body and soul is what they do, and they do it well with their diverse menu of locally sourced ingredients from all over Vancouver Island. Offering both meat-based as well as plant-based meals, they "aspire to create soul-touching, health-giving recipes" to feed the community. The soup and greens combination lunch will keep you satisfied all day. Upstairs from the cafe is a community space that can be rented out for private functions or classes such as yoga retreats.
The Irish Times — Plus One More
Walking up and down Government Street may give the impression there is a pub on every corner, and in some cases, this is not completely wrong. For a more convivial atmosphere and some great craic, The Irish Times has both plus delicious pub fare and of course nice, smooth Guinness stout on tap. This is the place to be if you enjoy Irish music as there is a featured musical guest every weekend. So, stop on in and give a listen to some truly great artists while pulling on that ale or sipping an Irish whiskey (they claim to have the largest selection of Irish whiskeys in Canada).
If a mini pub crawl is in order, then head one block down to The Bard & Banker, the sister pub to The Irish Times. Inside this grand and lofty space, they offer over 30 craft beers along with premium imports, spirits, and wine. Ease back in a comfy booth, sip on a libation, and enjoy the music happening here almost every night of the week.
Best Hotels In Victoria
There are a variety of accommodation choices throughout Victoria with numerous Airbnbs available as well as hotels, from boutiques to chains. I have stayed in both the hotels listed below and find their proximity perfect for walking and exploring the area.
Royal Scot Hotel & Suites
Situated conveniently in the heart of downtown Victoria, you are steps away from the Parliament Building, the Inner Harbour, and shopping galore. Just up the road, find Beacon Hill, or head the other direction towards the Royal BC Museum.
Enjoy a plunge in their indoor pool or relax in the sauna before heading off to their game room for a round of billiards, chess, or cards.
Each suite in this traditionally styled hotel holds charm and comfort right down to the checkerboard tiled floors and homey kitchenettes. Breakfast in the morning can be taken inside their dining room or outside on a lovely, landscaped patio while listening to the birdsong.
I found the Royal Scot to be the perfect place to land.
Pro Tip: Check their website before you book for they generally have hot deals and rate specials. They also offer discounts for seniors and AAA members.
Hotel Grand Pacific Victoria
For another hotel in a prime location, try the Hotel Grand Pacific. Situated across from the Inner Harbour on Belleville street, this hotel is one block from the Parliament Building, the Royal BC Museum, and the Fairmont Empress Hotel. In fact, you can see all three of these buildings from your hotel windows, which also provide a sweeping view of the comings and goings in the harbor.
Many restaurants and pubs are within easy walking distance as are the main transit lines that can take you anywhere you wish to go in Victoria. And if you need suggestions or help, the concierge of this larger hotel chain is at your service.
Pro Tip: This hotel offers a lovely afternoon tea service complete with scones and sandwiches. Let them know if you have any dietary restrictions.
Heading to British Columbia? See all our Victoria and British Columbia content, including