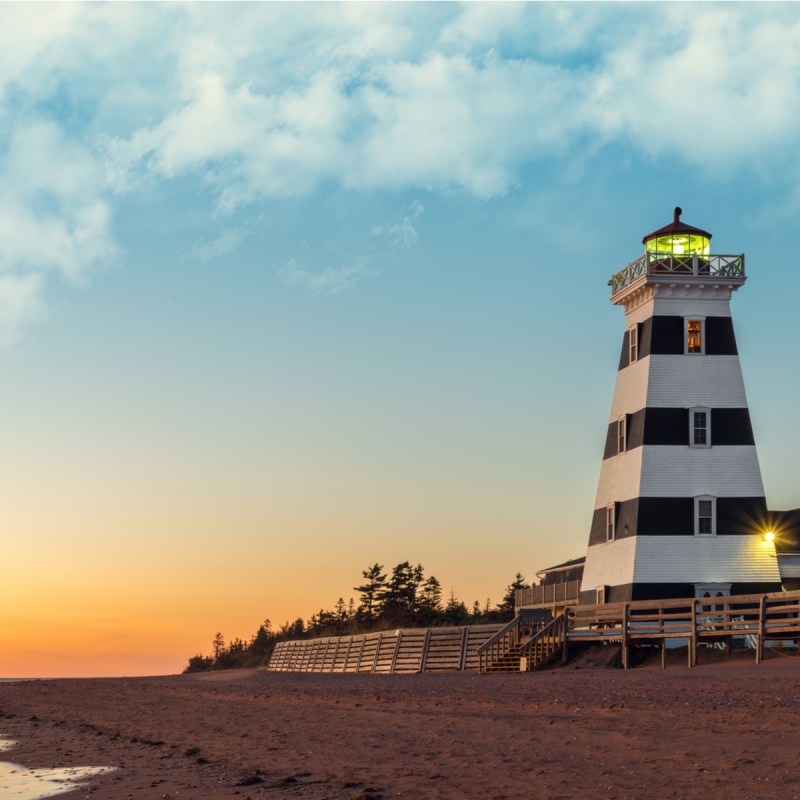 Prince Edward Island seems to be on everyone's travel wish list and for good reason. Canada's smallest province offers an oversized amount of fun. Gorgeous beaches, hiking trails, and delectable seafood are just some of the treats that await a visitor. But in order to enjoy it all, you first need to get to the island! Here are your options for visiting Prince Edward Island.
1. Taking The Ferry
My very first time on the ferry that links Prince Edward Island and Nova Scotia did not go well. In fact, you might just say it was tragic. I saw what I thought was corn chowder on the menu and begged my parents to buy me a bowl of my favorite soup. They acquiesced and I soon realized that the chowder in question was clam, not corn. There is no trauma for an 8-year-old quite like unexpected shellfish! Thankfully, all of my subsequent crossings have been much less remarkable, in the best possible way.
Northumberland Ferries links Wood Islands, Prince Edward Island, to Caribou, Nova Scotia. The 75-minute sailing takes place three times a day in the off-season and many more times during the summer months. Those traveling by automobile are required to arrive 40 minutes prior to crossing, while pedestrian and bike passengers should show up 30 minutes before departure.
The trip from Caribou to Wood Islands has no fee. That's because, traditionally, you don't pay a fee to enter PEI (be it by boat or by the bridge), but you do pay a fee to depart. Everyone likes to joke that you might love the island so much, you'll stay forever — and save yourself a few bucks in the process. Another way to look at it is that both the ferry and the bridge charge roundtrip fees — but you only pay when you leave. However, things have recently changed, in part because of COVID-19. Now, reservations are strongly recommended for all ferry trips. If you go this route and reserve in advance, you'll pay $82 for your crossing to PEI, the exact same price you normally pay for the departing trip. However, should you decide to come back the same way, that $82 covers the entire roundtrip.
I'm personally a fan of crossing onto PEI via the Confederation Bridge (free!) and departing via Wood Islands and the ferry (paying the usual $82 and also having a reservation). I think it's just really nice to enjoy both experiences. My friend Tracy agrees. She loves PEI so much she got married there! She says: "For those who have never been, take the bridge to the island and take the ferry home — different experiences and a way to do both!"
Regardless of what way you go, onboard you will find a small cafe (yes, they do indeed serve seafood chowder). Seasonally, a COWS ice cream shop is open and there is often live music as well. However, amenities are limited at the ferry terminals where you wait to board the boat. If you're planning on showing up early and then passing the time by grabbing something to eat, chances are it won't work out. I highly recommend stopping in nearby Montague, PEI (20 minutes), or Pictou, NS (10 minutes), instead.
Pets are welcomed on the ferry and can either stay in your car or be on the outer decks, with a leash. I recently traveled with my dog Oliver and he was very happy to sit outside with me. The floors of the outer decks are often damp and that means wet fur, so you might want to bring along some old towels for your pooch to sit on.
2. Driving Over The Bridge
The Confederation Bridge is open 24 hours a day, 7 days a week, and has no reservation system. You just drive on over whenever you want and then do the exact same when you want to leave — though those departing PEI do have to make a quick stop to pay the bridge toll of $48.50 per car, an easy process as cash, debit, and all major credit cards are accepted. While cyclists and pedestrians are not allowed on the bridge, a shuttle operates to serve their needs and it costs just a few dollars.
This 8-mile bridge connects Border-Carleton, PEI, with Cape Jourimain, New Brunswick. It is the longest bridge in the world to cross ice-covered water and remains one of Canada's finest engineering marvels. However, you cannot really see any of the views while you're driving, as the sides are too high. Personally, I think the best views are right after you arrive in PEI. The Marine Rail Park is right next to the area where the Confederation Bridge touches down in PEI and it offers an interpretive center, a lighthouse, and lots of walking space to admire the bridge. My friend Julia says: "One time, my dad and I pulled off just after we got onto the island, crossing the Confederation Bridge. We walked down on the rocks and we touched one of the bridge posts just to say we did. I don't know why that was a must-do for us but we did it!"
In addition to the Marine Rail Park, you'll find quite a few amenities in Border-Carleton, including some eateries and several souvenir shops. However, things are more sparse on the New Brunswick side. The Cape Jourimain Nature Centre offers some lovely beaches and hiking trails but otherwise offers limited amenities. To find those, you'll have to head to Port Elgin (where there is a gas station and convenience store) or even into Sackville (a 40-minute trek from the bridge) where there's a wide selection of restaurants and other tourist-focused services. It's worth noting that just a short drive from Sackville, en route to the bridge, is the tiny community of Aulac. Aulac is home to the eighth generation Trueman Blueberry Farm and serves up homemade ice cream. Having tried endless scoops of its creations this summer, I can wholeheartedly recommend this destination. Plus, it offers freshly baked bread and a huge selection of homemade jams, pickles, and preserves
3. Flying Into Charlottetown
Charlottetown Airport is the hub for those flying in and out of PEI. Most flights connect with either Toronto or Montreal. This tiny airport has limited services. There's one restaurant (which operates on both sides of security) and a small shop with local souvenirs and the usual assortment of travel essentials.
4. Taking The Buses
Maritime Bus operates a bus service in eastern Canada and includes PEI destinations like Charlottetown and Summerside, with connections to New Brunswick, Nova Scotia, and Quebec. Those who take the bus to Sackville, New Brunswick, can connect to that community's Via Rail train station, which then goes on to multiple destinations.
A Note On Preparing For COVID Restrictions
At present, in order to visit PEI, you must have a PEI Pass. This is an online application that requires visitors to fill out a health questionnaire and upload their COVID-19 vaccination certificates. Upon arrival in PEI, you'll be asked to present your identification and vaccination certificates and answer some questions about your travel history. Depending on circumstances, you may be required to have a rapid COVID test, which takes place at your zone of entry. My family and I visited PEI this summer and had to complete all the paperwork with the PEI Pass. One person from our vehicle had to have a rapid COVID test (it's the non-invasive one that just swabs your nostrils, and results come within a few hours.) Overall, we found the experience to be organized, efficient, and very friendly. Considering that PEI managed to all but eliminate COVID from its population, a little bit of advanced planning is well worth it in order to keep the island safe and healthy.
Once you arrive on Prince Edward Island, here are some activities you may enjoy: