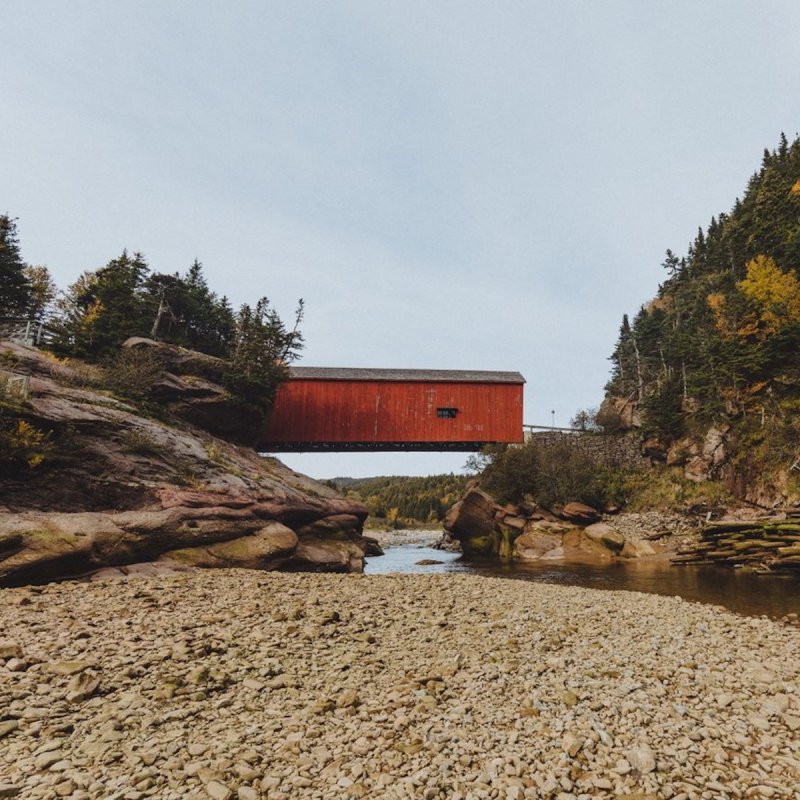 New Brunswick is the largest of Canada's three maritime provinces — best-known for the Bay of Fundy, the iconic Hopewell Rocks, lighthouses, fishing villages, and covered bridges.
In fact, the town of Sussex, located in southern New Brunswick, is known as The Covered Bridge Capital of Atlantic Canada. Of the 131 wooden structures in the country, 58 reside in New Brunswick, almost half of all the covered bridges in Canada. Back in the horse and buggy days, covered bridges offered a way for couples to steal a kiss away from prying eyes. They are still referred to as "kissing bridges," a nod to their romantic past.
A covered bridge is traditionally made of wood (commonly timber-truss) with a roof and siding helping to preserve the roadway from harsh winters. Sadly, weather and progress have taken a toll on these historic spans. There were 340 covered bridges in New Brunswick in 1953, and now only 58 remain. The losses revitalized the interest of concerned citizens who took action to call attention to this issue.
Ray Boucher, the President of the Covered Bridges Conservation Association of New Brunswick, and others brought needed attention to these iconic pieces of history. They asked the government to preserve them for future generations to admire. The National Trust for Canada added New Brunswick's covered bridges to the Nation's Top 10 Endangered Places in 2018.
During Covered Bridges Days, in July and August, the association encourages everyone to go on a "scavenger" hunt to locate and photograph them. To see all 58 in one trip would be a massive undertaking, as they're spread across all 15 counties in the province.
But if you're up for a summer or fall road trip, here are seven breathtaking bridges (many along the Fundy Coast) that make up a small sample of New Brunswick's legacy. It's important to note that many of these bridges have two names, one given by the Department of Transportation of New Brunswick and the other named by locals.
Note: Tourism New Brunswick hosted me for this experience, but all opinions are my own.
1. The Hartland Covered Bridge
Carleton County
The Hartland Covered Bridge is not along the Fundy Coast, but it's a must-see in New Brunswick. It's listed as a National Historic and Provincial Historic Site because it's the longest covered bridge in the world at 1,282 feet. You can find it in the middle of New Brunswick's potato farmland in downtown Hartland. It was initially built in 1901 but later rebuilt after an ice jam caused damage to the original structure. It reopened in 1922 as a covered bridge. The Hartland runs across the St. John River and offers pedestrians a separate, covered walkway to cross the river on foot. The best views can be seen from downtown Heartland, which has a quaint retail area and plenty of parking. It's a beautiful place for a picnic as well.
2. The Sawmill Creek Covered Bridge
Albert County
I started my Fundy Coast road trip after flying into Moncton, an exciting city along the Petitcodiac River. I headed for the coast on NB-114 South, stopping to take in the scenery of the Bay of Fundy and the incredible Hopewell Rocks — another must-stop on any trip to New Brunswick. I headed farther down the coast and stopped off at The Sawmill Creek Covered Bridge, built in 1905. The single-span Howe truss bridge is around 105 feet long and only carries foot traffic these days. A new road was constructed along Route 114 in Hopewell Hill. Luckily, the structure remains in its original location over Sawmill Creek. The Sawmill Creek Covered Bridge is intact and sits a few yards from the new road where the historic structure was bypassed.
3. The Pointe Wolfe Bridge Inside Fundy National Park
Albert County
I drove west and arrived in the tiny fishing village of Alma, New Brunswick. Alma is a small town, but the charming main street is dotted with restaurants and shops. It's also the gateway to Fundy National Park. There is much to see in the park, including hikes, waterfalls, campsites, mountain biking trails, a beach — where you can swim and explore the highest tides in the world — and the Pointe Wolfe Covered Bridge.
The structure was needed to help cross the Pointe Wolfe River, which flows into the Bay of Fundy. As I approached the breathtaking red bridge, I marveled at its beauty. It is the only painted covered bridge in New Brunswick. It was built as a replacement in 1992 after a construction mishap destroyed the original. This 94-foot bridge is a single-span Howe truss used by motorists to explore the national park, and it was a thrill to cross.
4. The Vaughan Creek (Irish River No. 1)
St. John County
Driving into the village of St. Martins, you will be charmed by the architecture and the views of the incredible Bay of Fundy. St. Martins has picturesque sea cliffs and caves made of red sandstone carved out by the tides for over 250 million years. The pebbled shoreline and caves begged to be explored on foot at low tide and on kayak during high tide. It's also the only place in the world where you can take a photo of two covered bridges and a lighthouse in the same shot.
The Vaughan Creek Bridge stretched almost 72 feet across the Irish River on Bayview Road and was initially built in 1935. It was under construction during my visit, as it's getting a complete overhaul. Now, it's the only two-lane covered bridge in New Brunswick. Its design is reminiscent of the traditional style but expanded to service larger vehicles and busses. It also serves as the primary link to the Fundy Trail Parkway. I crossed it and admired the new construction — made of hemlock and cedar from Norton, New Brunswick — like the original.
Pro Tip: Many bridges can't be crossed with larger vehicles such as RVs and buses. Check the height of your vehicle before attempting to cross over a covered bridge.
5. The Hardscrabble (Irish River No. 2)
St. John County
The Hardscrabble Covered Bridge, built in 1946, spans 72 feet across the Irish River on Vaughan Creek Road. After coming off The Fundy Trail Parkway — another must-see scenic drive stretching for 19 miles as it hugs the Bay of Fundy's coast — I admired these beauties. The parkway is one of the last stretches of coastal wilderness along North America's Eastern Seaboard and is surrounded by a 6,320-acre park. You can pull off to hike or bike, explore waterfalls, or admire the bay from one of over 20 observation decks. You can also hike down to the beach at low tide here.
6. Urney Covered Bridge (Trout Creek No. 4)
Kings County
The Urney Covered Bridge is found in Kings County, a county with 15 covered bridges — the most in New Brunswick. The bridges are found all over the area. Still, two can be easily reached by driving around 40 minutes from St. Martins to Sussex. Sussex is a dairy farming community, and it's both rural and picturesque. The Urney, built in 1905, extends over Trout Creek for 66 feet. Near the bridge is a beautiful hiking trail that stretches 4 miles to Sussex Corner.
7. Moores Mills Covered Bridge (Trout Creek No. 5)
Kings County
Moores Mills Covered Bridge, built in 1923, is a Howe truss that measures almost 59 feet. It is the smallest of all the bridges featured here, but it's beautiful in its simplicity. The Moores Mills crosses the Trout Creek in Waterford Township. In winter, there's alpine skiing at Poley Mountain nearby.
Pro Tips: Explore New Brunswick
In Alma, visit the Holy Whale Brewery and Buddha Bear Coffee Roasters. The establishment resides in a converted church, and the beer and coffee are excellent. Pub food is also available, and dogs are welcome.
The lovely Beach Street Inn in St. Martin is a beautiful place to stay. Each room is decorated in a different style, and the restaurant at the Inn, Vaughn's, serves a tasty lobster dinner with all the fixings.
St. John is a short drive (about 45 minutes) from St. Martins. It's the only city on the Bay of Fundy and is Canada's oldest incorporated city. In 1877, a fire destroyed the wooden homes and businesses, so the townspeople rebuilt using only brick for each building. Those 19th-century architectural marvels are now home to 80 bars, dining establishments, and inspiring art galleries. It's also where you'll shop in Canada's oldest market and browse Canada's oldest museum.
For a delicious Italian meal, visit Italian By Night for homemade pasta and delectable desserts. Around the corner, check out Five & Dime, a vinyl-only bar serving mixed drinks and microbrews.
St. John, a cruise ship hub, is experiencing a renaissance. Several new venues include the Waterfront Container Village, which utilizes 60 large shipping containers; food stalls; and retail shops, featuring New Brunswick goods and products. The village features a performance stage for live concerts that you can enjoy from a three-level patio with incredible views of the bay. For a unique natural phenomenon, check out the Reversing Falls, where the Bay of Fundy meets the St. John River.
Find out why covered bridges are some of our readers' favorite sites to search for: