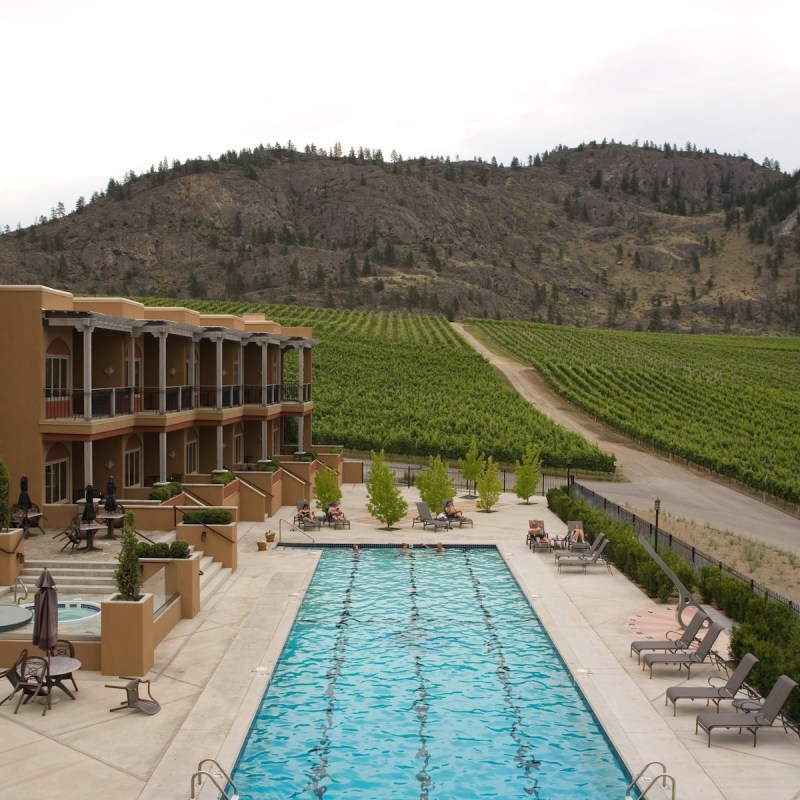 Canada's only desert is situated in the South Okanagan Valley region of British Columbia at the tip of the Sonoran Desert. Canada's warmest, driest location is semi-arid with remarkable growing conditions. The fertile soil — coupled with irrigation, mild winters, and hot summers — make growing grapes and other crops abundant.
This area near the towns of Osoyoos and Oliver has over 170 wineries, with Oliver known as "Canada's Wine Capital." While some orchards have become vineyards, you'll still find a myriad of roadside fruit and vegetable stands. Some of these fruits, like cherries, also become wine.
I chose these wineries because they represent a wide range of winery styles and offerings. Some have inns, others restaurants, while some are upscale and others are family friendly. I've listed these four amazing wineries in alphabetical order.
Thank you to Destination Osoyoos for hosting my visit. All opinions are my own.
1. Burrowing Owl Estate Winery
Oliver, British Columbia
Burrowing Owl Estate Winery is devoted to crafting world-class wines in an environmentally sustainable manner. It was one of the first green wineries with an integrated pest management system. Founder Jim Wyse's commitment to striving for balance infuses everything at Burrowing Owl. The winemaker maintains a natural balance in the vineyard by recruiting bluebirds and bats to help control harmful insects. At the wine-making facilities, they employ state-of-the-art technology and traditional methods, while in the Guest House and Sonora Room Restaurant, solar panels provide hot water. Ingredients are all sourced from local farms and suppliers.
A tasting at Burrowing Owl costs $5 for five wines, but I felt good about it since all proceeds go to helping the burrowing owls. The winery donated over $1.8 million to help these birds.
The Guest House offers 10 rooms, each featuring a fireplace. They also include a wine country breakfast with your stay. The Penthouse Suite can host a maximum of four guests — no pets or children under 16.
What To Order In The Sonora Room At Burrowing Owl Estate Winery
In addition to their Guest House, the winery has a full-service restaurant. Here's what I recommend:
Starter: The fall pumpkin salad has frisée, endive, and arugula topped with roasted squash, walnut squash puree, pumpkin seed dressing, aged balsamic, and blue cheese. Pair it with Burrowing Owl Estate Winery pinot noir.
Entrée: Rack of lamb is a roasted parsley-crusted lamb rack served with fennel, beets, fingerling potatoes, and an olive-rosemary jus. Pair the meal with a Burrowing Owl Estate Winery syrah.
Dessert: Chocolate terrine offers a blueberry coulis with chocolate crumble topped with caramelized white chocolate and caramel ice cream.
Pro Tip: Anytime I participate in tours with alcohol, I use a designated driver. When I'm traveling alone, I sometimes hire a tour guide. Swiws Spirit Tours — a company owned by Patty Bower from the sukʷnaʔqin Okanagan Syilx Nation — offers a fun-filled day with an authentic local experience. In addition to wine tours, the company provides cultural tours.
2. Nk'Mip Cellars
Osoyoos, British Columbia
As the first Indigenous-owned winery in North America, Nk'Mip Cellars expresses its culture in everything it does. The winery recognizes and celebrates the history and culture of the Osoyoos Indian Band with their four food chiefs: the bear, the fish, the root, and the berry. You can experience this at their adjoining restaurant of the same name through a food and wine pairing. You can discover the international award-winning wines they produce and the relentless spirit and remarkable history that inspire them. They were the 2016 Canadian winery of the year.
The Osoyoos Indian Band owns about 35,000 acres of land; about 1,700 of those acres produce grapes. They understand they are the stewards of the land. Their approach to sustainability was enlightening for me. They continue to provide and support the land through sustainability with a seven-generation philosophy. They make their decisions today based on how it will impact the seven generations from now.
What To Order At Nk'Mip Cellars
Here are some of my favorites from the Nk'Mip Cellars:
2022 Winemakers Pinot Blanc features hints of Granny Smith Apple and light floral notes and has a balanced, crisp finish.
2022 Mer'r'iym White Meritage has hints of fresh-cut grass, soft gooseberry, peaches, and tropical fruits.
2022 Dream Catcher offers white peach and fresh citrus notes stacked with juicy orchard fruit and honeydew melon.
2021 Qwam Qwmt Chardonnay features aromas of lemon grass, butterscotch, and pineapple, with a hint of spice on the palate.
2020 Qwam Qwmt Riesling Icewine offers flavors and aromas of apricot, peach blossom, ripe pineapple, and apple pie, leading to a fruity finish.
Pro Tip: The adjoining resort, Spirit Ridge, features a restaurant, accommodations, and a golf course. Located on site is also the Nk'Mip Desert Cultural Center, a great way to spend several hours learning about the area. You can spend an entire day here.
3. Nostalgia Wines
Oliver, British Columbia
Open year-round on the Black Sage Bench, Gina Fernandes Harfman, a fourth-generation farmer in the South Okanagan, owns Nostalgia Wines. Harfman is the winemaker behind the terroir-focused, small-lot wines produced on the property.
Nostalgia Wines offers a range of wines from its Family Collection, Nostalgia Series, and Pin-Up Series: from dry to off-dry, medium to full-bodied reds to whites, rosés, sparkling wines, and even a fortified port-style dessert wine called "Cherry Baby." They release wine in small quantities, from 24 to 675 cases.
What To Order At Nostalgia Wines
The mischievous Pin-Up Series showcases labels with 1960s-inspired artwork. I thought the Pin-Up Series was a fun group of wines. The labels are a cool retro painting by Ralph Busch. Being from Michigan, where we have an abundance of cherries, I was excited to try the Cherry Baby, and it didn't disappoint. This wine features dates, dark chocolate, and a black cherry flavor. It is a beautiful dessert wine with dark chocolate, including a Black Forest cake.
Pro Tip: Enjoy a picnic! They stock their pantry and fridge with local cheese, charcuterie, crackers, pate, olives, and tapenade.
4. Phantom Creek Estates
Oliver, British Columbia
On the famed Black Sage Bench in Oliver, Phantom Creek Estates is a Canadian wine destination crafting wines from award-winning grape varieties grown in certified organic vineyards. You'll want to visit if you're an art lover and a wine enthusiast. The property has many art installations, which add to the venue. Ask to see the Chihuly chandelier in the lower-level event space. This unique art piece in shades of yellow and gold was custom-crafted for the property by Dale Chihuly himself; it's stunning.
The Restaurant at Phantom Creek offers sweeping vineyard and desert views, wines that showcase the diverse terroir of the Okanagan Valley, and inspiring, unforgettable food made with hyper-local ingredients. Executive Chef Alessa Valdez finds new inspiration daily from her surroundings in the South Okanagan's bounty.
What To Order At Phantom Creek Estates Restaurant
Since ingredients are seasonal, what I recommend may not be on the menu when you visit, but here are some of my favorites.
Starter: Beet and Endive Salad has candy cane and golden beets, goat feta, spiced pepitas, navel orange, yuzu kosho, and basil paired with a 2020 Organic Pinot Gris.
Entrée: Try the 63 Acre Bavette with broccolini, shishito peppers, frisée, togarashi, and choron sauce paired with a 2019 Kobau Vineyard Cabernet Franc.
Dessert: The Vacherin is an apricot, herbed chantilly, streusel, and meringue paired with a 2016 Riesling Icewine.
Pro Tip: The restaurant hours are for brunch, 11:30 a.m.–2:30 p.m., Thursday through Monday.
In addition to exploring wineries, check out these other articles on things to do in British Columbia: