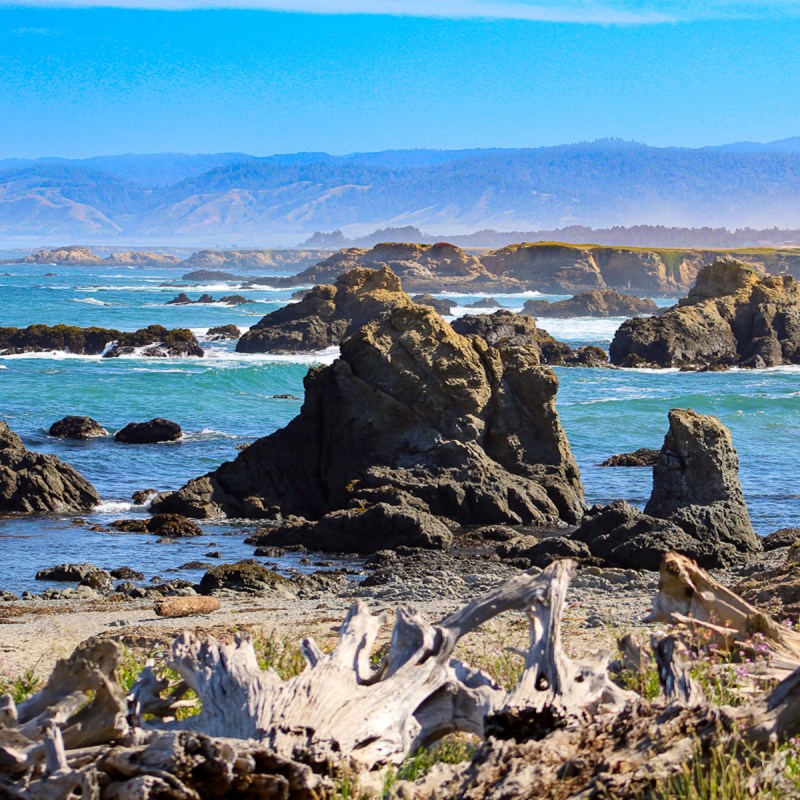 Lodging can make or break your vacation, getaway, or retreat. I'm picky about where I lay my head while away from home. I bet you are as well.
One of the delightful parts of being a travel writer is being a hotel scout. I love hotels and all the ways hoteliers find to make us comfortable. Checking out a new one is an adventure. Returning to a favorite is a reunion with an old friend.
I've enjoyed complimentary stays at the lodging in this roundup of California Summer experiences. Thank you to my hosts for the opportunity to scout the accommodations and share my experience with you, TravelAwaits' readers. The hotels in this roundup are safe, spotlessly clean, and impeccably maintained. The staff has made it to my "Exceptional" list, and I will happily return to these lodging jewels.
Each accommodation has a different way for you to experience California — romantic, unplug and unwind, rejuvenate at a resort, urban escape pod, Golden Gate immersion, San Francisco buzz, and desert oasis.
1. Seven Gables Inn
Pacific Grove
Seven Gables Inn: even the name is romantic. Seven Gables sits on the edge of Monterey Bay in Pacific Grove. It is often named one of the most romantic inns in America. Each of the 25 rooms has an ocean view and a seaside soundtrack from waves, birds, and wildlife.
The individually decorated rooms are located in seven yellow buildings, each a Victorian masterpiece. A welcoming bottle of wine waits in your room. Relax with a glass before heading out to explore Lover's Point Park and the Monterey Bay Recreation Trail.
A delicious hot breakfast is served with an ocean view. Secret gardens for daydreaming are dotted about. Parking is free, and your in-room Wi-Fi is complimentary. The outstanding staff is the inn's greatest asset. Welcoming, helpful, and knowledgeable about the area, they are the best.
Pro Tip: Rent an e-bike from Big Sur Adventures. They will deliver and pick up your bikes to Seven Gables. Learn about Pacific Grove.
2. Brewery Gulch Inn
Mendocino
Brewery Gulch Inn is your place for unplugging, unwinding, and immersing into wildlife, waves, wilderness, and wine on the Mendocino Coast. Sitting above California Highway 1 and Mendocino Bay, Brewery Gulch is designed for your comfort and quiet enjoyment of nature on the Mendocino Coast.
10 unique rooms have different views and layouts. Enjoy a fireplace, private deck, or writing desk in some rooms. In addition, there are daydreaming decks, gardens, and walking paths on the property. Nearby are beaches, redwood forests, woodland trails, kayaking, fishing, and tide-pooling.
Brewery Gulch's chef prepares breakfast and dinner each day. Locally produced ingredients are always the star of the meal. In addition, wines from the region are available for tasting and purchase.
Pro Tip: Visit the Kelley House Museum in Mendocino to learn more about the history of the Victorian village. Learn about Mendocino County.
3. Flamingo Resort
Santa Rosa
At the Flamingo Resort, I imagine myself a Hollywood starlet working on her tan by the pool. Take a walk through the lobby and you'll see photos from the era when the Flamingo was a secret escape for Hollywood notables wanting a fun-in-the-sun weekend away from the prying eye of the paparazzi.
The Flamingo is a Mid-Century Modern jewel in the heart of Santa Rosa. The 10+ acre property feels secluded, but many city attractions are within biking/walking distance. The delightful mixture of Mid-Century and 21st-Century create a relaxed atmosphere.
Rejuvenate at Flamingo in the 170 guest rooms, heated pool, spas, wellness activities, fitness center, and tennis courts. Onsite dining and a bar are available for BLD and happy hour. The resort is ideal for a multi-generational retreat or celebration.
Pro Tip: Park your car and forget it at the Flamingo. The hotel can arrange bikes for exploring the area. In addition, there is a bus stop in front of the resort. Learn about Santa Rosa.
4. Hotel Cerro
San Luis Obispo
Hotel Cerro, we love you! Kevin and I made Hotel Cerro our innercity cacoon in the heart of downtown San Luis Obispo. Cerro feels more like a residence than a hotel. In fact, among the accommodation choices, there are apartments in addition to suites and guest rooms.
Cerro is a self-contained urban escape pod. When you leave the property, you are in the center of lively downtown San Luis Obispo, or SLO, as locals call it. When you return to Cerro, you enter an oasis where you can feel you are the only lodgers, or you can socialize with locals and guests at the rooftop pool, bar, restaurant, or sidewalk café.
Cerro is a feast for your eyes. The décor is modern, my favorite. The art collection fills rooms, halls, public spaces, and the incredible edible gardens. I urge you to book a garden suite. The private patio and fire pit are ideal for morning coffee or a before-bed glass of wine.
Pro Tip: Be in SLO on Thursday night. That's when the weekend begins with the largest farmers market in California. It goes on for blocks with farmers, crafters, pop-up eateries, local wine and beer, entertainment, and lots of people. Learn about SLO.
5. Lodge At Presidio
Presidio San Francisco
Lodge at Presidio should be on your "must-stay" list. Located in the San Francisco Presidio and the Golden Gate Recreational Area, the lodge is the best-kept hotel secret in San Francisco. Once a barracks for soldiers, the Lodge at Presidio was reimagined as a boutique hotel, complete with an up close and personal view of the Golden Gate Bridge.
Rooms are available in various configurations suitable for solo travelers or families. Rooms are spacious, comfortable, and well-appointed. But you won't spend that much time in your room; there is so much to do at the Presidio. Enjoy 25 miles of walking trails to the bridge, beach, redwoods, and scenic overlooks of San Francisco Bay. Visit museums, galleries, eateries, and all manner of outdoor sports.
Rates at the Lodge are very competitive and are a better bargain than a similar hotel in San Francisco. Breakfast, a wine and cheese tasting, and $10 per day parking are included.
Pro Tip: Book early for summer. Rooms go quickly. Learn about SF Presidio.
6. Omni San Francisco Hotel
Downtown San Francisco
The Omni San Francisco is in the middle of one of the world's most exciting cities. A cable car line runs past the hotel's front door at California and Montgomery in the Financial District. Hop aboard one heading downhill, and you're at the waterfront in minutes.
Inside, the Omni has a restaurant, bar, and fitness center. The staff is available to help you organize your activities in the city. Breakfast and dinner are served in the restaurant. The bar and lounge offers drinks and light bites.
The Omni is not only centrally located; it's close to a transportation hub for MUNI and BART. These systems can take you anywhere in the city or the Bay Area. We obtained excellent directions from the porter when we wanted to venture out. He knew precisely which bus to take to each place we asked about.
Location isn't the main reason I would stay at the Omni again; it's the staff and how they make you feel like a long-time, valued guest. The greetings, interaction, and concern for your comfort are remarkable these days. I can't praise it enough.
Pro Tip: Buy a Visitor Passport. It is a transit pass for unlimited rides on MUNI, MUNI Metro, Historic Street Cars, and Cable Cars. Learn about San Francisco.
7. The Westin Rancho Mirage Golf Resort & Spa
Rancho Mirage
Shall we go to a desert oasis? No camels are needed. An ideal resort for a multi-generational experience, The Westin Rancho Mirage Golf Resort & Spa is in Rancho Mirage, near Palm Springs.
Occupying 360 acres of Coachella Valley, this resort and spa genuinely have it all. While golf is a very popular activity, there are many other onsite pastimes: tennis, pickle ball, swimming in one of three pools, fitness center, walking, and best of all, watching sunrise and sunset.
Sleep soundly at Westin Rancho Mirage in a variety of accommodations ranging from king and queen rooms to a spacious Presidential Suite.
Onsite dining is sumptuous and has options for a wellness retreat or an indulgent weekend. In addition, you'll find expert bartenders at several serving venues on the property. They will make you a house special or prepare a perfect classic. My favorite was a mimosa with brunch.
Pro Tip: Walk the property at night while at the resort. The landscape lighting is spectacular. You'll feel you are in a completely different place. Learn about Greater Palm Springs.
Booking Your California Summer Experience
Go directly to each lodging website to begin your search for a "deal." First, choose your room type, then see the cost for your dates. Also, look for a special offer menu. Many hotels have specials only available through their website. Look for things like meal included, buy 2 nights, get one free, free upgrade to a suite, or holiday-themed packages.
Final Thoughts On A California Summer Experiences
My seven suggestions for a California Summer experience are places I have stayed. I had the time to enjoy the amenities and to give a white-glove inspection. Each is a place I'm proud to suggest as comfortable, safe, beautifully located, and most of all, welcoming.
With over 4,500 hotels, motels, bed and breakfasts, and inns, California has almost a half-million sleeping rooms. Read about 5 New and Reimagined California Hotels and the 9 Best Pet-Friendly California Hotels. Visit California is a great resource for deciding what California Summer experience you want and where to find it.
No matter where you go or decide to sleep, "Welcome to California!"