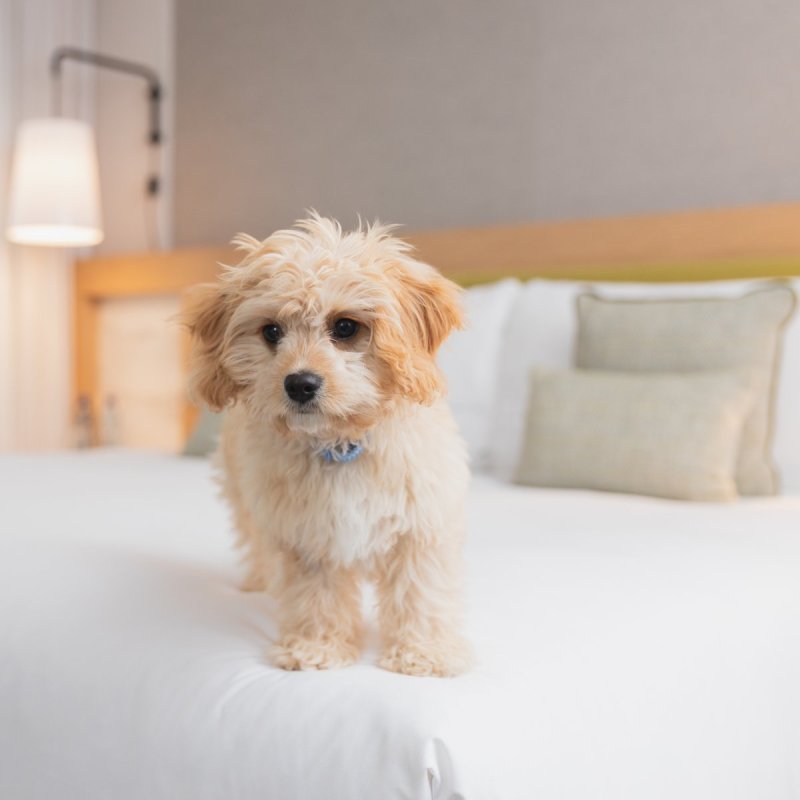 Starting from the south and working up to the Oregon border, the California Coast is a scenic drive people remember their entire lives. And it can be even better when driven with your best canine friend or friends.
Leaving a dog at home can be stressful, especially for your pet, and expensive. During this unprecedented time, those who like to travel will find a way, which has meant more road trips and drive destinations, and solo or couples' trips. But one is never alone if they have their best furry friend along.
The challenge can be finding places to visit where there is top-rated dog-friendly lodging as well as activities and acceptance of your pets. Dog beaches are great, and outdoor dining and walkable small towns work well for dog travel. More difficult is fine dining, museum visits, and any indoor events.
From south to north along the California Coast and wine country, we will discover pet-friendly hotels, many of them luxurious with amenities for four-legged friends, and nearby beaches where Fido can run free.
Kimpton Palomar Hotel
San Diego
Perfectly located near the Gaslamp District in downtown San Diego, the Kimpton Group of hotels has a long reputation of being accepting of dogs and the luxurious Kimpton Palomar is no exception. The best part is that you can walk just about anywhere downtown and along the bayfront with your pooch, and there are many restaurants with outdoor dining and extensive patios where dogs are welcome. The best part at The Palomar, and Kimpton Hotels in general, is that there is no fee for pets, and they are treated to bowls, beds, and treats.
Not far away is Shelter Island, Point Loma, and the eclectic town of Ocean Beach, where Dog Beach (yes, that's the name) has been welcoming hounds for over 40 years. There is a pier and plenty of places to eat and drink like Two Roots, Culture, and Belching Beaver breweries. The playground for dogs is a large wedge of sand where the San Diego River meets the Pacific Ocean. Don't want a sandy dog in the car? A dog wash is nearby.
L'Auberge Del Mar
Del Mar
Not inexpensive and certainly luxurious, L'Auberge del Mar is a perfect retreat with the dog(s) in your life. There is plenty of space to wander the grounds, and the staff is known to spoil dogs even more than their owners do. The cost is not cheap (or free like The Kimpton) but, if you stay awhile, the $200 works out reasonably over a week. Nearby activities for humans include the Del Mar Racetrack and dozens of restaurants with outdoor dining and room for dogs.
Del Mar has a dog beach called North Beach that has ample beaches with gentle waters, making for great splash areas for dogs and kids. Off-leash year-round except for the summer months, and surfing is encouraged … with your dog. In fact, a nearby animal center hosts the Surf Dog Surf-a-Thon every fall, and doggie surf and SUP lessons are available. The Board and Brew is yet another dog-friendly beachfront brewery.
Ritz-Carlton Laguna Niguel
Dana Point
The Ritz-Carlton line of hotels welcomes dogs with open arms and plenty of amenities like bowls, beds, treats, and personal notes. The Ritz-Carlton Laguna Niguel is no exception and welcomes up to two dogs per room at a set fee of $150 … so best to stay a while. The resort sits on a stately bluff with miles of oceanfront walking paths and hikes to explore. Plenty of outdoor dining with a view means Fido does not get left behind in the room and has a special menu all their own on top of any scraps you may save. Flavored bacon or beef water is almost as yummy as Mutt Lynch's wines from Sonoma County. Their wines benefit dog charities.
Check the hotel's calendar for monthly Yappy Hour and the Annual Howl-o-Ween competition for costumed pets. Aliso Beach Park is nearby, and dogs are permitted off-leash in the winter and before 9 a.m. and after 6 p.m. in summer months. Surfing, swimming, and all other beach activities for humans make it a true family expedition.
Pasea Hotel And Spa
Huntington Beach
The Pasea Hotel and Spa offer treats, bowls, and beds for dogs. There is Lago, the French bulldog concierge, and the Paw-Sea Pup Play Park, a 1,100-square-foot fenced area that is reserved only for dogs that are guests of the hotel.
Your pup might become fast friends with Lago, the French bulldog pet concierge, when you walk into this ocean-view property in the very pet-friendly Surf City.
The hotel, which features a Balinese-inspired spa and awesome rooftop bar, has other luxury amenities for guests. While the dog fee is $150 per stay, special pet packages may include babysitting and special menus. The Huntington Dog Beach is close by, and the resort offers complimentary bikes, boards, and other beach amenities for their human friends.
Beverly Hills Hotel
Beverly Hills
Although not coastal, the iconic Beverly Hills Hotel is not far from the ocean and miles of boardwalk that winds from Marina del Rey through Venice and into Santa Monica. While your pup will have to stay on leash, it is a fabulous walk along the huge beaches and crashing waves of the Pacific. Staying in such a posh, historic hotel seems a dream for a traveler with a dog (or cat), and, at just $35 per pooch, with amenities like treats, toys, beds, and bowls, your dog may be more spoiled than you.
The Westchester Dog Beach is not far away, and the famous Rosie's Dog Beach is just a tad farther. Plenty of dog parks are close, and expect some celebrity sightings at places like Holmby Park and Beverly Gardens. Nearby The Peninsula Beverly Hills is also dog-friendly at only $35 per four-legged friend.
Stables Inn
Paso Robles
Although not directly on the coast, I love this dog-friendly inn for many reasons, mostly because they love dogs and have a reasonable $25 pet fee. Stables Inn is a converted motel completed by the inn's sister property, Hotel Cheval, the most luxurious property in Paso Robles wine country. At the Stables Inn, you drive right up to your beautifully-designed, although petite, room, so there is no tramping through the lobby trying to control a 65-pound puppy. There are small places for pet walks and pet bags available. The lobby has a giant jar of dog treats which both of my dogs know by smell.
There are plenty of places to walk around the inn and plenty of outdoor dining just a block away. Jump on the gorgeous Route 46 heading west and meet the Pacific Ocean and charming Cayucos with their superb beaches, including one dedicated to dog fun. Plenty of outdoor dining here as well at inns like FogCatcher Inn and El Colibri Hotel and Spa.
Cypress Inn
Carmel-By-The-Sea
A dog lover has died and gone to heaven when they walk into Carmel-by-the-Sea. Just drive down the main street, Ocean Drive, and you are immediately alerted to dog bowls in front of every store and signs saying that dogs are welcome and "may bring their owners if behaved." Premiere coastal real estate and the town is committed to dogs. At the bottom of Ocean Drive, the stunning Pacific Coast beach is without question the friendliest dog beach on earth. In fact, one may feel odd not bringing a dog to frolic with the other canines!
Dog-friendly hotels abound in Carmel-by-the-Sea with the flag bearer being Cypress Inn, co-owned by the late Doris Day, who seemingly preferred four-legged friends over the two-legged ones. Yappy Hour is a daily ritual here, and many amenities welcome dogs like royalty. Other luxurious dog-friendly include L'Auberge Carmel and La Playa Carmel.
Timber Cove Resort
Sonoma Coast
This lovely cliffside resort. recently renovated to showcase the Frank Lloyd Wright-designed cavernous lobby and living room, loves dogs and has the trails and outdoor areas to make them happy yappers. The Timber Cove Resort has spacious, well-designed rooms with posh bedding and dog beds as well as a first-rate kitchen and renowned wine selection, as Sonoma Cast chardonnay and pinot noir is some of the best on earth.
Many dog beaches are close by and include Portuguese Beach and Sonoma Coast State Park beaches. In fact, a dog-friendly guide to the Sonoma Coast is available at tourism stops and hotel information racks. At the hotel itself, miles of trails welcome dogs for a brisk hike or, even better, take a personal tour and discover nooks and crannies only locals know with Unbeaten Path Tours.
Little River Inn
Mendocino Coast
Although I live in gorgeous Sonoma County, there is nothing I like more than a winding drive along the winery-laden Anderson Valley toward the Mendocino Coast. Hard to believe, but this seemingly remote area has some of the finest inns and resorts in all of California, with the added bonus of a sense of remoteness. Little River Inn is a classic Mendo resort with a golf course and fine dining unparalleled in the region. Here dogs are welcomed with love and treats, and there are acres of trails and paths to wander and discover untouched nature.
The food and wine are divine; Anderson Valley has been put on the map as a place for cool-climate pinot noir, and many restaurants welcome dogs. The artsy town of Mendocino oozes charm, and several dog beaches can be found close by.
If adventuring with your pup is your favorite travel experience, you'll love these other pet-friendly destinations: