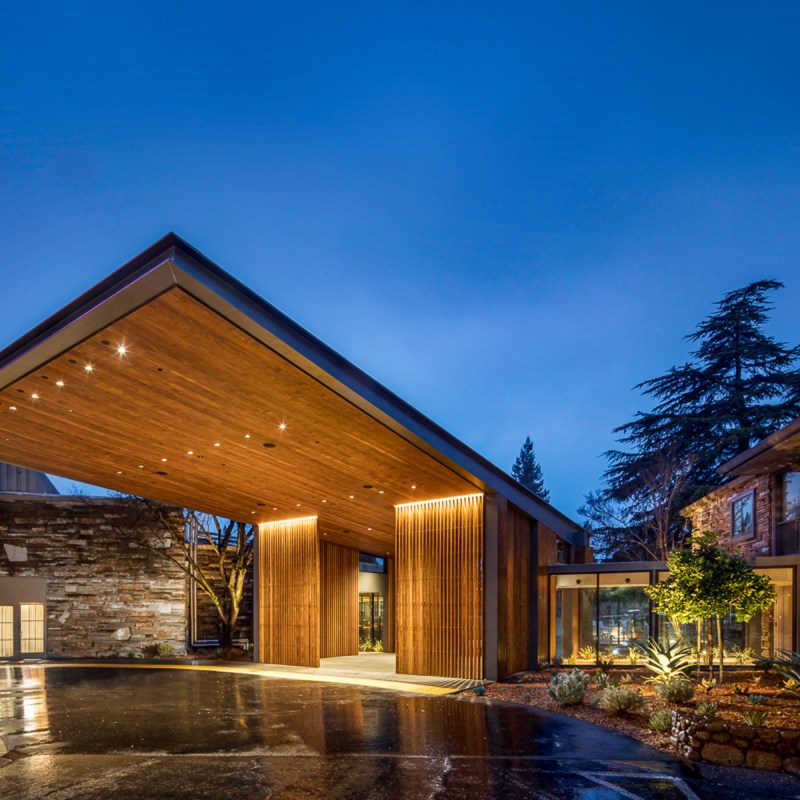 Scouting a new or reimagined hotel is one of my favorite "travel writer" things to do. Exploring a new accommodation is a treasure hunt. What new amenities and comforts are waiting to take guests away from their everyday lives? What is the atmosphere, city buzz, or country quiet? What are the rooms like? What about eats and libations? What services are offered? Is the lodging pet-friendly? Is it multi-generational, couples, or solo-friendly? What's happening in the area? How do you get there?
If you're planning a trip to California, each of these five hotels invited me for a stay so I can give you a hotel scout's insider information and tips. These ideally located hotels are places you can build a weekend around. All are no-drive destinations with loads to do close by. You park your car and forget about it until you depart.
1. Check In And Never Leave The Property
The luxurious Westin Rancho Mirage Golf Resort and Spa has undergone an $18 million, 2-year reimagining. Covering 365 acres of the Coachella Valley floor, the Westin's renovation touched every aspect of the property, focusing on the resort's pillars of "Sleep Well, Move Well, Eat Well, Play Well, and Work Well."
The magnificent property is a lush oasis with greenery and water everywhere you look. As beautiful as the grounds are in the sunshine, they take on an entirely different look with exquisite lighting emphasizing architecture, landscaping, and water features from dusk 'till dawn. There is so much to do here; you can please any generation and most folk's interest.
Family-friendly, pet-friendly, and ADA all are welcome. Golf, tennis, pickleball, swimming, walking, cycling, bowling, game room, sports bar, and more can be enjoyed at the resort.
All 512 guest rooms have been renovated from ceiling to floor. The Backyard, a new outdoor entertainment venue, will host concerts. The main pool has been enlarged, and a super-slide added. In addition, all golf, tennis, pickleball, and basketball facilities have been completely renewed.
The restful spa has been lovingly revitalized and expanded. Meeting rooms are updated, and onsite amenities, such as a coffee shop and deli, add to guest comfort and experience.
The food and libations scene hasn't been overlooked. Restaurants and cafes all have new menus with plenty of healthy and indulgent options. Don't miss the complimentary Gloria's Renewal Juice offered at breakfast. It is green, energizing, and delicious.
In addition, the mixologists have new cocktails, wine, and beer to sample.
Getting There: Fly into Palm Springs International Airport (PSP). It's 5 miles to the Westin. If you don't plan on leaving the property, I suggest a taxi to the resort.
2. An Urban Oasis
Hotel Cerro in downtown San Luis Obispo (SLO) is a sublime escape pod. The urban-chic hotel is located in the heart of downtown SLO. A combination of guest rooms, suites, and apartments is offered. The hotel itself is a work of art. Attention to guest comfort with every amenity is unmatched. Every aspect of the hotel is like no other I've visited.
At Cerro, I escaped in a garden suite. The expansive room had a private patio with a fire pit. A gate leads to the edible garden where guests are encouraged to pick and eat the fruit, herbs, and vegetables growing there. A soaking tub was filled from an overhead tap. The spa-like shower was stocked with bath products from the spa. The lighting in the room was outstanding. Every space could be soft and romantic or bright work light.
The staff at Cerro is excellent. Warm and engaging folks in all hotel and restaurant areas go out of their way to make your stay a memorable experience.
Cerro has a bistro, distillery, patio, and rooftop location serving food and beverage. Chef Dereck Brooks works with local farmers and producers to fill the seasonal menu. In addition, the pastry chef fills the pastry case with works of art you won't be able to resist.
The layout of Cerro's 65 rooms is genius. While you are in the middle of a buzzy city, the quiet and privacy can make you feel like you are the only guest. Courtyards and gardens are on the hotel interior, surrounded by guest rooms, a rooftop pool, spa, and meeting spaces.
When visiting San Luis Obispo, a stay at Cerro is a must. You will never forget the experience.
Getting There: The closest airport is San Luis Obispo County Regional Airport (SBP). Rent a car or take a taxi to Hotel Cerro.
3. Resort To The Stars
Flamingo Resort — a Santa Rosa, California, resort and spa — has a history with Hollywood. Patterned after the Las Vegas Flamingo in the late '50s, producers and starlets lounged by the pool. Then, they danced the night away in the nightclub, free to unwind away from Hollywood paparazzi. Today the Flamingo is still dedicated to helping guests relax and escape their everyday life with a focus on wellness for all generations and interests.
Architect Homer Rissman's Flamingo was proclaimed a Historic Landmark in 1996. Since then, the resort has been completely reimagined with its Mid-century Modern details renewed. The 10-acre property has 170 rooms, a spa, an all-season heated pool, lap pool, hot tub, fitness center, tennis courts, bicycles, fresh air, and more than 256 days of sunshine each year.
Locally sourced food and beverage are available in the resort restaurant, poolside, or private dining in your guest room.
Sonoma County Wine country surrounds the Flamingo for wine, beer, and spirit tasting. Santa Rosa's Courthouse Square is 2-miles from the resort with museums, parks, galleries, and an abundance of eateries, bars, and shopping.
Getting There: Santa Rosa is 50 miles north of the Golden Gate Bridge by car. Closer still, fly into Charles M. Schulz Sonoma County Airport (STS). The Flamingo is about 10 miles from the airport.
4. Art In The City's Heart
Art House is a brand new hotel built in downtown Santa Rosa. Two blocks from Courthouse Square, the Art House is ideally located for a no-drive weekend in this vibrant city's historic downtown neighborhood.
The Art House has begun its art collection, curated and displayed in rooms and public spaces. The hotel's exterior reminds me of a Piet Mondrian painting in pastel.
The Art House has hotel-style rooms, suites, and one-bedroom apartments to offer. Each has a city view from floor-to-ceiling windows. In addition, suites and apartments have private balconies perfect for morning coffee or sipping the sundown.
The Luther Burbank Home and Gardens is a 20-minute walk from the Art House. Also, close at hand are the Sonoma County Art and History Museums. Around Court House Square are restaurants, bars, tasting rooms, and shops.
Family-friendly, pet-friendly, and ADA all are welcome. Limited onsite parking is available, making this a candidate for a no-drive weekend. Park your car and forget about it. Dust off your walking shoes or unpack the bike and see the city.
Getting There: Santa Rosa is 50-miles north of the Golden Gate Bridge if you are road tripping. By air, fly into Charles M. Schulz Sonoma County Airport. The Art House Hotel is about 8 miles from the airport in downtown Santa Rosa.
5. A Reimagined San Francisco Star
Clift Royal Sonesta Hotel in San Francisco has undergone a significant reimagining. Two blocks off Union Square, the historic hotel originally opened in 1915 to accommodate folks attending the Panama–Pacific International Exposition. Since that time, the property has had several owners and renovations.
Sonesta rehabilitated and modernized every square inch of the building, creating spacious guest rooms and luxury baths. The lobby, public spaces, and meeting rooms have been beautifully decorated with a modern theme and a nod to the properties' Art Deco past.
The Clift is famous for its Redwood Room. The paneling on the walls was carved from one single redwood tree. In the iconic San Francisco landmark renovation, the Redwood Room was given new furnishings. The original wall paneling was refinished to bring back its original luster. A drink in this lovely lounge will be a highlight of your stay.
The Clift's location is perfectly situated for exploring San Francisco on foot and via cable car. Union Square has shopping and people-watching opportunities. Nearby Chinatown is the perfect place for lunch. Next, head to Japantown for more authentic eats and the incredible history of Japanese citizens in California. Finally, San Francisco's Wharf is a thrilling cable car ride downhill to the bay. Seafood, buskers, the marina, and maritime history are part of the wharf scene.
Getting There: San Francisco International (SFO) is the closest airport. However, I never recommend driving in San Francisco; it's congested and parking fees are astronomical. Instead, take public transit. (Find a "Plan a Trip" guide for Bay Area transit here.) The Clift has valet parking for $60+ per day if driving.
Pro Tips
Be A Hotel Scout
You can be your own "hotel scout." When thinking of trying a new hotel, start with reviews. Go to more than one booking site like Expedia, TripAdvisor, and Hotels.com. The reviews can offer insight into the good and bad in service and property amenities.
Find A Good Rate
Booking sites don't always have the best rates. When looking for a deal, don't forget to look at the hotel's website to book directly. Many hotels book directly and offer a better rate than the booking sites, especially in the off-season.
Even when a "book direct" rate is the same or a bit more than a booking site, you may be able to take advantage of special offers that include dinner, a bottle of wine, breakfast, a spa date, or other package deals.
Let Others Know
Still in the vein of being a hotel scout, after your visit, write a review. Your honest and original review can help other travelers make a choice. Positive reviews help the hotel attract more guests. Negative reviews help the hotel see where improvements are needed.
Have fun exploring California and these five new and reimagined hotels.
For more things to do in sunny California, be sure to read up on our recent coverage: