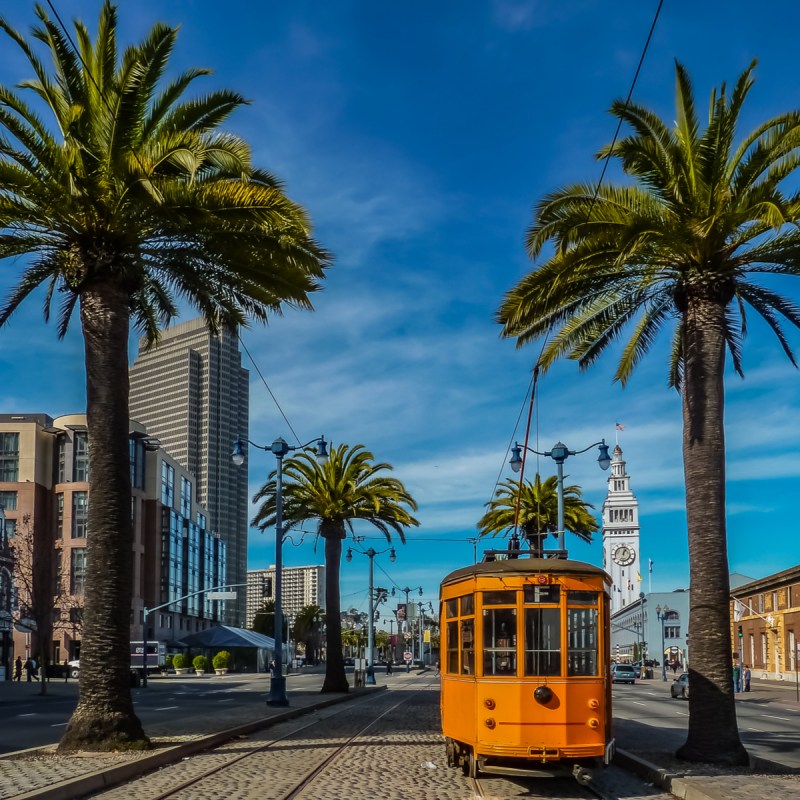 Approaching San Francisco by water is unforgettable. The city climbs seven hills onshore, rising sharply from San Francisco Bay. Twenty-first century and Victorian architecture stand side-by-side. Green parks dot the landscape.
In the bay, sailboats and kayaks dodge passenger and cargo vessels. Passenger ferries crisscross the bay carrying commuters and tourists. Tour boats stop at Alcatraz. Cruise ships wait in the exquisite cruise ship terminal. Passengers, luggage, and supplies are loaded for the journey under the Golden Gate. Fishing boats come and go with the tide. This is San Francisco's beating heart, the waterfront — Embarcadero.
What's An Embarcadero?
San Francisco's eastern waterfront, the Embarcadero, is a harbor and a roadway skirting San Francisco Bay. Embarcadero means "the place to embark" in Spanish. The Embarcadero seawall was constructed on reclaimed wetlands, holding back seawater and creating dockage. Construction began in the 1860s and concluded in the 1920s.
Piers jut out into the bay along the almost 3.5 miles of city street and waterfront. Once one of the world's busiest seaports, San Francisco received and shipped goods from around the globe to inland California and the rest of the country. Today, most piers house eateries, shopping, bars, tourist attractions, event centers, and parking garages. Today, most cargo ships go to Oakland to load and unload.
Exploring the waterfront along Embarcadero uncovers a sampler of all the city is known for — maritime life, seafood, wine, history, art, music, beautiful bridges, diversity, and iconic vistas.
San Francisco has many, many unique things to do. I've scouted out 12 experiences found only on the waterfront. The list begins at the north end of the Embarcadero and continues to the southeast, ending at Oracle Park. Of course, you can start your tour anywhere along the route. It's about 3.5 miles one way.
1. Cable Car Lazy Susan
I recommend starting your waterfront tour at Union Square by boarding the Powell/Hyde Cable Car line and riding it to the bay. It's a roller coaster thrill ride, especially when you realize the engine and the brakes are two blocks of wood gripping a steel cable moving under the pavement. It's truly exciting and one of the most scenic rides in town. The Powell/Hyde line passes some of San Francisco's most recognizable sites. However, the most jaw-dropping is the waterfront as you make the final downhill run to San Francisco Bay.
At the end of the line, a cable car turnaround is a captivating sight. It's great fun to watch the completely man-powered process and a lovely way to arrive at the start of your expedition.
Take a seat on one of the benches by the turnaround and watch how the cars are rotated 360 to begin the arduous return journey uphill to Union Square. The cable cars are a great photo op. So is the view behind you of the San Francisco Bay and Golden Gate Bridge.
2. History, Ships, Swimmers, And Photo Ops
San Francisco Maritime National Historical Park is perfect for your waterfront excursion. You'll learn about the lives of those that lived, worked, and escaped to and from San Francisco Bay — sailors, soldiers, craftsmen, dreamers, wealthy merchants, servants, and enslaved people.
You'll be captivated for hours at Hyde Street Pier, San Francisco Maritime Museum, and Aquatic Park. San Francisco's long and colorful maritime culture is preserved and presented in a park, an old bath house, and sailing vessels tied to the dock. You will also find a sand beach, a swimming cove, and the opportunity to picnic with a Golden Gate Bridge view.
3. Get To Know A Fisherman
San Francisco Fisherman's Wharf is easily the most popular destination in San Francisco and one of the busiest on the West Coast. For many generations, the wharf has been home to the Bay's fishing fleet. The tradition continues today.
Fisherman's Wharf can be a navigational challenge, filled with tourist attractions, buskers, eateries, bars, and people. It's a bit of a circus at times. When several tour buses unload simultaneously, the streets are crowded.
Avoid the crowds by stepping off the main drag and exploring the fishing docks. The quietest time of day is early morning. Swarms of tourists are almost non-existent. Fishermen are at work preparing for a day's catch. During crab season, colorful crab traps are piled high. The docks are busy; watch out for forklifts. There are lots of things to do in the area.
4. Get To Know A Sea Lion
Pier 39's K-Dock has been home to sea lions since the Loma Prieta earthquake in 1989. Sea lions began "hauling out" on K-Dock after the 6.9 shaker. It's now a colony for the loud, playful, and sometimes comical marine mammals. So why didn't they return to their pre-earthquake home? There is no definitive answer, but marine biologists believe it's the plentiful food supply in the bay and shelter from predators and storms. No matter the reason, sea lions are now welcome residents. Visit the Sea Lion Center on Pier 39 and get a peek at the slippery clowns on the Sea Lion Webcam.
5. Get To Know A Jellyfish
Aquarium of the Bay is a family-friendly way to soak-up San Francisco at Pier 39. More than 20,000 local sea creatures (including jellyfish) will delight and astonish you. In the glass tunnels passing through the enormous tanks, you might find yourself eye-to-eye with a shark.
"The Aquarium of the Bay's mission is to protect, restore, and inspire conservation of San Francisco Bay and its watershed, from the Sierra to the Sea."
Pro Tip: At Pier 39, you can book bay cruises, cycling tours, go whale watching, enjoy musical and acrobatic performances, shop, and feast on local seafood, wine, and beer.
6. Meet Your Inner Nerd
Do yourself a favor and visit the Exploratorium — a fun and exciting multi-generational "public learning laboratory for exploring the world through science, art, and human perception." It's hard to explain, but the experiences will be remembered for a lifetime.
For 50 years, this institution has been creating "explorers" in the arts and sciences. I'm one of them. Hands-on exhibits change frequently, so there is always something new to experience, like how sensitive a seismograph is by stamping your feet or how our eyes play tricks on us with the Bird in a Cage experience.
7. Go To The SF Bay Crossroads
The Ferry Building Marketplace is a bustling crowd of commuters, shoppers, and tourists from early morning until late evening. But there's more here than a transportation center; it's a shopping center, restaurant mall, and a farmers market. Wine bars, wine shops, cheesemongers, bakers, coffee, tea, and every genre of food imaginable line the corridors of the great hall.
Above the crowd's heads, a ferry schedule is at the main entrance. It changes with the arrival and departure of my favorite way to travel, ferries. The old-school train station sign makes an interesting clicking sound as the letters and numbers flip over.
This is an ideal place to taste San Francisco. Buy picnic supplies. Bread, cheese, and wine, plus other irresistible munchies, can be enjoyed somewhere along the way or back in your hotel. Oh, and yes this is where you catch a ferry to crisscross the bay.
8. Closeup With A Bridge
The grand San Francisco/Oakland Bay Bridge bridge connects San Francisco to Oakland. The bridge is beautiful from any distance or angle and makes for spectacular photo ops anytime, day or night. The bridge crosses over Embarcadero. In the area surrounding the bridge, you'll find public fishing piers. A California Fishing License is not required when fishing from a public pier. So stroll to the end, drop a line in the water, or simply watch the world float by. This area is also home to sculptures, pocket playgrounds, benches, and picnic spots.
9. Visit Some Giants
Oracle Park is the multi-time world champion San Francisco Giants' home. However, the park has more to do than watching a baseball game.
The ocean-view park has a free playground for kids and adults. It's open on non-game days. You can attend concerts of all genres, non-baseball sports, and Cirque du Soleil throughout the year. Outside on the stadium walls, SF Giants history is carved in stone. Fans worldwide come to the Wall of Fame to pay homage to great players.
Other activities include eating, shopping, and occasionally cooking classes. Kayak into Covey Cove for a "splash hit" catch. Picnic and play catch, commune with locals and Giant fans.
10. Eating The Bay
Food in San Francisco is legendary. It's hard to go wrong along Embarcadero. Be adventurous and have a progressive dinner. Stop in one place for cocktails and appetizers, another for entrees, and a third for coffee and dessert. You can do the same for lunch or brunch.
For an exceptional foodie experience, Edible Excursions has a Ferry Building and Farmers Market Tour I highly recommend. You will sample from vendors inside the building and outside at the farmers market and tour the facility upstairs and down. The building itself is fascinating and the center of ferry transportation across and around the bay.
Pro Tip: Take an afternoon break at the Franciscan Crab Restaurant on Pier 43. Between 2 and 5 p.m., the restaurant isn't as crazily busy as the lunch and dinner rush can be. When you get to the hostess desk, ask for a seat in the bar. The terraced tables face the two-story floor-to-ceiling windows overlooking the bay. Watch the boat traffic while you sip a glass of wine and munch on a plate of calamari. It's quiet, and a pair of binoculars are at each table.
11. Sleep On The Waterfront
Harbor Court, a small boutique hotel, is in the perfect location: across the street from the Ferry Building and two blocks from the Embarcadero transit center. I've stayed there many times. It's set in the historic YMCA Building on the Embarcadero. Get a Bay View room for spectacular views of the Bay Bridge Lights and the waterfront. In addition, this location is two blocks from a transit hub for MUNI, BART, and Cable Cars, making it easily accessible via public transit from local airports.
12. Getting Around
Walking Embarcadero is my top suggestion. Begin at one end and stroll along, stopping to take in the view, visit an attraction, or take a break for lunch or an afternoon coffee or glass of wine. Streetcars and MUNI buses run up and down Embarcadero frequently. Hail a pedicab or rent a bike if walking doesn't work for you and your companions.
San Francisco (SFO) and Oakland International (OAK) are the closest airports for flying to the city.
DON'T DRIVE. It will induce insanity. Take public transit. BART Trains service both airports and will take you directly to the waterfront. The usual ride-share services are fast and inexpensive in the city.
Pro Tip: Get a 1, 3, or 7-Day Visitor Passport. Use it for unlimited rides on Muni, Muni Metro, historic streetcars, and cable cars. A one-day pass is $13. That's less than two cable car rides.
I've mentioned some of the big attractions and some not so big, but there's plenty more to do and see in this part of San Francisco. Spend some time on the waterfront and you'll leave your heart in San Francisco.