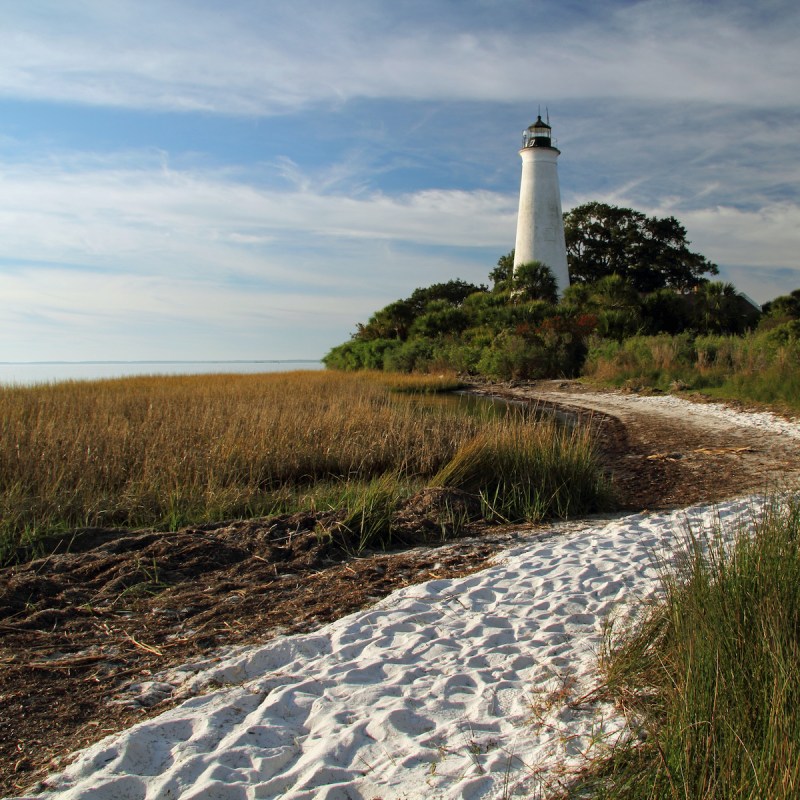 Visitors often overlook Florida's panhandle in favor of south Florida destinations. They don't know what they're missing. There's history, art, and wildlife — it's real Florida. I took a road trip across the panhandle and here are some of my favorite spots.
Parts of my trip were sponsored but all opinions are my own.
1. Monticello
I toured Monticello's historic district. The courthouse has the place of honor at the square with the 1890 opera house across the street. There're dozens of historic homes around the district. ABC-TV called it the Most Haunted Small Town in the U.S.
2. St. Marks
St. Marks is one of the oldest settlements in North America and home to San Marcos de Apalache Historic State Park and St. Marks National Wildlife Refuge. I saw lots of wildlife here. The drive out to the lighthouse is worth it even though it's temporarily closed.
3. Panacea
The Oaks RV Resort and Motel was my home-away-from-home in Wakulla County. Each RV site is paved and has electric, water, and sewage. There's everything you need, including a pool and hot tub. The bathrooms have a locking door, a commode, a lavatory, and a lovely shower furnished like a home bathroom. There is a cute motel here as well with each room decorated differently.
It's a short drive to Mashes Sands Beach. I took beautiful photos of the sunset, several birds, and what might be a Choctawhatchee beach mouse, one of four Florida Panhandle subspecies classified as endangered or threatened.
Another place to view sea life is Gulf Specimen Marine Laboratory. It's a small but educational aquarium and more.
For a tiny town, Panacea has fabulous dining. Posey's Steam Room & Oyster Bar and Tropical Trader Shrimp Company both fed me delicious seafood.
4. Wakulla Springs
As a kid, my favorite horror movie was Creature from the Black Lagoon filmed at Wakulla Springs. Some early Tarzan movies and many others were filmed here, too. I visited the springs in the past and rode the Jungle Cruise; I loved the amazing amount of wildlife seen on it. This time, I visited the historic Lodge and had breakfast in Edwin Ball Dining Room. It thrilled me to see the original creature costume and the longest marble soda fountain ever built. There are also remnants of the first Wakulla County post office that was once here.
5. Sopchoppy
Historic Sopchoppy Train Depot reminded me of the era when trains were the main form of transportation.
6. Crawfordville
Historic Old Wakulla County Courthouse and Old Wakulla County Jail tell the history of Wakulla County.
7. Bristol
The Torreya tree, a rare species, grows only on the bluffs along the Apalachicola River. They named Torreya State Park for those trees. It was my camp for 4 days while I explored the surrounding area.
I visited a beautiful plantation mansion that the park houses: Gregory House circa 1849.
8. Quincy
Quincy's 36-block historic district is amazing. You can download the walking tour here.
The Quincy Leaf Theatre is one of Gadsden County's most haunted theaters. It's still an active theater today.
Gadsden Arts Center & Museum is in the historic Bell & Bates building. Exhibits range from nationally acclaimed artists to local children's work.
9. Havana
One of my most amazing discoveries was the tiny town of Havana, once the shade tobacco capital of the world. The unique tobacco was grown as early as 1829 and the town was incorporated in 1906. For a town with a population under 2,000, it packs a big wallop. Main Street feels like the early 1900s and is filled with antique shops, art galleries, restaurants, and garden shops. Murals are all over town.
The Shade Tobacco Museum is a real eye opener to something I never knew existed. It's currently only open on Saturday but is a must-see.
Planters Exchange, built in 1928 as a warehouse for the unique tobacco used as cigar wrappers, is now an antique mall with over 30 dealers.
10. Chattahoochee
One of the South's most significant archaeological sites dating to the Mississippian era (AD 900–1550), the Chattahoochee Landing Mounds complex was a must-see. There are only three mounds left but it's also the site where Native and Black Seminole warriors captured an American ship shortly after the outbreak of the first Seminole War on November 30, 1817. I drove deeper into the park to see the Jim Woodruff Dam.
11. Marianna
Florida Caverns State Park is Marianna's biggest attraction. People seldom think of caves in Florida, but these are deep and beautiful. I drove past dozens of historic homes. The visitor center is in one of them, the Russ House & Visitor Center, a Classical Revival/Queen Anne home said to be haunted.
12. Graceville
Baptist College Heritage Village is an amazing collection of homes, churches, and businesses from pioneer days to the mid-1900s.
13. Chipley
Falling Waters State Park is a 73-foot waterfall, Florida's highest waterfall, with several sinkholes to view. This was the site of the first oil drilling in the state of Florida in 1919. 
When I visited the Orange Hill Gator Farm, the cutest little buck greeted me. Cricket, now about 9 months old, was rescued and became a free-ranging pet at the farm. There are many kinds of alligators, ranging from hatchlings to huge monsters. There are even two albino gators. Besides the alligators, there are many other animals in the petting zoo. Its kid-friendly, 2-hour tour lets you hold and feed tiny gators.
Seacrest Wolf Preserve offers a close encounter with wolves. It was such a thrill to touch, pet, and even be kissed by Dreamer; his sister, Iasha; and the pack's alpha, Pawnee. Since the pandemic, they are only offering private tours, but watch for the group tours reopening. Those include the Small Animal Adventure, where you see the gray and Arctic wolves, foxes, and raccoons.
The Washington County Historical Society has a museum at the former Bill Lee Train Depot complete with an old locomotive. Third Street Historic District has many historic homes.
Sister's Sweets, Eats & More is a family-owned dessert bakery and it's where I had a delicious quesadilla. Sliced Deli is great for a quick snack or to buy lunch meats and cheeses. I had their New York Hot Dog and loved it.
14. Blountstown
The Panhandle Pioneer Settlement features 18 historic buildings including a general store, blacksmith shop, firehouse, church, and doctor's office. The buildings were furnished in period style. During festivals, there are costumed docents. Patty, the site director, said it's best to request a tour but they will take you around, if possible, even if you just pop in as I did.
M and B Railroad Museum showcases the shortest railroad line in Florida. Beginning in 1909, the line ran between Marianna and Blountstown. The old steam engine was my favorite.
15. Milton
My base to visit Pensacola and Fort Walton Beach was Blackwater River State Park. It isn't the closest choice, located about an hour's drive inland from either beach, but it's one of the most beautiful Florida state parks thanks to the Blackwater River. It's wonderful for kayaking or canoeing, but I didn't have time for that. I did swim in the clear, cool river, though.
16. Grayton Beach
Western Lake, partially inside Grayton Beach State Park, is probably the most photographed coastal dune lake. You'll find dune lakes in only a few locations worldwide and just two states in the U.S. These freshwater lakes, located just feet from the Gulf of Mexico, are found only in the South Walton area of Florida.
Arcadia Mill Archaeological Site remembers the first and largest 19th century water-powered industrial complex in northwest Florida. There's a museum telling the mill story and a 1.3-mile loop trail.
17. Eglin Air Force Base
Air Force Armament Museum is the only museum in the world telling the story of Air Force weaponry. Displays, indoors and outdoors, showcase Air Force history from WWI to the present.
18. Fort Walton Beach
Heritage Park & Cultural Center is a collection of museums. The Indian Temple Mound and Museum are my favorites. There are three others: The Civil War building shows life here as a Confederate camp; Camp Walton Schoolhouse Museum shows how children were educated in the early days; and Garnier Post Office Museum is the town's first post office building.
19. Destin
Destin History & Fishing Museum tells why Destin is famous as a fishing village. There are exhibits inside and outside. Outside, you'll find Primrose, a historic seine boat originally used by the first fisherman in the area and the original Old Post Office. Inside, exhibits range from the annual Destin Fishing Rodeo to sea life found here and more.
In 2015, Lucy Buffett branched out from her world-famous Gulf Shores, Alabama, location and opened a LuLu's in Destin. She also has a location in Myrtle Beach. This restaurant is at the Legendary Marine complex, right under the Mid-Bay Bridge. Lucy is a beach person, much like her brother, Jimmy Buffett. I had the shrimp and oyster combo and loved it. Dessert was an enormous brownie with ice cream.
20. Pensacola
Pensacola beaches rank in the top 10 annually. Gulf Islands National Seashore is the most pristine. It's where Fort Pickens is located. Mostly enslaved men from New Orleans built Fort Pickens in 1829. On November 22, 1861, it saw action when the Civil War erupted. The feeling of history fascinated me as I toured the fort.
My favorite museum here is the Pensacola Museum of History. It tells Pensacola's history under five flags. Directly behind the museum, there is a historic village showing life as it was in Pensacola colonial times.
I found lots of art here. Pensacola Museum of Art is housed in the 1906 jail. I found uniquely painted pelicans and murals scattered around Pensacola.
Pensacola Maritime Heritage Trail begins at Veteran's Memorial Park and stretches along the waterfront and historic district. It tells the story of Pensacola's waterfront shipping history.
Dining in Pensacola is over the top. I had the Lighthouse Platter at Nick's Boathouse and tried my first Bushwhacker at Casino Beach Bar & Grill. It won't be my last. Five Sisters Blues Cafe, in the Belmont-DeVilliers neighborhood, rates a marker on the Mississippi Blues Trail.