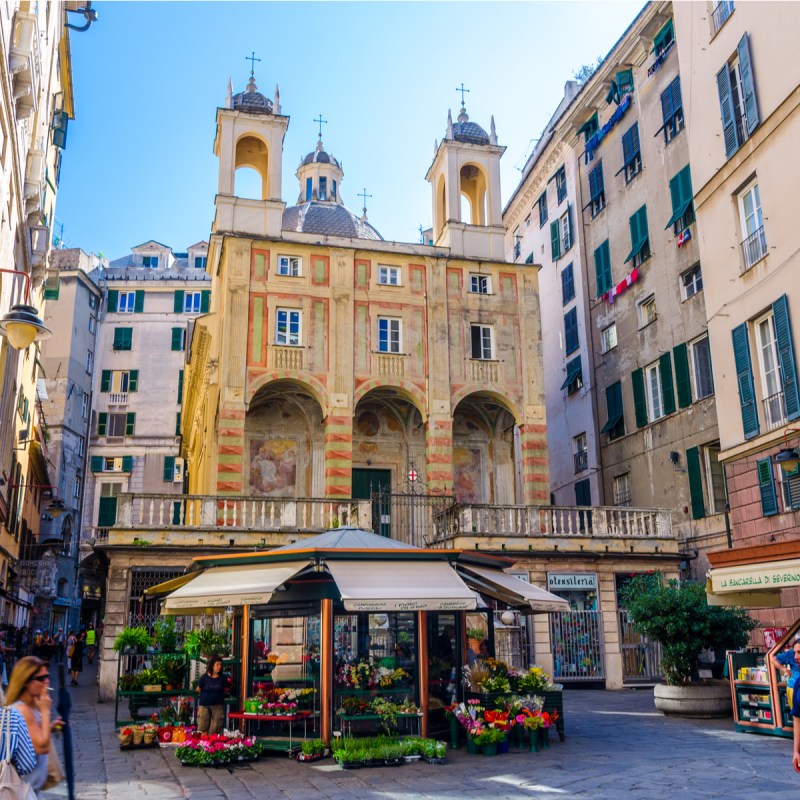 Genoa is the capital of the Northwest Italian region of Liguria. It is one of the most important ports in the Mediterranean and is widely believed to be the birthplace of Christopher Columbus. His rather imposing statue stands in a small park right outside Genoa's main train station.
All too often, travelers just pass through Genoa (or Genova, as it's said in Italy) on their way to better-known places like Cinque Terre or coastal resorts like Portofino without realizing what a treasure trove of history, art, culture, and fashion they missed. I have to admit, I only discovered the beauty of Genoa because I had to stay overnight to catch a connecting train the next day to Rome and Naples. The more I walked the streets and the waterfront, the more palaces, squares, and gardens I discovered. I have been back several times since, each time more enchanting. Let me show you my favorite places, and you will be equally delighted.
There is great food to be had, too — and, of course, wine. Genoa is a university town, and the presence of so many students makes for a lively atmosphere. Combined with all that art and fabulous architecture as well as one of the world's best aquariums, you will see why you should definitely plan a day or two in Genoa when you make your way to Liguria.
1. The Royal Palace
Via Balbi is the name to remember because it is the main street in Genoa's historical center, along which many of the most important and beautiful buildings are located. One of them is the Royal Palace, opposite San Carlo Church, which will hold you in awe with its long and elaborate façade. Built between 1643 and 1650, it started out life as a residential building owned by the influential Balbi family. After they encountered financial difficulties, it was sold to the Durazzo family and finally to the royal Savoy family in 1824. It became the Royal Palace and was adapted to their needs. In 1919, King Vittorio Emanuele III donated the palace to the Italian State.
When you enter, you will be overwhelmed with over 100 frescos, stuccos, and paintings by the best 17th- and 18th-century artists — there is even a hall of mirrors. Through the middle archway of the façade, you can look straight through to the Royal Dock and walk through the gardens.
2. Cathedral Of San Lorenzo
The massive cathedral, with its white and black striped façade, stands not far from the Royal Palace. It was first built around 1098 and then experienced many extensions and alterations until it emerged in its present form in the 17th century. The Cathedral of San Lorenzo is the most important church in Genoa.
3. Porta Soprana
Porta Soprana, along with Porta dei Vacca and the since-demolished Porta Aurea, is one of the medieval stone gates of Genoa. They and the surrounding city walls, known as Barbarossa Wall, were erected in record time in the 12th century to defend Genoa's independence as a republic against the advances of Emperor Barbarossa. The citizens of Genoa helped, financially and physically, to construct these massive buildings in just 6 years.
The Porta Soprana formed the entrance to the city from the east, and you can't help but be impressed when you walk through today.
4. Old Town Molo
If you want to experience the whole medieval and Renaissance glory of Genoa, head for Molo, the old town. It's actually made up of three districts and contains 47 palaces, three of which are UNESCO World Heritage Sites. Especially important and beautiful are Doge's Palace, overlooking Piazza Matteotti, and Palazzi dei Rolli.
The streets of Molo are narrow, with many steps connecting the various levels. It is close to the old harbor, and everything is easily reached on foot, but a lot of walking and some climbing is involved. But there are also plenty of bars, cafes, and restaurants where you can have a break.
5. Aquarium Of Genoa
Being so closely connected to the sea, it does not really come as a surprise that Geona is home to Europe's largest aquarium, the Aquarium of Genoa, or Acquario di Genova. Over 12,000 species are housed in a futuristic building with several departments. There are huge shark tanks and, my favorite, the Kingdom of Ice. The walls are white lacquered to resemble real ice, and penguins and other arctic creatures play around to the visitors' delight. Yet another section houses dolphins and corals.
6. Lighthouse Of Genoa
Don't miss visiting the Lighthouse of Genoa, the symbol and landmark of the city. Commonly known as Lanterna, it is the official lighthouse of the Port of Genoa and stands 249 feet high on the promontory called Capo di Faro. It is the tallest lighthouse in the Mediterranean and is still manned by a lighthouse keeper. Built in 1128, it is also one of the oldest lighthouses still in operation.
It serves a dual purpose, as a warning signal for sailors and as a fortification. For that purpose, it was incorporated into the city walls in the 17th century. The lighthouse can only be reached on foot via a path along the Lanterna Promenade that forms part of the Lanterna Park. Only the first 172 steps to the lighthouse are open to the public, as the top is under military control.
7. Via Garibaldi
Via Garibaldi is one of the longest streets of Old Town Genoa and one which, with its sumptuous palaces, represents the wealth of the city during the 15th century. Affluent merchants constructed their palaces and decorated them lavishly, inside and out, with frescos, paintings, valuable furniture, and beautiful gardens full of flowers and fountains. Not surprisingly the entire street is a UNESCO World Heritage Site.
In the middle sits the Musei di Strada Nuove, which is a complex connecting three palaces: Palazzo Doria Tursi, which is also the town hall; Palazzo Bianco, which is the main art museum of the region; and Palazzo Rosso. The entire complex consists of over 75 rooms, including courtyards, gardens, loggias (exterior galleries), and terraces, interspersed with fabulous views of the city and the historical center. Plan for several hours. In the town hall, you'll find a curiosity: the historic violins of Niccolò Paganini are kept here, including the famous Cannone.
8. Trenino Pippo And Pippetto Tourist Trains
I am not normally a great fan of tourist trains, but the Trenino Pippo and Trenino Pippetto are different. In fact, given the huge amount of historic buildings in the city, it's a good idea to board these little trains. The red line departs in front of the aquarium for a 45-minute roundtrip tour that allows you to get a good overview to help decide which ones you want to visit in more detail later. The recorded explanations are very good and given in multiple languages, and the price is only around 10 euro for adults. Kids pay half price.
9. Galeone Neptuno
Hollywood found its way to Genoa too. The Neptuno is an exact replica of the 17th-century Spanish galleon of the same name and is now a popular tourist attraction sitting in Genoa's Porto Antico, which is Italian for "old port." Above the waterline, she is a true replica, but below there is a steel hull. The interior can be visited. In 2011, she portrayed the Jolly Roger, the ship of Captain Hook in the TV miniseries Neverland.
10. Via XX Settembre
Exploring Via XX Settembre is an ideal pastime for an afternoon, even a rainy one. The over half-mile-long street is one of the most popular thoroughfares in Genoa, crossing from east to west. It is lined with Art Deco buildings and buildings of other styles, all fronted by marble-columned arcades under which one can seek refuge should it rain. The mosaic marble pavements are another interesting sight.
What the Genoese like most on Via XX Settembre is shopping. Here you can see why Genoa is not far behind Milan as far as fashion is concerned. Many chain stores, like ZARA, are present, but so are plenty of Italian designer boutiques. There's something for every taste and budget.
In between your shopping, window or otherwise, you'll want to enjoy a coffee and cake or sandwich. One of the nicest cafes with a great offer of typical Italian macaroons, as well as pancakes, candied flowers, and more, is Douce Pâtisserie Cafè.
11. Teatro Carlo Felice (Opera)
Featuring one of the 19th century's most extravagant rococo cupolas, Teatro Carlo Felice was built in 1824. It was able to accommodate an audience of 25,000 in five tiers of boxes. Unfortunately, in 1941, a firebomb destroyed the roof, and the cupola and theatre suffered further damage throughout World War II.
Reconstruction began after the end of the war but was delayed until, finally, the design of architect Aldo Rossi was accepted. The theater opened again in 1991. Many parts of the original façade were reconstructed, but the interior is entirely modern. Try to go and see an opera performance. Bear in mind that the Genoese dress up for such occasions.
Teatro Carlo Felice faces one of Genoa's most beautiful fountain-filled squares, Piazza De Ferrari.
12. Boccadasse Seafront Promenade
Walk to the charming seaside village of Boccadasse, an old fishing village that features picturesque pastel-colored houses around a small bay. Located between two major beach regions of the Italian Riveria, Genoa doesn't have any real beaches, but there is a small shingle beach at Boccadasse. Stroll along the seafront promenade and take in the sea view.
Enjoy the view from a restaurant terrace, then stop for ice cream and people-watch. If you're too full to walk back, you can always catch the bus.
Pro Tip
Genoa is easy to explore on foot, but that can also be very tiring. Therefore it is a good idea to find accommodations that put you right in the middle of the city's historic places. One such place, where I stayed several times, is the family-run Hotel Balbi. It's only a two-star hotel, but it's very clean and comfortable enough. It has a buffet breakfast and a nice restaurant next door. The great advantage is that it's just steps from the beginning of Via Balbi.
Related Reading: