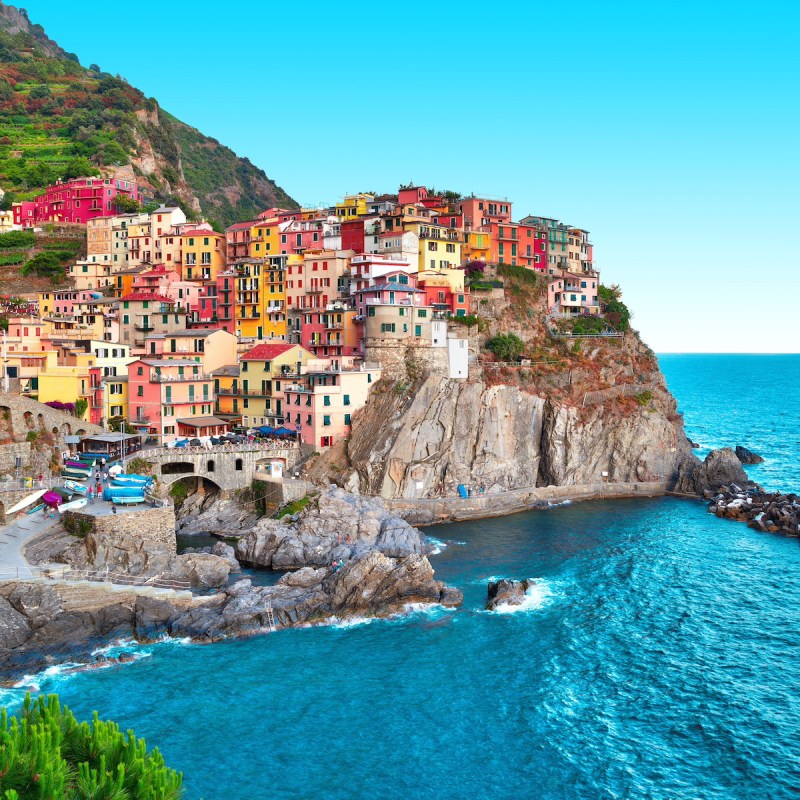 Italy is such a wonderful and diverse country to visit; each region seems to have a personality all its own. For instance, Rome is an eclectic mix of ancient and modern, while Florence is a big city with a small-town feel.
I have traveled all over Italy, visiting Capri, Rome, Florence, Venice, and more, but no place has captured my attention and stolen my heart quite like Cinque Terre.
The Cinque Terre is made up of five villages on Italy's Ligurian coast. Not only is the entire region a national park, but it is also a UNESCO World Heritage Site.
The natural beauty of this rugged coastline is unmatched and draws visitors from all over the world. As colorful houses seem to cling to the side of plunging cliff sides, you can't help but stand in awe of the Italian beauty that surrounds you.
Cinque Terre offers visitors incredible views, a vibrant coastal atmosphere, outstanding hiking trails, and, of course, fabulous Italian food and wine to enjoy.
Let me introduce you to all of the reasons that I fell in love with Cinque Terre, Italy!
Five Destinations In One
Tour The Five Villages of Cinque Terre
A trip to the Cinque Terre means that you get to explore five unique villages while in the area. Made up of Riomaggiore, Vernazza, Manarola, Corniglia, and Monterosso al Mare, you get the pleasure of exploring all five during your trip. Of course, you can also choose your favorite to make your home base during your trip.
All of the villages are easily connected via the local train, and most are connected by the hiking trails that wind through the national park. This ease of connectivity allows you to move freely about the area during your visit, thus essentially getting five destinations in one!
Rich History
Explore a UNESCO World Heritage Site
The extensive history of Cinque Terre has earned it the label of being a UNESCO World Heritage Site. This history will envelop you as you begin to explore the five towns of the region.
You can discover medieval castles in both Riomaggiore and Vernazza before checking out the Gothic churches that are present in Manarola and Corniglia. Dating back to the 1200s, the narrow cobblestone streets and colorful houses of Cinque Terre also give you a peek into its historical past.
The Area Is Incredibly Colorful
Get Out On The Water To Capture The Beauty of Cinque Terre
Everywhere you turn in Cinque Terre, you are surrounded by beautiful views. From the turquoise blue water to the pastel-colored houses, the colors of Cinque Terre seem never-ending. Even the gray cliff sides appear to have shades of blue and purple swirled into them.
The best way to see the true beauty of Cinque Terre is to see it from the water. There are several boat tours available that allow you to get the best views of the five villages. Once on the water, it is easy to see why this is one of the most colorful cities in the world.
Sciacchetra Wine
Learn About (and Sample) This Famous Wine
During your visit to Cinque Terre, you will see vineyards dotting the hillsides throughout the region. These vineyards are the source of a famous wine created from the grapes harvested here, a sweet dessert wine named Sciacchetra.
Renowned for not only the region it is produced in, but also for its rarity, trying Sciacchetra wine is a must when visiting Cinque Terre. I recommend going to the Cantina della Cooperativa Agricolture delle Cinque Terre headquarters in Riomaggiore, where you can take a guided tour (April-October and December) to learn all about the production of this famous wine.
Of course, you can also have a tasting during your visit as well. Visit their website for more information.
Pro Tip: To get a closer look at some of the Cinque Terre vineyards, be sure to do the Manarola Vineyard Walk. The Manarola walk makes it is to see why this is one of the most romantic towns in Italy. This is a fairly easy walk, but it does have an elevation change and some stairs.
Delicious Food
Get Your Fill of Seafood and Pesto
Visit the restaurants in the Cinque Terre and you will find the two things that reign in this region, seafood and pesto. The seaside location of the five villages ensures that the region has a vast selection of fresh seafood to choose from. One of the main seafood staples here is the anchovy. You will find the oily, salty fish battered and fried, or just marinated in lemon and olive oil.
You might be wondering why so many restaurants here have pesto on their menus though. Well, that is because Cinque Terre is the birthplace of pesto. Pesto is a sauce that is created by combining fresh basil, olive oil, pine nuts, garlic, and cheese. Basil absolutely loves the climate in this region of Liguria, so it comes as no surprise that pesto was first created here.
While visiting Cinque Terre, you can enjoy pesto on focaccia bread or on top of delicious homemade pasta. I recommend trying Trofie al Pesto. The crescent-shaped Trofie pasta is the perfect vessel to soak up the delicious pesto sauce.
The food in Cinque Terre is true, authentic Italian food. When you combine this great food with the amazing Cinque Terre atmosphere, you have the makings of a food lover's dream. Imagine sitting on the cobblestone streets of a UNESCO World Heritage Italian town while you enjoy a meal consisting of freshly caught seafood or delicious homemade pesto and a glass of local wine. Talk about living la dolce vita!
Pro Tip: When choosing restaurants to eat at in Cinque Terre, look for authentic, local places. One such restaurant that I recommend is Rio Bistrot in Riomaggiore. Rio Bistrot serves up freshly caught seafood and delicious homemade pasta to their guests, and it is amazing!
Hiking Cinque Terre
Hike To All Five Villages Of Cinque Terre
The Cinque Terre is a dream destination if you enjoy hiking. You will find the five villages all connected by a series of hiking trails that hug the coastline throughout this Italian national park. The hiking in Cinque Terre varies from easy, relatively flat hikes like the trail from Manarola to Riomaggiore, to trails that are more difficult.
The majority of the trails in Cinque Terre require you to have a hiking permit, so be sure and purchase a permit before setting out on your hike. Permits can be purchased at any of the train stations of the tourist information points in the villages.
As hiking is a favorite activity of visitors here, it is important to note that if you are visiting during the summer, the hiking trails can often become very crowded. Many of these trails are narrow as they hug the coastline, so when they get crowded, they can become tricky to navigate.
Pro Tip: When hiking in Cinque Terre, it is important to be prepared. Be sure to take plenty of water and protect yourself from the sun. You should also check the condition of the trails on the Cinque Terre website as Cinque Terre is prone to flooding which can drastically affect the trails.
Views Of The Ligurian Sea
Enjoy Swimming In The Italian Riviera
As all but one of the towns of the Cinque Terre sit by the seaside, it feels as if the sea is calling to you while visiting Cinque Terre. The colorful boats bobbing in the gorgeous blue waters of the Ligurian Sea create an amazing foreground for the colorful cliffside houses. As the beauty of the water surrounds you, it seems to beckon for you to come and explore.
If you are visiting Cinque Terre during the summer months, there is nothing better than enjoying the refreshing waters of the Ligurian Sea. While you can swim from most of the villages, the only true beach to visit in Cinque Terre is in Monterosso al Mare. Spend the day lounging in the colorful seaside beach chairs or swimming in the crystal clear waters of the Italian Riviera.
Pro Tip: If you are spending the day on the beach in Monterosso, then be sure to visit the beachside restaurant, Ristorante il Gabbiano, and try some of their seafood pasta!
Welcoming And Relaxed Vibe
Spend Time Practicing 'Dolce far Niente'
Describing the feeling or vibe of a town or region to someone can often be difficult. When describing Cinque Terre to people, I tell them that I feel like the region gave us a warm hug when we arrived and never let go.
The people of the Cinque Terre are so welcoming and kind. Not only are they willing to help with almost anything you need, but most will even go above and beyond to ensure that you enjoy your time in their villages.
During our visit to Cinque Terre, we asked a local for directions to the entry of a hiking trail. Instead of just telling us, this kind man personally escorted us to the entrance of the trail.
The philosophy of the locals in Cinque Terre revolves around the belief of dolce far niente, which translates to "the art of doing nothing"! You will notice that locals seem to take their time doing things and don't seem stressed to rush through the day. Don't misunderstand, you will still get great service in Cinque Terre, it just feels more relaxed than other areas we have visited.
Before you know it, you will be feeling more relaxed and experiencing dolce far niente during your time in Cinque Terre, Italy, as well.