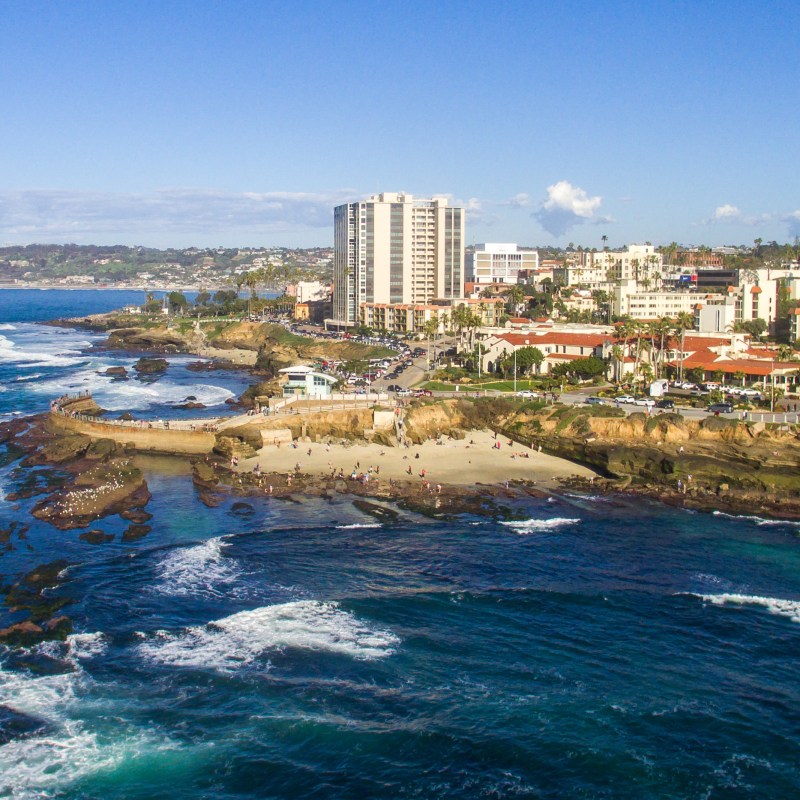 Just north of San Diego is a seaside getaway waiting to be explored. Perched on the edge of rocky cliffs, La Jolla offers outdoor fun, fine dining, and unparalleled sunset views. And despite its small size, there is plenty to keep visitors busy. You could just relax on the beach, but it would be a shame to miss out on all the adventures that await.
1. Fly Like A Bird
The adventurous should start at the Torrey Pines Gliderport to experience paragliding. Don't worry if you have no experience — tandem flights with an expert are available. Enjoy floating above the ocean while taking in the expansive views of La Jolla. If you really enjoy it, consider learning to fly at the gliderport's Paragliding Flight School.
If you're not ready to fly, then just enjoy the view and activity at the gliderport. Locals love to pop in and watch the brightly colored paragliders floating through the sky. Grab a sandwich at the Cliffhanger Cafe perched on a cliff 350 feet above the water.
If you're planning on a tandem flight, keep in mind that wind conditions will dictate when it's possible to take off, so be patient.
2. Watch For Whales
In winter, as many as 25,000 North Pacific gray whales travel 12,000 miles round trip (the longest migration of any mammal on Earth) from the Arctic to the lagoons of Baja California. Along the way, they pass the coast of La Jolla. The best time to watch for gray whales is from December through mid-to-late April, depending on the year. And fortunately, La Jolla offers two great opportunities to see these magnificent creatures.
To view gray whales on land, grab a pair of binoculars and head to Torrey Pines State Natural Reserve. This 1,750-acre preserve, located on the cliffs above the beach, is home to miles of scenic hiking trails, some of which lead to ocean overlooks that are ideal for spotting whales. You'll need hiking boots for this opportunity, but it will be worth it.
To view the whales in the water, book a kayak tour with La Jolla Kayak. You'll spend almost 2 hours in the water in search of gray whales as they head to the warmer waters of Baja, where the females give birth to their calves.
3. Dive Deep Into The Ocean
La Jolla is home to the La Jolla Ecological Reserve, a vast underwater preserve that protects seven sea caves, kelp forests, and abundant marine life. To fully appreciate this area, grab your scuba gear and dive deep. Spend time exploring the giant kelp forest swarming with schools of fish. Or head to the Marine Room reefs and search for halibut, rays, eels, and possibly leopard sharks.
For an organized tour, or to rent equipment, check out La Jolla Dive, located just two blocks from the ocean.
If you're not certified to dive, but still want to explore under the sea, try snorkeling instead. Everyday California offers organized tours and equipment rentals.
4. Take A Hike
Head to the Scripps Coastal Reserve to explore an undeveloped part of La Jolla. This 1,000-acre space includes mesas, coastal canyons and bluffs, sandy beaches, and even a deep submarine canyon. Located on the Knoll — or upper cliff — portion of the reserve is the Scripps Coastal Reserve Biodiversity Trail. This short and informative nature walk is a great way to learn about the plant and animal life of the area. Locals recommend the reserve as a place to watch the sunset over the ocean.
Keep in mind that there are uneven paths, steep cliffs, and other potential hazards here. Come prepared with proper footwear, and heed all signage.
5. Get A Bird's-Eye View
Take a break from the beach and head up to the Mount Soledad National Veterans Memorial. First admire the memorial, where thousands of plaques honor the service of men and women in all branches of the military. Then look up at the tall, white cross that can be seen throughout La Jolla and the surrounding communities. Finally, turn around and admire the panoramic view of the town below and the Pacific Ocean. Come at night to enjoy the city lights.
6. Play A Round Of Golf
In 2008, Tiger Woods won the U.S. Open after a dramatic playoff with Rocco Mediate at Torrey Pines Golf Course. And since it's a public course, you too can play at this famous location. Host to the annual Farmers Insurance Open on the PGA Tour, Torrey Pines has long been a popular destination for golfers. Located on the rocky cliffs of La Jolla, both the north and south courses offer stunning views of the ocean. Be sure to book your tee times far in advance, however, since this is a highly sought-after round of golf.
Before or after golf, head to the Lodge at Torrey Pines for a delicious meal. This AAA Five Diamond resort is home to the fine-dining restaurant A.R. Valentien and the more casual Grill at Torrey Pines.
7. Admire The Outdoor Art
Visitors to the University of California, San Diego — located in La Jolla — may expect to see numerous buildings, expansive lawns, and groups of students hurrying to class. What they may not expect is a large collection of public art scattered throughout the campus. The Stuart Collection, in partnership with the university, has commissioned world-class artists to create site-specific artwork. Among the most photographed works is Do Ho Suh's Fallen Star, a cottage that sits precariously on the edge of the roof of the Jacobs School of Engineering. Visitors can enter the fully furnished house, which weighs almost 70,000 pounds. (Hours are limited, so check the website for more information.) Download the printable map of the collection and take a self-guided tour of the 20 pieces of art.
Venture further and explore the murals of La Jolla. For more than 10 years, the Murals of La Jolla project has brought large-scale, colorful, and provocative paintings to the walls of commercial and residential buildings throughout the city. Take a self-guided tour with this printable map.
8. See A Sea Cave On Land
If you're not able to visit La Jolla's sea caves on the water, then head to the Sunny Jim Sea Cave instead — the only one accessible by land in California. Gustav Schultz dug a tunnel from his home to the cave in 1902. It's said that during Prohibition, bootleggers used this route to smuggle alcohol and opium.
Come prepared to climb down the 144 wooden steps into the cave in a very dim setting. And of course, you'll have to climb back up. But that's a big improvement over the rope that visitors in the early 1900s had to use! After visiting the cave, explore the jewelry and gift shop selling locally made goods.
9. Paddle On The Water
Stand-up paddleboarding is the fastest-growing water sport in the world, and La Jolla is a beautiful destination for this popular activity. La Jolla Cove offers paddlers the chance to glide on top of the water amongst towering rocky cliffs and a dense kelp forest, all while searching for marine life like seals, leopard sharks, bat rays, and garibaldi. Bike & Kayak Tours and La Jolla Kayak offer board rentals. If you want some professional guidance before exploring the area, try a lesson with Everyday California.
10. Shop Till You Drop
La Jolla is an outdoor lover's dream, but it's also home to great shopping. This wealthy enclave boasts a number of high-end chain stores along with trendy boutiques, and the best place to shop is downtown.
Alpaca Collections offers quality, comfortable alpaca clothing and accessories in the latest styles and designs. Adelaide's has been designing gorgeous floral bouquets since 1938, when it was only a small flower stand. Today, they also offer one-of-a-kind home accessories. Tijon specializes in fragrance-creation experiences as well as unique perfumes and skincare items.
11. Fuel Up
Before or after your outdoor adventures, you'll want to enjoy a great meal. Fortunately, that's easy in La Jolla. For a casual meal with spectacular views of La Jolla Cove, head to Duke's La Jolla. Named for the surfing legend Duke Kahanamoku, this place offers a wide range of delicious seafood dishes as well as Hawaiian-inspired cocktails. Catania serves coastal Italian cuisine in a lovely indoor-outdoor setting perched on the rooftop of the La Plaza Center. For a quick bite or sweet treat, try Sugar and Scribe, which specializes in house-made bread and pastries.
With moderate temperatures year-round, there is no bad time to visit La Jolla. Since summers are the busiest and priciest, try coming during the spring, summer, or fall. Each season brings with it something new and wonderful to explore in this seaside town.
For more to do in La Jolla, see this page.