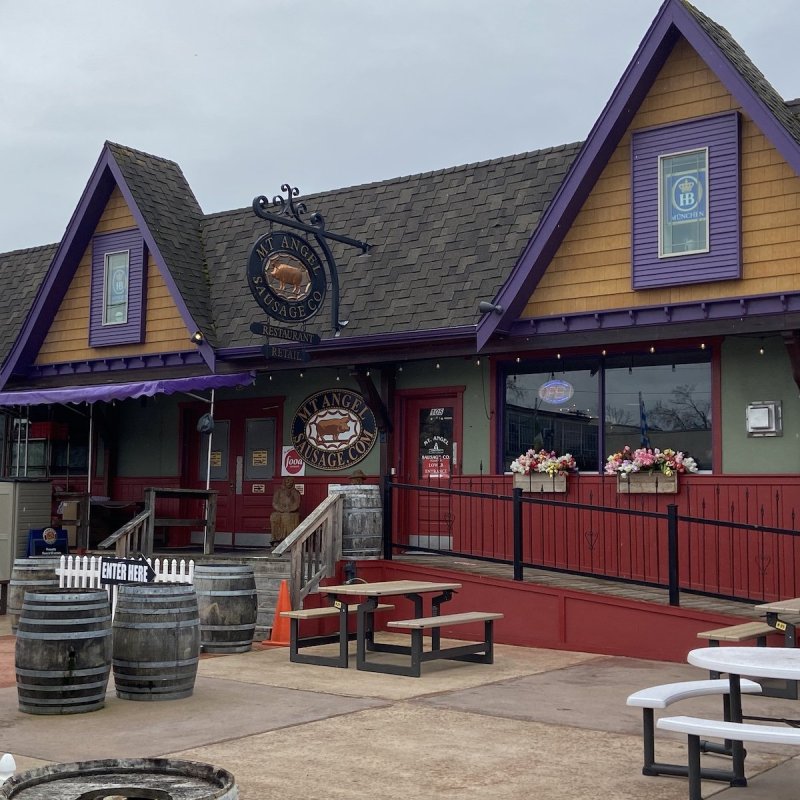 Less than two hours from Portland, Oregon, be transported to lands of sake, vineyards with prize-winning wines, hiking, biking, ziplining, and golfing. Visit the only Frank Lloyd Wright house in the state, smell the flowers at an acclaimed, 80-acre botanical garden, stroll Oregon's "Crown Jewel" of state parks, and dine at ethnic restaurants. You can also visit a Benedictine monastery, enjoy the Glockenspiel at Oregon's Bavarian-style town, and celebrate Oktoberfest. These are activities you will find in four charming towns within two hours of Portland, Oregon: Mt. Angel, Silverton, North Plains, and Forest Grove. I have lived in this area for several decades, and these are places I take my guest to and frequent myself.
I enjoyed visiting North Plains and Forest Grove on a press trip sponsored by Tualatin Valley and the Washington County Visitors Association. My stay at the hotel in Beaverton was also sponsored on this trip. In Mt. Angel, we enjoyed a tour and complimentary lunch at the Mt. Angel Sausage Company. In Silverton, we enjoyed a discount on lodging at the bungalow. All thoughts and opinions are my own.
Pro Tip: Although all four towns are relatively short distances from Portland, the traffic around the city tends to be heavy, and a 25-mile trip can take over two hours. So I prefer to stay a few nights in the area. I have shared ideas for one hotel and one Airbnb.
1. Mt. Angel
My preferred route is to start heading south on I-205 and then taking the rural road Highway 213. This rural route, also called the Silver Falls Tour Route, takes you past Christmas tree farms and agricultural fields. Look for glimpses of five Cascade Mountain peaks: Hood, St. Helens, Adams, Jefferson, and Rainier.
After just a short 47 miles, the first stop is at Mt. Angel
Founded in the late 1800s by German settlers, Mt. Angel is brimming with its Swiss-German heritage. The Bavarian-style storefronts and Glockenspiel in the town center impart a taste of old-world flavor. It plays daily at 11 a.m., 1 p.m., 4 p.m., and 7 p.m. The first animated figure on the Glockenspiel represents the Native Americans who initially settled here, and then there are figures representing religious and civil founders, followed by figures representing Oktoberfest.
A must-visit is to the Mt. Angel Sausage Company, ranked as the number 1 restaurant in Mt. Angel. Both a restaurant and a small store and deli, folks travel from all around the area to enjoy its authentic German food. It is a family-run business and features 34 different types of European sausages. In the store, there is a choice of "family meals" that you can cook at home. They also have a well-stocked bar featuring German and local beer and wine. The restaurant is proud to have been featured on Food Network! Both indoor and outdoor seating are available, and if you wish to order online, follow this link.
Pro Tip: For a fine German feast, order the Chancellor's Plate: pork schnitzel topped with brown sauce, choice of any three wursts, German fried potatoes or spaetzle, grilled onions, sauerkraut and red cabbage, a Munich soft pretzel, and dessert. Serving is plentiful, feeding two and allowing for takehomes.
Mt. Angel is also home to Oregon's biggest festival: Oktoberfest. For the past 56 years, the event is held each September, beginning the second Thursday after Labor Day. Featuring entertainment, food vendors, a road race, biergarten, and weingarten, there are activities here for everyone. Handicapped assistance is available, and wheelchairs are available at the Elder Care Station. Grab your dirndl and lederhosen and plan to have barrels of fun!
Visit Mount Angel Abbey, home to the Benedictine monks and sitting high on the hilltop overlooking the valley below. Established in 1882, the complex has grown to include a guesthouse and retreat center, the monastery, a book and gift store, a small museum, and St. Mary Catholic Church. Take time to stroll the grounds with incredible views of Mt. Hood and Mt. St. Helens. A few miles south, you will find the Benedictine Brewery and Taproom. Sample their flagship beer called "Black Habit."
Pro Tip: Although referred to as Mount Angel Abbey, the actual address is 1 Abbey Drive, Saint Benedict, Oregon 97373.
2. Silverton
Continue driving south on Highway 213 a short five miles to the town of Silverton. Founded in 1854 as a mill town, today Silverton is an important supply center for surrounding farms.
We made Silverton our home base and stayed two nights at Silver Falls Retreat Home, a two-bedroom Airbnb just a few blocks off the town center. We enjoyed the large living room, dining room, and kitchen. A bonus: Keurig coffee maker and coffee pods are included.
Take time to stroll the town center and admire more than 30 murals telling the history of Silverton. One of my favorites is located at 213 East Main Street — the large mural titled The Roots of Silverton, Oregon, USA highlights Silverton's old oak story. Laurie Walker painted the mural in 1995. You can download an app from the Silverton Mural Society which explains the history behind the murals.
Tour the Gordon House, the only Frank Lloyd Wright Home in the Pacific Northwest. Built in 1964, the home is an example of Wright's Usonian style. He coined the term to describe his concept of "a small, local affordable home reflecting the local environment, needs of the homeowner, modern construction, and materials." Tours are offered Wednesdays through Sundays at noon, 1 p.m., and 2 p.m.
Continue south about 15 miles to Silver Falls State Park, called the "Crown Jewel" of all the Oregon state parks. There are ten waterfalls, five more than 100 feet high, with hiking trails ranging from a .7-mile loop to the entire 7-mile loop. The small trail at the base of South Falls takes you behind the waterfall — a fantastic experience. Here is a map of the trails.
Pro Tip: For Silver Falls State Park, you need either a daily parking pass or a yearly permit. The annual permit is for parking in all 24 Oregon State Parks.
There are two parking lots — a tiny North Falls lot and a huge South Falls lot. Although the trails are not accessible to all, the South Park itself is and has picnic tables, a small restaurant, and a gift store.
We returned to our Airbnb in Silverton and, the following day, headed one mile northwest to stroll over the Gallon House Bridge, Oregon's oldest covered bridge. The bridge over Abiqua Creek was built in 1916 during prohibition. Its name comes from a nearby shack that sold liquor either by the gallon or the quart. Silverton, at that time, was "dry," while Mt. Angel was "wet." The shack was located on the Mt. Angel side of the bridge.
The Gallon Bridge is listed on the U.S. National Register of Historic Places and the World Guide to Covered Bridges.
To finish off the day, we enjoyed the beauty and fragrance of the Oregon Garden, an 80-acre botanical garden featuring the diverse plants of Oregon's Willamette Valley. The complex includes 20 specialty gardens, a visitor center, a gift shop, and a nursery. There are four miles of ADA paths.
To the west are two of my favorite small towns. Head out of Portland on Highway 26, approximately 20 miles to the town of North Plains.
Pro Tip: We stayed two nights at the Holiday Inn Hillsboro. We were particularly impressed by the central location, beautifully designed and welcoming lobby, a restaurant serving delicious food, a lounge offering a large variety of wines and spirits, and spacious guest rooms.
3. North Plains
Are you looking for adventure? If so, head to the small town of North Plains, where you will find zipline adventures, two world-class golf courses, glider plane rides, biking, and when you work up a thirst, a wine-tasting room. North Plains was once the transportation center for the surrounding farms. Look for the murals throughout the community depicting its history.
Do you want to fly like the birds over a canopy of Douglas firs? Head to Pumpkin Ridge Zip Tour, the closest zipline to Portland. There are seven ziplines and three suspension bridges. The course starts low and slow — only 15 feet off the ground — and progresses till you are 120 feet high! Pumpkin Ridge prides itself on working with people of all abilities and fears. I got the courage to try ziplining when I was assured that I could get down off of any platform onto the sturdy ground at any point if I decided. There are some restrictions on age and size. Check this link for further information.
Tours run rain or shine. Reservations are required.
If you are a golfer, you've heard of Pumpkin Ridge Golf Club and the two 18-hole championship courses: Ghost Creek and Witch Hollow. Both courses were designed by Bob Cupp, the renowned golf course architect, and numerous amateur and professional events have been held here. In its inaugural year, 1992, Golf Digest named Ghost Creek the Best New Public Course in the U.S. and Witch Hollow the Second Best Private Course in the U.S. Four years later, Tiger Woods won his third consecutive U.S. Amateur Championship here.
With all this adventure, you've probably worked up quite a thirst. Head over to Abbey Creek Winery's "The Crick", where the atmosphere is fun and welcoming and the wine is excellent! Owner Bertony Faustin prides himself on his involvement throughout the entire wine-making process: He plants the vines, tends to them, harvests the grapes, makes the wine, and sells every bottle. He loves to share his story and his wine.
4. Forest Grove
Close to North Plains is another of my favorite towns, Forest Grove. The most noted landmark is Pacific University, one of the oldest universities in the Pacific Northwest. It is nationally recognized for its academics and research. Stroll through the campus and enjoy the buildings and the grounds. Stop by Old College Hall (now housing the university museum) to visit one of the oldest university buildings in the western United States.
Sip some sake at SakeOne and enjoy learning about the brewing of sake. Check this link for sake 101 education. Our host started our tour by explaining, "sake is brewed like beer and tastes like wine." Look for Sake Saturdays and other fun events.
Enjoy fine dining at SaWa Sushi and Saki, an authentic Japanese restaurant on Main Street Forest Grove. Sushi lovers, this is the restaurant for you! Sushi is their specialty, and their menu features creative sushi with seafood choices, including squid, eel, tuna, salmon, octopus, snapper, and sea urchin. The menu is extensive, so enjoy a refreshment while you study it!
You can also sip fine wine at Montinore Estate, on the southern outskirt of Forest Grove, including quality pinot noirs, cool-climate whites, and Italian varietals. The current owner, Rudy Marchesi, is one of the worldwide leaders in biodynamic farming, and the wine estate received the Demeter Biodynamic Certification in 2008. As well as the tasting room, there is outdoor seating under garden umbrellas surrounded by lush plants and vegetation.
If you are interested in biodynamic practices, here's more information.
There are so many activities in the charming towns close to Portland, Oregon, that I am sure you will find some to enjoy. A small road trip could be just what the doctor ordered! Now is the time to start planning yours.
Further Reading: