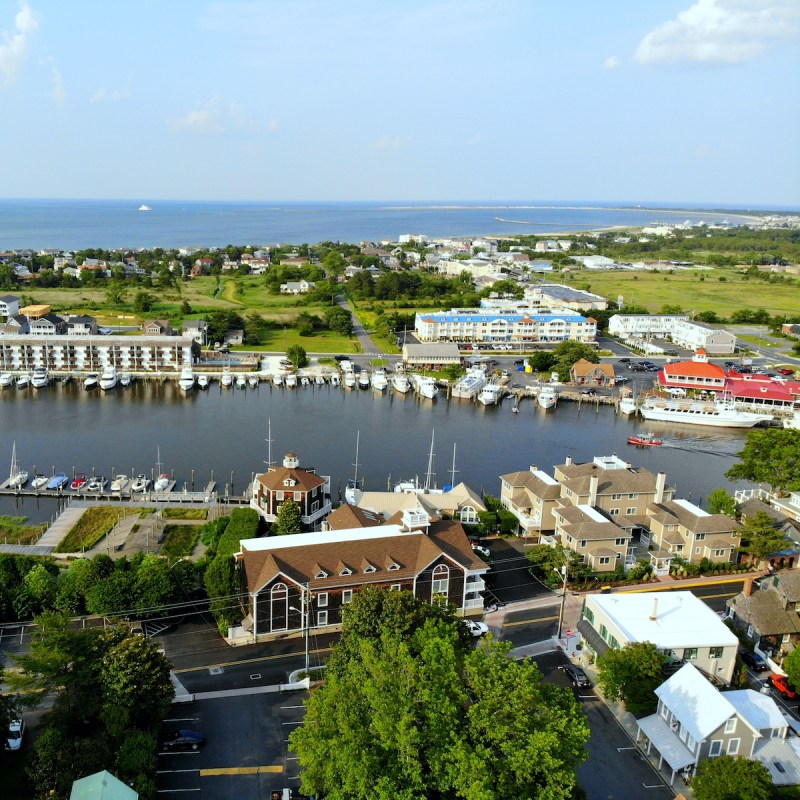 A year ago, my husband Martin and I were on our own quest to find a place that felt right for our retirement move, and as we drove through New York State, Pennsylvania, and Delaware, we began to feel like the famous family of bears who couldn't find their perfect porridge. Then we wandered into historic New Castle, Delaware, and we breathed a sigh of relief. That's one way to tell if you have found your own Brigadoon: It felt just right.
But that's certainly not all you need to know for your perfect retirement destination. Here are some other, more practical questions:
Would you like to be near a beach?
Do you like to visit museums, historic houses, and performances, or do you prefer activities like hiking, biking, or kayaking?
Do you want a planned, gated, or over-55 community, or are you more interested in a walkable city with diversity of age and race?
Is there healthcare and a reputable hospital nearby?
How about highways, airports, and train routes, so you can visit family and friends?
One of my main considerations for moving was Delaware's lower tax rate. I moved to New Castle just a month ago and can already feel the difference; my property taxes are now one-fifth of what they were in New Jersey. As Kiplinger magazine (July 26, 2021) pointed out, Delaware has "no sales tax, low property taxes, and no death taxes. It's easy to see why Delaware is a tax haven for retirees."
Of course, since many people feel the same way you do about taxes, expect lots of competition for purchasing a house, condo, or apartment. Also, remember that low taxes mean nothing if a place is not right for you. Fortunately, there are many alternatives for places to settle in diminutive Delaware. Here are some of them:
1. Wilmington: An Urban Hub With Leafy Burbs
The city of Wilmington has wonderful parks, a zoo, and numerous historic areas. The parts of town most popular with people who move from out of state (where houses often get scooped up really quickly) are Forty Acres and Trolley Square, near the Delaware Art Museum; the Triangle, which borders Brandywine Park; and the pricey and green areas of the Highlands and Alapocas on the northern outskirts of the city.
You should be aware that there is a high crime rate in some areas of Wilmington, and sometimes these areas are cheek-by-jowl to fancier neighborhoods. Check with your real estate agent or crime statistics online.
Explore the relatively modest homes in Fairfax and Talleyville farther north off busy Delaware Route 202. The leafy — and expensive — suburb of Greenville is where President Joe Biden has a home. West of Wilmington are similarly pricey Hockessin and North Star.
Pro Tip: You'll have to make reservations to dine at Krazy Kats at the Inn at Montchanin, in the countryside north of Wilmington. We stayed at the Inn during our search for homes in the Wilmington area, and it was a calm and pleasant respite near the fabulous Winterthur Museum, Garden, and Library.
2. Historic New Castle: A Trip Back in Time
Historic New Castle is a small enclave, just 10 minutes south of downtown Wilmington. Founded in 1651, the historic district was named a National Historic Landmark in 1967 and maintains its distinctive colonial history. It is the oldest continuously settled town in the Delaware Valley, with cobblestone streets and beautifully preserved and restored historic homes.
Note: If you purchase a historic house, expect to follow the guidelines of the Historic Preservation Commission if you plan to do any changes on the outside of your home.
Historic New Castle is a living and functioning city, unlike the more tourist-centered historic area of Williamsburg, Virginia. What its inhabitants seem to have in common is an interest in the town's historic houses and a love of its impressive gardens. Many folks socialize as they walk and bike the paths along the Delaware River in the early morning. And those who want more of a challenge, hike or bike the Jack A. Markell trail to the riverfront of Wilmington, 5.5 miles away.
Pro Tips
Historic New Castle is known for its festivals: Separation Day in June celebrates independence from Pennsylvania and the British Crown. May is the month for Market Day, and there is a popular antiques fair in late August. Christmas in New Castle features decorated buildings and street performances from Charles Dickens' A Christmas Carol.
A car is necessary in historic New Castle. The town does not have food markets, although it does have a drug store and several good restaurants. And there's the busy New Castle Farmers Market just five minutes away, with a great selection of Amish meats, cheese, and baked goods (don't miss the soft pretzels!).
The Delmarva-lous Peninsula
You may feel your heart rate slow as you drive farther south in Delaware. The "Slower Lower" lifestyle marks life on the Delmarva Peninsula (whose name is a combination of Delaware, Maryland, and Virginia). For people who move to the beautiful beaches of the south, the summers can be spent battling tourists and traffic. After the season, however, the area returns to the rhythm of the peaceful ocean waves and the wide expanses of farms and foliage.
Scores of 55+ and active adult communities abound in south Delaware, but the cities and towns are where everyone stocks up on food and culture. Sussex County has become perhaps the most popular area of the state because it has one of the lowest ratios of median annual property tax to home value in the country.
Editor's Note: The following locations are all located on the Delmarva Peninsula.
3. Milton: Small Town Charm
Milton is a charming small city, with a vibrant downtown and streets filled with the Victorian and Edwardian houses called "painted ladies" lining the streets. And best of all, it is close to the beaches of Delaware without being at the epicenter of activity (and traffic).
First settled in 1675, Milton was known as a center for shipbuilding. Today the town is filled with shops, boutiques, and restaurants. Especially notable is the Dogfish Head Craft Brewery, which produces more than 250,000 barrels of beer annually. You can sample some of the beers at the Milton Tasting Room and Kitchen.
The Milton Theatre, widely recognized as a hub for the area, is located on Union Street, the main drag. Since 1910, it has functioned as a movie theater, a fire station, and a community stage, and the building has weathered fires, storms, and COVID closures.
Just outside of town you'll pass Lavender Fields at Warrington Manor, a 5-acre expanse of visual and olfactory delights.
There are a number of active adult communities outside of town. Note that real estate in Milton is certainly less expensive than in Rehoboth or Lewes because it is farther from the beaches.
4. Lewes: Sun, Sand, Ferries, And Fun
Lewes is the northernmost beach town on the 26-mile Atlantic coastline. It is also near where the Delaware Bay and Atlantic Ocean meet, so you can see both glorious sunrises and stunning sunsets, depending on which way you are facing. The town is home to the Cape May-Lewes Ferry, which runs all year between Delaware and the southern tip of New Jersey.
Residents and tourists alike love this walkable historic town, filled with museums, inns, bed & breakfasts, restaurants, and lovely antique shops and boutiques. Folks who live in and near Lewes all year also make use of the nationally-ranked Beebe Healthcare center.
Because homes are expensive and pretty limited in Lewes, many retirees head for adult communities nearby. Some are gated, some feature large clubhouses and golf courses, and some have private beaches and fishing piers.
Pro Tip: Bike your way through Cape Henlopen State Park from Lewes to Rehoboth. The park is a respite from the crowds and traffic of the summertime beach towns. Here you can commune with the gulls and herons, or perhaps spot President Joe Biden, whose vacation home is just north of Rehoboth Beach overlooking Henlopen.
5. Rehoboth: The Nation's Summer Capital
The venerable summer beach town of Rehoboth, founded in 1872 by the Methodist Episcopal Church, has evolved into a year-round destination for retirees, tourists, and families who live in Delaware, Washington D.C., Maryland, Virginia, and further afield. There are people strolling and jogging along the mile-long boardwalk and enjoying the quaint boardwalk shops and restaurants, as well as the free beaches. And, although the Delmarva Peninsula is a conservative area, Rehoboth is known to be diverse and gay-friendly.
More than 38 percent of the population of Rehoboth is over 65, and the city expects that population to increase some 75 percent in the next 25 years, according to AARP. Older folks love the town because they can walk everywhere… and the beaches in Rehoboth are wheelchair accessible.
Pro Tips
On rainy days there is enough shopping on Route 1 to assuage the most avid of bargain hunters. The Tanger Outlets is a destination for rainy (or snowy) days, with more than 110 stores. Note that driving anywhere on Route 1 is difficult in the summer. Leave extra time if you have a reservation for the ferry or for eateries in the area.
Although smaller than both Rehoboth and Lewes, many older retirees swear by the quieter shores of Bethany Beach, South Bethany, and Fenwick Island. All three locations have 55+ and active adult housing choices.
Although Delaware is pretty diminutive — one of its nicknames is "The Small Wonder" — there are a plethora of places for retirees to settle. Add to that the state's rich cultural and historic heritage, its beautiful countryside and beaches, and its proximity to major cities and transportation, and you may be inspired to take the leap into the next phase of your life, as I did.
Though diminutive, Delaware offers a variety of retirement and vacation options: For more on the lovely state, check out: