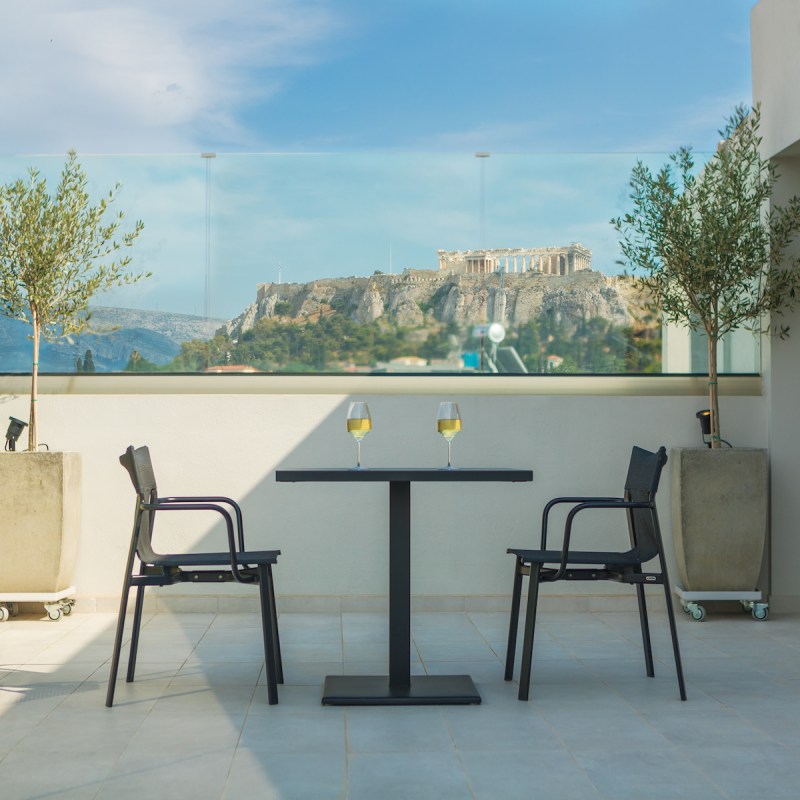 The city of Athens, Greece, has much to offer visitors, including some more alternative sights. Of course, by far the most famous sight in this ancient city is the Acropolis and Parthenon — the hill and citadel that stands centinel atop the city with her watchful eye.
There's evidence that the hill was inhabited as far back as 4,000 B.C., and remains to this day holding historical, political, and architectural prominence and even wonder.
Whilst Athens offers a plethora of incredible boutique hotels around the city, what better way to rest up after a hard day's shopping and sightseeing than in a hotel suite or restaurant that offers superb views of this magnificent monument.
Here, I highlight to you some of the best hotels in Athens for fantastic Acropolis views, most of which I have had the pleasure to be hosted in during my time here as a travel writer. Some have been featured before, but are worth mentioning again here to highlight their uniqueness.
1. Villa Brown Ermou
Part of the Brown Hotels Group, Villa Brown Ermou has a total of 51 rooms and suites. It's located near the bustling shopping street of Ermou, one of the top five most expensive shopping streets in Europe and where you'll also find one of the oldest Orthodox churches in the city. Its spot, under the Acropolis, means it's the perfect place to base yourself in Athens.
Expect chic and intimate rooms with unique artwork and a Belle Epoque vintage feel that doesn't detract from its boutiqueness. Featuring a delicious Greek buffet breakfast consumed in the Bistro, more rooms are set to open in April 2022, offering direct views of the Acropolis.
Soon to open is the Rooftop Terrace Bar which, with Villa Brown Ermou's location being one of the nearest properties to the Acropolis hill, will offer superb views of the monument. There's also a rooftop plunge pool to soak out the day as you relax with a glass of champagne and a view.
Rates range from 80–153 euros (around $91–175) per night depending on room, suite, and season. Their website offers the best rates to book and will give you more information.
2. St. George Lycabettus Lifestyle Hotel
Nestled under the pine-clad Lycabettus Hill — 277 meters in height and the highest point in central Athens — is the multiple domestic and international award-winning St. George Lycabettus Lifestyle Hotel. The 154 luxury guest rooms have a range of views from the Courtyard interior, the Hill itself, or the city, as well as Acropolis down to the sea, and even the nearby Saronic Islands. You'll also find 15 unique thematic suites dedicated to famous Greek writers and poets. Despite its size, St. George is a family-run business that opened as a hotel in 1974, helping this gem of a property maintain a boutique, cozy, and friendly feel.
The facilities are enviable, ranging from a discreet spa, a quaint screening room, and an art gallery hosting Greek and foreign artists and visiting exhibitions. Plus, it boasts commanding views down to the Acropolis from the rooftop swimming pool and from the Vertigo or La Suite Restaurant, which in itself has visiting chefs, often of Michelin-star quality.
It's ideally located in the upmarket district of Kolonaki, where you can shop to your heart's content then relax with a Greek coffee in one of many distinguished coffee shops. Lycabettus Hill is a stone's throw away, but is a very steep climb not for the faint-hearted. Indeed, in order for the hotel to maintain its commanding views, it, too, is a fair walk uphill from the Athens sites, but easily accessible by taxi.
Rates range from 60–196 euros (around $68–224) depending on room, suite, and season. See St. George Lycabettus's site for regular deals.
3. Grande Bretagne
The creme de la creme of Athens hotels, now part of the Marriott group, Hotel Grande Bretagne, part of the Luxury Hotel Collection, is nearly as iconic as the Acropolis itself.
Located in the historic Syntagma (Parliament) Square and operating since 1874, this five-star hotel is a multi-award-winning landmark offering a combination of 320 rooms or suites — some with their own butler service — an outdoor and indoor pool with spa, and a whole host of extra special amenities that really make your stay unique.
A whole host of dining options are offered as well, whether that be afternoon tea in the Winter Garden tranquil oasis, where conversation is at a discreet level and plants abound, the Pool Bar and Grill, or Latin American cuisine on the first floor Secret Garden. You won't want to leave, and certainly won't go hungry.
The Hotel offers a "museum tour" every Thursday between 5 p.m. and 6 p.m., upon request, featuring its unique antiques and art masterpieces as well as learning about the hotel's unique history.
What makes the Grande Bretagne so famous, though, is its views.
The Roof Garden Restaurant and separate bar both overlook the Acropolis, Lycabettus Hill, and the Athens Parliament building. If you're staying here on a Sunday, it's the perfect spot to watch the Grand Changing of the Guard.
A hotel of such opulence has hosted, in their Royal Suite, many famous guests such as Brigitte Bardot, Greta Garbo, and Elizabeth Taylor, as well as royalty, heads of state, and diplomats. Their range of accommodation choices combine museum quality antiques and classic architecture with modern technology.
For those Acropolis views from your room, you'll want to book from a range of deluxe Acropolis suites, or really splash out for the Penthouse with its own pool. Check their booking site for more information.
4. Ivis 4 Boutique Hotel And Restaurant
Small (only 14 rooms) and definitely boutique, the Ivis 4 Boutique Hotel and Restaurant is perfectly placed to offer fantastic Acropolis views. It's in the heart of the old Athenian district of Psirri, famous for its cobbled lanes and flea markets.
With floor-to-ceiling glass design allowing plenty of light and a courtyard garden with banana trees and plant life, the aesthetics and ambience is pleasing in itself.
But it's the Acropolis Suite on the top floor that you'll want to book for the view. Small but with a large private terrace, you'll be rewarded with sweeping views across to the Acropolis and Lycabettus Hill. Beautifully lit at night, it's the perfect spot to enjoy an all-day menu exclusively designed by award-winning Greek chef Yiannis Lucacos, including wine and cocktails, or a Greek coffee.
Rates range from 99–130 euros (around $113–149) per night depending on season and suite. See Ivis 4's site for more information and regular deals.
Pro Tips: Whilst the hotel has an elevator, it does not go up to the Acropolis Suite and there are several twisty steps to navigate with a handrail. The hotel offers assistance with luggage.
5. Asomaton
A derelict old town house in the Thission district of the city center, converted in collaboration with the Greek Ministry of Culture into the unique 19-room-and-suite boutique establishment you'll find today, Asomaton blends the building's history with a contemporary design. Maintaining its original stonework, the creation of a small indoor pool and indoor green space enhances the feeling of well-being, plus, of course, the Acropolis views from the breakfast terrace.
With U.S.-based Greek artist featuring his pop artwork onsite, all attention to detail combines to create a classy experience when you stay at Asomaton.
Rates range from 79–250 euros (around $90–286) per night depending on season and suite or room. See Asomaton's site for regular deals.
Pro Tip: For Acropolis views as you sleep, choose the Acropolis Loft with Balcony.
The elevator doesn't reach the breakfast terrace — it's necessary to climb the unique spiral staircase.
6. 18 Micon Street
An old warehouse and member of Hip Hotels, 18 Micon Street offers rooms and suites designed with respect to its unique past and the three elements of construction — cement, wood, and brick — providing each room with a unique personality.
Eat a hearty Greek breakfast with a choice of homemade Greek spinach and cheese pies, fruit salad, yogurt, and homemade preserves. Do so either in their bright and spacious lobby, or on their roof terrace offering uninterrupted views across to the Acropolis hill.
It's here you'll find some of the best suites too; the Acropolis Loft, on two levels, has a spacious terrace with sun loungers and views of the Acropolis rock straight from your bed. The Deluxe Suite with Acropolis views and terrace is similar, but has a smaller terrace with equally marvelous views.
Well placed in the old-fashioned yet also hip Psirri district, 18 Micon Street is down a cobbled street where tavernas and coffee shops abound. It's your perfect spot to spend a break when in Athens.
Rates range from 120–220 euros (around $137–251) per night, depending on room, suite, and season. See their website for more information.
7. Moon And Stars
The quaint Moon and Stars is a family-run business in the Thesion district, where a derelict 1920s art deco building has been lovingly renovated into a cozy five-suite establishment with the collaboration of the Greek Ministry of Culture.
The original building was home to the carpenter of a wooden toy shop with his workshop incorporated within. The owners then named each suite after some wooden toys to reflect this; Jack in the Box and Ballerina, for example.
It's the Cloud 9 Suite that's the cutest though, but be warned. It's located on the top floor of the property and accessible through the inner courtyard, up an iron spiral staircase.
Although small, as it used to be the maid's room usually at the top of buildings, the views are worth it as you lay in bed, looking out to the Acropolis lit up at night.
Breakfast can also be eaten up here as the terrace is huge. Enjoy the Acropolis view and listen to the bells of the nearby Church of the Incorporeal Angels at Thesion as you sip an evening drink.
Rates range from 108–160 euros (around $123–183) per night, depending on suite and season. See the hotel's website for more.
For further information on Athens, check out these tips, activities, and more: