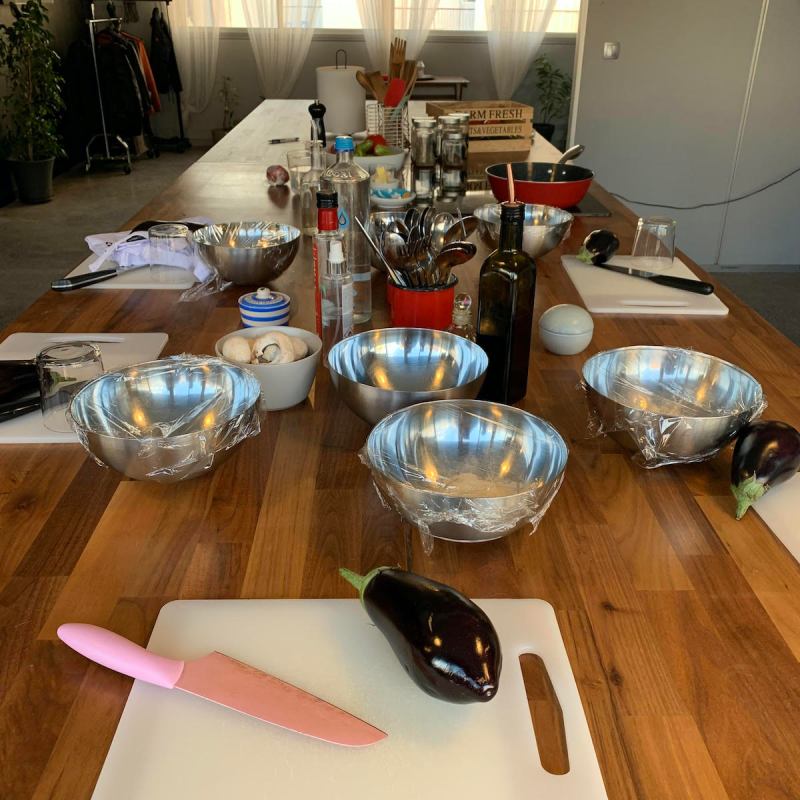 On a recent trip to Greece, my husband, daughter, and future son-in-law ate our way across Athens. From food tours to cooking classes we immersed ourselves in salty feta, ripe from the vine tomatoes, heady dried oregano, and doughnuts dripping with honey.
One of our favorite adventures was a cooking class with a local chef. Her kitchen was perfectly situated to offer a view of the Acropolis while guests participated in preparing an authentic Greek meal.
If you have ever wandered around the Plaka in Athens with its hilly streets, charming restaurants, and enticing shops it seems like all of Athens should resemble this bustling tourist area. However, when you venture into the real Athens, you encounter tiny tavernas that have served generations of Greeks, small specialty shops, family-run businesses, and lots of graffiti. It is so different from the Plaka you feel like you have been transported into a different city. This is the part of Athens where you can learn to cook classic Greek dishes and immerse yourself in traditional Greek culture.
The Monastiraki Location
We ventured to the center of Athens aimed at Evripidou Street in the vibrant Monastiraki neighborhood. Monastiraki is known for its flea markets and ancient ruins. It is also home to fun cafés, bars, hotels, and CookinAthens, a hands-on cooking class highlighting the best of Greek cuisine.
Navigating the tight and unfamiliar streets exposes you to the real Athens. We were delighted to see our host waiting for us on the sidewalk when we approached our destination. She was bright and cheery in her pristine chef coat — making her immediately identifiable. A tiny lift took us up to the fifth floor opening to an expansive food prep area and beautiful kitchen. The view from the veranda highlighted the 2,500-year-old Acropolis ruins perched high on Acropolis Hill.
It was surreal to be cooking in the shadow of so much history. Performing a daily ritual while exploring the flavors of Greece.
Small Group Experience
We had four in our group and were the only ones in the cooking class that evening. CookinAthens requires a minimum of two people making it perfect for a family or friends' outing. The maximum for an open-to-the-public class is ten participants. They do, however, offer curated private classes for larger groups.
We felt like we had our own private cooking class.
No Cooking Chops — No Problem
The skills in our group ranged from fine dining expertise to never stirring a pot. One thing we all had in common was a love to eat amazing food and the desire to explore traditional Greek cuisine. Each of us took a turn at peeling, chopping, rolling, sauteing, frying, etc.
Marilena, the force behind CookinAthens, is the consummate host. She adeptly guided each of us to the next level regardless of where we were on the cooking chops ladder.
Cook Together
Oftentimes only one or two people are in the kitchen exploring recipes and enjoying the creative process. Cooking together and sharing the experience creates a bond centered around great food.
Getting your hands into the dough while sipping a glass of wine with people you love is joyful.
Vegetarian Options
Much of traditional Greek food is based on seasonal vegetables. Transitioning dishes to cater to vegetarians is easy. With one vegetarian in our gang and only one meat-based dish on the menu, it was easy to make dishes that worked for everyone.
We made an eggplant gratin for the main course. We scored and roasted the eggplant until it was silky soft. Then topped it with a tomato sauce — we made one with ground lamb and one without — and finished with a creamy bechamel sauce. Everyone was happy.
Tiropita
Cheese pie, often seen as the spinach-filled spanakopita, is a savory Greek classic. Often presented as an individual triangle, hand-held pies, it is a flaky, filo-encased sensation. Tiropita, like spanakopita, is filled with a mixture of cheese and herbs.
For this class, we all took turns rolling out filo dough, which was a new experience for us. We added layer after layer of the thin pastry to form a gorgeous and yummy pie.
Tzatziki
Tzatziki, a tangy yogurt-based dipping sauce, is the perfect accompaniment to many classic Greek dishes. Marilena's recipe is garlicky and refreshing with a slight bite from the white vinegar.
My future son-in-law was astounded at the burst of flavor — he had never experienced tzatziki before. As he slathered tzaziki across his warm pita bread, he said between bites, "This is amazing, where has this been all my life?" We were astounded since it is a summer staple for us when the garden is in full cucumber production mode.
Needless to say, this is now my only go-to tzatziki recipe.
Loukoumades
Little fried doughnuts dripping in a heavenly honey glaze and a touch of cinnamon, Loukoumades needs to be in your dessert repertoire.
At CookinAthens, we fried them on the stovetop in a saucepan. No need to have a large frier or use copious amounts of oil. You simply drop spoonfuls into the hot oil and in minutes you have fluffy little balls of goodness. Drizzle with beautiful honey and top with cinnamon and chopped walnuts. Dessert is served.
Honing Cooking Skills
Taking a cooking class is the best way to hone your culinary skills. Taking a cooking class steeped in cultural cuisine with people you love is an amazing way to spend a few hours.
View Of The Acropolis
Adding to the Greek food immersion, the view from the CookinAthens kitchen and prep area showcases a view of the Acropolis — the center of everything in this ancient city.
This nighttime view of the Acropolis from our accommodations, the Titania Hotel, was magnificent. You will see variations of this amazing view across the city — it is the beautiful anchor of Athen's landscape.
Greek Food Tour
A Greek food tour is a great alternative if you are not up for an evening of gathering around the prep table and exploring your sous chef skills. We loved the Athens Food Tour from Athens Walking Tours. Georgia is an amazing host, charming and knowledgeable, she led us around the heart of Athens.
We enjoyed amazing sausages, fish, chickpea stew, artisan liqueurs, gyros, and so much food we were filled up for the entire day. One of the best things about a food tour, besides the amazing bites, is you get an overview of areas in the city that you might ordinarily miss.
Visit the iconic tourist destinations (that's why we travel), but get off the beaten path, explore the true local vibe, and enjoy a meal while on your journey.
Authentic Greek Cuisine
You don't need to go to Athens to enjoy wonderful Greek food, but I highly recommend you do. Learn about a culture, its people, and reserve a spot at CookinAthens or the Athens Food Tour.
Don't forget to visit some of the amazing spots in Athens to discover the history, food, and people that make this city a fabulous vacation destination.
Pro Tip: The Monastiraki neighborhood, home to CookinAthens, is a short ride away from the major hotels making it an easy and fun night out.
For more information on traveling to Athens, Greece, check out these articles: