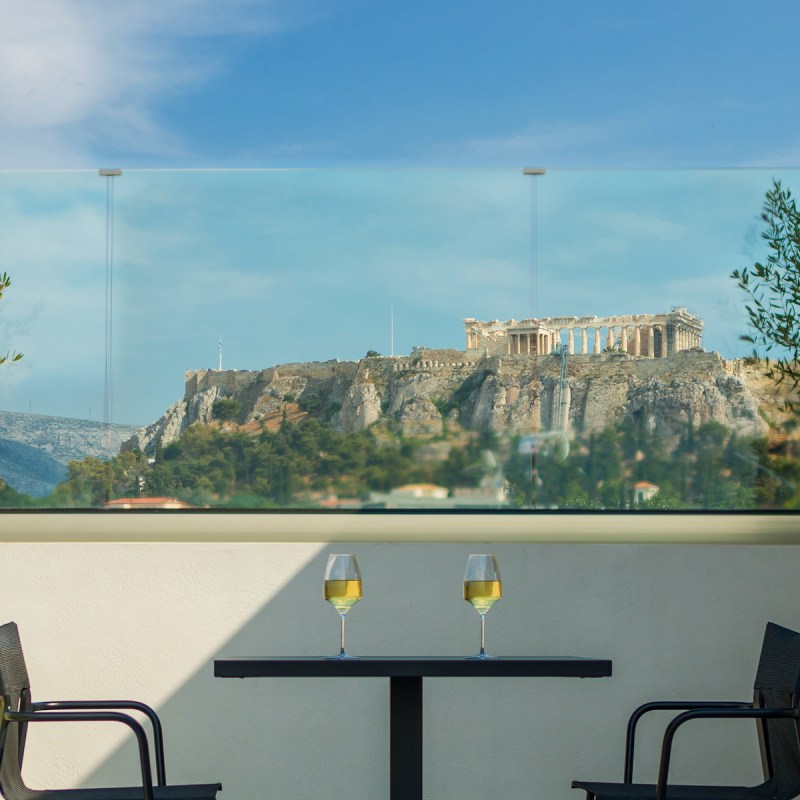 Despite the decade-long financial crisis that has inflicted Greece, tourism still remains the country's strongest sector. Perhaps it's for this reason that a plethora of boutique hotels have been cropping up, especially in the cities — Athens in particular.
In the course of my travel writing, I've had the pleasure of being hosted in some diverse establishments, and I'll share some of the best of them with you here.
There's more to a vacation in Greece than visiting the Greek islands. A unique boutique hotel experience will make your time in Greece's capital all the more special. You'll note most of the ones I recommend are very centrally located. This is due to the fact that the majority of the original vintage art deco-style buildings are located here. They had for many years fallen into disrepair — but no longer!
1. Asomaton
Asomaton Boutique Hotel offers 19 rooms and suites, developed over three years with the Greek Ministry of Culture. The hotel was lovingly converted from a derelict old townhouse that was abandoned for 20 years. The building's over a century old and originally served as a repair shop for carriage wheels and a place to shoe horses. Hence, Asomaton, located in the heart of Athens in the district known as Thission, which is very near the Acropolis (so near, in fact, that the rooftop breakfast terrace offers views across to the Acropolis), is a place with unique history — and the owners have successfully incorporated this in their design.
The corridors are all open to the elements, and there's a greenery area with running water.
All rooms have a small balcony or terrace, plus there's elevator access to all floors. The reception area has a small inviting spa pool to relax in and drink coffee beside after a day sightseeing.
Rates range from 79 to 250 euros per night depending on room or suite and season. See Asomaton's site for more information.
Pro Tip: Look out for the Dot Pop art of Philip Tsiaras that adorns the walls. This international Greek artist lives and works in New York City and has more than 80 one-person exhibitions. Images range from the Parthenon and Marilyn Monroe to famous Greeks such as singer Maria Callas and Jackie Onassis.
2. IVIS 4 Boutique Hotel & Restaurant
In the heart of the old Athenian district of Psyrri, amidst cobbled streets and old shops selling traditional flea market wares, you'll find IVIS 4 Boutique Hotel & Restaurant, the new kid on the block. It opened its 14 rooms up to the public in July 2021 despite the COVID issues inflicting Europe.
Spread across five floors, the building's glass design allows plenty of light in and pays homage to its origins, as it used to house a glass factory on the ground floor.
The urban area is busy, yet its design and new windows keep out any nighttime celebrations. A room at the back of the building overlooking the courtyard garden, with its banana trees and abundance of plant life. is your best bet, both aesthetically and for that extra quiet.
Healthy brunch and meals are served all day–menu created by award-winning Greek chef Yiannis Lucacos. Some rooms are enhanced by street art murals, in sync with the neighborhood, by artist "Simple G." The added bonus: There are two wheelchair-accessible rooms.
Rates range from 99 to 130 euros depending on season and room/suite. See IVIS 4's site for more information.
Pro Tips: To really spoil yourself, book the Acropolis Suite on the top floor — a small bedroom that has a large private terrace with unobstructed views across to the Acropolis and Lycabettus Hill, beautifully lit at night. Note that this suite has no elevator access and about 10 steep steps to reach it — staff can assist with luggage. 
There's also a small gym in the basement for those wanting to keep in shape.
3. 18 Micon Street
A member of the HIP (Highly Individual Places) Hotels Association, 18 Micon Street is in the trendy Psirri district of Central Athens, which offers a choice of many tavernas and a 5-minute walk along pedestrianized, often quaint cobbled streets to the Acropolis. The design of the rooms and suites reflects the structure's storehouse past with a funky industrial vibe, with exposed pipes, cement, wood, and brick, yet the hotel still manages that intimate boutique feel.
There are a total of 15 rooms and suites, some with Acropolis views and roof terraces with sunbeds, a loft suite, and even one with a terrace jacuzzi. Breakfast can be eaten on the roof terrace or in the open-plan reception area. The piece de resistance is their relaxation lounge area in the basement, plus the luggage storage room. It's also useful that they have a luxury shower room — great for anyone who chooses to check out ahead of a late flight.
Rates range from 120 to 220 euros per night depending on room or suite and season. See the hotel's website for more information.
Pro Tip: The name of the hotel comes from Mikon, a 5th-century B.C. Athenian painter and sculptor. The building was once the storehouse of one of the first tool traders in Athens and was also used as a trading store.
4. Vasi Hotel
Originally an old tissue factory, unique, minimalist boutique luxury awaits you at Vasi Hotel in Psyrri, near one of Europe's top five most expensive shopping streets, Ermou. Ermou contains the bustling Central Market of Athens, which is worth visiting for its meat, fish, and spice stalls. It also houses, of course, Monastiraki Flea Market and the Acropolis.
Yet Vasi is tucked down a pedestrian side street, meaning there's less noise pollution and traffic.  Vasi's philosophy is that the most authentic experiences are rooted in the basics — this is reflected throughout the design of their 18 rooms spread out across 8 floors, where the wood furniture naturally compliments the original Greek marble flooring from the original building. 
Its minimalism doesn't cut back on style, though, and Vasi's defining feature is the olive tree with a table built around in the lobby, reminding us that everything originates from the earth.
The Greek buffet breakfast is to die for, offering small feta cheese and spinach pies, fresh yogurt and honey, plus a selection of fresh bread and homemade jams. 
Rates range from 65 to 250 euros per night depending on room, suite or season.
Pro Tip: One room on the 4th floor has a jacuzzi terrace, perfect to soak in and relax after a day of sightseeing.
5. Moon And Stars
Another intimate vintage-style property in an enviable location near the Acropolis, Moon and Stars was lovingly developed by a husband and wife team in a once-abandoned 1920s art deco building. The listed building — originally a home and wood-toy shop — was developed in collaboration with the Greek Ministry of Culture in order to preserve its original ornateness.
There are only five suites at Moon and Stars, each with its own unique name and designs such as Ballerina Suite and Bird of Happiness. All come with either a queen or king bed, a work area, and views across to the Acropolis and city and mountains beyond. Head up to the roof terrace to enjoy breakfast or a glass of wine when you're back from your day of sightseeing.
Rates range from 108 to 160 euros per night depending on suite and season. See the hotel's website for more information.
Pro Tip: Unique to guests and at a separate cost, Theodore, the owner, and his wife can arrange a three-hour classic vintage Fiat 500 tour of the city during which you're driven around to some of the hidden spots and lunch at a taverna or have a picnic in the hills. Perfect for seeing a different side of Athens.
6. Monsieur Didot
Nestled within the upmarket central neighborhood of Kolonaki, Monsieur Didot is an old neo-classical Athenian residence lovingly converted into a boutique establishment. It offers four double rooms and two suites across the ground, first, and second floors.
Its name originates from the creator of a Greek font that typesetters used to produce incendiary pamphlets, leading to the Greek revolution in the 1820s as the neighborhood used to house many bookshops and printing presses in the past, and the residence's decorations reflect this.
In keeping with its original features, there's no elevator in this grand old home, yet the wooden staircase is over 100 years old, and there are two double rooms on the ground floor if you feel you can't manage the stairs.
It's worth staying in this homely residence that doesn't have a hotel feel at all. Sit in the quiet library area and either read a classic or browse the internet (excellent connection throughout the public and private areas) after returning from a day of shopping and hobnobbing with the Athenian elite in the local neighborhood.
Rates range from 140 to 200 euros per night depending on room, suite, and season.
Fun Fact: Roughly 50 years ago, John Lennon and Yoko Ono paid an incognito visit to Athens and stayed in this early 20th-century house.
7. Shila Athens
Staying in the classy chic Kolonaki neighborhood, another diamond awaits to be discovered.  More than just a place to rest your head, Shila — meaning "character" in Sanskrit — certainly offers plenty of that.
Its six suites all have a unique individual design and character, in keeping with the original 1920's neoclassical townhouse it once was. 
Choose, for example, from the Garden Suite with its iron post bed, French windows opening up onto your own private courtyard, and cute bar stocked to your preference, or the Attic Antique with a treasure trove of antique furniture, a separate lounge with a Juliet balcony, and a bedroom overlooking the garden.
Breakfast is either delivered to your room or eaten on the beautiful rooftop terrace adorned with a plethora of botanical plants. 
Rates from 175 to 350 euros depending on suite and season.
Pro Tip: Due to its strong ties with the local and international art community, Shila also showcases several paintings, photographs, and ceramics around the property, all for sale, giving it a homestay/art gallery feel.
8. The Gem Society Boutique Hotel & Spa
This is a real gem of a boutique hotel offering a mixture of rooms and suites of various sizes. The Deluxe Terrace Rooms and Signature Suite offer their own private terraces and unique decor. The hotel's piece de resistance is the Almaz Spa located on the lower level, where guests can indulge in a range of treatments that include Hammam, Jacuzzi, and massage.
The Gem Society Boutique Hotel & Spais located in an area of Athens known as the Historic Triangle — the area between Syntagma, Omonia, and Monastiraki Squares, which is home to several banking and political institutions along with their impressive architecture. It's also walking distance to Ermou Street, which ranks among the top five most expensive shopping streets in Europe and is where you'll find one of the oldest Byzantine churches of Athens, the Church of Panaghia Kapnikarea. Alternatively, you can browse the hotel's own boutique for a unique gift. Whatever your interests, you'll find The Gem Society Boutique Hotel & Spa is an excellent base for sightseeing as well as popular with business visitors.
Rates range from 140 to 330 euros per night depending on room booked and season. See the hotel website. Spa treatments are charged separately.
Pro Tip: The onsite Muse Bistro serves guests and visitors alike and prides itself on offering traditional Greek and Mediterranean cuisine from both a la carte and brunch menus, plus a fine selection of wines.
9. Four Seasons Astir Palace
Now to throw something different in the mix. Away from the city center yet a mere 30- to 45-minute taxi ride or drive along the Athens Riviera lies the luxurious revamped Four Seasons Astir Palace Hotel.
Operating as a hotel since the 1950s, its Four Season status has been in place since 2019. In the past, Astir Palace has attracted the likes of Jackie Kennedy and Sean Connery, among others. It's spread over 74 acres, and even though it has 200 rooms and 42 suites, they're spread across two buildings and forest bungalows — perfect for complete privacy.
Take forest walks, swim in the sea, or be lucky enough to have your own pool depending on your booking. Dine at one of eight restaurants or snack bars, have room service, or arrange for a private chef — the options are limitless.
Rates from 352 to 3,120 euros per night depending on room or suite and season. Check the hotel's website.
Pro Tip: Whilst the Four Season Astir Palace may feel like a resort hotel, the stunning location and size of the property allow you to escape to a Greek island feel whilst only a short ride from the city center.
10. Margi Hotel
If you're looking for a smaller boutique establishment along the Athenian Riviera, you can't go wrong choosing to stay at The Margi Hotel. On offer are 89 rooms/suites ranging in size to accommodate single travelers, couples or families and the Margie is a member of the Small Luxury Hotels brand.
A mere 45 minutes from the city center, come back and take a dip in the outdoor pool (there is also an indoor one in the spa) or simply spend a day at the beach that's walking distance from the hotel.  
Relax in a high-backed chair by the open fireplace and read a newspaper in the chillier fall/winter months and feel nurtured in their home away from home atmosphere.
Rates from 210 to 1,010 euros per night depending on room/suite and season. 
Pro Tip: The Margi has its own farm offering a relaxing paradise for nature lovers situated in the countryside of Athens over 20, 000 square meters. It's surrounded by vineyards and olive trees and produces excellent quality organic vegetables and fruit, extra virgin oil, eggs and cheese, all used in the breakfast products. Tours of the farm can be arranged, and it's an added privilege to see where your food comes from.
Sometimes there'll be wine or tsipouro (Greek brandy) tasting sessions.
Most of the properties featured offer a Welcome Drink on arrival and all offer free Wi-Fi throughout. The smaller boutique hotels featured here are intimate, family-run establishments and investments, hence they offer an extra element of warmth and care. Whilst the Four Seasons is large, it, too, offers a unique experience. Whichever hotel you check into, enjoy your boutique stay in Athens, and consider this Athens and Greece content for further inspiration: