All products featured on TravelAwaits are independently selected by our writers and editors. We may earn commission when you click on or make a purchase via our links.
Widely accepted to be the birthplace of Western civilization, Athens, Greece is also the cradle of many a memorable vacation. It is a modern city with newly built infrastructure (the metro runs smoothly and hits all the major tourist sites), shopping districts, and many fine restaurants serving up the country's popular cuisine. At the same time, it is home to a multitude of ancient ruins, the most prominent being the Acropolis — a hilltop complex of temples, monuments, and more.
Beyond the Acropolis, the city has a host of other surviving classical structures including the Temple of Zeus and the Roman-era market. And there are, of course, a number of museums proudly displaying the rich material history of the land from the ancient to Ottoman eras. Athens is a rich city whose many wondrous sights can only be discovered firsthand.
Simply taking in a view of the Acropolis, though, is hard to beat. There are many vantage points from which to admire the Acropolis, but sometimes the best moments happen at home. Look out your window and see the origins of Western civilization from any of these Vrbo vacation rentals in Athens.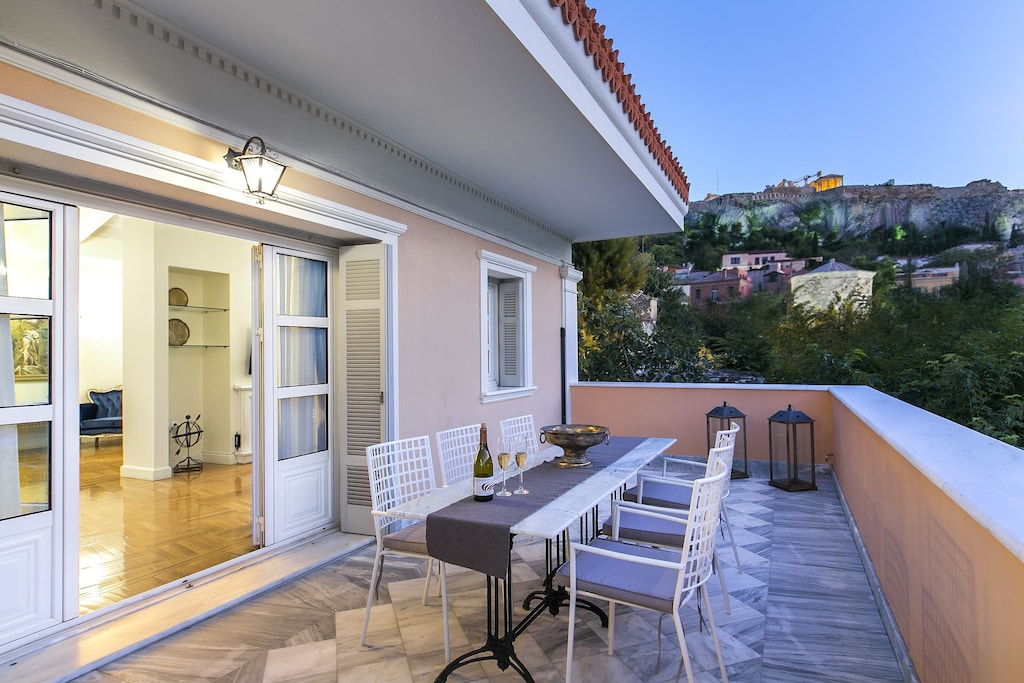 Rent Now
$280/avg nightly
Your family or friends will doubtless approve of your choice should you select this magnificent dwelling as your base in Athens. No one will feel left out, for all three bedrooms have beautiful king or queen beds and views of ancient architecture. The building is surrounded by both classical structures (the ruins of the Roman market are next door) and neoclassical structures. In terms of furniture, art, and decor, the home is a brilliant mix of classical and contemporary stylings. Particularly noteworthy is the use of Pentelic marble on various fixtures and furnishings throughout the house.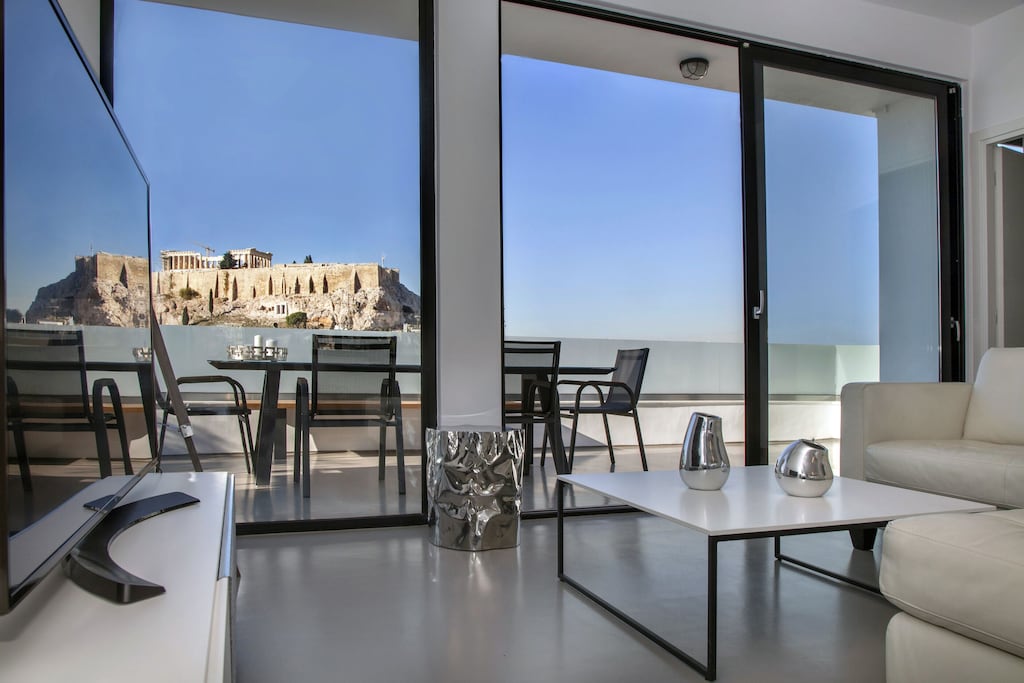 Rent Now
$296/avg nightly
As you prepare for bed and wonder what to do with the following day, the answer will come easily should you stay at this splendid penthouse. The apartment has three king bedrooms, two of which have unobstructed views of the Acropolis and other ancient wonders. Just three minutes from the Acropolis metro station and just as near many bars and restaurants, it is an ideal place from which to set out and explore Central Athens. You can take your meals on the veranda and gaze out at the ruins and sea, or dine in the wonderfully modern kitchen.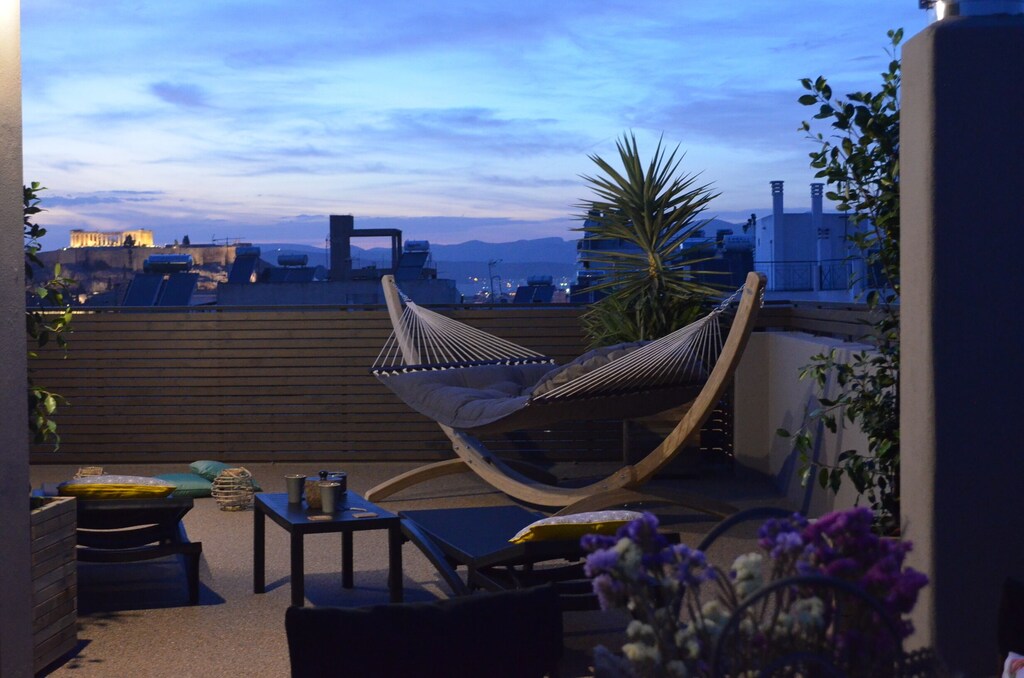 Rent Now
$173/avg nightly
There are many ways to marvel at the Acropolis, but guests at this penthouse get opportunities few will have imagined; they can poke their heads out the sauna door or relax on a hammock and catch sight of Greek civilization's most enduring site. The home covers the building's 6th and 7th floors and has three bedrooms: a master (located on the top floor), and two smaller rooms with double beds. In addition to the Finnish barrel sauna and hammock, the outdoor area has a waterfall shower, retractable awnings, and lots of space to dine or relax. The home was recently redecorated by an interior designer with a flair for the modern.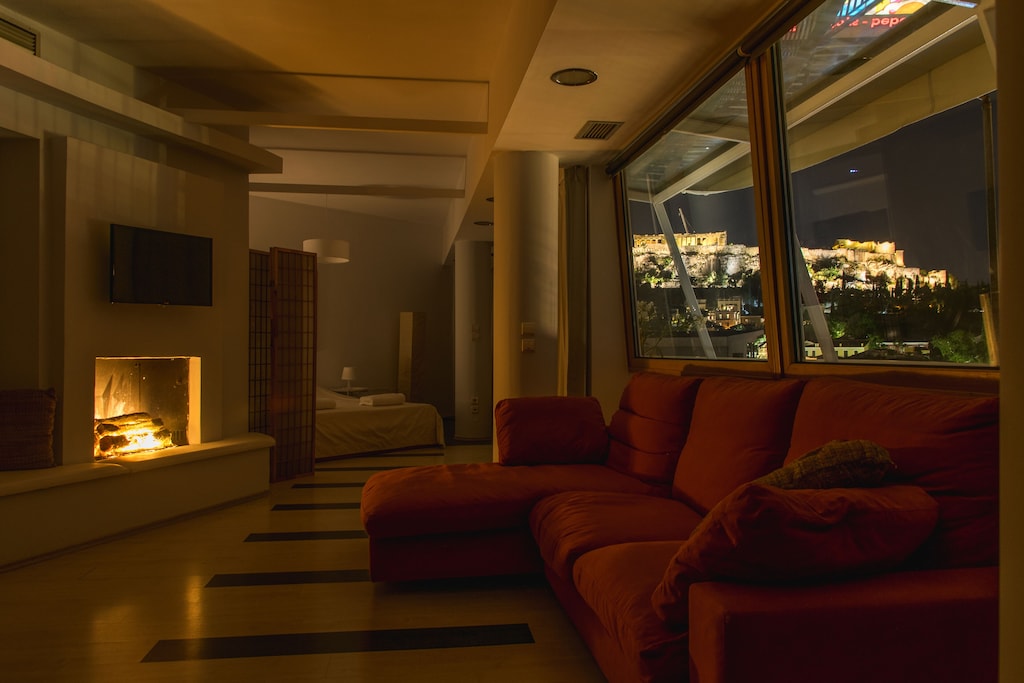 Rent Now
$111/avg nightly
Perfect for couples, this loft apartment between the centers of the lively Psirri and Monastiraki neighborhoods (Central Athens's most lively places) has everything you could want. There are views of the Acropolis, inviting indoor spaces, a huge private terrace, a workspace, a full kitchen, and beautiful decor. 
Just to be clear, cozy is not a codeword for small here. The home isn't cramped but nonetheless exudes a sense of security and comfort. One minute from the metro, it is a fine find for anyone valuing location and style in their choice of a rental.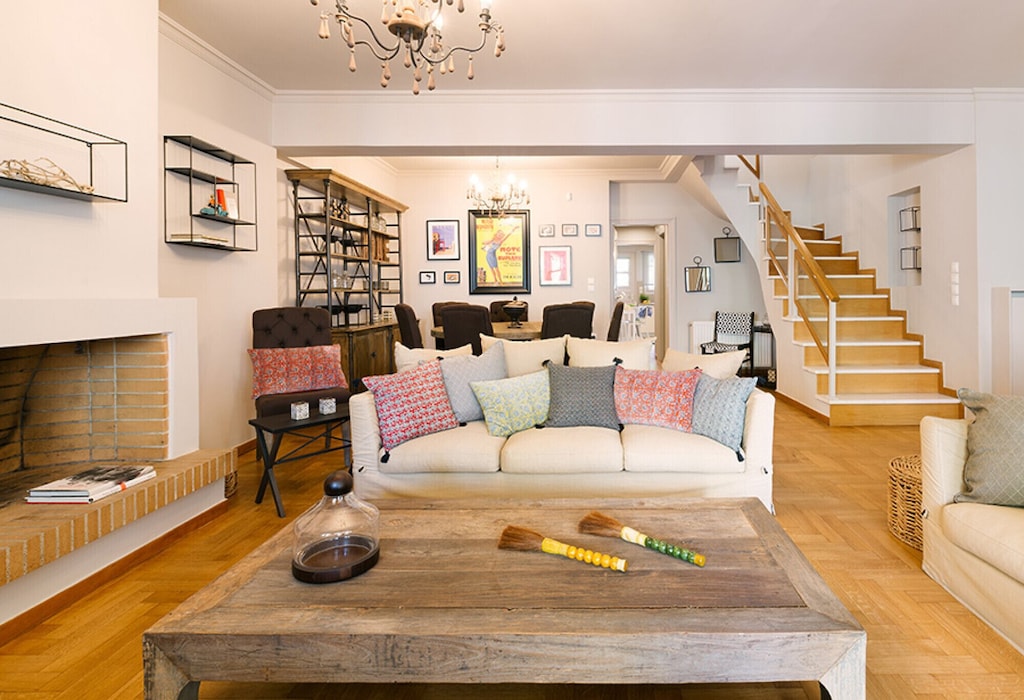 Rent Now
$588/avg nightly
Everyone's a winner when you take your family to stay at Plaka's Villa. The spacious house (yes, it actually is a house) has four large and elegantly decorated bedrooms (three doubles and a room with two twins). Just a few hundred yards from the Acropolis, the ancient structure and the hill it sits on, make for an imposing sight visible from most windows. Given the size and multiple stories, there's plenty of privacy but also great communal spaces in the form of the living room and balcony and rooftop areas.
Rent Now
$119/avg nightly
Sleek and modern, this penthouse studio apartment is elegantly designed. The Acropolis, visible from the living room and balcony, was also a modern marvel and triumph of design techniques. Though this apartment is unlikely to stand the test of time in any comparable way, it remains an excellent place to stay in Athens. The views are excellent, as is the location. The metro, shops, and grocery stores are all a short walk away, as are the many restaurants and bars clustered in and around Monastiraki Square. Whether for an anniversary or a spur-of-the-moment, why-not trip, any couple will come to associate this fine residence with their fabulous memories of old Athens.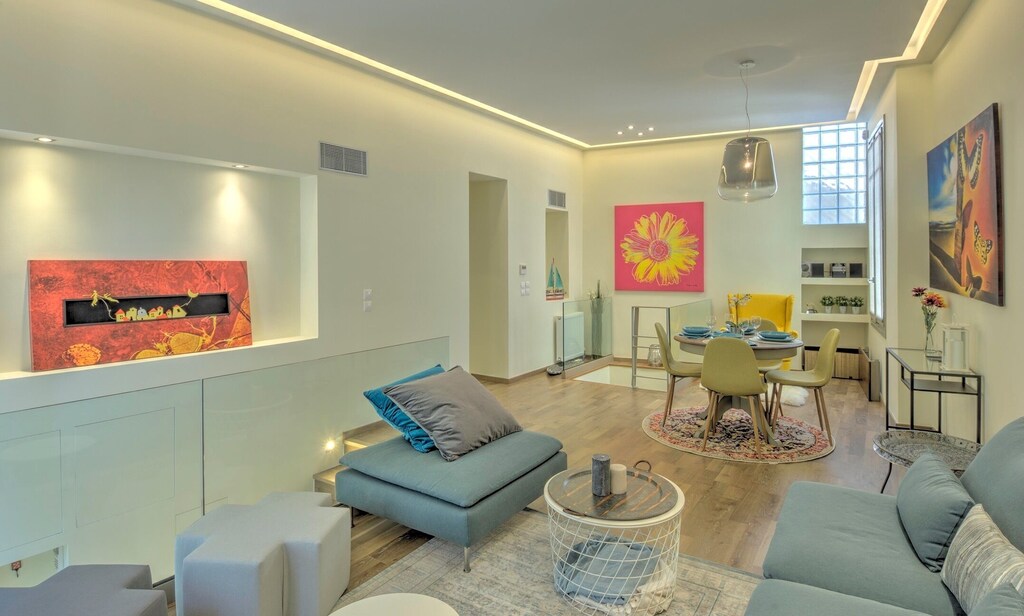 Rent Now
$271/avg nightly
A two-story house built in 1936, Pasmina is a picture of classical Athens in the sense that the home is a window into how Athens was 100 years ago and 2,500 years ago. Built near the foot of the hill upon which the Acropolis sits, guests will enjoy excellent views of the structure (and many others) from the comfortable rooftop terrace. With comfortable furniture, air conditioning, and a practical kitchen, Pasmina is very homey — a solid home low on frills in an excellent location. The flourishes are to be found on the terrace, where guests will doubtless spend much of their time.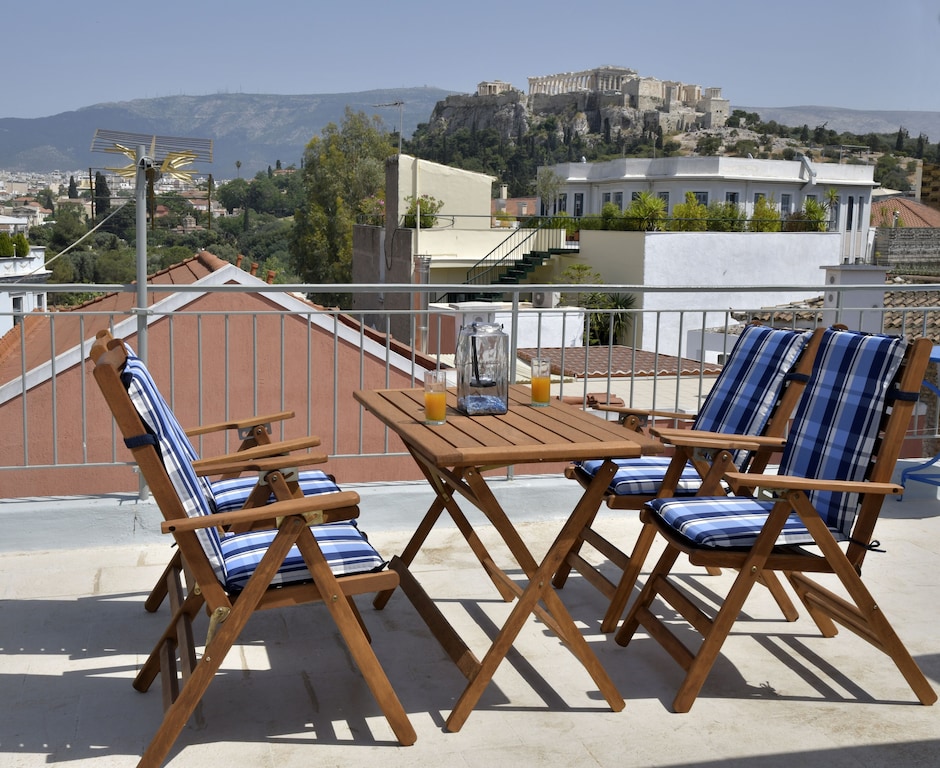 Rent Now
$56/avg nightly
A 10-minute walk is all that separates the door of this apartment from the Acropolis, but it feels even closer than that from the rooftop deck. Shared with another apartment, the deck is the perfect place to enjoy a morning coffee and scout out your next excursion into the city. Close as it is to the city's main attractions, the home is near a great many restaurants and shops. Visitors coming in summer will appreciate the air conditioning. The home has a queen bedroom and another room with a foldout bed and twin, so it's ideal for a couple but can comfortably fit more. Simply furnished but fitted with all you'll need to prepare meals, relax, and plan your days, this is a great option for budget travelers keen on good views.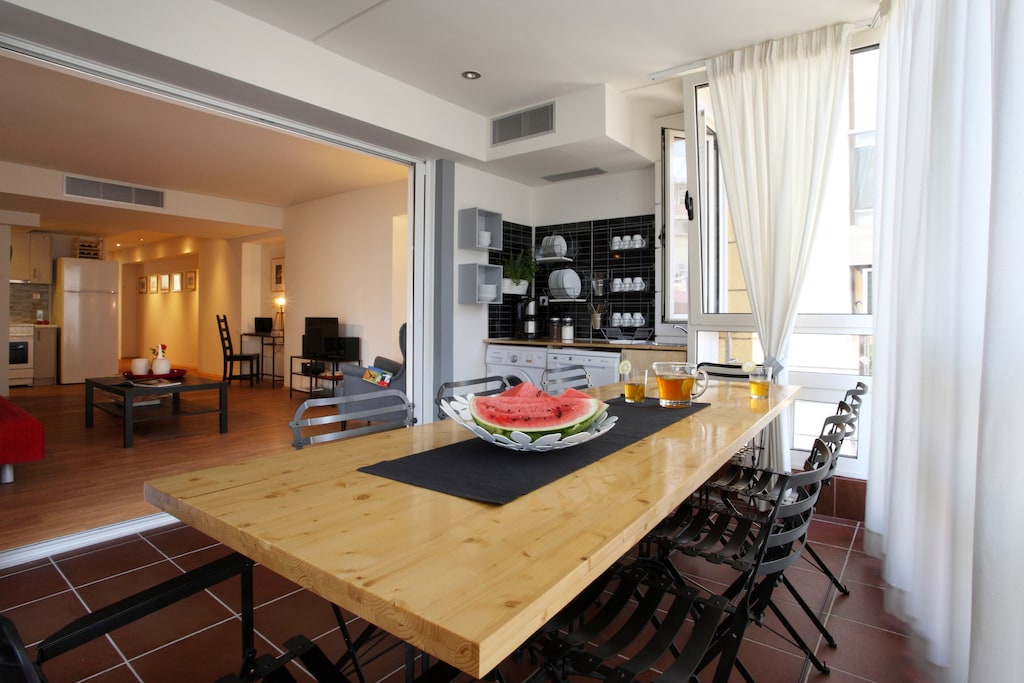 Rent Now
$412/avg nightly
This spacious apartment in a quiet neighborhood has a lot going for it, more than enough to make it worthy of consideration for any family or larger group planning a trip to Athens. For one, it is located in a building with just two other apartments. One is a rental and the other is the permanent home of the property's manager, ensuring that someone is on hand should guests require any assistance. Additionally, it has five bedrooms, two of which can be configured as kings or a set of single beds (the others are kings), and each bedroom is adjacent to a full bathroom. It was built in this century and features contemporary furnishings. And yes, it has unobstructed views of the Acropolis.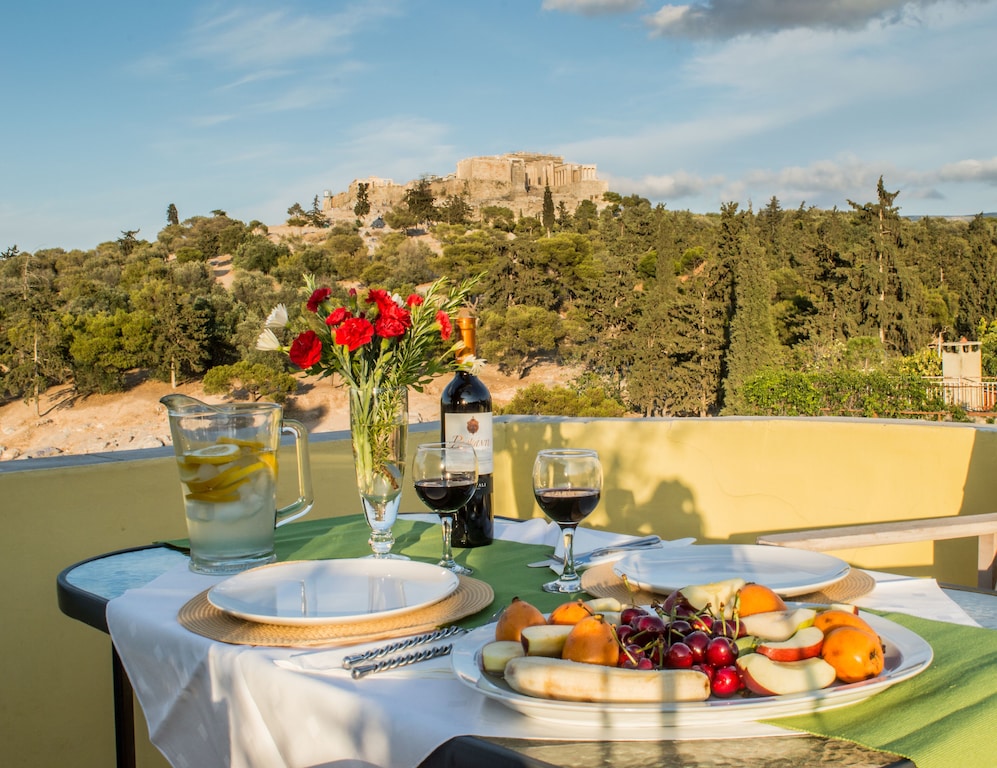 Rent Now
$61/avg nightly
The simplicity of this apartment belies the incredible potential it holds for playing host to unforgettable trips. The indoor areas are humble but clean and sufficient. There is a full kitchen and two bedrooms with comfortable queen-size beds. Where the property shines is in its outdoor area, a balcony upon which the sun always shines (or almost always, given the typical weather in Athens). It is very spacious and furnished with many a relaxing chair and table for dining. Best of all, it has great views of the Acropolis. Perfectly situated, the ancient structure feels just out of reach. Rather than urban sprawl, one sees a woody hillside leading to the storied temple.
To discover more sights to see while in Athens, check out: