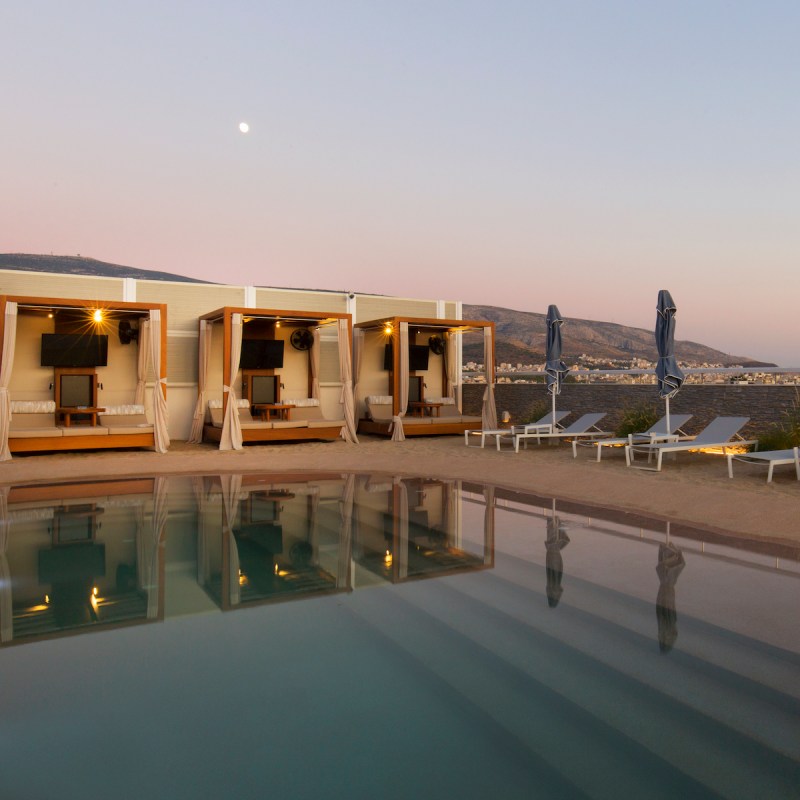 When visiting Greece on your vacation, many people naturally want to head to the islands or coast of the mainland for a beach holiday. But if you're spending some time in the capital or along the Athens Riviera, don't overlook the unique pools that can be found in some of the hotels.
After you've spent the day sightseeing in the capital, such as spending some time exploring fantastic things to do after you've visited the Acropolis, come back to your hotel and take a dip in the pool. It's not immediately clear whether you have to be a guest to use all the pools mentioned here, so do double-check. Where possible I have mentioned if it's not necessary to be a guest and any relevant charges.
1. Hotel Grande Bretagne
Syntagma Square, Athens
Let's start with the creme de la creme of pools: The Hotel Grande Bretagne, located in the Syntagma (Parliament) Square. The hotel itself has a very interesting history. It has been operating since 1874 and has hosted many foreign diplomats, politicians, and dignitaries. The 5-star hotel has 320 rooms and suites right in the heart of the city with phenomenal views of the Acropolis.
There is a rooftop pool open to guests only from May to October. With 50 square meters of space, you can relax with a drink and enjoy the Acropolis views.
Alternatively, their indoor pool is located in their spa and is open year-round, the bonus being it's also open to non-guests. You do have to have booked a spa treatment though, and use of the indoor pool — maximum of 6 people there at any one time — is allowed for 1.5 hours before your spa treatment at an extra cost of 45 euros.
One thing's for sure, the Grande Bretagne is certainly worth treating yourself to.
2. St. George Lycabettus Lifestyle Hotel
Kolonaki, Central Athens
St. George Lycabettus Lifestyle Hotel has been suggested as one of the best hotels in Athens for Acropolis views. This unique family-run hotel is in the exclusive Kolonaki district of Athens, and their rooftop pool — named "Vertigo" — is open to non-guests with views stretching down as far as the sea and Saronic Islands. They have great cocktails and snacks, as well as the possibility to take part in yoga classes if they're running — for an extra cost.
The day fee for non-guests is 32 euros for one person and 48 euros for two people. This includes towels and an initial coffee or soft drink. The pool at St. George Lycabettus can get busy, so it's best to visit mid-week. It's open from May until October.
3. Grand Hyatt
Syngrou Avenue, Central Athens
The Grand Hyatt is a good location to base yourself to explore both central Athens sites and then head down to the Athens Riviera. The pool, which is quite small, can be found on the roof and is reserved for guests only.
Operating May until October, the walls of the pool are glass and located right next to the bar and restaurant, so be comfortable in the knowledge that as you swim, it's possible for diners to see!
Relax on the sun loungers after a few laps, order poolside snacks and enjoy the atmosphere.
4. Athens Capital
Syntagma Square, Central Athens
Athens Capital is the newest hotel by the Accor Group in Athens, a 2-minute walk from Syntagma Square, well located in central Athens. As you'd imagine, their rooftop pool is seasonal (i.e. open in the summer months) and is an infinity pool with views across the city to the Parthenon.
It's located opposite the Grande Bretagne and although small in size, is good for a refreshing dip after you've been sightseeing. The pool is only open to hotel guests.
5. Brown Lighthouse Hotel
Omonia Square, Athens
As of May 2022, the newest member of the Brown Hotel Group, the Brown Lighthouse Athens has been developed in an area of the city that, although a popular area in the 60s, fell into neglect from the 70s onwards.
The redevelopment of Omonia Square commenced with the unveiling of a new fountain in 2020, one of the largest in Europe in terms of water volume. This also helped kickstart the regeneration of the area with new boutique hotels springing up, one of these being the Brown Lighthouse.
This 220-room hotel is a unique, stylish design, and its rooftop plunge pool area is the perfect place to come and just relax, listen to music and take in the views of the city below you, especially the fountain and Mount Lycabettus, with Mount Ymittos framed in the distance.
Open to non-guests, all you need is to purchase a drink or food item. But get here early as it can get busy.
6. Mavili Beach, Airotel Alexandros Hotel 
Central Athens
When is a hotel pool not a "pool"? When you come and experience Mavili Beach.
This unique concept is marketed as a "beach haven in the heart of the city" — and it certainly is just that. The Mavili Beach has a bohemian and hipster vibe with sunbeds all nestled onto a bed of sand. That's right, Mavili has literally created a beach with real sand on the rooftop of the Airotel Alexandros Hotel with the sand sloping gently into a small pool area, just big enough to take a dip. 
There are also VIP cabanas on offer which have USB charging ports, a private mini-bar, and even a flat-screen TV. These come at a cost though; 140 euros during the weekday and €160 at weekends.
Two sunbeds with an umbrella cost 70 euros on weekdays and 90 euros during the weekend. Hotel guests pay a cheaper price.
Wi-Fi is freely available throughout, towels are provided, and the great added extra to all guests — irrespective of sunbed choice — is the package of sun cream which contains a small SPF 30 screen, SPF 50 sunblock, Aftersun, and face cooling water spritzer.
I particularly like Mavili Beach's taverna. Done out to resemble the Cycladic architectural style of a white sugar cubed building and purple bougainvillea draped on a trellis, order a delicious grilled calamari or meze dish as you sip a cocktail or Greek coffee.
The vibe is laid back, and despite having no sea views, this urban seaside takes you away from the noise of the city rushing below you. Lycabettus Hill can be seen from your sunbed.
You don't necessarily have to use the "beach" to enjoy the taverna, and as it's open from 10 a.m. until midnight, you can make the most of the day here.
7. The Margi Hotel
Athens Riviera
Let's leave the center and head to the Athenian Riviera now, where you'll find the gorgeous Margi Hotel and spa — part of the Small Luxury Hotels brand.
The outdoor pool is open to outside guests for 70 euros for the day, where you can treat yourself to their cushioned sunbeds surrounded by olive trees and order a bar snack or larger lunch dish from their restaurant, which uses organic ingredients from their own farm located off-site.
In addition to sunbeds, there are four private cabanas that can be used (check with the hotel for the price). The Margi also has a spa area with an indoor pool which can be used in conjunction with one of their spa treatments.
If you're not staying at the Margi, it's definitely worth heading down to the Athens Riviera to experience their facilities.
8. Lake Vouliagmeni
Athens Riviera
Although not a hotel pool, Lake Vouliagmeni is also located along the Athens Riviera. It's worth mentioning here as it's such a unique experience to be had when you're looking for the opportunity to just relax. This unique fresh and seawater lake, about an hour's drive from central Athens, was formed at the end of the 19th century and is now a beautiful spa destination where you can swim in the brackish waters with the therapeutic garra fish — the "doctor fish" who nibble your dead skin cells away — or just relax on the many sunbeds and swim, book a massage, or stay in their "Prive" area — a private, sectioned-off area in grassland with luxury sunbeds and designated waiter service.
Prices vary depending on the day of the week and season.
This is just a smattering of choices of hotels and destinations that offer pools in Athens. It's great to be able to come back after a day of exploring and spend some time relaxing in the late afternoon/evening. Whilst it's lovely to visit a Greek beach, don't rule out spending time by a hotel pool when in the Greek capital.
For more on Athens, check out these articles: