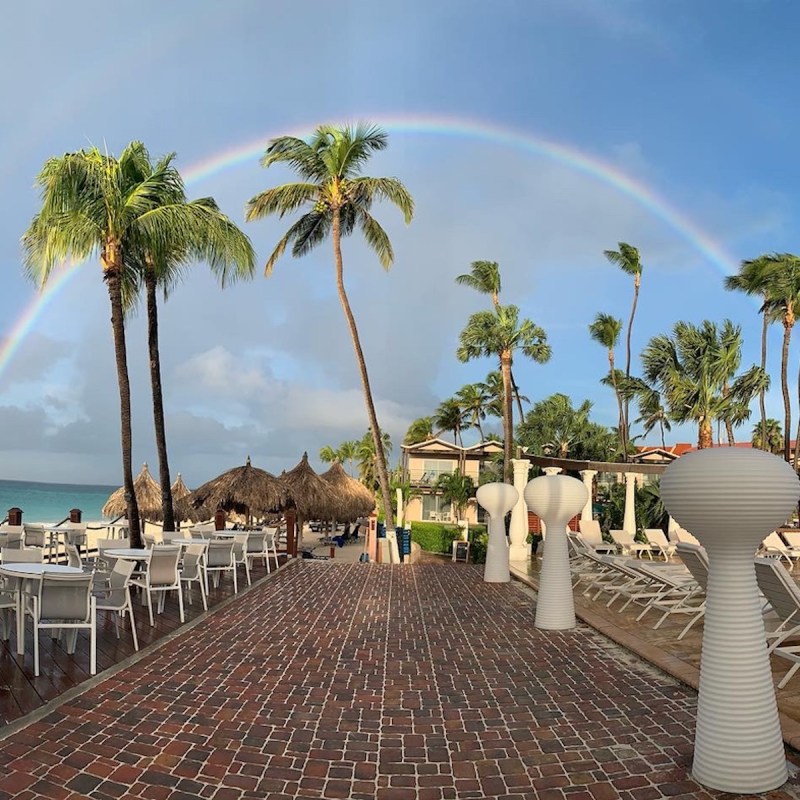 One happy island for outdoor adventures, the island of Aruba is a gorgeous spot in the Caribbean. Aruba treats guests to a sunny outdoor adventure playground. It's perfect for relaxing on gorgeous beaches, swimming in hidden away natural pools, taking exciting off-roading rides, and exploring turquoise water-focused outdoor activities.
Aruba is located outside the hurricane belt and the weather is gorgeous year round. The median temperature is 82 degrees Fahrenheit, tropical but kissed by cooling trade winds. With an average annual rainfall of only 18 inches, or as the locals would say — liquid sunshine, you can expect gorgeous sunny weather for your stay. Light passing showers create stunning rainbows arching over palm trees and waves created for your enjoyment.
Some information in this piece was obtained during a sponsored press trip, but all recommendations are my own.
1. The Beaches Are Gorgeous
Eagle Beach
Eagle Beach is the 2019 Tripadvisor Travelers' Choice Award Winner for 3rd Best Beach in the World. This gorgeous beach is home to the famous twin Fofoti trees. You will see locals and visitors posing for sunkissed photos next to these twisted, bonsai-like trees.
Eagle Beach is known for its pristine water and fine, soft white sand, and a thriving sea turtle population. This beautiful beach is easily accessible by foot, bike, car, or taxi.
Arashi Beach
Arashi Beach is a favorite with Arubans for its family-friendly gentle current. With an abundance of underwater life, Arashi Beach is a perfect spot for snorkeling. Great for families and couples who want to soak up all the toes-in-the-white-sand fun on Aruba's gorgeous coastline.
Baby Beach
Baby Beach is one of the most popular beaches on the island. A shallow, half-moon lagoon perfect for families with small children. You can wade far into the water and still feel the ocean floor beneath your feet. There is also a snorkeling area where you can rent equipment and try out this fun sealife viewing sport. You will need a car or taxi to visit Baby Beach since it is a good distance from the resort area.
Druif Beach
Druif Beach is a gorgeous stretch of soft white sand forming a long, oval-shaped beach that connects to the world-famous Eagle Beach. This quiet and relaxing beach is dotted with resorts where guests relax on a perfectly placed lounge chair. Catching some Caribbean sun or napping under a tiki cabana, Druif Beach is an oasis of peace with amazing ocean views.
Palm Beach
Palm Beach is located on the northern coast of Aruba. Known for its calm waters, this 2-mile long sandy beach is great for swimming and snorkeling. Lined with restaurants, sports shacks, and hotels, Palm Beach's bars come to life after sunset. Explore the casinos, or simply sip a frozen beverage and people watch.
2. Arikok National Park
As you enter Arikok National Park, the road is lined with miles of tall cacti. The rugged terrain is beautiful in its natural state. The hills, Jamanota Hill and Arikok Hill offer panoramic views of the volcanic rock formations that provide a spectacular wave battered, north coast view.
Conchi, aka The Natural Pool, is a favorite swimming spot for visitors in Arikok National Park. Conchi is surrounded by huge rock formations and frequently battered by ocean waves cresting over the tops of the rock outcroppings. Bring your camera, this is a breathtaking beach, perfect for just the right nature photo.
The ride to The Natural Pool is not for the faint of heart. It is best undertaken by an experienced off-road 4×4 driver. Once at The Natural Pool, adventurers need to descend a long set of rock steps to reach the basin. The trip down is definitely worth the effort. Once at the shore, you can swim in The Natural Pool and explore the rocky beach's ocean life.
De Palm Tours offers a half-day Natural Pool tour led by an expert guide and driver. You will experience a thrilling off-road, guided tour adventure culminating in a unique swimming experience.
Pro Tip: Wear sturdy shoes like sneakers or water shoes with gripping soles. This is not the beach for your favorite flip-flops.
3. Biking Activities In Aruba
There are lots of biking adventures that will allow you to explore Aruba. Green Bike has eight bike rental stations in key locations along the west coast of the island, perfectly situated to get you from beach to beach and everything in between. When you stay at all-inclusive resorts like the Tamarijn Aruba All-Inclusive, you can grab an E-bike and explore the island. The Tamarijn also offers private tours and bike and snorkel trips where guests can enjoy the easy E-bike ride.
Pro Tip: Riding an E-bike is like floating across the ground. With gentle peddling and the power assist from the bike, you can cruise along with minimal effort. It is the perfect way to ride without expending a day's worth of energy.
4. Golf For Fun
The Links at Divi Aruba offers golfers nine holes under gorgeous tropical sunshine cooled by trade wind breezes. The wide open course offers challenging play from the back tees but is also accessible for newbie golfers. Tee off for a quick nine or play a fun 18 from the front nine and back nine tees. You will enjoy a vacation round amid swaying palm trees, tropical birds, and pretty vistas.
Immersing yourself in the natural wonders of Aruba's beautiful flora and fauna as you chase your ball around the course is salve for the work-a-day weary soul. Whether you are a scratch golfer or a duffer in training, you will love playing a round at The Links.
5. I Love Aruba Shopping
This may not be a classic outdoor adventure, but you will soak up some sunshine as you bop from store to store. The deals on jewelry in Aruba are amazing and you will encounter many high-end outlets with great prices. Shopping in Oranjestad for everything from luxury goods to souvenir trinkets makes purchasing gifts for everyone on your list a piece of cake.
6. Sailing Away
Hop aboard a catamaran for a sail and snorkel cruise. Visit the Antilla shipwreck, Boca Catalina, and Arashi reef as you sail out on the crystal clear Caribbean water. The 3 to 4-hour Snorkeling Tour is the best way to get into the water and enjoy Aruba's underwater adventures.
7. Outdoor Activities On The Beach
Sand, sun, surf, and an early morning walk on the beach are part of the island culture. Locals and guests start the day off with a laid back, barefoot stroll filled with fresh air and sunshine. Of course, you will also see plenty of runners dodging the surf along your morning constitutional.
8. Enjoy the Sunset
When you can view a gorgeous sunset every night, why would you ever want to leave? Francis Ridderstap, Leisure Services Manager at the Divi Aruba All-Inclusive told me, "Every sunset on Aruba is different. I have a phone full of sunset photos and none of them are the same." From my short time on the island, I agree. They are unique and breathtaking.
Find a spot on the beach, enjoy the view from your balcony, or secure a window seat at your new favorite restaurant, but make sure you have prime viewing as the sun sets behind the Palm Trees and over the liquid horizon.
9. Party At The Pool
Are you a party-all-night vacationer? Then you can party at the pool, dance under the stars, and watch the waves wash up on the white sandy beach. There is something magical about the swaying palm trees, tropical libations, and island music; a carefree, toes-in-the-sand soiree.
This magical, Caribbean island has the best, kick-back vacation vibe. If you love to party at the pool, make sure you choose a resort that offers a magical nighttime setting, includes plenty of frozen concoctions, and a lively band to kick up your heels. Whether you stay for one drink or shut the bar down, a moonlight poolside party is a classic Caribbean vacation activity.
Where To Stay
Nothing short of a picture-perfect paradise, the Divi Aruba All-Inclusive Resort is one of the most beautiful spots on this earth. The Divi Aruba offers guests just what they are looking for, an all-inclusive vacation where you can lounge on the beach with a delicious frozen beverage.
On A Personal Note
I recently returned from a stay at the Divi Aruba All-Inclusive Resort where I experienced all of these exciting outdoor experiences. When you stay at a resort like Divi, everything is at your fingertips. The staff is dedicated to exceptional customer service. The resort is perfect for whatever kind of travel experience you desire. For the outdoor adventure seeker, it is perfect. You can experience all of their adventures geared up or slowed down to suit your speed and ability.
Have your favorite travel agent set up the most amazing vacation, a week at the Divi All-Inclusive Resort. Many of the guests I spoke with have been coming to this resort for 5, 10, 15, or more years; they love it that much.
From the very moment we arrived, we knew it was going to be an amazing stay. We are already planning to return next year and enjoy more of Divi Aruba's hospitality and amazing outdoor adventures.
Aruba and the other Caribbean Islands are great vacation destinations: