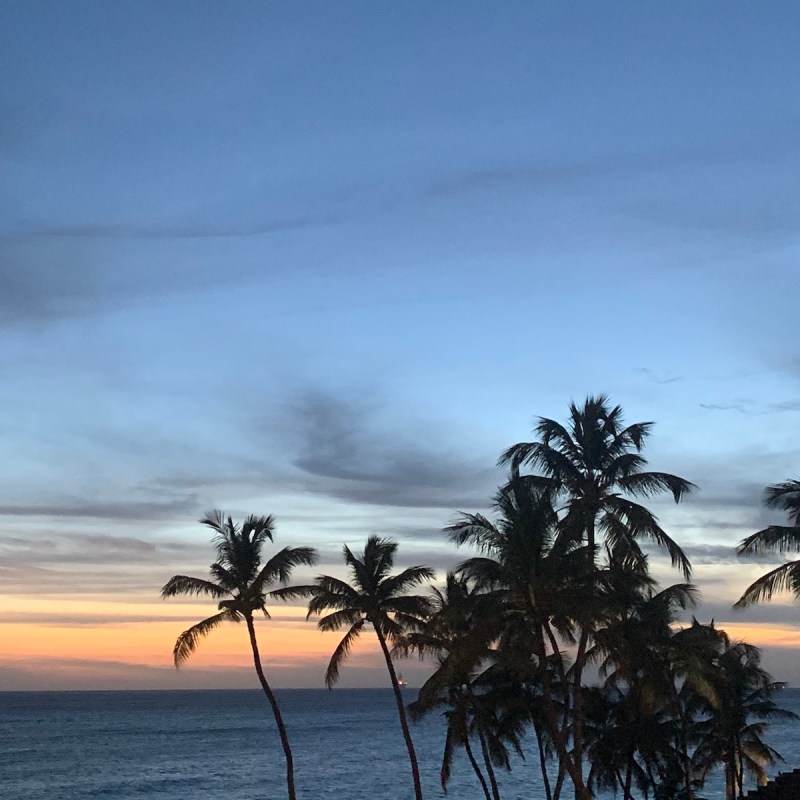 You have arrived! Time to embrace the relaxing Caribbean vibe. Tropical trade wind breezes, glorious sunshine, and miles of white sandy beaches welcome you to Aruba. We have itemized the perfect 5-day Aruba itinerary for couples who want to soak up the sun-filled days, explore the island, and enjoy delicious cuisine.
Some information in this piece was obtained during a sponsored press trip, but all recommendations are my own.
Accommodations
Your accommodation choices range from downtown high-rise hotels, intimate low-rise coastal resorts, or home share options like Vrbo. Staying in Oranjestad or Noord will afford easy access to many of the popular tourist requirements, with easy access to shopping, dining, and activities. If you prefer a more laid back, neighborhood experience, look for home shares in Santa Cruz or San Nicolaas.
Day 1
Plan Your Week
If you haven't already done so, gather all your options from the hotel's concierge or, if you are staying at a home share, hit the web to make reservations. The island is a popular destination and reservations are required for most activities and evening dining. Take stock of what your main vacation focus will be, are you looking for an active adventure filled vacation or a relaxing beach comber getaway. Below we have roughly outlined an itinerary that straddles the border between adventure and beach time
The first day is a good time to get yourself acquainted with the area. After you check into your resort, it's time to get out and explore. After sitting on a plane for hours, don your sneakers and stroll around the area to get your bearings. Then it's time to hit the beach, after all, isn't that why you flew all the way to this beautiful tropical island?
Once your room is ready, you can settle in and then enjoy a nice dinner. The charming Papiamento should definitely be on your dining list. The menu is a delightful fusion of Aruban and Continental cuisine. The soppi oester (Aruban chowder) is delicious and full of flavor. The entrees are beautiful, enjoy cazuela (Caribbean shrimp and lobster Aruban stew) or a grilled pork chop (Aruban spice rub and whiskey sauce). Making reservations before you leave home is strongly suggested. You will want to enjoy this wonderful, island vibe restaurant without a hitch.
The sunsets on Aruba are extra special. They are gorgeous and each night presents its own orange and blue-tinged sky. While you are visiting, try to catch each night's sunset. The best sunset view is on a westerly facing beach with the waves rhythmically washing the shoreline.
Pro Tip: If you are arriving early in the day, your room may not be ready. Pack your swimwear in your carry-on luggage. You can check in, have the front desk staff stash your bag, change into your swimsuit, and hit the beach. No need to wait for your room to enjoy your Caribbean sunshine escape.
Day 2
Snorkel And Sun At Arashi Beach
Arashi Beach is a beautiful spot to spend the morning (or the day). The beach is lovely and perfect for a few hours of sun worship. The surf is gentle and great for swimming and snorkeling.
Arashi Beach is a good spot for beginner snorkelers. The water is fairly shallow and you will encounter lots of small and colorful fish. There are no snorkel rental huts at Arashi Beach, so be sure to grab a mask and fins from your resort before you head out.
There are several tiki-style shade huts and they are spoken for early in the morning. If you want one for your visit, plan to arrive at the beach early.
California Lighthouse
Not too far from Arashi Beach is California Lighthouse. Situated on a high bluff, the area offers sweeping panoramic views of the island. Additionally, you can climb to the top of the lighthouse for even more breathtaking views.
Dinner
Make dinner reservations at Anna Maria's before you leave home. Located in Noord, Anna Maria's offers diners exceptional Italian cuisine in an elegantly casual atmosphere. Diners will love the classic Italian offerings like spaghetti alla carbonara and lasagna. For a more adventurous palette, the aragosta fra diablo funghi (spicy Caribbean lobster with mushrooms) is not to be missed.
Pro Tip: You may consider renting a car for your stay in Aruba. Before you do, check to see if your resort has an additional parking fee, they can be hefty. Taxis are plentiful and well regulated across the island. You will most likely find they are a more cost effective transportation option than renting a car for your stay.
Day 3
Arikok National Park
Today may be the day for a 1-day car rental. A 4-foot-by-4-foot vehicle is your best bet to explore Arikok National Park. Alternatively, you can book a Natural Pool Off-Road Safari tour. Either way, you need to get out and explore this gorgeous national park. One of the highlights is the natural pool, or conchi — a swimming hole deep in the park. The conchi is surrounded by huge lava rock formations where ocean waves crescent over the tops. Exploring the rock formations and tidal pools rewards hunters with small shells and creatures hidden in the rocky beach. The descent to the pool takes some sure-footedness along the natural "steps" down to the beach.
Alto Vista Chapel
Perched high on the desert flats, seemingly in the middle of nowhere, is the pretty Alto Vista Chapel. When you are visiting this end of the island, be sure to stop and enjoy the chapel and its expansive view.
Butterfly Farm
For those who love nature without getting dirty, the Butterfly Farm is a great option. Your entrance includes a 20-minute guided tour focusing on the lifecycle of the butterfly. These delightful winged creatures set in a beautiful tropical garden are a pleasure to experience.
Dinner
Agua Grill is the perfect "date night" restaurant. Casually elegant, you will love the extensive wine list and delicious menu options. Start with the spicy tuna tartare served with taro chips to wake up your palate. Choose from spicy cioppino, grilled jumbo shrimp, and other fresh-from-the-sea delicacies. You might even have room for dessert. Be sure to make your reservations early, Aqua Grill is very popular and fills up quickly.
Pro Tip: The National Park coastline is formed from Lava Rocks. Be sure to wear sturdy water shoes if you want to scramble over them to access the Natural Pool or walk along the tidal pools.
Day 4
Snorkel At Boca Catalina
Boca Catalina is a secluded bay at Malmok Beach. It is a popular snorkeling spot where swimmers can view a variety of colorful fish and corals. You may even spot a turtle joining you on your snorkeling adventure. The beach is quiet during the week but a popular spot on the weekends.
Be sure to pack your snorkel equipment. Bring along a beach towel and a snack so you can enjoy the beautiful beach after your swim.
Donkey Sanctuary
The Donkey Sanctuary will satisfy your craving to hug a furry four-legged cuddle bug. A home for wayward donkeys, the sanctuary cares for these loveable creatures with the help of your donation for admission.
Bike Ride
Biking around Aruba is easy and the most cost effective way to get around. Green Bike offers eight stations between Surfside Beach and Hadicurari Beach where you can electronically rent or drop off your bike.
Check with your hotel concierge to see if they offer bikes for guests. Many resorts have a rental or loaner program and they typically have a better quality bike. Some even offer e-bikes, with pedal assistance.
Dinner
Madame Janette offers diners a steakhouse experience unsurpassed on the island. Enjoy a masterfully prepared boneless ribeye seasoned with a truffle/coffee spice rub and served with truffle butter. You can up the ante by making it a surf and turf with a gorgeous lobster addition.
Casino
There are 12 Casinos across the island, so there will certainly be one nearby for a fun night of testing your luck at the wheel of fortune. You will find an overview of the casinos on Aruba.com.
Pro Tip: Take time to enjoy the beautiful beaches and spectacular sunsets while relaxing on your fun-in-the-sun getaway.
Day 5
Eagle Beach
No trip to Aruba is complete without some serious sand time at Eagle Beach. Swim with the turtles, float in the turquoise waters, or simply relax on the soft white sand. Voted one of the Best Beaches by Tripadvisor multiple times, Eagle Beach is a must-do when visiting Aruba.
Pro Tip: If you are looking for a reason to spend the entire winter on Aruba. Check out all of our reasons why snowbirding in Aruba is a fantastic idea.
U.S. Customs
If you are traveling from Queen Beatrix International Airport to the U.S., you are able to go through U.S. Customs at the Aruba Airport. In an effort to make travel easier for U.S. citizens, your customs screening is complete. Since you need to be at the airport several hours before your flight, it is a good use of your travel time.
Once you check in, deposit your bag, and pass through Aruba's security. You will be directed to a separate U.S. Customs. You then reclaim your checked luggage and pass through another security screening process. At the time, it may seem redundant, but being able to disembark the plane upon arrival and head straight to baggage claim and beyond, you will be happy that U.S. Customs is behind you.
One Happy Island
Enjoying the Island of Aruba with a perfect 5-day itinerary can be as simple as checking out a new beach every day and soaking up the ever-present sunshine. For the more adventurous spirits, there are lots of great outdoor activities and destinations to explore on this "One Happy Island."
For more sun-filled activities near Aruba and the Caribbean, check out these articles: