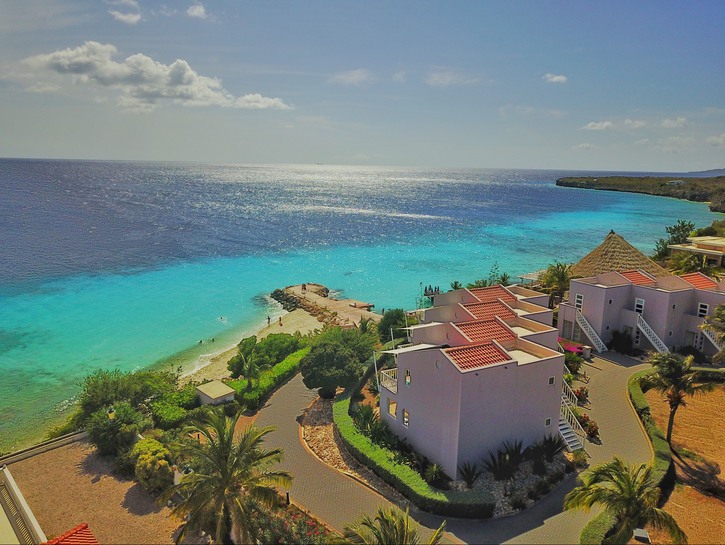 Curacao, part of the Caribbean Lesser Antilles, offers what you'd expect from an island destination: sand, snorkeling, and surf. But there's so much more to this small nation than the beach basics. A former Dutch colony, Curacao has a decidedly European flair. Additionally, the island has several amazing natural highlights that are well worth your precious vacation time.
Wander Through Willemstad
Curacao's capital city of Willemstad was first established in 1634, when Dutch settlers built a trading post on the island. The entire inner city is a UNESCO World Heritage Site. Its colorful colonial architecture is truly iconic. White paint was banned in the early 1800s to protect the eyesight of the island's residents from extreme glare, so you'll see green, yellow, purple, and coral-colored rowhomes and businesses.
The iconic Queen Emma Bridge joins the Punda (city in the local Papiamentu language) and Otrobanda (other side, also in Papiamentu) sides of the island that are divided by the Sint Anna Bay. Crossing the swinging floating bridge is the perfect island stroll. Also worth visiting: Fort Amsterdam, the nexus of the city's early development, which dates back to 1635 and serves as the seat of government today.
Consider The Island's Complicated Past
Another must-see in the city center is Kura Hulanda Museum. Curacao was central to the West African slave trade, and the museum brings this painful past front and center. Built on the site of a former slave yard, this anthropological center features exhibits that examine the history of slavery and how it contributed to Curacao's culture. It's open Monday through Saturday; tickets are $10.
Shop The Floating Market
Get ready for a terrific photo op at the Floating Market in Punda. This bit of covered dockspace is used by Venezuelan farmers licensed to sell their wares in Curacao. For more than 100 years, they've made the 40-mile one-way trek by sea to bring their fruits and vegetables to this market. Avocados, plantains, melons, coconuts, peppers, and even fresh fish are offered for sale here. While it's pretty to look at, a word to the wise: Don't eat anything from the market that you can't peel or cook yourself.
Understand Curacao's Jewish Roots
Jewish tradition is steeped into Curacao's history. Sephardic immigrants from the Netherlands arrived here shortly after Fort Amsterdam was established, and many of the new settlers became merchants and traders.
To learn more about their role in Curacao's history, visit Mikve Israel-Emanuel Synagogue. It is the oldest synagogue in continuous use in the Western Hemisphere, and has been lovingly preserved since its consecration in 1732. Visitors are welcomed Monday through Friday, and guided tours are available.
Peek At A Pirate's Past
Curacao's past and current economy has been built in large part around shipping. To get a better feel for the island's seafaring past, stop by the Curacao Maritime Museum.
Housed in a historic colonial mansion, this well-curated collection features models, maps, and artifacts from long-lost ships and crews. You'll also find out more about Curacao's legendary role in Caribbean piracy. The museum is open Monday through Saturday; admission is $7.
Hike The National Parks
While Curacao has plenty of gorgeous white sand beaches, its northern coast stands in rocky, rugged contrast. Two national parks — Christoffel and Shete Boka — are worth a visit.
Christoffel boasts numerous hiking trails, ranging from easy strolls to advanced climbs. One will even take you to the top of Christoffel Mountain.
At 1,200 feet high, it's the tallest point of the island. Due to heat and lack of shade, hikers are required to start the trek before 10 a.m. During any hike here, you'll have the chance to spot an enormous amount of flora and fauna, including island orchids, bromeliads, and, if you're lucky, Curacao's rare white-tailed deer. The park is located on what used to be Savonet Plantation. There is now a museum on the site. Christoffel is open seven days a week, from 6 a.m. until 2 p.m.
Next door to Christoffel is Shete Boka National Park. This wild area features Mother Nature at her fiercest: Massive ocean waves pound against the sharp coral outcropping that forms the northern tip of Curacao. Underground caverns have been carved out here, and three types of sea turtles lay their eggs in the adjacent pocket bays. There is an observatory deck as well as two hiking trails that wind along the rolling lava hills. The park is open seven days a week.
Entry fees are $14.50 for Christoffel and $10 for Shete Boka.
Venture Into Hato Caves
Another natural feature worth checking out on Curacao is the island's Hato Cave Complex. The caves are made of coral limestone and took hundreds of thousands of years to form. As the ocean slowly receded, they exposed deep layers of coral. Over time, the elements wore those layers down, leaving these mysterious caves behind. Guides will take you into the chambers, where you'll see stalactites, stalagmites, and perhaps even the long-nosed bats that make the caves their home. Make sure you pay close attention to the walls, where faded petroglyphs painted by the native Arawaks can still be seen.
Take Time To Snorkel And Hunt For Sea Glass
With its crystal-clear waters and tropical climate, Curacao is a snorkel and scuba hotspot. Most beaches here don't have entry fees, and you can expect to see a wide range of sea life among the coral reefs near the shore. Our favorite was Playa Jeremi.
It's remote with no amenities or shade, but is quiet, serene, and relaxing. Watch your step on the rough-cut stairs leading from the parking lot to the beach, and keep an eye out for glittering sea glass. These colorful broken bits of bottles have been polished to a smooth finish by the surf and make nice mementos to take home.
Catamaran To Curacao's Little Brother
Last but not least, consider booking a day-long catamaran cruise to Klein, or Little, Curacao. Klein Curacao is a desert island about 15 miles off the southeastern coast of Curacao, and it's well-worth the trip. Keep an eye out for flying fish, dolphins, and sea turtles on your way there. The beach is a national preserve and is protected from development.
The only buildings here are a dilapidated lighthouse and a few long-abandoned fishermen's shacks. A trek to the northern tip of the island reveals a spooky shipwreck, and the snorkeling is out of this world thanks to a pristine coral reef just offshore. Most day-trip operators serve a no-frills breakfast on the way, plus a barbecue lunch on the island. Prices start at about $100 for the full-day experience. Pro tip: If you are prone to sea-sickness, bring Dramamine! The seas can get rough on the way.
Eating And Drinking In Curacao
As one can imagine, Curacao cuisine is as diverse and nuanced as the people who've shaped the nation through the centuries. For a real taste of the island, head to the open market at Plasa Bieu, line up with the locals, and grab a few cheap eats. This is where we opted for a tasty goat and okra stew and kesha yeni, baked Dutch cheese stuffed with onions, meat, and tomatoes.
Seafood is abundant; the snapper served with funchi — a polenta-like side — was delicious. Traditional Dutch bitterballen (a uniquely tasty meatball) make a great snack, and you can grab a batida (a Spanish fruit smoothie) to wash them down and cool off. Sip a cocktail with blue Curacao, made from the rinds of a bitter orange that grows on the island. When you're ready to up your game from street food, grab reservations at Fort Nassau. You'll have an incredible fine dining experience with a knockout view.
What To Bring Home
There are many great souvenir shops in Willemstad offering a wide range of gifts. Curacao has a thriving arts scene, and you'll find dozens of galleries and shops featuring original artwork for sale in nearly every medium. Gorgeous, handcrafted jewelry is often made from silver, sea glass, and polished shells sourced from the island.
You can't go wrong picking up a few bottles of the original blue Curacao liquor or Ponche Caribe, its boozy pistachio-cream cousin also made on the island. Blue and white Dutch ceramics are sold in most shops as well, but a favorite handicraft is the chichi doll. These hand-painted folk-art creations were the brainchild of a German-born artist, whose studio is located on the east side of the island.
Photo Credit: Ron Dela / Shutterstock