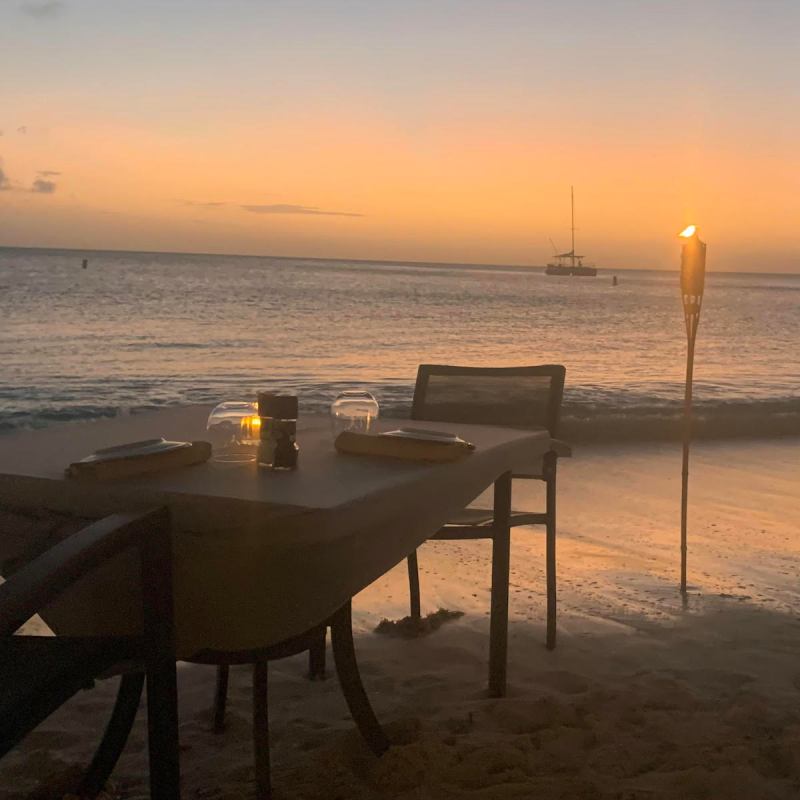 It's imperative to feel comfortable and safe while traveling.
Medjet
provides premier air medical transport, travel security, and crisis response memberships, providing peace of mind for an affordable price.
The island country of Aruba has gorgeous sunsets, white sandy beaches stretching for miles, and so many restaurants that it is almost impossible to choose where to dine at. Aruba's restaurants offer an extensive variety of global cuisines representing over 90 different nationalities. You can dine on authentic Aruban cuisine and Dutch dishes inspired by the motherland. Spanish, Caribbean, Asian, Peruvian — the list is extensive. Dining out never tasted so good.
Whether you are looking for a romantic toes-in-the-sand sunset dinner or a delicious grab-and-go snack from a beachside shack, Aruba has it going on when it comes to delicious food.
My favorite spots to eat in Aruba are listed in no particular order.
Note: Some information in this piece was obtained during a sponsored press trip, but all recommendations are my own.
1. Atardi
Noord
When you think of Aruba, you think of soft sandy beaches, painterly sunsets, and great seafood. Atardi is a classic pop-up restaurant. Late in the afternoon, staff begin setting up white linen-covered tables and tiki torches, preparing the seating for your Aruban sunset dining experience. Located in the Aruba Marriott Resort, Atardi is beachy casual with a touch of refined elegance.
What To Order At Atardi
The carefully curated menu is packed with seafood dishes complimented by a few turf dishes. Vegetarians are welcome and the chef will gladly prepare something off-menu. Start with the scallops which are cooked to perfection. The lobster tail entrée is sumptuous — the Caribbean spiny variety — different from a Maine lobster, but delicious. Save room for the tropical coconut cake because it is the perfect way to end a lovely meal.
Pro Tip: Plan your reservation just before sunset and you will be enjoying your main course as the sky turns shades of orange and pink as the sun sinks below the sea.
2. Linda's Dutch Pancakes
Noord
If you have never had a Dutch Pancake, you need to give these a try. They are thin, huge like a pizza pie, and are decorated with an assortment of savory or sweet toppings. Linda's Dutch Pancakes is a fixture in Aruba serving these disks of delight for over 20 years.
What To Order At Linda's Dutch Pancakes
Linda's has traditional fare on the menu, like eggs and sandwiches, but the pancakes are the star of the show. Try the banana pancake with whipped cream and a shot of banana liqueur for a sweet and boozy start to your day. You could also try the brie, walnuts, and honey pancake for something savory. They have an entire menu page dedicated to the make-your-own pancake so you can get exactly what you want.
Pro Tip: Ready to start your vacation breakfast with a kick? Order Linda's Coffee. Bailey's, Kahlúa, and Amaretto with a dash of caffeine — an Aruba vacation libation.
3. Lima Bistro
Oranjestad
Experience elevated Peruvian cuisine at Lima Bistro. Situated in the downtown Oranjestad area with waterside views from the patio, Lima Bistro is the perfect spot for a gathering of friends or a romantic dinner for two.
What To Order At Lima Bistro
Everything on the chef-driven menu reflects his Peruvian heritage served up slightly Aruban style. The beef anticucho with potato is the perfect starter; just enough to wake up your taste buds. The delectable entrée choices make deciding what to order extremely difficult. The pork chop cowboy style with red cabbage and mashed potatoes is a clear winner. For a filling vegetarian option, the roasted cauliflower with cheese and sweet potato is super tasty. Make sure to save room for dessert. If you've never had Chirimoya, try it with the meringue and caramel accompaniments.
Pro Tip: Located on the harbor, Lima Bistro is a delightful hidden gem.
3. The Pastechi House
Oranjestad
Deep-fried pastry pockets stuffed with tasty goodness, a pastechi is an Aruban staple. Akin to the empanada, pastechis are deep-fried and stuffed with cheese, chicken, ham, or beef. The Pastechi House is off the main drag in downtown Oranjestad, and worth seeking out.
What To Order At The Pastechi House
Of course, you want to order the pastechis. They are inexpensive and perfect for a quick lunch on the go. One makes a good snack, but order two if you are hungry.
Pro Tip: You will see pastechis all over Aruba. If you are downtown, make a point of stopping at The Pastechi House.
4. The Old Cunucu House
Noord
The Old Cunucu House is the best spot for authentic Aruban cuisine. The restaurant maintains the old farmhouse feel where you can dine on homemade local dishes.
What To Order At The Old Cunucu House
When you are on the hunt for traditional Aruban cuisine, try the Keshi Yena; a Gouda cheese stuffed with chicken, aromatics, cashews, and raisins. Another great choice is the Calco Stoba or stewed conch — you should at least try it once.
Pro Tip: The Old Cunucu House is located just a few blocks from the highrise hotel area in Palm Beach.
5. Eduardo's Beach Shack
Noord
Eduardo's Beach Shack was recommended to me by a friend, and she was right on with her recommendation. If you want to eat clean, enjoy a smoothie, or gobble up breakfast goodies, Eduardo's is just the place. Order up then take your breakfast or lunch down to the beach and enjoy.
What To Order At Eduardo's Beach Shack
Vacationing can be hard on your eating habits, but if you start your day at Eduardo's with mixed fruit, acai, pitaya bowl, or any number of healthy options, you will feel good all day.
Pro Tip: The shack is located on Palm Beach along the walkway.
6. Papiamento Restaurant
Noord
Aruba antique chic and cozy, Papiamento Restaurant embodies the spirit of Bon Bini (welcome). Reserve a table by the pool for a fun outdoor atmosphere.
What To Order At Papiamento Restaurant
Start with a few sharing plates like the Blue Cheese Shrimp or the Keshi Yena. The grilled entrées are amazing. The Mermaid with wahoo and Caribbean shrimp with papaya pepper sauce is delicious. Also, the Neptune with Caribbean rock lobster, mahi-mahi, and shrimp will not disappoint.
Pro Tip: Papiamento is named after the Portuguese-based creole spoken in the Dutch Caribbean.
7. The Lobby Bar
Noord
Sushi is the name of the game at The Lobby Bar in the Aruba Marriott Resort.
What To Order At The Lobby Bar
It's a lobby bar, so beverages are a given. Their hibiscus margarita garnished with a candied hibiscus flower is the Caribbean summed up in a glass. Edamame is the perfect foil for sushi and a great dish to share. Add on the rainbow roll and red snapper acevichado to round out the meal. If you are not into sushi, the kimchi wings are so good and sticky. The Asian barbecue flatbread with short ribs is perfection.
Pro Tip: They offer adult beverages with printed images or logos. Imagine your next business meeting happy hour with the company logo served up on top of your martini.
8. Barefoot Restaurant
Oranjestad
White sandy beach, gorgeous sunset, and a glorious meal — now that's a vacation. Barefoot Restaurant offers water views or in-the-sand tables to make your Aruban vacation dining perfect.
What To Order At Barefoot Restaurant
Their Dutch style crab cakes are a lovely way to start a meal. Moving on to the entrée requires some thought. The Forest Mushroom Risotto is a stunning vegetarian option. The seafood selections are temping and the Caribbean grouper with mango sauce is a killer dish. There are delicious chicken and beef dishes to round out the menu.
Pro Tip: Reservations are strongly advised.
9. Flying Fishbone
Savaneta
Down the island road from the high-rise hotels and all-inclusive stays is the Flying Fishbone where you can enjoy a romantic beachside table, a brilliant Aruban sunset, and relaxed dining.
What To Order At Flying Fishbone
Start with the Carpaccio of Artichoke with goat cheese and move on to the Savaneta Seafood History or Lobster Casserole. Finish with the sweet and creamy créme brûlée.
Pro Tip: The Flying Fishbone is about a 30-minute ride from the high-rise hotel area.
Where To Stay In Aruba
Palm Beach is home to the hippest section of Aruba. Sparkling sand gives way to high-rise hotels, beach shacks with on-the-water toys, nightlife, and plenty of great food options. The Aruba Marriott Resort and Stellaris Casino offer guests the perfect combination of being close enough to all the action while also being a few steps away from the private beach resort ambiance. It offers everything you need to make your Aruba getaway a vacation to remember.
Dine In Aruba
The artistically plated dishes with tantalizing options are the hallmark of fine dining in Aruba. There is no shortage of excellent restaurants with a long history of serving island guests. Whether you are in the mood for a romantic sunset dinner or a beachy picnic, you have hundreds of great options to choose from.
When you are ready to work off all those delicious bites, get outdoors and enjoy all the fun adventures Aruba has to offer.