All products featured on TravelAwaits are independently selected by our writers and editors. We may earn commission when you click on or make a purchase via our links.
Gorgeous weather and beautiful views are just part of the reason you're going to love your visit to Aruba! If a visit to the Caribbean for a beach vacation is in your plans, there are lots of reasons to put Aruba at the top of your list. There are plenty of affordable options to pick from on this beautiful island, and we've compiled 10 outstanding Vrbo house rentals to choose from on what's widely known as "One Happy Island."
It's worth noting that Aruba is a largely English-speaking nation, a U.S. dollar-friendly economy, and averages less than 16 inches of rainfall annually. Whether you're a snowbird looking for a perfect destination, a couple looking to get away for a few days, or someone looking for an outdoor adventure while on vacation, Aruba is an amazing option for you! We hope you find exactly what you're looking for.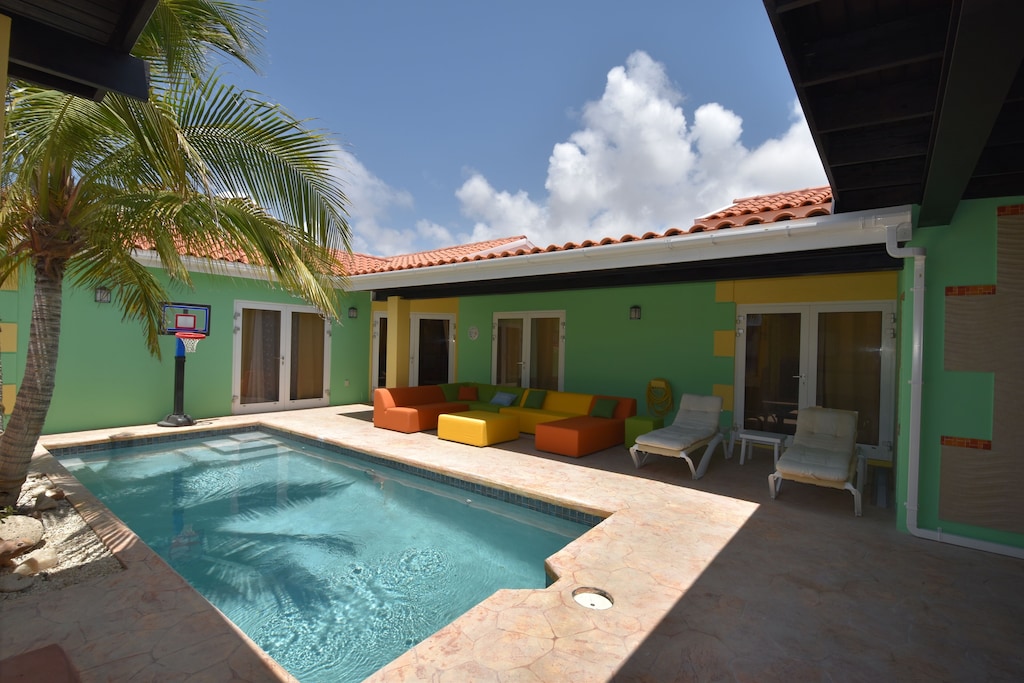 Rent Now
$207/avg nightly
Located in the residential part of Palm Beach, Villa Monplasir offers an open-floor plan, cathedral ceilings, a spacious living area, and so much more! Enjoy the privacy of your own bedroom or step outside to the courtyard and take advantage of the beautiful patio and cool swimming pool or cabana. Every room at this villa rental is air conditioned with beach towels, coolers, beach chairs, and pool noodles provided. Don't forget your flip flops!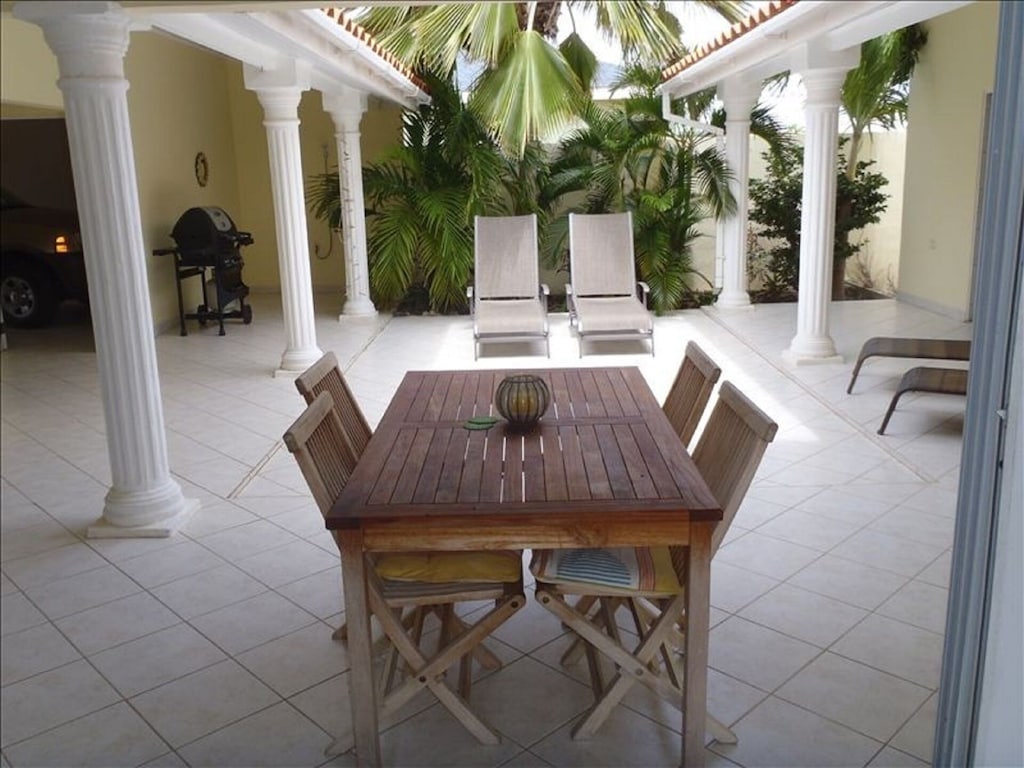 Rent Now
$140/avg nightly
Spacious and very close to world-renowned Eagle Beach, this detached vacation home is conveniently located near restaurants, grocery stores, and lots of island attractions. Built around a gorgeous private courtyard with a table and chairs, lounge chairs, and a barbecue, you'll be spoiled with air-conditioned bedrooms, beach chairs, bicycles, a cooler, beach towels, boogie boards, and snorkel equipment. You'll be all set for a day at the beach! This rental is a great find. Be sure to check out the photos.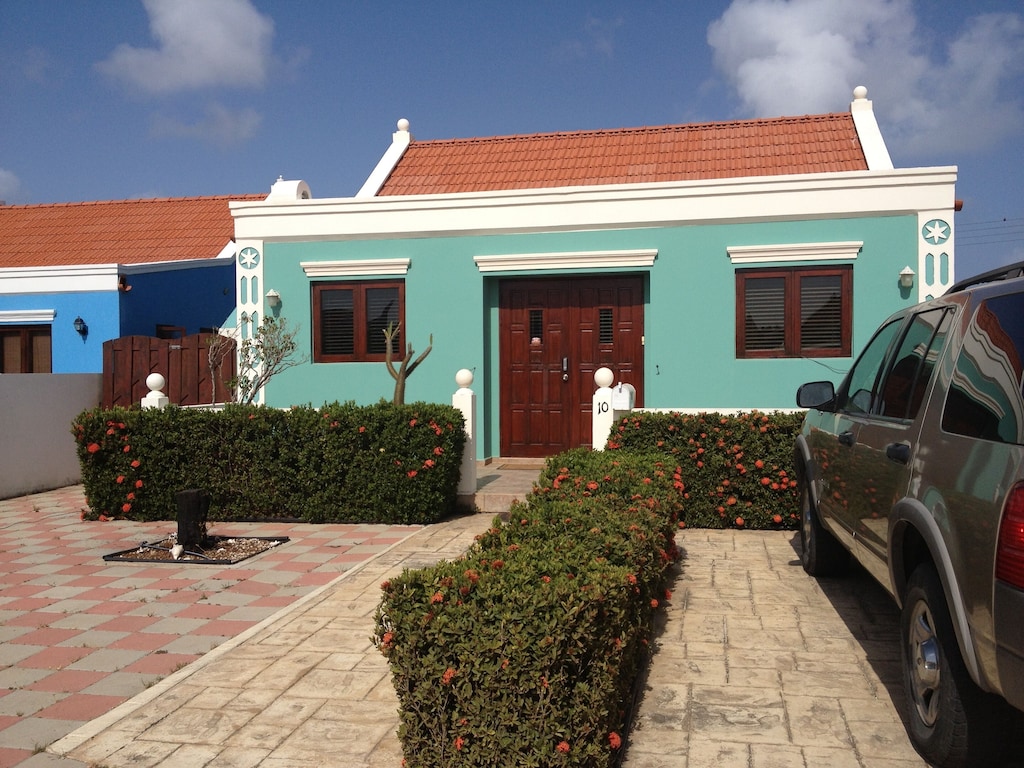 Rent Now
$189/avg nightly
The Canuku House is a comfortable home that's located on the northern end of Calbas near Noord. Located in a private community, this rental has a clubhouse and swimming pool just steps away — very convenient if you're ready to take a dip. The gorgeous tropical landscape features Caribbean decor and the home features all the amenities you'll need, including a terrace and rear patio. Included with this rental is the use of a Ford Escape for you to explore Aruba!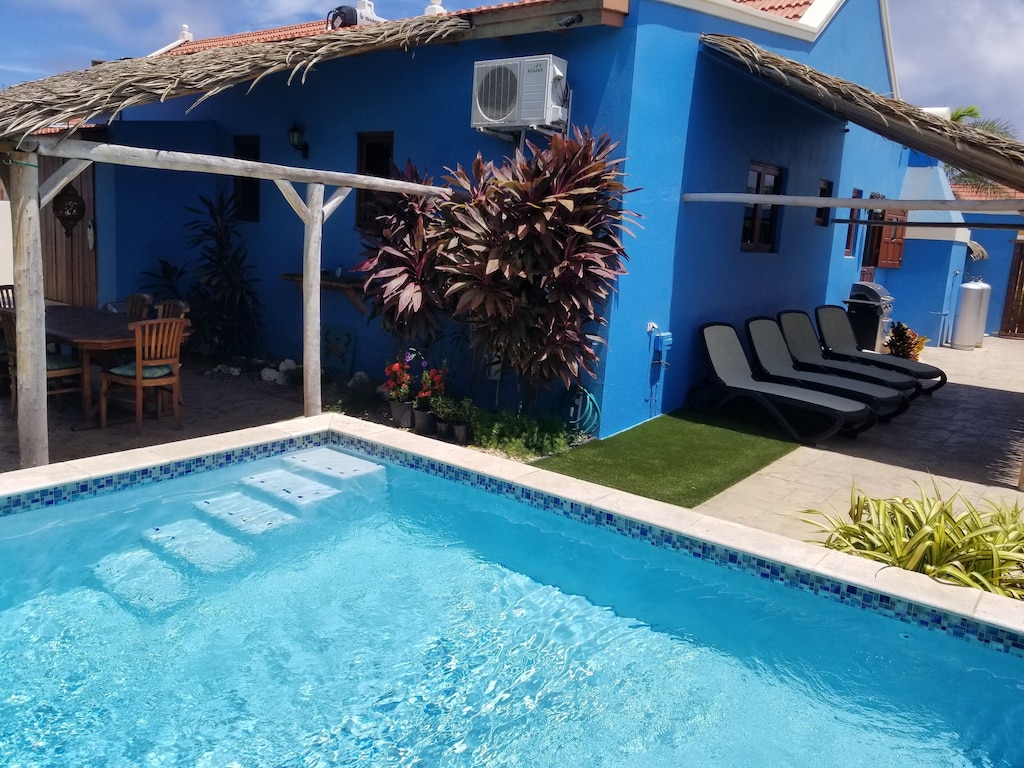 Rent Now
$186/avg nightly
You're definitely going to want to check out the Blue Breeze, a perfectly-located three-bedroom home in a great location. It's just 3 miles from downtown Oranjestad and Palm Beach, and only a short distance to the pristine and public beaches of Aruba. Blue Breeze comes with a stunning private pool, two palapas (tiki-style structures), plenty of sun, and plenty of shade! Also provided are six Tommy Bahama beach chairs, eight beach towels, and a cooler to take to the beach. Be sure to take a look at this gem that was featured in the 2019 Aruba Calendar as "Miss April."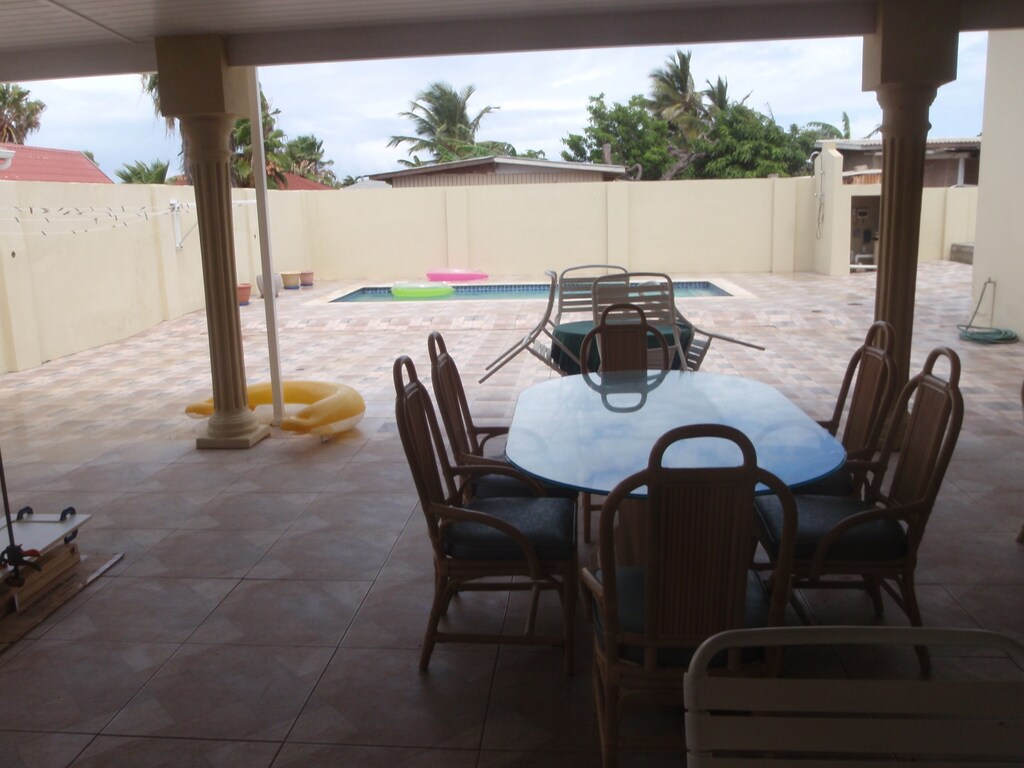 Rent Now
$178/avg nightly
This nicely furnished four-bedroom home sleeps 10, is air-conditioned, and is just a 5-minute drive to the Marriott Surf Club, casino, beach, nice restaurants, and shopping The New Palm Beach Plaza is just a 3-minute drive away. Enjoy the beautiful dining room, large living room, enclosed porch, and hot-water showers in this house located in an Aruban neighborhood with asphalt roads. If you're concerned about finding your way around, fear not — you'll have an escort to the home that will get you there, show you the way, and help you get set up in the house. You can travel knowing you won't get lost!
Rent Now
$203/avg nightly
Cas di Das is a brand-new, air-conditioned, and perfectly-located house. Featuring three bedrooms and two bathrooms, you'll appreciate all of the kitchen appliances — or step outside and enjoy the large pool! Located near beautiful beaches and great restaurants, Cas di Das is only 3 minutes from the largest grocery store on the island. Take a look at the pictures of the pool and all of the modern features of this affordable option — you'll be glad you did!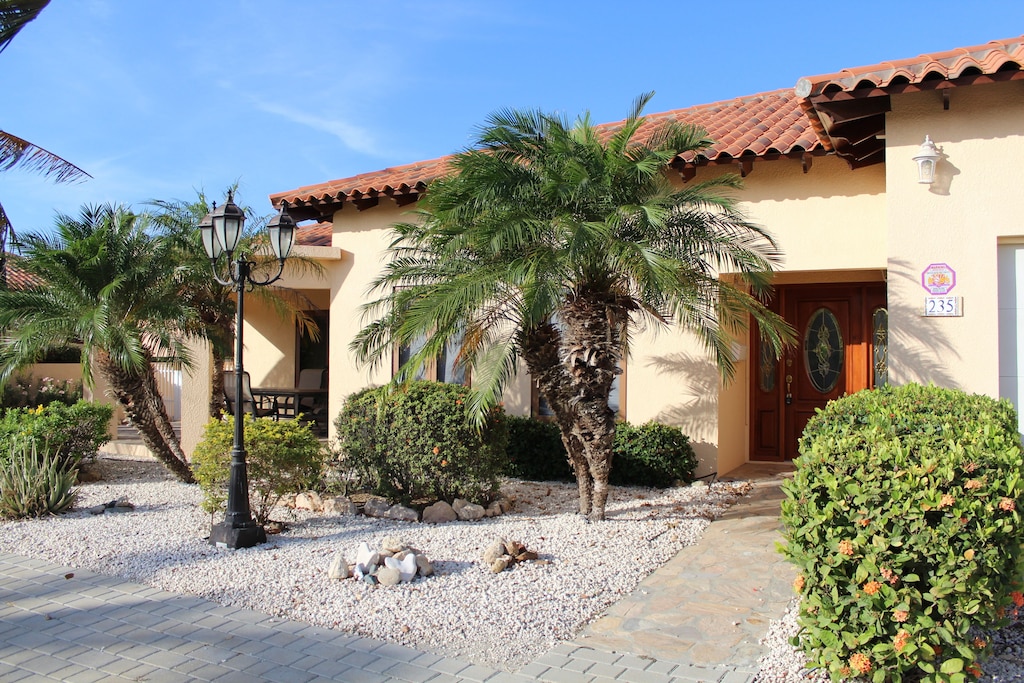 Rent Now
$199/avg nightly
Sandy's Retreat is an air-conditioned Mediterranean Villa located in the upscale Surf Side Villas of the Aruba Racquet Club community. This custom-decorated, fully-furnished home is just a 5-minute walk to Palm Beach and just minutes away from Tierra del Sol Golf Club, shopping malls, five-star restaurants, and casinos. Wi-Fi, cable television, plenty of kitchen amenities, beach towels and chairs, sand toys, and more are included in this rental. Between the numerous white sand beaches with clear blue water and the tropical subdivision pool just five houses away, you're sure to love your visit to Sandy's Retreat!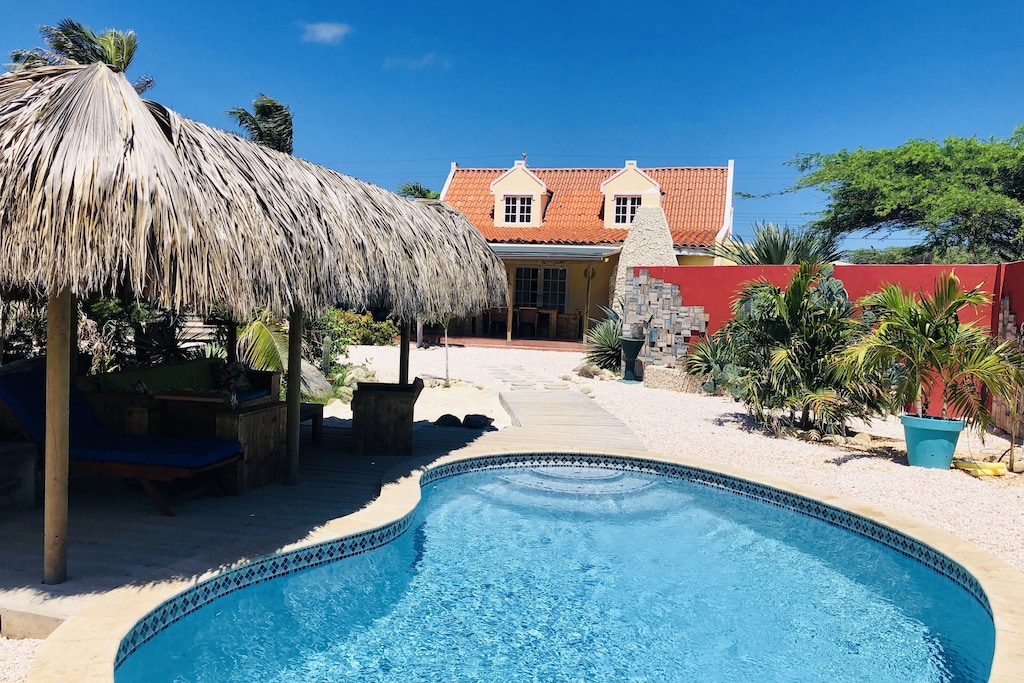 Rent Now
$198/avg nightly
Freshly renovated in 2020, Casa Alto Vista features a fully-equipped kitchen and two separate air-conditioned bedrooms. You're going to absolutely love the private garden and pool equipped with a palapa so you can enjoy the shade. Located in a quiet area but still conveniently located to the beaches and restaurants, step outside to the covered porch. Beach towels, beach chairs, and a cooler are provided for your convenience.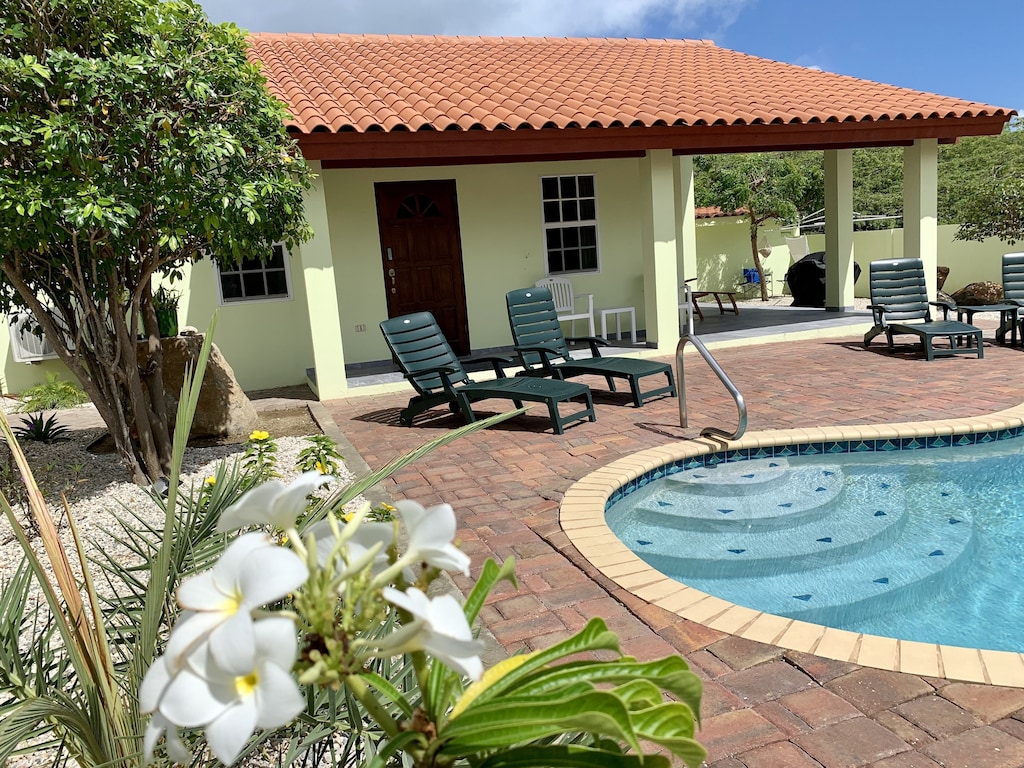 Rent Now
$200/avg nightly
Welcome to your own piece of paradise! Duncans' Sea Glass Villa is a two-bedroom, two-bath home that comes with a private pool and is just 1.5 miles from Palm Beach and the high-rise section of Norod. Just 5 minutes away from Eagle, Malmok, and Arashi Beaches, this location offers easy access to attractions, restaurants, casinos, night life, snorkeling, sport fishing, excursions, and more! Check out the pictures to fully appreciate this gorgeous home.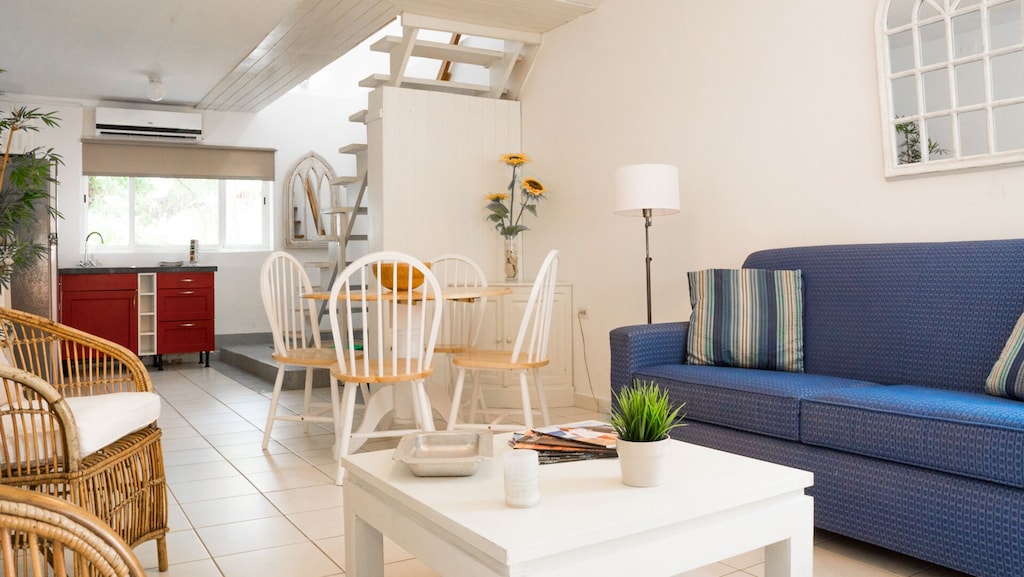 Rent Now
$90/avg nightly
Situated in the Malmok area, the best way to enjoy everything that One Happy Island has to offer is at the Aruba Escape Cottage. It offers a spacious living and dining area downstairs, a well-equipped kitchen, and a cozy porch for you to enjoy any time of day. Fully air conditioned, the Aruba Escape Cottage bedroom offers a beautiful view over the salina and ocean. It is also spacious and quiet and includes a king-sized bed. When you stay in this fun little cottage, you're within walking distance to Catalina and Arashi Beaches. You're going to be glad you checked this one out!
To discover even more things to do while in Aruba, check out: