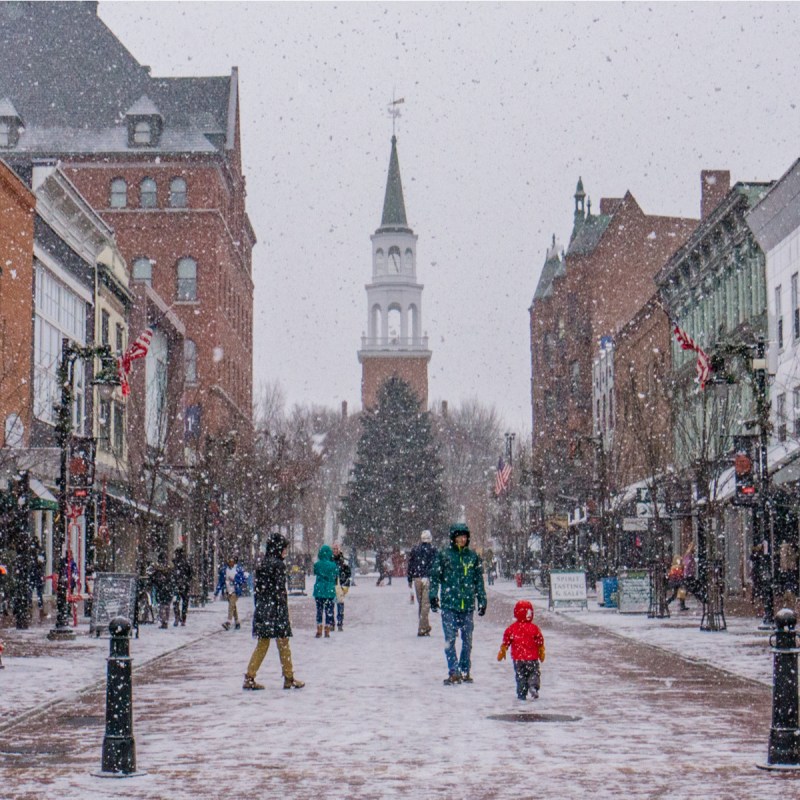 The countdown to Christmas means a little something different for everyone, and each year, cherished holiday traditions come alive in the month of December. For some, the Christmas season may begin with making their shopping lists, decorating cookies, or addressing cards, but for many, the season truly begins when the Hallmark Channel releases its Christmas movie premiere list.
So much of the magic of a Hallmark Christmas movie comes from seeing the charming small towns the characters explore, and we want to make it easy for you to have the same experience. We've rounded up our favorite U.S. charming towns and quaint villages that come alive with holiday spirit each year and truly embody the same feel-good spirit as a Hallmark movie.
As for the movies, Hallmark airs its Christmas movies year-round, and you can also stream them on demand from Hallmark Movies Now.
18 Best Hallmark Christmas Towns in USA | Feel the Magic Like in the Movies
1. Freeport, Maine
If you're looking to do your holiday shopping in a beautiful town sparkling with delightful decorations, then a trip to the shopping mecca of Freeport, Maine, is a must. Whether you're looking for a gift for the Hallmark movie lover in your life or something unique for yourself, the shopping district in Freeport is a great place to walk and browse. Freeport is home to L.L. Bean's flagship store, which is the perfect place to start your shopping spree. The shopping district is very walkable and filled with so many festive decorations you won't be able to stop taking photos. Along with Freeport, here are our other picks for charming Maine towns that will make you feel like you're in a Hallmark movie.
2. Woodstock, Vermont
The entire state of Vermont oozes classic New England charm so it's difficult to pick our favorite Hallmark movie towns, but Woodstock has a special holiday appeal. Maybe it's the town's mountain scenery and stately white colonial homes, or the many charming bed and breakfasts where you can enjoy a long, cozy weekend. If you are visiting during the holidays, don't miss the Victorian-inspired Christmas celebrations hosted by Billings Farm. The antique decor and beautiful scenery are sure to put you in the holiday spirit! Aside from Woodstock, there are quite a lot of towns in Vermont that feel like a Hallmark Christmas movie.
Dreaming of Killington – your dream vacation awaits you
Dreaming of Killington – your dream vacation awaits you
Top guest reviews
Great spot, clean and modern looking unit, hosts always very easy to reach. Thank you!
First time VRBO stay for this writer. Wasn't sure what to expect. Dan and Holly did a wonderful job making sure everything was covered. Well appointed kitchen, clean, and well thought out design. Delicious coffee too! Their communication was top notch. Me being a knucklehead went to the wrong complex. Dan immediately called me and guided me to proper place (Wiffletree). Pool was warm and inviting. 10 out 10. Thank you Dan and Holly! Highly recommended.
Read Less ∧
Read More ∨
3. Tunkhannock, Pennsylvania
With sparkling light displays, horse-drawn carriage rides, visits from Santa Claus, and more, you will feel the holiday magic when you visit Tunkhannock during the holiday season. The tiny town, one of many towns in Pennsylvania that look like a Christmas Hallmark movie, of 1,682 residents puts on quite the show each holiday season when it hosts its popular Santa Train Rides and Christmas in Our Hometown event with carolers, cookie decorating workshops, movies, and more family activities. Even if you miss one of the festivals, you'll still find plenty of holiday spirit in the many light displays around town and of course the gorgeous natural winter wonderland scenery.
4. Harpers Ferry, West Virginia
This year, the historic town of Harpers Ferry celebrated the 50th anniversary of its Olde Tyme Christmas and Holiday Light Tour when the entire town is lit up for the holidays. During colonial times, candles were put in windows as a symbol for good news or a welcome for visitors, and Harpers Ferry keeps this tradition alive when the beautiful Victorian-era homes are filled with candles for the holiday season. The locals help add to the historic holiday charm by dressing in period costumes, decorating the streets and shops in town, and hosting horse-drawn wagon rides.
5. Rock Hall, Maryland
This charming town in Maryland that could star in a Hallmark Christmas movie, with only 1,278 residents on the Chesapeake Bay, hosts a variety of festive holiday events every year. The season kicks off with its Hometown Christmas celebration that features a horse-drawn carriage ride and open houses at the local shops. Later in the season, there's a lighted boat parade that welcomes Santa Claus to Rock Hall for the tree lighting ceremony. Rock Hall's tree is made of crab baskets, a nod to their charming location on the water.
6. Middleburg, Virginia
The tiny town of Middleburg, Virginia, is big on Christmas spirit, and the holiday season kicks off with the Christmas in Middleburg parade. The parade features more than 150 men in full hunting attire on horseback leading 40 hound dogs. After the parade, the kids can enjoy crafts and caroling at Santa Claus' Workshop while the adults can partake in a craft beverage and food experience throughout the town.
There are also beautiful light shows near town to explore all season long. Middleburg is just a short drive from Washington, D.C., and is the perfect place for a day trip to get out of the city and into the winter wonderland holiday spirit. See which other Virginia towns made our list of festive Hallmark Christmas movie towns.
7. Franklin, Tennessee
It seems like everyone in town participates in Franklin's annual Christmas parade which kicks off the holiday season in this historic Tennessee town. The festivities continue with the annual Dickens of a Christmas Festival which brings characters to life from Oliver Twist and A Christmas Carol and features tasty Victorian-era treats. The event also features a Victorian village with traditional decorations to admire. Tennessee's small towns are filled with character, history, and charm, so be sure to explore other Tennessee Hallmark Christmas movie towns.
8. Statesville, North Carolina
Statesville, North Carolina, brings the holiday cheer with a variety of events for adults and kids alike throughout the Christmas holidays. Everything kicks off with the annual tree lighting and horse-drawn carriage rides through town.
The Holiday Shop & Stroll Spectacular is a great way to explore the town and get your Christmas shopping done, with trolly and train rides, open houses at the local shops, and a live nativity scene. The town also transforms its City Hall into Santa Central, where kids can send letters to the North Pole and get a personalized reply.
9. Pendleton, South Carolina
You'll find a taste of small-town Europe in Pendleton, South Carolina, during the holidays. Locals and visitors can stroll through the Christkindlmarkt, an authentic European-style Christmas market on the historic Village Green. Shoppers can browse hand-crafted goods, sip festive drinks, and sample local holiday treats.
A giant 40-foot Christmas tree anchors the market and adds a festive atmosphere to the hustle and bustle. The town also celebrates the season with its annual tree lighting and Christmas parade, sure to brighten anyone's spirits.
10. Thomasville, Georgia
Thomasville, Georgia, doesn't hold back when it comes to extravagant Christmas celebrations. The town is home to one of the country's most acclaimed Christmas light displays and hosts many events throughout the season to delight visitors.
All of the buildings and the town square come alive each season with beautiful light displays and the locals go all out with holiday entertainment, including dances, caroling, and festive costumes. Throughout the month of December, you can participate in Sip and Shop where you can grab your favorite winter beverage and stroll the streets looking for the perfect Christmas gift for everyone on your list.
11. Foley, Alabama
The beautiful Gulf Coast town of Foley, Alabama, adds a dash of southern charm to its Christmas cheer each holiday season. The town hosts several events throughout the season to get locals and visitors in the spirit, including a Christmas parade, tree lighting, and the family-friendly Let It Snow Celebration complete with crafts, a petting zoo, and more activities everyone will love.
Heritage Park in the center of downtown comes alive with hundreds of sparkling lights during the Christmas season and you can go on a train ride through the park to see the lights up close. In Foley, you'll also find great restaurants, plenty of opportunities for holiday shopping, and seasonal shows sure to entertain. Be sure to check out all of our recommendations for how to spend a delightful holiday weekend in Foley here.
12. Glenwood Springs, Colorado
The snow-covered towns of Colorado come alive with holiday spirit each year, especially the town of Glenwood Springs. Glenwood Springs is a great day trip from Denver, and we recommend riding the train into the mountains so you can enjoy the breathtaking scenery of the snow-covered Rocky Mountains.
Once you arrive in Glenwood Springs, be sure to book time at Glenwood Hot Springs Resort to soak in the natural hot springs while surrounded by sparkling Christmas lights. Wander down the main street and take in views of dazzling lights and pop into the many little shops and restaurants in town. If you have time, there are other Colorado towns that feel like a Hallmark Christmas movie to check out.
13. Mesilla, New Mexico
The small New Mexico town of Mesilla is full of history as it was once an important stop on the Butterfield Overland Trail that connected St. Louis and San Francisco. Each Christmas season, the historic buildings and town plaza come alive with thousands of luminarias that greet shoppers as they bustle in and out of the many unique boutiques in town.
Just 15 minutes from downtown Las Cruces, Mesilla is a great place to complete your Christmas shopping with delicious and interesting gifts from small businesses. Christmas in the desert is a different feel than Christmas in the mountains or elsewhere, but it's just as magical and worth experiencing!
14. Prescott, Arizona
Though Prescott is more a mid-sized city than a small town, the city embraces small-town charm during the many holiday events hosted during the month of December. Prescott is known as Arizona's official "Christmas City" for good reason, with the anchor of the festivities being the Courthouse Lighting, which is in its 67th year.
The event draws thousands to the courthouse plaza for a Christmas program followed by the illumination of thousands of lights on the courthouse and in the plaza. All season long, visitors can enjoy delicious food and drink at one of the many historic and charming inns and pubs that offer spectacular views of the courthouse lights. If you're already in Arizona, you can opt to visit some other towns in Arizona that remind you of a Hallmark Christmas movie.
15. Newport, Oregon
The rugged beauty of Oregon, with its soaring mountains, enchanting forests, and wild coastline is the perfect backdrop for some Christmas magic and you'll feel the holiday spirit when you visit Newport. This oceanfront town makes the most of its setting with a number of Christmas activities on the water where you can watch decorated vessels of all shapes and sizes participate in the Christmas Boat Parade. Newport has many charming accommodations right in the harbor for the best view of the parade and the holiday lights. Be sure to stroll through the town's historic Bayfront area where you'll find unique local items for gift giving and can enjoy seasonal refreshments.
16. Leavenworth, Washington
In this Bavarian village in the Cascade Mountains east of Seattle, the Christmas season is extended thanks to Christmas lighting festivals that last through February. The lighting festivals include live music, holiday treats, and half a million lights in the downtown area. You can see reindeer up close at the Leavenworth Reindeer Farm where you can tour the farm and enjoy hot chocolate and apple cider. There's also a large Gingerbread House exhibit sure to make your stomach rumble, and you can visit the Nutcracker Museum to see antique nutcrackers — what's more festive than that? The scenery surrounding Leavenworth is beautiful and you'll want to cozy up for a weekend of Christmas cheer and outdoor adventures. See the other beautiful Washington towns that will make you feel like you're in a Hallmark movie here.
With so many towns in the U.S. that serve up big doses of holiday spirit, it really can start to feel like there's Christmas magic all around — just like in a Hallmark movie! Be sure to add one of these towns to your holiday travel plans for good cheer, delicious food, beautiful light displays, and more. For the ultimate Hallmark fan experience, you can even book a custom-designed suite that will truly make you feel like you've stepped onto a Hallmark movie set.
17. Dahlonega, Georgia
Once a well-known gold rush town in the 19th century, this small town in the Georgia mountains has transformed into a holiday destination today. You may recognize Dahlonega's downtown from Hallmark's films Christmas in the Smokies (2015) and Christmas in Homestead (2016).
Dahlonega kicks off its Christmas decorations in early November, then multiple events begin the day following Thanksgiving. A romantic ride in a horse-drawn carriage, trekking through the snowy forest of the Festival of Trees, and shopping at the village's bustling Christmas Market are just some of the things you can do with the festive season in full swing.
18. Kennebunkport, Maine
Ranked as the second-best Christmas town in the United States by HGTV, Kennebunkport goes the extra mile for its visitors during the festive season. Charming hotels, restaurants, shops, and galleries provide for a splendid weekend winter wonderland getaway. The town's annual Christmas Prelude kicks off on Nov 30, with gingerbread house decorating and s'mores roasting over a bonfire.
With miles of nature trails, the town is meant for activities like snowshoeing and cross-country skiing, or a delightful sleigh ride. No other part of the US can deliver small-town holiday cheer the way Kennebunkport can.
And if you're venturing abroad for the holiday season, don't miss the best Hallmark movie towns from around the world!
FAQs
Were All Hallmark Christmas Shot In The USA?
No. The majority of Hallmark Christmas movies were filmed in Canada because of tax incentives with Vancouver being the favorite spot. Some films were even shot across the pond, like 'Christmas in Vienna' which was filmed in Austria.
What Region of The USA Is Hallmark's Favorite For A Christmas Movie?
The South is Hallmark's favorite region for filming, with Christmas movies having been shot in Georgia, North Carolina, Virginia, Texas, Kentucky, and more. On American soil, Hallmark's heartwarming Christmas movies are often set in picturesque small towns.
Are Hallmark's Christmas Movies Shot During Christmas?
No. Hallmark usually make their Christmas movies in the summer, and production crews use trucks full of ice and white drapes to make the sets look wintery. The actors you see bundled up in puffy jackets and cute scarves are probably sweating like crazy.
How Much Does A Hallmark's Christmas Movies Cost to Be Made?
Each movie costs about $2 million to make, which is cheap, considering that it can cost as much to shoot one episode of a television show. Hallmark's Christmas movies are usually shot fast, with some filming just a month before they hit television screens.
Why Do Hallmark's Christmas Movies Have That Warm Holiday Feeling?
Because all Hallmark's Christmas movies have to complete a holiday checklist, with scenes involving classic Christmas traditions like wrapping presents, getting a Christmas tree, or baking cookies. The movies often involve people who find love or try to save their family business in time for Christmas.