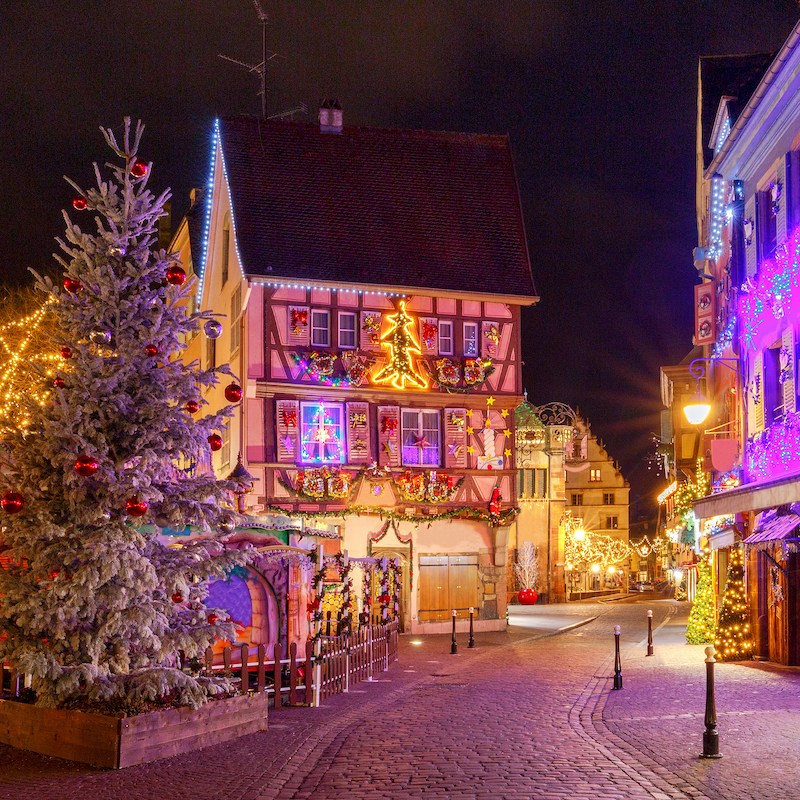 The beauty of a Hallmark movie town is that you can find the ingredients for these magical settings in small towns all over the world, so you can get a taste of the Hallmark spirit no matter where you're spending the holidays. Whether you find yourself in Europe or Canada, you can visit towns where actual Hallmark movies were filmed, historic villages known for their Christmas markets and celebrations, and quaint communities tucked into the mountains that have the most beautiful views you can imagine. The small towns on our list are big on holiday cheer, and you'll feel the spirit of the season as you stroll through markets, savor once-a-year holiday treats, and feast your eyes on beautiful scenery decorated with twinkling lights.
1. Almonte, Ontario
Almonte, Ontario, is the ultimate Hallmark movie destination because many of the most popular Hallmark movies actually used Almonte as their filming location. Almonte is the perfect place to get into the holiday spirit thanks to its many charming bookstores, tiny shops, and quaint streets. Hallmark movie aficionados may certainly recognize Mill Street which is the hub for eating, drinking, and shopping in Almonte. Many of the shops around town had their own starring moment in Hallmark movies and you'll have a wonderful time seeking out where your favorite scenes were filmed and doing some holiday shopping along the way. As you explore Almonte, you may see a Hallmark scene around every corner, but the town has welcoming, small-town charm that delights at any time of year. To plan your trip to this Hallmark mecca, check out all of the movie locations you can visit here.
2. Wakefield, Quebec
Quebec's small towns are bursting with holiday charm, especially the small community of Wakefield. This romantic little town offers beautiful scenery, including snowcapped forests and a quaint covered bridge. You'll also find plenty of live music venues perfect for date nights and the Wakefield Mill Hotel and Spa is a great place to relax and unwind. If you and your sweetie are more on the adventurous side, you can sign up for the country's highest bungee jump, sure to be an adrenaline rush! Wakefield has a lot of charm sure to enchant any Hallmark movie lover, along with our other picks for Quebec Hallmark movie towns.
3. Chester, Nova Scotia
The small towns of Nova Scotia are known for their natural beauty and the strong, welcoming sense of community from the local residents. You'll feel this friendly atmosphere in the seaside town of Chester, where a few Hallmark movies were actually filmed! During your trip, you can hunt down the settings of your favorite movie scenes in this town that feels like it was pulled out of New England. You'll find charming shingle-clad houses, little artist studios, and beautiful views of the coastline. You can also enjoy a show at the Chester Playhouse, known for its productions filled with comedy, drama, and of course, romance! See which other welcoming Nova Scotia towns made our list of the best Hallmark towns to visit.
Dreaming of Paris – your dream vacation awaits you
Top guest reviews
We very much enjoyed our 4 weeks in Paris and staying here greatly contributed to it. The house is ideal for two friends or couples as the bedrooms and baths are totally separate from each other. The house is very well designed for its space. It is far nicer than the pictures make it out to be.Lots of music, great restaurants in easy walking distance , easy access to two metro lines ( actually three with a short walk to Clicy), great areas to walk and explore, overall a wonderful place to stay in Paris.Only drawback is noise from bar across the street that permeates the upstairs bedroom. But this would not deter me from staying here again. Thanks, Manu!
The apartment was huge by Paris standards. Medium size in the US. The air conditioners work great. Loved the decor. Two bathrooms which was amazing. The upstairs is a loft. Washer and dryer came in handy. Emmanuel was very responsive. We were surprised at how quiet it was. And I sleep with ear plugs. Will stay again when back in Paris. Centrally located for the metro. Everything is easily accessible.
If you are looking for a place which makes you feel like a local, this is it. A wonderfully decorated home with a unique charm – cozy but modern and with a very personal touch of its landlord. This complete house of your own – small yet spacious – in the heart of the pulsating art and amusement quarter of the capital offers all amenities you need: from a completely furnished kitchen, two bedrooms (both with double beds and one with an additional loft bed) to a living room and to clean and modern baths. Not to mention the location: You have easy access to public transportation. Thus the Eiffel Tower and the Seine are practically just around the corner – a nice sightseeing tour with a drive around the Arc de Triomphe included. Plus you can take nice evening strolls through the small streets surrounding Montmartre with its cafés, bars and shops. And from Sacré-Cœur – only few walking minutes away – you enjoy the splendid view of the city by day as by night. Restaurants, grocery stores (open until late at night) and super-markets are in walking distance – so you are back at the breakfast table with fresh crois-sants or a bottle of wine in the evening in no time. Even parking your car is easy since there are public parking facilities offering reasonable rates nearby. We spent a great time here and had the best Paris experience ever – having been to this great city about a dozen times now. No other place we'd recommend more. We will definitely return here.
This place was so amazing. It is so peaceful and welcoming and lovely in every way. Manu was very good with communication and everything was perfect. The neighborhood is wonderful. I can't say enough good things about this place. I will definitely be back!! Thank you Manu.
We had a wonderful stay here. The location was perfect. So much to do and see right in the neighborhood, plus metro stops close by. The place was clean and well supplied. Our teens adored the second floor and loft beds. Suggestion for guests: Bring an eye mask for sleeping on the first floor. A neighbor has a very sensitive outdoor motion-sensitive light. Suggestion for host: Have a photographer friend take pics of your space. It's much more fun and cooler than seen on the Vrbo pic. Thanks for the wonderful stay!
Read Less ∧
Read More ∨
Dreaming of Ruan – your dream vacation awaits you
Top guest reviews
We had a great stay here. Plenty of room for the four of us, very clean. The nights were incredibly peaceful and quiet. We all enjoyed the animals nearby, cows, dogs, cats, and a beautiful horse. Hosts were very responsive and helpful. Would highly recommend.
Wonderful stay here! Spotlessly clean, spacious, and comfortable with kitchen equipped for cooking for a crowd. Our host Barbara and family were friendly and personable. Not far from Ennis which is a charming town with plenty of things to do. Highly recommended!
We stayed three nights at this property and they were the favorite of our trip. We were delayed in arriving and the owner was accommodating and had left a welcome gift. There were four of us and we had plenty of room. The property is quaint and feels country but has all of the amenities that you'd want, including a top-notch shower and a loft-style office. The location was convenient for accessing locations that we wanted to see, was far enough away to feel isolated, and was cozy enough for us to want to stay all day! We loved the farm animals, the garden, but especially the owners! Kind, welcoming, made great recommendations, etc. It was worth every penny and we have he best memories!
Lovely home, property, and hosts. We would stay here again.
Barbara & Kevin's home is lovely, bright and welcoming! We had everything we needed, and Barbara even had bread, scones & butter awaiting our arrival. We enjoyed Barbara's tour of her farm (young sheep, goats, cows & horses). Luna & Bella (the dogs) were so friendly and fun to play with. I loved the cats too!We would absolutely stay here again. It's a quick drive into Ennis for any kind of shopping you would need/want.Thank you, Barbara, for a lovely stay & your warm welcome!
Read Less ∧
Read More ∨
4. Ennis, Ireland
The entire country of Ireland oozes history and charm, so it's easy to see why Hallmark recently filmed two movies there. Most of the filming for one of Hallmark's 2021 movies, Christmas at Castle Hart took place at Dromoland Castle in Ennis. The beautiful castle has medieval origins and hosts its own Christmas at the Castle events throughout the holiday season. The castle is filled with opulent decorations, twinkling lights, and a giant gingerbread house. You can even book a stay at the castle which sits on a 450-acre estate where you can explore the beautiful countryside. Throughout Ennis, you'll enjoy seasonal festivals, lights, and indulgent treats during the Christmas season. Check out the other Emerald Isle towns that made our list of the best Hallmark spots in Ireland!
5. Castle Combe, Wiltshire, U.K.
You can't go wrong with a visit to a town voted The Prettiest Place in the UK 2021! Castle Combe is home to dozens of quaint little cottages that sit along the River Bybrook. Ancient stone bridges cross the river which hosts an adorable rubber duck race every summer. During the winter, don't miss the bustling Christmas market in the town hall where you can browse for the perfect gift and enjoy tasty holiday treats. This charming English town is filled with history and magic and will surely put you in the holiday mood, along with these other English towns that could star in a Hallmark movie.
6. Montmartre, Paris, France
Paris is filled with hidden gems where you can escape the hustle and bustle of the city, and you'll feel like you stepped into a small town when you visit the village of Montmartre. Climb the stairs leading to this hilly neighborhood and you'll be treated to cobblestone streets, small squares, and other quaint sights. Lights are strung above the streets and twinkle in the windows of the cafes where you can grab a seasonal treat and warm up after exploring the charming streets. The neighborhood sits in the shadow of the impressive Sacre Coeur church where you can enjoy a Christmas concert. Paris proper may not be known for its friendly atmosphere but in Montmartre, you'll find small town cheer and feel welcomed as one of their own. See where else you can find Hallmark Christmas cheer in Paris here!
7. Colmar, France
Each Christmas season, Colmar bursts to life with glowing lights and six holiday markets filled with gourmet treats and artisanal creations. Colmar is situated in Alsace wine country so toasting the season with a steaming glass of local mulled wine is a must! Christmas trees in the Alsace region are traditionally decorated with gingerbread and the holiday treat can be found all over town. Colmar is a medieval town filled with half-timbered homes decked out for the holidays and decorations across the canal that winds through the town. Colmar and other European cities lend a charming and historic air to the holiday season, so don't miss our other picks here!
8. La Petite France, Strasbourg, France
Visiting La Petite France during Christmastime will make you feel as though you've stepped back in time. The area is a UNESCO World Heritage Site and is still largely the same as it was centuries ago. The old quarter by the river is filled with crooked and charming half-timbered buildings and squares filled with stalls that sell hot chocolate, mulled wine, sausages, and plenty of sweet treats. You'll also delight in covered bridges, twinkling lights, and other picture-perfect holiday sights. This romantic and historic town is the perfect setting for a cozy winter getaway, along with the other small French towns on our list.
9. Bucharest, Romania
It'll feel like you stepped right into a Hallmark movie when you visit Bucharest, Romania, because numerous royalty-themed movies have been filmed there. Bucharest is filled with so much history and culture that it's often referred to as the "Paris of the East." Throughout the city, you'll delight in cobblestone streets, quaint little shops, and gorgeous architecture. Don't miss filming locations including Snagov Palace, a former royal palace with an enormous ballroom, and Peles Castle with its colorful murals and woodwork. If you're up for venturing further outside the city you can visit Bran Castle, also known as Dracula's Castle, which is a sight to see in the winter. Natural wonders abound near Bucharest, and you'll want to review our list to find all of the Hallmark-worthy locations to visit.
If you're looking for more Hallmark movie spirit closer to home, be sure to see our complete list of our favorite Hallmark towns in the U.S., and start planning your festive holiday trip today!