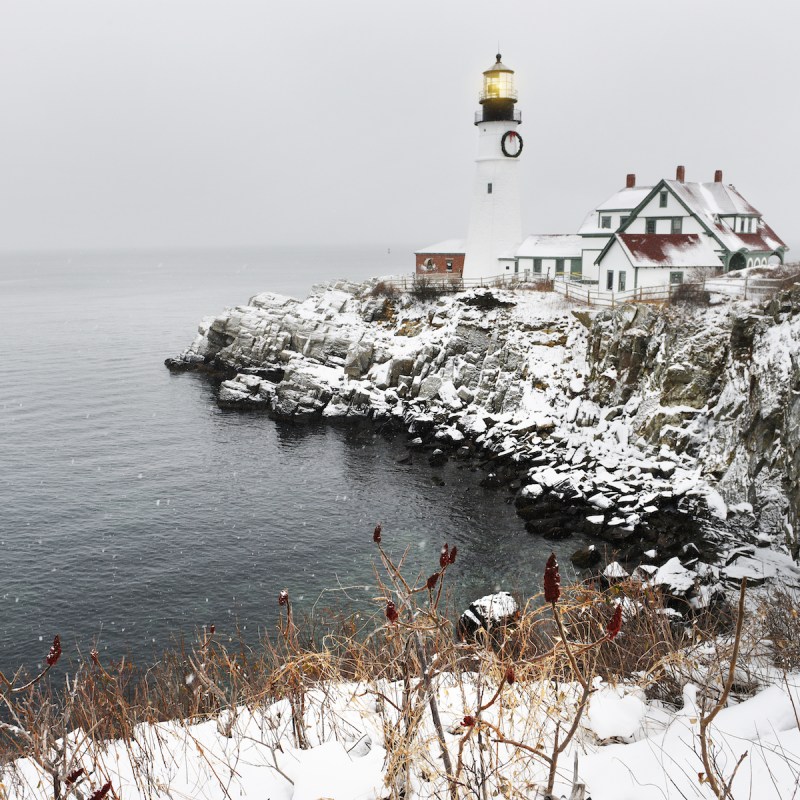 When you wish upon a snow globe, you may be thinking of getting happily trapped in a charming small town in Maine, just like in one of your favorite Hallmark Christmas movies. Rekindle a holiday romance as you stroll hand-in-hand down a picture-perfect Main Street decked out in cute holiday finery. If the snow begins to fall, you know you are in the right spot for a delightful made for television, holiday movie.
No matter what your old-fashioned Christmas plans, from romantic getaways, family-friendly events, or even gal pal shopping extravaganzas, you will find a real-life Hallmark Christmas adventure in Maine. Beautifully decorated village streets, many in vintage style, wrap you in the sweet community feel of winter in Maine.
Throughout New England, you will find cute and charming small towns that embody the Christmas spirit, many of these local villages are the inspiration for a host of feel-good movies. Imagine a big city executive arrives in town to shut down the beloved local inn, and falls in love with the owner who is struggling to keep it afloat. Of course, they save the inn, save the town, and embrace as light snowflakes fall gently on their cheery faces. That is the vision of directors when they visit small towns in Maine; the perfect setting for an old-fashioned, uplifting Christmas story.
1. Camden
Small towns draped in a snowy blanket of white, iridescent from the moonlight dancing off the snow and water, offer the perfect backdrop for a romantic Christmas scene. One such quaint, seaside town is Camden, with a walkable Main Street, a pretty harbor, and beautiful old homes.
Christmas by the Sea in Camden is celebrated on the first weekend in December. Santa arrives at the dock in a quintessentially coastal Maine manner — by lobster boat. As he makes his way through town, Santa greets all the children with a jolly ho ho ho. The festivities include a parade and tree lighting in the centrally located Harbor Park.
Pro Tip: Perfectly casual with luxurious appointments, the Camden Maine Stay Inn is a picture-ready stay in Camden.
2. Wiscasset
Wiscasset, Maine, is a delightful small town where you will fall in love with a hometown Christmas. Wiscasset Holiday Marketfest is 3 days of fun shopping in charming downtown Wiscasset for all the made-in-Maine items you need to check off your Christmas gift list. During the first week of December, you can kick off your holiday shopping and explore this lovely coastal town.
The local shops and galleries are stocked with beautiful items waiting just for you. While you are shopping at Rock Paper Scissors for that unique gift — showcasing cards, decor, and other must-haves — you will be enchanted by this charming town.
Pro Tip: If you have time for a getaway stay in Wiscasset, you can find lots of great information in our Wiscasset destination guide.
3. Boothbay And Boothbay Harbor
As the colorful lights twinkle off the water and snow gently falls, blanketing this quaint area of Maine's coastline, you almost feel like you are on a real-life Hallmark movie set. The town is full of festive activities to get you right into the holiday spirit. Boothbay Lights is an extended festival of holiday cheer. Coastal Maine Botanical Gardens hosts Gardens Aglow, a drive-through lighting extravaganza. The Lighted Boat Parade and Sparkle Fireworks Display is an event unique to this waterfront town.
Pro Tip: When you want to watch a Hallmark movie, in a charming Hallmark movie town, this waterfront rental in downtown Boothbay Harbor is just the thing. Cozy up on the sofa with your favorite cold-weather libation, switch on a feel-good Christmas movie, and play out the scenes in your own joyous seasonal script.
4. Freeport
Freeport, home to L.L. Bean's flagship store, is a shopping mecca. The shopping district is easily walkable and during the Christmas season, it comes alive with festive decorations. The shopping district in Freeport is the center for the Sparkles for the Holidays celebration during the month of December. Shoppers will be enchanted by the seasonal decorations, and will certainly get you in the spirit of the season.
L.L. Bean's Northern Lights showcases stunning light displays, store windows decked out in festive holiday colors, along with fun and festive Instagrammable photo tableaus that will make you the star of your own Hallmark Christmas movie. Of course, there is so much great shopping, and who doesn't love all the cool and interesting gifts you can find in L.L. Bean and all the other shops in downtown Freeport?
Pro Tip: Our Freeport destination guide is a great source of information about what to see and do in Freeport. You will love all the fun adventures awaiting your visit.
Dreaming of Wiscasset – your dream vacation awaits you
Top guest reviews
The pictures don't do justice. The property is absolutely beautiful.. It is evident the care attention given to the property. We were greeted with about a dozen turkeys as we entered. The first morning we were drinking coffee and a doe with two babies strolled through the flowers. The last night we were there, the temperature got into the forties. We built a fire in one the Solo Stoves. The cottage is cozy. It was clean and well maintained. We had a great few days. I can't wait to go back.
Very beautiful and quiet ! So happy they allowed my dog there it was a peaceful getaway.
Our family had our summer vacation here. The cottage is beautiful and very peaceful. It's close enough to a number of things for our children. Highly suggest it.
The cottage on MarianMaid lavender farm is beautiful, quaint and well kept. We really appreciated that pets were allowed and our dog loved being able to roam freely in the fenced yard around the cottage. Highly recommend this as a great escape location.
Read Less ∧
Read More ∨
Dreaming of York – your dream vacation awaits you
Top guest reviews
Warm and welcoming home. Great house with lots of room for many friends and family, beautiful view of the water, and really nice neighborhood. Top notch!
This is the first time we've stayed at this rental and we definitely will be back. It is a beautiful home in the very best location nestled between Long and Short Sands and a stone's throw from Nubble Light. It was amazingly clean. The 1st floor master bedroom and bathroom was large. I loved the slider in the bedroom and that you could see and hear the ocean. The owners are very kind and attentive and ready to please. We have four corgi's and were thrilled that we were able to bring them along. In fact, the owners have a wonderful gate for the porch steps so the pups can get lots of fresh air but stay safe and away from the street. It was a wonderful stay!
The house was perfect for a long weekend with our extended family. It had plenty of room for all 10 of us and was cozy and comfortable at the same time. Would definitely consider staying here again!
The house was even better than described by the owners. Lots of room for a large crowd, plenty of light, and an ambience of warmth and cosiness that made us feel at home as soon as we arrived.Seemed a bit far from the beach and the village at first but we got acostumed to the walk very easily. More calm than expected in front ot Ocean dr.
This was a beautiful area with a great view of the ocean. The house was super clean and we wanted for nothing. The owner was very helpful getting us an early check in. Overall 100% recommend the house with friends or family.
Read Less ∧
Read More ∨
5. Kennebunkport And Kennebunk
An old-fashioned celebration of Christmas lights, good cheer, and holiday music, the Christmas Prelude is Kennebunk's holiday festival. Since 1982, the small town has transformed into a wonderful winter wonderland. During the first 2 weeks of December, you can join in on a traditional Christmas tree lighting, outdoor Christmas markets, or simply the seasonal ambiance while strolling the beautifully-decorated town.
The Holiday Trail of Lights is a town-wide challenge to out-decorate your neighbor. With a detailed map, you can navigate by car around Kennebunkport and Kennebunk as you ooh and ahh at the over-the-top Christmas decorations. It is a fun and relaxing way for the entire family to stay warm and cozy while enjoying the gorgeous lighting displays. Spending time with loved ones while enjoying the dazzling light displays is a fabulous experience delivering great memories.
Pro Tip: Enjoy a wonderful waterfront winter wonderland stay at The Breakers Inn and Spa. Your getaway at the inn is just what you need to shake off the work-a-day blues and delve into a great Maine stay while playing a leading role in your own Hallmark movie script.
6. Waterville
Waterville takes Christmas very seriously and actually transforms into Kringleville for the holiday season. When you include the young and young at heart in your Christmas celebrations, it brings extra joy and happiness to the season. It is the perfect place for a family-focused Christmas get-together.
After a visit with Santa, explore the quaint shops to create a family holiday tradition. When you are ready to dine, stop at The Proper Pig for some fabulous pub grub and a pint. Try the Dog Father, a killer homemade Polish kielbasa sandwich. Don't neglect your sweet tooth, its famous bacon caramel cheesecake is a dinner-ending flavor bomb.
Pro Tip: Waterville is home to Colby College and the Colby Museum of Art. This teaching museum showcases American artists and contemporary art for visitors' enjoyment and education.
7. Ogunquit
Ogunquit's Christmas by the Sea takes place early in December. It is a weekend extravaganza filled with a tree lighting, a craft fair, a parade, music, and fireworks. You will be sure to bump into jolly old Saint Nicholas around town. It won't be a perfect beach day, but you will enjoy the seasonal glow of celebrating peace and joy.
When all the fun festivities leave you hungry and in search of sustenance, stop by The Front Porch and share a few small plates with your besties. Bacon-wrapped jalapeño poppers, bang bang shrimp, and their mango habanero chicken wings will get you warmed up and ready for another foray into the cold.
That's A Wrap
Main Streets framed with historic brownstone buildings, snow falling gently on tree-lined streets, shoppers with packages hurrying about, and elaborate Christmas decorations that simply make you smile. This is what charming small towns in Maine feel like during the Christmas season. They are the quintessential Hallmark holiday movie sets that you can experience during the season.
It is time to create your own Hallmark movie memories and visit one or more of these lovely real-life towns for a pre-Christmas getaway visit. Grab your favorite flannel shirt and L.L. Bean boots, it's time for a winter wonderland getaway adventure.
Hallmark movies and settings are a holiday happening: