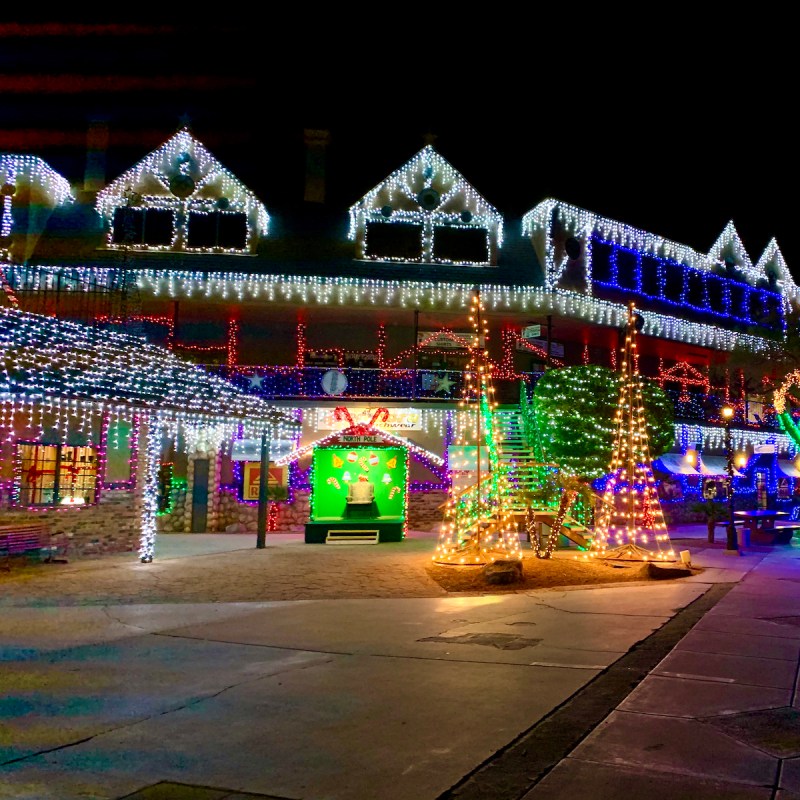 A stately courthouse draped in bright Christmas lights, a festive train headed toward the Grand Canyon (also known as the North Pole), a brightly-lit "London Bridge" in the desert. Although not yet locations for Hallmark Christmas movies, the Arizona towns where these holiday scenes play out certainly could be.
All that's needed is some softly falling snow, a little jingle bell music, and a sweet story about unlikely couples coming together at Christmastime.
The desert state of Arizona and wintry Christmas movies might seem to be an unlikely match at first glance, but just like the movies that are so popular around the holidays, there's plenty of Christmas magic to go around in these 7 small and mid-sized towns of the Grand Canyon State.
1. Prescott
As Arizona's official "Christmas City," Prescott offers countless scenes that could double as locations for a holiday movie — from the picturesque Courthouse Plaza in the middle of town to the hugely popular musical showcase that takes place in the downtown streets.
With a population of about 45,000, Prescott is more of a mid-sized city than a small town, but during the holidays, the north-central Arizona city fully embraces its small-town atmosphere. The anchor of it all is the Courthouse Lighting that has taken place for decades on the grounds of the Yavapai County Courthouse. Now in its 68th year, the lighting occurs on the first Saturday of December.
The Prescott Chamber of Commerce, one of the organizers of the lighting ceremony, calls the event "the must-see event of the year." As the sky darkens on the evening of the lighting, thousands gather on the courthouse plaza to attend a Christmas program and watch for the showstopper — the illumination of thousands of multi-colored lights strung on the courthouse walls and in the trees on the plaza.
The lit-up plaza creates a festive tableau in Prescott's downtown (also home of the historic Whiskey Row), and the following weekend, dozens of musical acts take to the streets and shops for the annual Acker Night Musical Showcase, a Prescott tradition since 1988.
Typically occurring on the Friday following the courthouse lighting, Acker Night has long been a local favorite, drawing hordes of people out to listen to music, meet up with old friends, and toast the holidays in one of the town's rustic saloons or restaurants.
In 2022, Prescott will add another major event to its holiday roundup when it kicks off Prescott's Christmas Village & ChristkindlMarket — a three-day event that will take place on the third weekend of December and feature holiday vendors, a carousel, a kids' zone, and a mulled wine and beer garden.
Popular holiday meet-up spots include the historic Hassayampa Inn with its chic Peacock Room and cozy Glass Bar, the charming creek-side favorite El Gato Azul for tapas and sangria, and the Jersey Lilly Saloon, known to offer one of the best views of the courthouse splendor from its balcony.
2. Flagstaff
Just a two-hour drive from Arizona's Christmas City is the mountain town of Flagstaff, which holds the equally delightful distinction of being Arizona's Winter Wonderland. With the spectacular San Francisco Peaks as a backdrop, the northern Arizona community more than lives up to the designation.
Flagstaff averages about 100 inches of snow a year, making it Arizona's snowiest city, and the annual Winter Wonderland & Tree Lighting sometimes benefits from a blanket of fresh snow. The event typically features music, luminaria bag decorating, and hot cocoa. For fun downtown dining, head to Charly's Pub & Grill in the historic Weatherford Hotel, or for a huge selection of local beers, wings, and burgers, try the Lumberyard Tap Room & Grille.
At about 7,000 feet of elevation, Flagstaff has a fun winter vibe that extends to the nearby Snowbowl Ski Resort, where Arizonans go to ski and snowboard. For a meal with superb mountain views, check out the resort's Agassiz Restaurant & Bar at Snowbowl.
Pro Tip: Flagstaff is also home to the North Pole Experience, a Christmas extravaganza that originates at the Little America Hotel, picking guests up on a festive trolley and taking them to the enchanting Santa's Workshop, complete with a toy factory, Mrs. Claus' Bakery, Elf University, and Santa's Sleigh Hanger.
3. Williams
As the main gateway town to Grand Canyon National Park, Williams has a number of built-in advantages in the Christmas magic arena. Among them, the Grand Canyon Railway, a vintage train that transforms into the magical Polar Express during the holidays.
Now in its 22nd year, the train that typically transports visitors to the South Rim of the Grand Canyon carries holiday revelers from "the nighttime wilderness of Williams, Arizona, to the enchanted beauty of 'the North Pole' — where Santa Claus and his reindeer are waiting with a keepsake present for every good boy and girl," says the train's website.
Christmas magic also occurs on the streets of historic downtown Williams with an annual parade and light parade, typically occurring the weekend of Thanksgiving.For some Christmas cheer along the way, check out downtown Williams's Historic Barrel + Bottle House (known for its selection of 16 craft beers on draft, burgers, and pulled pork sandwiches) or the Station 66 Italian Bistro for its creative wood-fired pizzas and wine.
4. Cottonwood
Combine the hospitality of a vintage Old Town with numerous opportunities to taste handcrafted chocolates, and you have the makings of Christmas magic worthy of a movie scene or two.
Now in its 29th year, the Old Town Chocolate Walk in downtown Cottonwood is a favorite for locals and visitors alike. Merchants, shops, tasting rooms, and restaurants all participate in the fun, offering event ticket holders tastes of handcrafted chocolates. The event is known as a place where friends and neighbors visit while meandering down Cottonwood's quaint Main Street.
Dreaming of Cottonwood – your dream vacation awaits you
Top guest reviews
Perfect for what we needed. The shower is interesting but functional. Great stay.
So cute! Loved all the amenities and little touches from the owner. They've made the home adorable and it has everything you need.
I will not stay here again . I sent message for checkin info and they sent it practically the day before . The shower was so archaic and confusing I need to add photos to this review they had detailed instructions for the shower then my second nite ther at 10:45 pm the smoke alarm started chirping I looked for it and it was a plug in carbon monoxide detector that I could unplug so I did and put it outside but could still hear it I did not get much sleep . I will never stay here again !
We didn't understand this was an old modified manufacture home with old bedding and cheap furniture , rusted shower, rusted fan, portable AC units, and paper cat face cut outs shellacked on the manufactureres panel walls The outside porch was dusty and beat. Just know what you are getting into. Would appreciate the opportunity to upload REAL ohotos of the insides
This was our second stay at this property. I love the well-stocked kitchen so we can cook. Everything about this special place says "home" to us.
Read Less ∧
Read More ∨
Dreaming of Cottonwood – your dream vacation awaits you
Top guest reviews
Clean, neat and tidy inside and out. Fenced in yard added extra privacy The furniture is streamline with plenty of walking space. Ample dishes, cooking items. bed linens and bathroom towels. Easy access to control heat and AC. TV didn't offer code in home guide booklet to turn on TV. Location easy to find. Communication with Home hostess was very informative and she had a delightful personality.
Great place to stay with easy access to Sedona, Jerome and other nearby attractions. Excellent hiking opportunities in every direction. Within short walking distance to restaurants, coffee, etc. Cottage was exactly as advertised!
It was a great experience! The host was amazing. The location was close to everything; however, was quite and peaceful.
Would stay there again. Very pleasant house and grounds. Quiet neighborhood. Easy access from main roads.
Read Less ∧
Read More ∨
For a meal to go along with all of that chocolate, head to Pizzeria Bocce Patio Bar for pizza and beer or Poquito Loco for tacos, house-made salsa, and a large selection of tequilas.
Pro Tip: The streets of Cottonwood are also the scene of a Christmas Parade that has been a community tradition for more than six decades.
5. Sedona
By virtue of its glowing red rocks alone, Sedona could easily be the star of any sort of movie. But the town known worldwide for its stunning scenery would be especially wonderful in a Christmas movie for a number of reasons, including the Festival of Lights that takes place annually at the Tlaquepaque Arts & Shopping Village.
There, in the midst of the village's charming Southwest mission atmosphere, 6,000 luminarias (paper-bag lanterns that traditionally have candles set in sand inside) come to life during the early-December festival. The soft lights glow along the curving sidewalks and beneath the graceful archways, creating a romantic setting if ever there was one.
To warm up after a walk through the luminarias on a chilly December night, be sure to stop in at one of Tlaquepaque's excellent restaurants, such as the Oak Creek Brewery, known for its local beers and gourmet burgers; or the Secret Garden Café, known for its beautiful garden setting and offerings like beef sliders and shrimp puttanesca.
Tlaquepaque is also famous for offering some of the best shopping in Sedona. So if Christmas shopping is on your to-do list, check out shops like Adorn Collection for its home décor and wardrobe accents or Cucina Sedona for its offerings of colorful Southwest kitchen and table linens, pottery, glassware, and gourmet cookbooks.
6. Lake Havasu City
For a movie location with a fascinating backstory, it would be hard to compete with Lake Havasu City, where colorful Victorian England combines with arid Arizona desert for a one-of-a-kind holiday mashup.
The mid-sized city in western Arizona is known as being the home of the 1830s-era London Bridge that once spanned the River Thames. The bridge was purchased by an Arizona developer in the late 1960s and moved to a channel of the Colorado River in Lake Havasu City, where it has since become a popular tourist attraction.
The community fully capitalizes on its piece of British history during the holidays by decorating the surrounding area with twinkling lights, while the bridge itself glows with a green-and-red holiday theme. The premiere holiday event is the annual Festival of Lights, which typically runs from late November through early January. The free event allows visitors to stroll under the London Bridge in the midst of more than a half-million lights that set the water aglow.
The holidays also bring the Lake Havasu Holiday Boat Parade of Lights, a beautiful 37-year tradition that features boats adorned with glittering lights floating through the famed Bridgewater Channel.
7. Bisbee
With its narrow, winding streets and steep staircases, Bisbee is a favorite Arizona destination for its mining history that dates back to the late 1800s. Hotels, restaurants, and saloons with ties to the days of copper, gold, and silver mining line the quaint streets.
Today, Bisbee's well-preserved history, combined with the southern-Arizona town's strong art and music scenes, makes for a lovely holiday setting. Add in the fact that, at an elevation of about 5,500 feet, Bisbee sometimes experiences a winter snowstorm, and you have the perfect ingredients for an Old West Christmas movie.
The community sponsors a number of holiday events, including a November Christmas Craft Show with cookies, hot chocolate, and a visit from Santa at the Copper Queen Hotel, as well as the late-November Festival of Lights in downtown Old Bisbee, featuring food vendors and craft vendors. In December, locals head to Christmas on the Vista in Warren, about a three-minute drive from Old Bisbee, where there is a tree-lighting, games, food, music, and Santa. More information about Bisbee's events is available on the town's tourism website, Discover Bisbee.
Pro Tip
The northern Arizona communities of Prescott, Williams, Flagstaff, Sedona, and Cottonwood are all located within an hour or 2 of one another and would make for a wonderful holiday road trip. Travelers should be sure to check the weather reports before heading out, though, because snow in the higher elevations in Flagstaff and Prescott can make for treacherous driving conditions.
Related Reading: