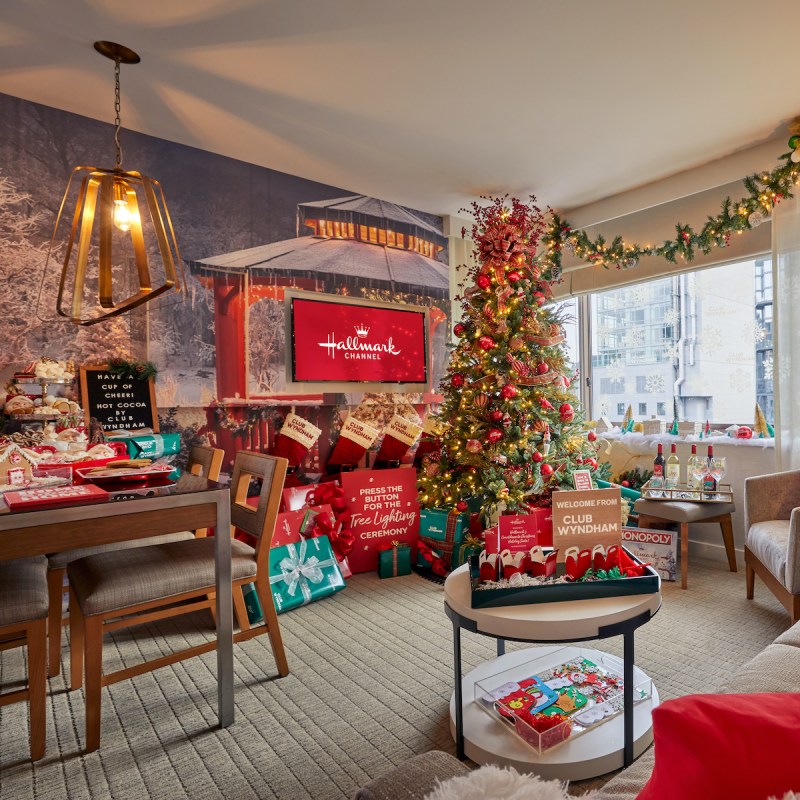 If you're counting down the days until the Hallmark Channel's Countdown to Christmas begins October 22 and you've already got your fuzzy socks, fleece blanket, and hot cocoa all ready for Hallmark Christmas movie viewing by the fireplace, you might want to look into booking one of the over-the-top, custom-designed suites that will make you feel as if you're walking onto a quintessential Hallmark Christmas movie set.
Hallmark Channel set designers totally transformed three standard one-bedroom suites at Club Wyndham properties in New York City, Nashville, and Avon, Colorado, into winter wonderlands, with holiday decor that would rival any Macy's department store display.
"One thing about Hallmark Christmas movies is that there's Christmas in every frame of the movie," said Holly Robinson Peete, a frequently featured actor on the Hallmark Channel. "And in these suites, there's Christmas in every corner."
From Christmas trees, stockings, and wreaths to festive pillows, garland, and wall hangings, the decorations cover nearly every square inch in these spacious accommodations that all have a kitchen, living and dining space, a bedroom, and full bathroom.
Each Christmas Movie Suite Is Specially Themed
The decor reflects the destination of the Hallmark Channel Countdown to Christmas Holiday Suites by Club Wyndham:
"Classic Hallmark Christmas" at Club Wyndham Midtown 45: This New York City suite is all about tradition, with its ornament-making station and special stationery for writing letters to Santa. You can even dress up as the jolly old fellow yourself, with a Santa costume hanging in the bedroom closet.
"Country Christmas" at Club Wyndham Nashville: Here, a vintage cottage vibe sets the scene for a cozy stay in Tennessee. Sing along to Christmas tunes with a throwback record player and holiday records, as well as a karaoke machine.
"Snowy Mountain Christmas" at Club Wyndham Resort at Avon: A bathtub full of "snowballs" invites a family snowball fight, while snowflakes are projected on the ceiling at this location near Vail. You can also launch your own tree lighting ceremony for the sparkly, full-sized Christmas tree and toast s'mores in the fireplace.
All of the suites include:
Hallmark Channel holiday movie collection with popcorn and candy.
Scent machine with options for different holiday smells, from pine tree to gingerbread.
Floor-to-ceiling backdrop from a Hallmark Channel movie scene for festive selfies.
Hot cocoa and cookie decorating with all the trimmings.
Gift basket with Hallmark Channel wine, Hallmark Channel Monopoly game, Hallmark holiday cards, and Hallmark ornament.
"Holiday Experience Checklist" with a curated list of seasonal things to do in the local area.
How To Book The Hallmark Christmas Movie Suites
Rates for the Hallmark Channel Countdown to Christmas Holiday Suites by Club Wyndham start at $295/night. Reservations for all three options will be available to book online starting at 9 a.m. on November 1 for 2- and 3-night stays from November 12 through January 1.
You do not need to be a Club Wyndham member to book these suites, though members have first dibs on certain dates.
For more Hallmark Christmas movie fun, check out these articles: