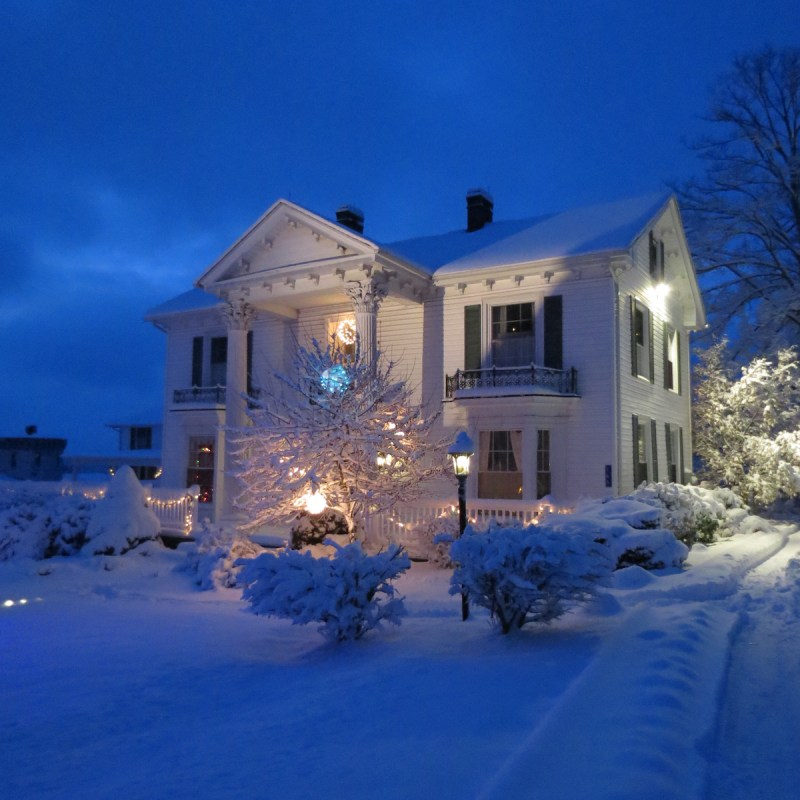 Quaint small towns, snow-covered streets, cozy inns, a local café, friendly neighbors helping each other, and old-fashioned celebrations! Yes, I'm talking about the kind of towns featured in the Hallmark Christmas movies. This year, Hallmark is premiering 40 new Christmas movies, and there are plenty of small towns in Pennsylvania that could qualify to be featured in them.
Here are a few of my favorites for you to visit. These notable towns were selected for the scenery and decorations, friendliness, community participation, and Christmas cheer. They are listed in no particular order.
1. Montrose
A town rich in history becomes a magical snow globe during the winter season, and Christmas in Montrose adds to the sparkling scene with an event-filled holiday lineup. The festival warms your heart and appears to be right from the set of a Hallmark movie.
The community comes together to provide this memory-making event held the first weekend in December. The event kicks off on Friday the 2nd with a tree lighting, free children's activities, food vendors, local artists, and much more throughout the quaint town.
A unique activity is the "Santa Roll" — Chocolates by Leopolds creates a giant chocolate Santa rolled down the "ave" by the local children.
New this year will be the "Take a Bite out of Christmas in Montrose, an "adult-only" progressive dinner via hayride with five different stops, touring homes and enjoying refreshments at each stop. The evening ends at The Rosemont Inn.
Friday ends with the twinkling Parade of Lights through the town. Saturday the 3rd will see the Montrose Green come alive with holiday festivities, including a Christmas Gift Market, a free s'mores station, a petting zoo, a Christmas village, and free hayrides. There will be special appearances by Buddy the Elf, the Grinch, and Olaf.
Some exciting eating fun will occur at the Elf Spaghetti Eating Contest. There is also a contest for the best elf costume on the green. You can even participate in a snowball fight with Buddy the Elf.
The Rosemont Inn Bed & Breakfast will host the Annual Festival of Trees and the Gingerbread House Contest. Local businesses, individuals, and organizations come together to create the Festival of Trees. The money is donated to charitable organizations and toward keeping almost all events at Christmas in Montrose free!
Just like in a Hallmark movie, individuals have the opportunity to decorate their own gingerbread house. The public votes and the winners of the Gingerbread House Contest win cash prizes.
A Jingle Bell 5K Run/Walk is a family-friendly event that goes through the heart of Montrose. Many of the participants dress up in holiday garb and bells for the run/walk. Horse-drawn carriage rides around the historical Montrose will be provided. As you go from place to place, you can catch a ride on one of the hay wagons, which will drop you off at different locations.
Santa and his elves will be greeting children in the decorated gazebo on the lawn at the Rosemont Inn. Bring the grandkids for free photos with Santa. Christmas specialty drinks, homemade donuts, and other specialty shops will have food available near the inn. Harpists, other musicians, and carolers will be strolling the streets and stores providing Christmas music.
Sunday's events include a free movie and the Christmas Chorale concert at a local church. Check out the entire list of events at "Christmas In Montrose."
2. Tunkhannock
Imagine a white, snowy paradise with cozy inns, garlands, and red bow-decorated street lamps. In Wyoming County, the quaint, picturesque town of Tunkhannock, population 1,682, hosts Tunkhannock Santa Train Rides and Christmas in Our Hometown during the holiday season. It is part of the Endless Mountains Christmas in the Northeastern Pennsylvania region.
Tunkhannock Business and Professional Association is bringing back the popular Santa Train Rides for 2022. They are held the last weekend of November with three rides each day leaving from Riverside Park.
Christmas in Our Hometown features carolers, horse rides, entertainment, and family activities.
The festivities start with a parade, Santa's arrival, a tree-lighting ceremony, horse-drawn carriage rides, musicians, a cookie-decorating workshop, a Christmas photo booth, ice carvings, and free movies. The whole town is involved in making unforgettable memories for attendees.
During Christmas in Our Hometown, the Dietrich Theater in the heart of town kicks off The 12 Movies of Christmas. Millions of sparkling Christmas lights will leave you spellbound at the Festival of Lights at the Stone Hedge Golf Course in Tunkhannock. They have added some new light scenes this year.
The original Christmas song, "An Endless Mountain Christmas," was written, composed, and recorded to be used for a promotional campaign about the area by singer and award-winning songwriter Gary Carl, who is now the general manager of the Comfort Inn and Suites in Tunkhannock. That sure sounds like something out of a Hallmark movie to me.
3. Indiana
It's a wonderful life in the Christmas Tree Capital of the World. How could Indiana, Pennsylvania, not be included as a Hallmark-worthy town? Indiana is approximately an hour and 15 minutes northeast of Pittsburgh. A great weekend getaway or day trip, Indiana is full of holiday cheer.
They hold the It's a Wonderful Life Celebration each year in honor of Jimmy Stewart, who grew up in Indiana. With a population of 13,508, Indiana knows how to celebrate Christmas. They kick off the celebration with a holiday parade that includes over 79 units of floats, bands, dancers, and more. Over 10,000 spectators line Philadelphia Street to watch.
The festivities continue in the town that is quintessentially Christmas. The Lucy Donnelly Memorial Fund will present Light Up Night (6 p.m.) and Holiday Parade (7 p.m.) on November 18, 2022. Their 32-foot Christmas tree is the sparkling highlight. It is located in the center of town.
First Commonwealth Bank presents the "It's A Wonderful Life" festival during the weekends starting November 19 through December 18, 2022. The festival includes beautiful light displays shining brightly from the end of November through the holidays. Each building is outlined in white lights, shop windows are decorated, and when they get a bit of fresh snow, the place looks spectacularly beautiful. The downtown area is very walkable and safe to enjoy all the light and beauty and shop and dine.
Highlights of the "It's A Wonderful Life" festival include selfie locations for photo ops, holiday "Wheels and Thrills" — a community miniature train and quilt display at the Indiana Mall, "Toys of Christmas Past" exhibit at the Historical and Genealogical Society of Indiana County, and "It's A Wonderful Life" exhibit at The Artists Hand Gallery and Espresso Bar.
Mystrysak's Tree Farm offers family holiday fun on the weekends of Nov. 25-27 and December 3-4, 2022. They offer tractor wagon rides, visits with Santa, and more. The Jimmy Stewart Museum will be showing a matinee about the making of It's a Wonderful Life, General Electric Theatre's "The Trail To Christmas" (directed by Jimmy Stewart and introduced by Ronald Reagan), and It's a Wonderful Life in the vintage theater.
4. Strasburg
The historic brick buildings, coupled with the most beautiful holiday decorations and a train that runs through the town, make Strasburg the perfect Hallmark-type experience. It is a quaint town, and you will probably see an Amish horse and buggy go by while you visit. We saw dozens on our visit.
The Strasburg Tree Lighting Ceremony will take place in the Historic Town Square on the first Thursday night in December. The Strasburg Heritage Society will be hosting the Holiday Home Tour again in mid-December.
The Strasburg Rail Road will be hosting numerous themed train rides and special events on select dates during November and December. Kids of all ages enjoy riding the trains.
Various merchants are offering unique experiences and sales. You can even spend the night in a caboose at The Red Caboose Motel and enjoy a delightful weekend holiday dinner meal during November and December at the Casey Jones' Restaurant. The restaurant is housed in an authentic train dining car.
The Historic Smithton Inn in nearby Ephrata is an awesome place to stay. Built in 1763, the Historic Smithton Inn is a gorgeous colonial bed and breakfast that attracts guests from around the world. Guests appreciate the history while staying at the inn, but they enjoy modern comforts. We loved our stay at the Smithton Inn and look forward to a return visit. Nothing is more beautiful than the inn decorated for Christmas.
Dreaming of Strasburg – your dream vacation awaits you
Top guest reviews
The property was clean and the house was beautiful and just as advertised. Would definitely recommend this place. Easy check in and check out as well. Thanks so much!!
This property is beautiful! We had a great time, coffee in the morning outside on the patio, loved the local history. Close to sight and sound theater and antique shopping. Great BBQ and ice cream across the street and good pizza a short walk. Highly recommend this historic home with beautiful furnishings and the owners are so easy to get ahold of and quickly answered any questions. Home is also very clean and well stocked. We had a great stay and enjoyed the surrounding area!
The house is very clean I went there with my family for my dad is 91 birthday and we all have such a good time .The owner of the house was very pleasant and easy to communicate with definitely go back there again
First time we have rented a home for a short stay in Strasburg, rather than a hotel. We brought our sons family and we were all very pleased with Amys cozy, historic home. Just about everything we needed was available and Amy is a very gracious, welcoming hostess. It is compact and spacious at the same time, with room to relax and not be in each others way. Amys taste in decorating with antiques and some modern is enjoyable. Color schemes are peaceful; very clean, comfortable and inviting. Being in the center of town was great for evening walks and ice cream at The Creamery! We look forward to future stays!!
The place is a historic house with modern comforts. The decorations are generally period pieces, the furniture is comfortable, and the kitchen is modern. Everything we needed in the bathrooms and kitchen were provided. The owner was very easy to work with and accommodating.
Read Less ∧
Read More ∨
Dreaming of Ronks – your dream vacation awaits you
Top guest reviews
Beautiful property. Close to everything. Excellent hosts.
We had a wonderful time!!
Mary and Al were wonderful hosts and made us feel right at home! Location is perfect. Very clean. Would definitely stay with them again! Thanks.
This was a great property. Very clean, comfortable and inviting. We were only there 2 nights, but I hated to leave so soon. I will definitely check availability on my next trip to the Lancaster area.
Read Less ∧
Read More ∨
5. Canonsburg
The Christmas spirit is still alive and well in Canonsburg for all to enjoy.
Recognized as one of PA's most Hallmark-esque towns, Canonsburg, with a population of 8,811, celebrates with their Old Fashioned Christmas each year on the first weekend of December.
This year's festivities will feature a community tree lighting on December 2, lit-up downtown buildings, decorated trees along the streets, and streetlight banners throughout the town. A Christmas parade through the town on December 3, along with a Christmas market, featuring 50 vendors and a food court, will add to the merriment.
Children can have their pictures taken with Santa at the North Pole (plus there are family photo opportunities). Increasing the Hallmark-town factor will be a children's skate rink this year. A community Gingerbread House Contest will be held in the Frank Sarris Public Library, and there will be live entertainment on both Friday and Saturday.
6. Saxton
Saxton is a tiny town with no motels and one red light, but it truly encapsulates the magical Christmas spirit.
This small, darling town located in rural Bedford County is full of holiday cheer and friendly faces. With only 691 residents, Saxton epitomizes the small towns featured in Hallmark movies. When festivities are held, it draws from the surrounding areas. The whole community comes together for Christmas in the Parkway.
The town parkway is transformed into a winter wonderland decorated with sparkling lights, wreaths, garlands, and the town Christmas tree is illuminated during the event. A tunnel of lights will again be one of the features in the parkway.
Santa and Mrs. Claus are paraded through town and arrive at the event via a local fire engine decorated for Christmas.
Christmas in the Parkway this year will feature local musicians, the lighting of the town tree, a children's coloring contest, Elf and Grinch visits, and time to talk with Santa. A highlight of this year's event will be live reindeer for the children to see.
Refreshments of hot cocoa, homemade cookies, and fresh-popped popcorn are provided by local businesses, churches, and community members.
7. Bradford
A national historic district with a population of 8,194, Bradford is nestled in northwestern Pennsylvania's forest-covered hillsides at the Allegheny National Forest's edge. It is a Hallmark-type town where people say "hello" and the shopkeepers know your name.
In Bradford, they kick off the Hallmark season — I mean holiday season — on the first Saturday of November with special shopping and discounts. They also participate in Shop Small Saturday. New this year will be a Christmas Parade on December 2.
Bradford celebrates each year with twinkling white lights and a sprinkle of snowflakes decorating the town — and, of course, the Old Fashioned Christmas celebration downtown. The celebration is held on the second Saturday of December. Put on your mittens and hat to brave the chill for horse-drawn carriage rides transporting you along a street decked out in white twinkle lights. Costumed Christmas carolers will serenade visitors while local shops and restaurants will be serving up cocoa and other delights.
An Old Fashioned Christmas Winter Wine Walk is also a part of the festivities. An adult-only activity offers a complimentary wine glass for sipping unique wines from local wineries while exploring and shopping historic Bradford.
8. Lititz
The quaint town of Lititz is beautiful year-round, but come yuletide season, it's a winter wonderland where holiday magic reigns.
Small cafés and local stores with decorated windows line the streets, the town's square houses a nativity, thousands of twinkling lights glisten on the snow, and vintage decorations are everywhere.
Don't forget the Moravian stars, representing part of the town's history that dates back to 1747, glowing in the night.
With a population of 9,798 and located in Lancaster County, Lititz will celebrate this year with Christmas In The Park on the first Friday, December 2. The annual Christmas Carol Sing at the Moravian Church Square on December 8 allows the public to sing holiday favorites accompanied by the Lititz Moravian Trombone Choir.
Businesses and residents are invited to "deck their halls" to be part of Decorate Lititz. Visitors can take the tour and help select the winning decorations on December 9.
An annual Christmas Candlelight Tour of the 1792 Johannes Mueller House is hosted by the Lititz Historical Foundation on December 10.
The Wilbur Hotel is set in an old chocolate factory and the Lititz Springs Inn has been greeting guests from around the world since 1764. Both provide charming and historical stays.
9. Wellsboro
Wellsboro, located in Tioga County, north of the PA Grand Canyon, hosts their annual Dickens of a Christmas each holiday season. The 3,175-person town closes its streets, and over 179 vendors set up an early Victorian marketplace. Wearing outfits from the 1840s, performers and vendors rekindle the old-fashioned Christmas spirit and Victorian atmosphere to match Wellsboro's gas lights. The event is held the first weekend in December.
They also celebrate Christmas on Main Street the second weekend of December. You can stroll along Main Street and enjoy the gaslit streetlights or ride the trolley to enjoy the picturesque town. There are Victorian bed and breakfasts, cafés, and a plethora of local shops to peruse.Historic ornaments made locally in the 1940s will be on display along Main Street. During that tumultuous decade, the town's Corning Glass plant manufactured millions of glass ornaments for U.S. households, replacing blockaded German manufacturers. Wellsboro prides itself as "The Town That Saved Christmas."
10. Ligonier
Light Up Ligonier, held in the Ligonier Diamond park, is just one of the town's holiday events meant to preserve the childhood wonder of Christmas for everyone. The event is a fun, family event that ushers in the holiday season the day after Thanksgiving. Shops remain open till the evening parade begins and the jolly good elf, Santa, arrives on a horse-drawn sleigh. Ligonier has a countdown not only for lighting the tree, but the entire Diamond. One lucky child will have the opportunity to help Santa light the Diamond.
Christmas carols play throughout the town, and there is always a good chance of a light, fluffy snowfall that makes the white lights sparkle.
Horse-drawn sleigh rides are available after the lighting! Enjoy some hot cocoa and take a stroll in this adorable small town that will make you think of Hallmark from the first moment you visit.
11. Bedford
Located midway between Harrisburg and Pittsburgh, Bedford sits right along the PA Turnpike with a population of 2,861 people. This small historic town has a lot happening throughout the year and is a great weekend getaway.
It is transformed into a picturesque Hallmark-type town decked out in small-town warmth and Christmas jingles during the holidays. Multicolored Christmas lights crisscross the main streets. The town tree is illuminated, and local businesses decorate their store windows.
This year, they are celebrating with the theme of "There's GNOME Place Like Bedford for the Holidays."
A Holiday Open House, with storefronts decorated, kicks off the Christmas shopping season the second weekend in November. The Holiday Open House offers special deals throughout the town, a Cookie Crunch Contest and it is the start of a GNOME Scavenger Hunt that lasts through mid-December.
Small business Saturday (November 26) will kick off the downtown's Shop Small Crawl promotion through mid-December. Shop Small Crawl is a fun way to encourage holiday shoppers to check out some of the unique small businesses in downtown Bedford.
December brings a "Lighten Up, It's Christmas" window-decorating contest that adds to the Christmas spirit and charm of the downtown, and the public gets to vote with their loose change! Funds raised are used for the town's Christmas Lighting fund.
To make sure everyone is in the Christmas spirit, a Christmas Family Fun Night is hosted in early December that features talent acts, children's activities, ice carvings, visits with Santa and ends with the town tree lighting.
Finally, just to make sure everyone has some Christmas goodies, they will be hosting a unique event, the Snowflake Social, the second Friday of December. This event will be held at the beautiful Omni Bedford Springs Resort and will feature a live and silent auction with goodies from merchants and members products as well as overnight stays/trips.
The town's event page has times and locations of each activity.
12. Gettysburg
A town fit for a holiday movie, Gettysburg is the postcard-perfect place to spend the holidays. Known for its Civil War history, Gettysburg perfectly blends its rich American heritage with the spirit of the holidays.
The town tree lighting happens on November 25. The Gettysburg Christmas Festival is held December 2nd and 3rd and includes a Gingerbread House Celebration, live performances, and unique shopping. It's an excellent getaway for those looking to celebrate the holidays a little differently — maybe a step back in time.
You can dine next to the fireplace in one of the town's historic taverns. Enjoy the decorations at Five Christmases at the Shriver House during the weekends from November 25 through December 17. The home of our 34th President, Dwight Eisenhour, also is decorated like Christmases long ago.
Christmas movies always include food, A Christmas Tastes and Traditions Food Tour will tantalize your tastebuds the second weekend in December.
The sounds of the season will invigorate your holiday spirit at the Holiday Tuba Carol Fest on December 9.
Gettysburg features a variety of cozy Hallmark-like accommodations, including historic bed and breakfasts, charming hotels, and lodges perfect for a holiday getaway.
Bonus: Bethlehem
Bethlehem is a city, but a Pennsylvania Christmas article would not be complete without mentioning the Christmas City. Bethlehem might be a city, but they celebrate by remembering their small-town roots and carrying on the small-town spirit of celebrating Christmas.
There is always something happening in the Christmas City, like their one-of-a-kind Christkindlmarkt, which features over 150 artisans' handmade works.
Pennsylvania is filled with small towns full of Christmas cheer and twinkling lights. They are towns that inspire gratitude, connection, and humility, not just during the holiday season, but throughout the year. They are fun to visit, especially during the Christmas season, when we hunt for the magical Hallmark movie moments these towns inspire.
Related Reading: