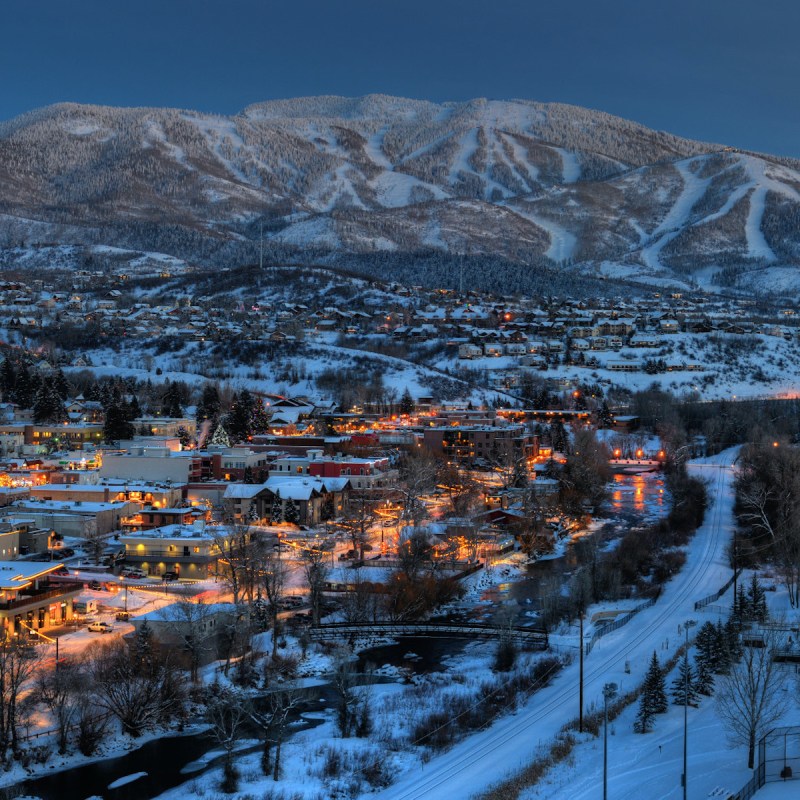 Imagine riding in a horse-drawn sleigh through a quaint town blanketed with white snow as twinkling Christmas lights shine from the windows. If you are a Hallmark movie fan, you'll know the kind of town I'm referring to. This year, Hallmark is releasing 40 new Christmas movies on the Hallmark Channel and Hallmark Movies & Mysteries that include many small Christmas towns in Colorado.
Here are several of our favorites for you to visit. These snowy towns made the list for their Christmas holiday spirit, decorations, natural scenery, friendliness, and activities. They are listed in no particular order as they are simply the best Christmas towns by all accounts and for all traveling preferences. Simply choose a different town for every Christmas and you are set for a good many years.
If you are considering visiting any of these Hallmark towns in 2023, please check their websites and Facebook pages to verify the times of the events.
Best Christmas Town Colorado – 13 Destinations That Feel Like You're In a Hallmark Movie
1. Steamboat Springs
Dashing through the sparkling snow in a horse-drawn sleigh is a great way to kick off your visit to Steamboat Springs. With Christmas decorations throughout the village, magnificently decorated plus-sized trees, twinkling lights, and displays in a variety of colors, you can't help but catch the holiday spirit. Everything around you in Steamboat Springs is merry and bright during the Christmas season.
The season kicks off in November with a Pioneer Christmas Storytime in the Festival of Trees at the Tread of Pioneers Museum. Museum workers in period costumes tell stories of pioneer and Victorian holiday traditions, and all guests are welcome to explore the Festival of Trees, a dazzling array of locally decorated trees.
Like most of the Christmas towns in Colorado, Steamboat Springs lights up the downtown tree on the Friday after Thanksgiving.
The town is full of cozy, comfortable cottages you can rent to cuddle by the fireplace and watch the latest Hallmark movie premier as the snow falls outside. A perfect place to spend Christmas holidays this year for a couple or the whole family.
Santa arrives on horseback each year and will be available for photos the first three Saturdays in December. You can find some of Santa's elves in various shops to assist you with last-minute shopping ideas.
The Steamboat Ski area will host a New Year's Eve celebration with fireworks.
If you are visiting after the holidays, you can enjoy the famous Winter Carnival, which includes loads of fun winter activities — from light shows to horse-drawn ski pulls — and was started "as a way to help residents cope with cabin fever during the height of the Colorado winter season," says the Steamboat Springs Chamber.
2. Breckenridge
Breckenridge, with a population of 4,500, is full of Christmas spirit. It's positively brimming with activities and unique and traditional events during the holidays. Dating to the 1800s, the mining town boasts historic homes and lamp posts that make it look like a charming Victorian-era Christmas town.
What's more, every year, Breckenridge ups the ante on Hallmark-type holiday charm by transforming its historic downtown into a sparkling winter snow-globe scene with more than 250,000 LED lights. Everyone loves the Lighting of Breckenridge when they flick the switch to turn on the town's holiday light display.
There is something for everyone in Breckenridge during the holiday season. Dog sledding, horse-drawn sleigh rides, and world-class skiing are what everyone thinks about, but there is so much more.
All Christmas towns in Colorado have a unique event: one of the funniest and most photogenic events in Breckenridge is the Race of the Santas. It is usually held the first weekend of December, and you will see hundreds of people dressed in Santa suits hitting the town for a 5-kilometer race. Another unique event is the Bernese Mountain Dog Holiday Processional, where the colossal pups (and any other interested breed) parade down Main decked in holiday gear.
If you happen to be in town for New Year's, you will enjoy a torchlight parade down the mountain with fireworks.
The festive spirit shines in this community with a holiday lineup guaranteed to warm any Grinch's heart. If you're planning a family vacation for the holidays, Breckenridge is the perfect place for a multigenerational vacation, with plenty of multi-room condos available.
3. Vail
Vail is one of the Christmas towns in Colorado that should definitively be on your traveling bucket list. Put on your scarf and mittens and brave the chill on a horse-drawn sleigh ride through White River National Forest. Or stroll the Bavarian-style streets of Vail decked out in garlands, bows, and twinkling lights everywhere. Listen for Christmas carolers serenading visitors in this wintery paradise.
Vail is truly Hallmark movie material. In fact, a Hallmark movie, Winter in Vail, was filmed here in 2019 and premiered in January 2020. It showcased the bell tower, a covered bridge, and the town's gorgeous Children's Fountain in the opening scene.
Vail Holidays begins the second weekend in December with a tree-lighting event, and the merriment continues until January 1. Events include a Kris Kringle Market, where you can purchase all kinds of holiday gifts, and an Ugly Sweater Fun Run.
Dreaming of Vail – your dream vacation awaits you
Top guest reviews
Property was beautiful and very well appointed. Convenient to everything and easy access to trails and activities. Excellent communication from owner.
Nice property. Owner/Manager very detailed and organized. Checked in regularly via text to see if we needed anything. The only negative issue was there was no view of the mountain or even the Village.
Beautiful spot! The property met our needs beautiful. I would love to stay here again! I highly recommend this property!
The property is extremely clean and well kept. The kitchen has everything you need and more. The location in Lionshead cannot be beatn and The Landmark pool and decks were a wonderful addition to our stay.
Spotlessly clean, nicely appointed condo that was exactly as listed. Appreciated the ease of check in and check out. No problems with either. Everything we needed was here including soap and paper supples. King bed was comfortable. Owner was readily available for any questions or concerns (we had none). We don't plan to visit the Vail area again but if we did we would stay here.
Read Less ∧
Read More ∨
Dreaming of Frisco – your dream vacation awaits you
Top guest reviews
I love everything about this property. Great place, great for big families, lot of space for everyone, nice layouts, super comfortable, nice furniture, super clean, appliances, heating and all TVs working perfectly. We really enjoy our stay. We'll definitely come back!!!!
We loved our stay the the beautiful condo. Love the location with trees and steam yet close the the main road. The decor was fantastic. Could have used an info sheet operate the TV and a channel guide. Rent was very reasonable but the cleaning fee was high for 2 guests.
Rating Details:The property manager was very helpful.The vacation rental was very clean.I was very happy with the location.I was very satisfied with the condition of the vacation rental.Overall, I recommend this vacation rental.Reviewer Comments:We really enjoyed our stay at the Cabin Creek Condo. Great location but away from the crowds. We enjoyed our morning coffer while looking out the greenhouse kitchen window. We also enjoyed the comfy king size bed. We would stay here again!
This place was fantastic! The three full bathrooms and multiple sleeping areas made for plenty of options for our family. The kitchen had everything we needed to prep meals. The creek that runs behind the unit provided some easy outdoor fun for the kids.
Property was cute, clean, and stocked with everything you could possibly need. Great location! Just a short walk to downtown Frisco. Would highly recommend!
Read Less ∧
Read More ∨
4. Estes Park
Estes Park is another charming Hallmark-type of Christmas towns in Colorado. I adore this little town of 6,000 people that truly encapsulates the magical Christmas spirit. It is the gateway to Rocky Mountain National Park, which is open year-round.
Filled with cafes, hotels, and little shops, Estes Park is the perfect place to cuddle up and watch the snowfall. But don't get too comfy, or you'll miss the merriment of the Catch the Glow Parade & Celebration, featuring marching bands, floats, dancing, and live music. Starting November 25th, and every weekend in December, the town hosts holiday events.
5. Frisco
A cute little mountain town, Frisco is the epitome of the Hallmark movie town. With a population of only 2,700 people, everyone feels like family, and this friendly town sparkles during the holidays.
They host an Old Fashioned Christmas Bazaar in mid-November to get everyone in the mood and shopping early. The event features jewelry, photography, hand-sewn and knitted items, wood art, Christmas décor, food gifts, and grab bags for charity.
The Christmas festivities begin with a town tree lighting the Saturday after Thanksgiving and continue through the Christmas season. They host Wassail Days, which is loaded with winter and holiday traditions, including Wassail sampling, 12 Sips of Wassail Cards (including the commemorative free mug), Santa Visits, Wassail Night at the Museum, caroling, and a whole lot of Hallmark-type holiday cheer.
Mature travelers will enjoy the free sleigh rides, and if you're adventurous, you can even try snow tubing.
6. Aspen
Aspen is truly a winter wonderland. This former mining town receives an abundance of snow, so you are pretty much guaranteed a white Christmas.
Holiday magic reigns in Aspen during the yuletide season. Things you can enjoy here include Quaint shops, steaming cups of hot cocoa, sleigh rides and Victorian caroling, which you can also witness in South Carolina towns at Christmas.
This town is one of the best Christmas towns in Colorado for mature couples to enjoy a romantic Christmas for two. There are numerous adults-only events, and the 12 Days of Aspen celebration occurs during the last 12 days of December every year. It features fireworks, magic shows, ice skating, film screenings, and more.
There is also a mountain torchlight parade on New Year's Eve.
If you happen to be in town in January, you can attend Wintersköl 2023. Aspen's annual "toast to winter," features snow sculptures, fireworks, soup tasting, outdoor activities, and more during the 4-day event.
7. Salida
Every Hallmark movie town is a bit different. They all have that warm holiday feel, but they celebrate in different ways.
The town of Salida certainly has a unique way of celebrating. They don't just decorate their town; they decorate a mountain. Instead of the traditional town tree, they use thousands of vibrant lights to outline a 750-foot Christmas tree on Tenderfoot Mountain. It is often referred to as Christmas Mountain. Now that sounds like something out of a Hallmark movie!
The lighting ceremony includes an indoor and outdoor festival with free cookies and hot chocolate for everyone in the community, and it is capped off with a spectacular fireworks display.
Salida truly pulls out all the stops at Christmas with its holiday events, such as the parade of lights, which greatly reminds me of towns in Maryland during the Christmas season, and a free screening of White Christmas.
8. Georgetown
One of the smaller Christmas towns in Colorado, the quaint, quiet town of Georgetown is home to only 1,000 people. The town, located just off Interstate 70, is surrounded by towering snow-covered mountains, and the postcard-perfect scenery alone is enough to draw visitors.
The community comes together to put on a variety of events for the holiday season. With carolers in Victorian costumes and chestnuts roasting on an open fire, you'll be reminded of an old-world Christmas market in Europe. The Georgetown Christmas Market is regularly ranked among the top Christmas markets in the United States and features unique handcrafted ornaments, gifts, a tree lighting, and horse-drawn wagon rides through the town. This year marks the 62nd anniversary of this special Christmas market.
9. Telluride
Telluride is a beautiful mountain town in a remote part of Colorado's San Juan Mountains. The white Rocky Mountain peaks make up its backdrop, and its historic downtown and Victorian homes trimmed in bright holiday lights reflecting on the snow will make you think of Hallmark from the first moment of your visit.
Looks aren't the only thing going for this festive town of 2,400 people. The Holiday Prelude festival gets everyone into a joyful spirit. Other events such as the Telluride Arts Holiday Bazaar, Noel Night, and the lighting of the ski tree are also fun to attend.
10. Ouray
Sitting between the towering granite walls of a box canyon, Ouray is a classic Colorado Hallmark town. Known as the Switzerland of America, it offers unmatched winter scenery.
Winterfest Ouray kicks off the season with spectacular Christmas light displays. The main street is decked out with holiday lights against the snow-draped Rocky Mountain backdrop. You'll feel like you are in a winter wonderland where holiday magic reigns supreme.
If you are an adventurous traveler, you can try Ice Climbing during your visit.
Mature travelers will love relaxing after a day of activity in one of the town's mineral hot springs.
11. Glenwood Springs
Glenwood Springs is my favorite Hallmark movie town for mature travelers. Located on Colorado's Western Slope, the town is home to the historic Glenwood Hot Springs Resort and so much more. Soaking in the natural hot springs pool is a treat year-round, but doing it while Christmas lights twinkle all around you is magical.
For the most beautiful scenery you can imagine, ride the train from Denver to Glenwood Springs. The snow-covered Rocky Mountains glisten as the sun hits them, looking like something out of a picture book. There is just something about riding a train that rekindles the old-fashioned Christmas spirit.
There are dozens of little shops and eateries in Glenwood Springs, and the whole downtown area sparkles with lights and decorations. The trees along the main street are covered in dazzling lights. The Hotel Colorado hosts a magical light show every year.
Since 1893, the Hotel Colorado has hosted a magical light show every year with extravagant decorations. This year, they will be decorating over 60 Christmas trees and more than half a million holiday lights will be used. They will also use lights to decorate the lobby, dining areas, banquet rooms, signature suites, and the life-sized gingerbread house that is Legends Coffee & Gift Shop. And if you want to watch more amazing light shows amid the Holidays, don't miss out on some of the amazing lightshows in West Virginia during Christmas Holidays.
The Hotel Colorado's 32nd Annual Lighting Ceremony kicks off the holiday season the day after Thanksgiving. During the ceremony, the hotel illuminates over half a million lights on its exterior and shoots off fireworks from both bell towers. You can check out the hotel's holiday event schedule here.
12. Durango
Located in Colorado's southwestern corner, Durango is a picture-perfect town at Christmastime. The small downtown is wonderfully decorated, lit with thousands of lights throughout the Christmas season.
During the holidays, this town transforms into a vision of white, offering various activities for a magical time, including a tree-lighting ceremony, singing with Santa, an arts and crafts fair, and a variety of boutiques selling unique Colorado-made gifts.
New this year will be the month-long Holiday Station event that involves the entire county. Be sure to check out the Durango website for the latest information.
If your grandkids are traveling with you, they will love riding the Polar Express to the North Pole, operated by the Durango & Silverton Narrow Gauge Railroad. The railroad offers several holiday-themed rides. Adults will enjoy the Cascade Canyon Winter Train ride with the glistening San Juan Mountains.
13. Pagosa Springs
I can think of nothing better than sitting in the Pagosa Hot Springs surrounded by twinkling lights glistening off the snow and reflecting from the river. But guess what, it gets even better — they are holding an Old Fashioned Christmas Celebration on December 17 from 4:30–7 p.m. It is a walking tour along the riverwalk trail in downtown Pagosa. The route is decorated with lights and there are numerous entry points.
The route includes festive displays, free hot chocolate, cider, choirs, games, treats, live music, a scavenger hunt, and Santa Claus. Santa's workshop will be set up outside the visitor center the entire holiday season.
The town celebrates the holidays with live theater productions, a Festival of Trees fundraiser, a community-wide lighting contest — last year there were about 50 participants — and more.
Colorado is filled with adorable small towns that will make you think of Hallmark movies. From sleigh rides to Santa runs, the state excels at holiday festivities. These towns are full of Christmas spirit and sparkling lights sure to help you make Hallmark moments of your own.
Looking for more Hallmark holiday experiences? Check out these charming towns in Arizona, and Pennsylvania.
FAQs
How Cold is Colorado in December?
January and January are the coldest with temperatures ranging between 16°F and 46°F during the festivity season. Even though there is an average of more than 300 days of sunshine in Colorado each year, Colorado gets plenty of snow during the fall, winter, and spring months.
Colorado's position far inland and great distance from any large bodies of water result in it having hot summers and cold winters with relatively large temperature differences throughout the day.
Were Hallmark Colorado Christmas Movies Actually Filmed in Colorado?
Yes, but there has been only one. Winter in Vail was actually shot there and it showed just how gorgeous Colorado can be in the winter. Other Hallmark movies set in Colorado have fictional settings, and there are at least ten of them. Nonetheless, they are all heartwarming holiday stories that manage to give us that cool Colorado color. Hallmark's When Calls the Heart was also filmed in Colorado.
What is the Traditional Colorado Christmas Tree?
Colorado blue spruce is an attractive tree frequently used for Christmas trees or for ornaments. Known for its symmetrical form and beautiful silver-blue color, it is also the official state tree of Colorado since 1892. Another popular Colorado Christmas tree is the Colorado Concolor or White Fir, thanks to its needles lasting for 4-6 weeks without any dropping. That means you can set it up before Thanksgiving and not have to worry about it until after New Year's Day.
What is There To Do in Colorado at Christmas Time?
Winter in Colorado, especially the Christmas season, is the perfect season for unique activities like dog sledding, ice climbing, snowshoeing, soaking in hot spring pools, and much more. Winter may be the most magical time to pay Colorado a visit. From iconic small ski towns to large cities with delicious food, cultural events, and historic sites, Colorado has something for everyone.
Why are Hallmark Christmas Movies so popular?
Hallmark movies appeal to our sense of nostalgia for the holidays. They are undeniably heart-warming and provide a respite from the hectic reality and a story to make you feel good for the ages. During Christmas, more than 80 million people all over the USA watch at least a few minutes of a Hallmark movie, so it's not surprising that for more than a decade, Hallmark Christmas movies have topped the networks' popularity charts.