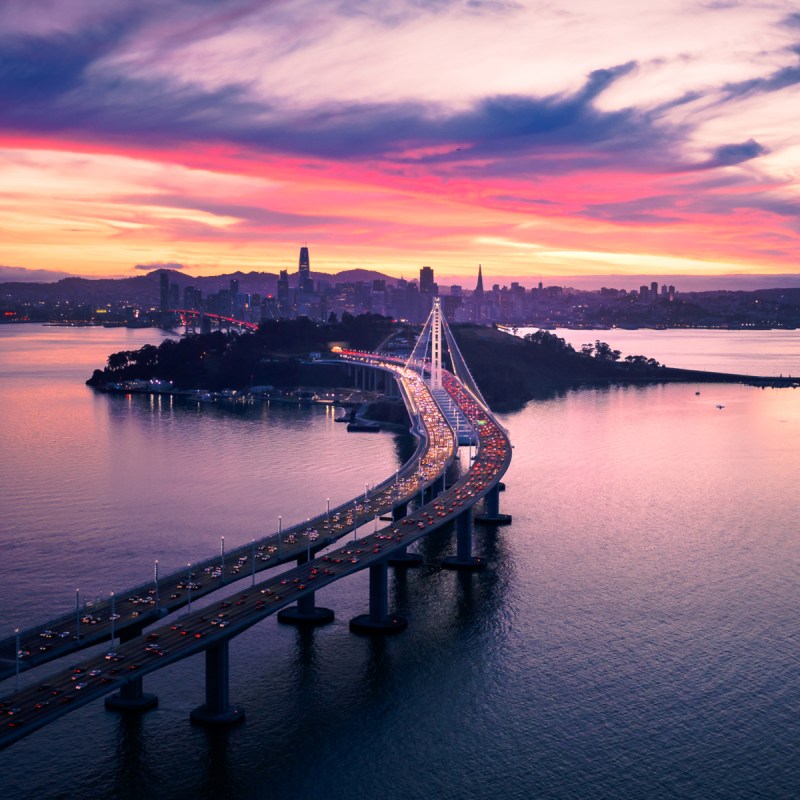 Separated by a bay, San Francisco and Oakland (along with San Jose) are home to 7.1 million people living across nine counties in the Bay Area. While mentioning San Francisco is likely to immediately fill your mind with images of crimson-and-gold cable cars and one of the world's most famous suspension bridges, you may draw a blank when it comes to Oakland.
As a teenager living in the Bay Area, my parents wouldn't think twice about my friends and I heading into San Francisco for the day, staying long past sundown. But my mom would've been concerned if I'd told her I was going to Oakland. Back then, Oakland was plagued by economic hardships, caught in the crosshairs of violent gangs, and dealing with a crack epidemic.
But many years have passed and times have changed (although apparently these 1980s fashion trends are back). Today Oakland is a bustling, culturally diverse city offering plenty of interaction with the locals. Here's how it compares with San Francisco, one of the Golden State's top travel destinations.
1. Getting There
The Bay Area is located near the midpoint of California's coastline, roughly halfway between Los Angeles and the Oregon border. Both San Francisco and Oakland have large international airports serviced by carriers like Delta, Southwest, and Alaska Airlines.
Because I'm a loyal Southwest Airlines customer, I prefer to fly in and out of Oakland, even if San Francisco is my final destination. It's not the most luxurious airport you'll ever visit, but it gets the job done. You can zip across the Bay on BART and arrive in the heart of San Francisco in about 40 minutes. While the ride is about 10 minutes longer than the route from SFO, I find that the Oakland Airport's smaller size is easier to navigate and that I typically make up those 10 minutes. However, if you prefer to fly American or United Airlines, those carriers recently dropped service in Oakland (in large part due to the COVID-19 pandemic), so you'll want to opt for SFO instead.
While you should always be aware of your surroundings in large metropolitan areas, you'll want to be especially vigilant against car break-ins near the Oakland airport. Our family is always drawn to the big yellow arrow and cherry red palm trees of In-n-Out Burger the moment we land, and there is one just minutes from Oakland Airport. However, signs posted in the strip mall where it is located warn visitors about break-ins. It is only thanks to the security guard posted outside the burger joint, who shooed off two guys about to break out our back window, that our car wasn't vandalized in broad daylight on our last visit. And, we'll probably visit a different location next time.
2. Golden Gate Vs. Oakland Bay Bridge
With its fire engine red towers piercing through the fog as it connects San Francisco to Marin County, the Golden Gate Bridge is one of the most recognizable bridges in the world. Meanwhile, connecting Oakland and the rest of the East Bay to San Francisco, the Oakland Bay Bridge carries more than a third of the traffic of all state-owned bridges combined. I often joke that the Golden Gate is the beauty and the Bay Bridge is the workhorse.
It will cost you about $8 to cross the Golden Gate Bridge by car, but the Oakland Bay Bridge toll currently caps out at $7 with lower prices extended on weekends, off-peak hours, and to commuters who carpool.
3. Size And Location
In terms of population, San Francisco is more densely populated with 875,000 people packed into just under 50 square miles. With half as many residents and about 10 more square miles of land, Oakland can feel a little less crowded.
Both San Francisco and Oakland are about an hour's drive north of the Bay Area's largest city, San Jose, making them excellent day trips when visiting Silicon Valley. San Francisco is a straight shot from San Jose along US-101, and Oakland is due north of San Jose via I-880.
4. Weather
While San Francisco is famous for its fog and year-round 60-something temperatures, across the Bay Bridge, the weather in Oakland is nearly always warmer (and sunnier), especially from May through September. So if your Bay Area itinerary is packed full, but you are sick and tired of being cold (especially in July) then take a day trip across the bay to Oakland and warm up!
5. Things To Do And See
With a National Historic Landmark you can ride, an infamous prison, a pier packed with sea lions, and so much more, San Francisco has a long list of well-known attractions. Other favorite things to see and do include wandering through Golden Gate Park, grabbing a bite at the Ferry Building, ascending the Coit Tower, and driving down Lombard Street (called the most crooked street in the world, even though it's really not).
While it's hard to compete with one of America's most visited cities, from across the San Francisco Bay, Oakland offers some of the best views of San Francisco. In Oakland, you can also explore Jack London Square and hike the Bay Bridge Trail. And because Oakland flows smoothly into surrounding areas like Berkeley and Richmond, I recommend spending a day in eclectic Berkeley and touring the Rosie the Riveter National Historic Park during your visit.
6. Cheer For The Home Team
The Bay Area is a great destination for sports fans with six major league teams. In San Francisco, the locals cheer for the Giants while across the bay they support the Athletics (known affectionately as the A's). But now that the Oakland Raiders have relocated to Las Vegas, American football fans will want to leave their silver and black at home and don red and gold to cheer on the 49ers. Basketball fans won't want to miss a Golden State Warriors game at Chase Center, but soccer and hockey fans will have to travel about an hour south of both San Francisco and Oakland to cheer on the Earthquakes and Sharks.
7. Cost
California is one of America's most expensive states, so neither San Francisco nor Oakland is exactly a budget destination. However, everything from accommodations to after-dinner drinks tends to be more affordable in Oakland as opposed to San Francisco.
For example, if you spend your first night in a Bay Area king room with a balcony overlooking the courtyard at the Courtyard Marriott near the Oakland Airport, you can expect to spend about $180 on a weeknight. Across the Bay, a similar room (without a view) at the Courtyard by Marriott San Francisco Airport is about $475.
And the next morning, whether you grab coffee and breakfast at a local restaurant or a chain, you'll typically find slightly lower prices in Oakland versus San Francisco. But believe it or not, the sales tax is higher in Oakland (10.25 percent) than in San Francisco (8.625 percent).
8. Fantastic Food
When it comes to delicious places to dine, both San Francisco and Oakland are filled with tasty options. Because both cities are located on the coast, seafood is a popular choice. In San Francisco, try the Pacific Cafe at the corner of 34th and Geary, where you can enjoy complimentary wine while you wait. Or dine at Hog Island Oyster Co. in the Ferry Building just south of Pier 1. On the other side of the bay, Scott's Seafood, overlooking the colorful Oakland Harbor at Jack London Waterfront, is a great option.
And if you appreciate fine dining, the Bay Area is the place to be. San Francisco boasts 117 restaurants in the Michelin Guide while Oakland is home to 22 Michelin star eateries.
Pro Tip: Here are several other delicious places to eat in San Francisco.
9. Amazing Architecture
Even if you haven't visited San Francisco, chances are you can immediately recognize its skyline due to the unique shape of one of its tallest buildings, the Transamerica Pyramid. You're also likely to recognize the city's Painted Ladies lining the east side of Alamo Square from the opening credits of Full House, and you may be able to identify the firehose shaped structure perched on Telegraph Hill as the Coit Tower, or the city's newest landmark.
But you may have a tough time naming even one notable landmark across the bay in Oakland. From my point of view, this means it's a wonderful place to explore if you've already crossed all of the San Francisco landmarks off your bucket list or you enjoy taking the road less traveled. Check out the 16th Street Station, a century-old railroad station that's been given new life as a private events venue. Or visit the 100-year-old Cathedral Building, the first Gothic Revival-style skyscraper west of the Mississippi that's since been transformed from office space to apartments.
One of the best things about visiting the Bay Area is that you don't have to choose between San Francisco and Oakland. Rather, you can pick and choose the airport, accommodations, eating establishments, and sights that work best for you.