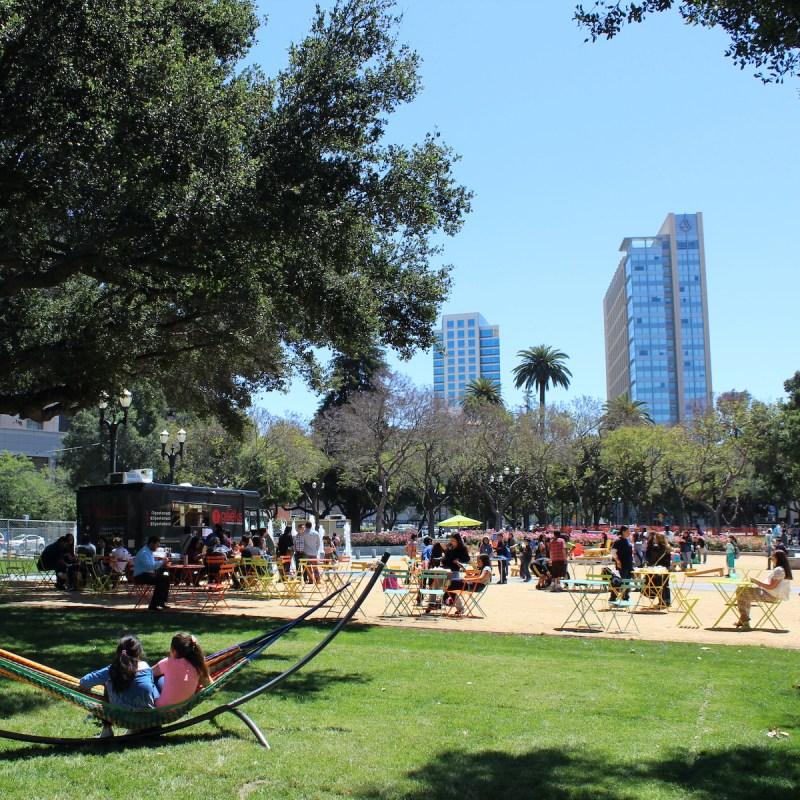 While prospectors were obsessed with discovering gold in the Sierra Foothills in the mid-1800s, missionaries in the nearby Santa Clara Valley were busy planting trees. And as the Gold Rush transformed San Francisco from a settlement to a city in less than a decade, millions of peach, pear, cherry, and other fruit trees filled orchards just 50 miles south of Northern California's foggy boomtown.
Although San Francisco is a top California travel destination and had long been the largest city in the Bay Area, San Jose experienced tremendous growth in a few short decades. And as apple trees were replaced by Macintosh computers, San Jose was crowned the largest city in the Bay Area.
Despite being demoted to second place, San Francisco still draws millions of visitors a year to its world-famous attractions like the Golden Gate Bridge and Alcatraz Island. But what about San Jose, the city about an hour south of the clanging cable cars and the hairpin curves of Lombard Street? This list will help you create the perfect travel bucket list for sunny San Jose.
1. Winchester Mystery House
Allegedly one of the most haunted places in America, the Winchester Mystery House is as beautiful as it is baffling. A few years after her daughter died in infancy, Sarah Winchester was widowed and looking for a change of scenery. Heading west from Connecticut, she purchased an eight-room farmhouse in San Jose and kept herself busy with more than 35 years of nonstop, random renovations. Now with 160 rooms covering 24,000 square feet, the sprawling Winchester mansion has grown to 20 times its original size.
While the Queen Anne Victorian mansion features beautiful stained-glass windows, elaborately detailed woodwork, and three elevators, this top San Jose tourist attraction also has doors that open into walls and stairways that lead to the ceiling. And when Mrs. Winchester lived in the home, it only had one working toilet. Learn more about the true story behind this haunted labyrinthine mansion here.
Fun Fact: Mrs. Winchester called her home Llanada Villa. It was magician Harry Houdini who first dubbed it "the Mystery House" after a spooky Halloween 1924 visit.
2. San Jose Sports
From the crack of a bat sending a baseball over the fence to the roar of the crowd when the puck swishes into the net, there are several options for sports fans visiting San Jose. An affiliate of the similarly named major-league team in San Francisco, the minor-league San Jose Giants play in Excite Ballpark just south of San Jose State University. Hockey fans visiting San Jose will want to cheer on the San Jose Sharks when they take the ice inside the Shark Tank (also known as the SAP Center). And soccer fans can enjoy a San Jose Earthquakes match at PayPal Park just south of the San Jose International Airport.
3. Silicon Valley
By establishing their headquarters in the South Bay, companies like Apple and Facebook helped fuel San Jose's rapid growth in the past few decades. So spending time in San Jose and not celebrating the success of Silicon Valley would be like visiting San Francisco and not snapping a photo of a cable car. Start with the Computer History Museum in nearby Mountain View, with interactive exhibits chronicling computing from the abacus to the latest technology. Then head to The Tech Interactive to explore how technology is impacting everything from healthcare to sports. Cap off your experience at the Google Android Statue Garden, where you'll find Bugdroid, the cute green Android robot surrounded by yummy statues that represent the deliciously named platform releases like Cupcake, Eclair, and Gingerbread.
4. Interactive Scavenger Hunt
Another great way to see the sights of Silicon Valley is with an interactive scavenger hunt. As you walk about 2 miles through San Jose's historic downtown, this San Jose scavenger hunt includes stops at the San Jose Museum of Art, Cesar Chavez Plaza, and Hotel De Anza. And while you won't collect a $200 salary as you pass the "go" square, the scavenger hunt route does include the larger-than-life Guinness World Records Monopoly board in the park near the Children's Discovery Museum of San Jose.
Fun Fact: Constructed in the Roaring Twenties, the art deco-style Hotel De Anza is on the National Register of Historic Places and was once the tallest hotel in San Jose.
5. San Jose Municipal Rose Garden
While many cities from coast to coast boast impressive rose gardens, the San Jose Municipal Rose Garden has been crowned America's best. Covering 5 acres in the aptly named Rose Garden neighborhood of San Jose, the garden's 3,500 plantings of nearly 200 varieties of roses all but guarantee you'll see big, beautiful blooms when you visit.
6. Rosicrucian Egyptian Museum
Just down Naglee Avenue from the Rose Garden, the Rosicrucian Egyptian Museum houses the largest collection of ancient Egyptian artifacts on display in western North America. Admire a variety of items that give you a glimpse into everyday life along the Nile River thousands of years ago. Imagine using toiletry items like the combs, kohl jars, and mirrors on display. You'll see tools like harpoons, fish hooks, and arrowheads. And there are religious items like statues, incense burners, and offering tables.
7. Cathedral Basilica Of St. Joseph
Just north of Cesar Chavez Plaza, the Cathedral Basilica of St. Joseph is associated with the first parish in California. However, the beautiful church that appears to have been inspired by ancient Greek temples and Brunelleschi's Dome is actually the fifth religious building to be constructed at the corner of San Fernando and Market. Completed in 1877, the cathedral is a California Historical Landmark and is listed on the National Register of Historic Places.
Stepping inside, you'll notice the cathedral's ornately decorated ceiling and impressive stained glass windows. And in the choir loft is a rare Odell pipe organ, the only one of its kind on the West Coast.
Fun Fact: Like the city of San Jose, the basilica is named for the patron saint of the Catholic Church.
8. Japantown
Say sayonara to San Jose for a short while and immerse yourself in the history, culture, and food of Japan. Although it also includes Chinese, Hawaiian, and Mexican restaurants, San Jose's Japantown is one of the last authentic Nihonmachis in the United States.
Start by visiting the Japanese American Museum of San Jose, which showcases more than a century of Japanese American history. You'll learn about the first Japanese immigrants to arrive in San Jose in the early 1900s and about the heartbreaking internment of many Japanese Americans at camps during World War II.
About a block north of the museum, you'll find the San Jose Buddhist Church, and along the way you'll find a variety of predominantly Japanese businesses, including Japanese restaurants, a Japanese bakery, and a Japanese supermarket.
Pro Tip: Although you'll remain firmly on U.S. soil during your visit to Japantown, you can read up on Japanese cultural customs before you go.
9. Japanese Friendship Garden
Covering 5 acres in Kelley Park, about 3 miles south of Japantown, the Japanese Friendship Garden is a well-manicured green space that provides a respite from the hustle and bustle of the Bay Area's largest city. Designed to honor the bond between San Jose and Okayama, Japan, the garden includes curved red bridges, Japanese lantern sculptures, and perfectly manicured trees. Feel your heart rate drop as you watch koi swim in the ponds and keep an eye out for sunbathing turtles or wading birds.
10. Shop (And Eat) Local
Although the Santa Clara Valley was once filled with millions of fruit trees, the J&P Cosentino Family Farm is the last working orchard in San Jose. At the farm, which was established right after World War II and has been nurtured by multiple generations, all tree fruit, bush berries, and grapes are picked at peak ripeness, and the farmstand is filled with delicious, locally grown fruit year round.
You can also shop for a variety of local fruits, vegetables, and other items at local farmers markets, like the Downtown San Jose Farmers' Market in the SoFA District.
11. J. Lohr Winery
If you prefer your grapes fermented, then be sure to visit the J. Lohr Winery. Raised on a farm in South Dakota, founder Jerry Lohr was one of the first winemakers to recognize the potential of the Monterey and Paso Robles regions for producing delicious wine grapes. Still family owned and operated after nearly 50 years in business, his San Jose winery is a great place to taste a variety of J. Lohr wines and learn more about the wines and winemaker.
Pro Tip: Brush up on wine-tasting etiquette before you visit J. Lohr, or download their guide to hosting a wine tasting at home.
From fresh fruit to the history of "fruity" electronic devices, and from a namesake cathedral to a quirky mansion, there are plenty of exciting things to see and do in sunny San Jose, California.