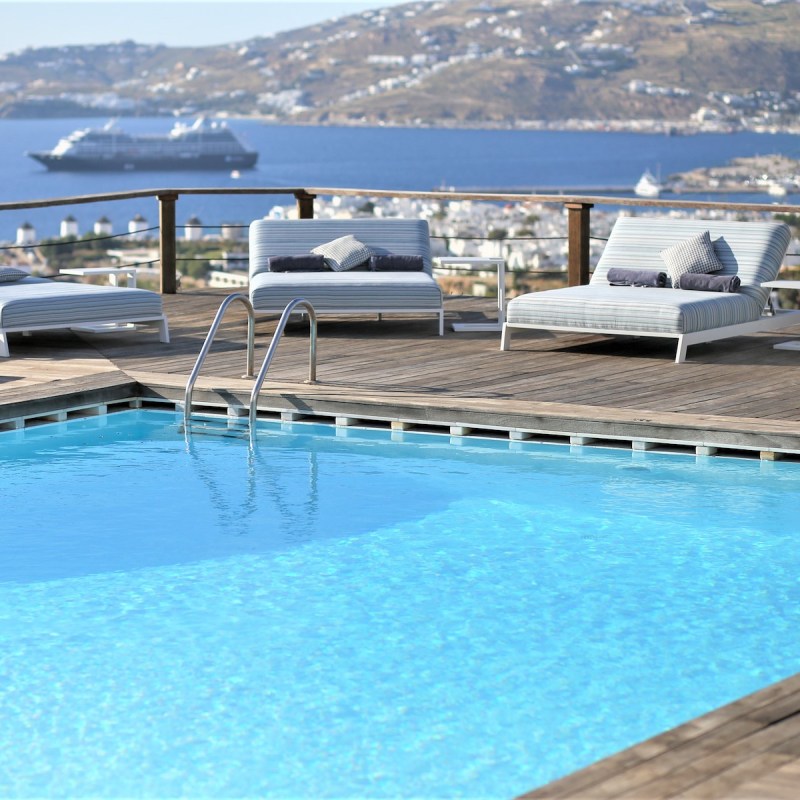 The allure of the Greek islands captivates travelers from around the globe. Greece welcomes an estimated 30 million international visitors annually, with many heading to the Greek islands. There are 227 inhabited islands out of the 6,000 dotting the Aegean and Ionian seas, and two of the most popular are in the Cyclades. Mykonos and Santorini are found in a group of islands located in the southern part of the Aegean Sea, known as the Cyclades.
This archipelago is south of Athens and north of Crete. Mykonos and Santorini each have their own virtues that make them beloved tourist destinations. Mykonos has some of Greece's most stunning beaches, great shopping, and fantastic nightlife. Santorini is known as one of the most beautiful places on earth. The unique landscape was formed when a volcano erupted in 1650 B.C., causing the circular land to change dramatically. The crater sunk under the sea, the shape became a crescent, and the fertile volcanic soil grows grapes that produce award-winning wines. The romance of the cliffside hotels, iconic white churches with blue domes, and incredible sunsets are legendary.
There are many options for lodging on each island. You can select from an ultra-luxury experience, a boutique hotel, or a budget hotel. Boutique hotels offer a more personal touch to every guest and tailor's visits with amenities and options that larger chains or budget hotels don't normally provide. There are fewer rooms, so fewer guests allow more attention to be paid to their needs or curated experiences. The locations are fantastic, and rates are at a better price point than luxury hotels.
While large chains offer loyalty programs and point systems, boutique properties don't provide those types of perks. But because they don't have corporate affiliations, they offer unique décor or organic, local ingredients in their kitchens that a larger venue doesn't usually provide. Here are six different boutique experiences to consider, three on each island. They are in fantastic locations but there are many to choose from in each place. Researching what is best for your budget and vacation is always recommended.
Mykonos Boutique Hotels
1. Bill & Coo Suites And Lounge, Magali Ammos
Bill & Coo Suites and Lounge is in Magali Ammos, a short 10-minute walk to the excitement of Mykonos central. You are close enough to the center of everything at this boutique hotel but far enough to feel relaxed. An onsite restaurant, Gastronomy Project, is for guests and visitors. It's an haute cuisine experience where you can enjoy a modern take on traditional Greek fare. The Sunset Lounge features music and craft cocktails by the stunning infinity pool. The Valmont Spa provides the ultimate relaxing spa treatments for complete pampering. Villas added in 2021, offer more extensive, private accommodations with all the services that hotel guests receive. The second property is only a short drive away. Bill & Coo Coast Suites is on Agios Ioannis beach and is an intimate, adults-only seaside retreat with restaurants and beachside amenities. Guests at either location have access to both properties via complimentary transfer service.
2. Tharroe Of Mykonos Hotel, Cyclades
Tharroe of Mykonos has a unique location perched high on a hill above the town of Mykonos. This spot provides guests with breathtaking panoramic views of the Aegean and the iconic Mykonos windmills. The traditional Myconian architecture and decor simplicity are unfussy, and the personalized service makes you feel welcome. There are 28 rooms, including suites with two to four guests, with sea or garden views, and an in-house spa. A breakfast buffet is served daily by the pool. Dinner at Barbarossa, the hotel's restaurant, is exquisite. The executive chef visits local markets to select ingredients that result in incredible entrees. The front desk staff is hands-on and at your disposal. We were offered a room upgrade, port transfers, and even a suggested excursion list for our next destination. The location is terrific, but getting to the beach or town requires a walk or hired transportation. Renting a car or ATV depends on your comfort level with driving.
The bus stop for local beaches is a short walk, and busses arrive on schedule (cash payment for tickets). You can take the short walk to the town square (Fabrika) to the bus and taxi depot (a half-mile downhill), but the walk is daunting because there's no sidewalk. If you prefer not to rent a vehicle, ask the hotel to arrange a taxi. We had organized day trips planned with a bus service that picked us up at the hotel. We utilized a mix of walking, taxis, and public transportation. It depends on your preference.
3. Nissaki Boutique Hotel Near Platis Gialos Beach
Nissaki Boutique Hotel is a beach boutique hotel. The rooms and facilities offer views of Psarou beach, the Aegean Sea, and are mere steps away from Platis Gialos beach. This beach is a favorite among locals and visitors. The sea-view swimming pool, hot tub, and hotel spa offer guests the ultimate in relaxation. You can experience massages by the pool or in the privacy of your room. The 11 guestrooms, including suites, offer luxurious details and beautiful views. The Coastal Life Villa offers three bedrooms for large parties. The Phos Restaurant has recently been awarded 14th place in the Traveler's Choice Awards for 2021 by TripAdvisor for the Most Romantic Restaurant in the World while placing second in Greece. At Phos, the ambiance resembles a luxury yacht with sea views. The cuisine, gourmet Greek and Mediterranean, is prepared with fresh local ingredients. The breakfast buffet serves regional specialties, but room service is offered, and take-away breakfast for early departures or morning tours. The property has a fitness center, a doctor on call, and complimentary transfers to and from the airport or port.
Santorini Boutique Hotels
4. Athina Luxury Suites, Fira
Athina Luxury Suites has 19 unique suites. Breakfast is served on the terrace outside your room (you select breakfast choices and arrival times) at a private patio table with caldera views. The pool and restaurant overlook the sapphire blue Aegean and caldera. The pool bar serves craft cocktails and delicious lunch options. The staff and the facility are incredible. We needed to secure a doctor, and he came to our suite. We asked for an early airport transfer, and our luggage was delivered to our waiting taxi. Our bartenders and servers were attentive, friendly, and constantly checking on us. The location is perfect and close to all the action, but it was a five-minute walk-up steep step to get to everything — shopping, dining, and nightlife. If you have mobility constraints, it could be challenging.
We walked up and down steps daily but were thankful to be close to the bus depot for transportation everywhere else on the island and to town. We didn't get to eat at Esperisma restaurant during our visit. Still, the dining area is stunning. The menu from Executive Chef Nickos Matsas uses local ingredients to create modern Mediterranean creations that are fresh and vibrant. I would stay here again in a heartbeat.
5. Santorini Princess Spa Hotel, Imerovigli
Santorini Princess Spa Hotel is in Imerovigli, about 2 miles from Fira. It is the highest point on the volcano's rim, about 1,135 feet above sea level. It is beautiful but quiet. It's the halfway point between Fira and Oia, the two most visited towns on the island. Still, if you like to be away from the crowds, Imerovigli is for you. The hotel also has gorgeous caldera views, a beautiful heated outdoor pool, a hot tub, and a pool deck for lounging. The bar and kitchen have craft cocktails and snacks until closing for the evening. There are 19 rooms and suites, including the luxury honeymoon suite with a private Jacuzzi overlooking the caldera. The onsite restaurant is driven to provide creative Greek-inspired meals with fresh, local ingredients. The Maître d' Hotel offers a curated wine list from local vineyards and Greece to pair with the incredible food.
6. Katikies Santorini, Oia
Katikies Santorini is in Oia, the furthest tip of Santorini known for its gorgeous sunsets and romantic ambiance. The hotel is part of a group of five properties on Oia. Each one offers luxury and sustainability to their discerning guests. At Katikies, the properties work in concert to combine premier service with a beautiful but intimate setting at each place. They share amenities such as six incredible restaurants, a gym, and a spa with free transfers. The rooms have private terraces but share a heated pool, a pool restaurant, and bar, as well as two other non-heated pools. Curated tours that are only available to guests of Katikies include extraordinary wine experiences, island tours, and yacht excursions beyond expectation.
There are no wrong decisions when choosing a boutique hotel in either Mykonos or Santorini. Boutique hotels offer lovely care, and no matter which one you choose, you are sure to feel pampered and given the best experience while visiting these jewels of the Aegean.
The Greek islands offer a variety of experiences for visitors: